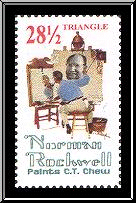 NORMAN ROCKWELL PAINTS C.T. CHEW
by Carl T. Chew, 1994
Special MARS Issue.
Single multicoloured perforated artistamp, 4.3 x 2.6cm.
(from a full 11 x 8.5" sheet of forty-two, signed and dated.)

C.T. Chew, aka Triangle Post is one of the first artists to utilize the Artistamp format for a significant proportion of his art work. He lives in Seattle.
Permanent Collection
Gift of the Artist
---
Copyright © 1995 Jas W Felter, all rights reserved.