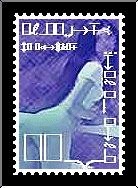 FROM USELESS VALUES
by Joachim, 1998
Single cyberstamp; 150 x 100 x 16 million.
From a full sheet (4 rows of 5) of interactive cyberstamps.

Jaoachim is a Web designer, (mail)artist, consultant, editor, and internet developer.
He lives in Antwerp, Belgium.
Permanent Collection
Gift of the Artist
---
Copyright © 1999 Jas W Felter, all rights reserved.