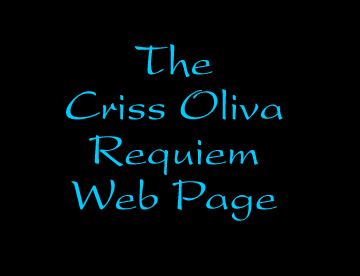 Updates and Credits

Updates:
Thanks to those who have contributed to this site! If you have articles, photos, or anything else that you would like to contribute to this site, please contact me. All contributers will be credited on the site.
Oct. 10, 2000 - New Guestbook (no thanks to Guestworld/htmlgear for losing the old one).
Apr. 16, 2000 - Added Streets picture signed by Jon, contributed by DeeToXXX.
Nov. 3, 1999 - Added "Concerts: Savatage/Siren" and "Florida Report" articles from Aardschok America Aug./Sept. '87.
Nov. 2, 1999 - Finally added Bryan's updates to the Gear page.
Aug. 16, 1999 - Another poll: Vote for Criss as your favorite Guitarist of the Millennium at http://www.dsrmusic.com/guitarvote/.
April 20, 1999 - Added the introduction from the Gutter Ballet sheet music/tab book (Articles page).
Mar. 14, 1999 - Added Gear page from Bryan Holland. Thanks Bryan for letting me use the page!
Mar. 4, 1999 - Added "Savatage: The Long Road to Success" article.
Feb. 4, 1999 - Added "Savatage: Hall of the Mountain King" article from Aardschok America Aug./Sept. '87.
Jan. 4, 1999 - Made separate pages for the "Articles" and "Pictures" pages.
Dec. 13, 1998 - Added "R.I.P.: Criss Oliva" article from Guitar World.
Nov. 2, 1998 - Added some MP3 song samples ["When the Crowds Are Gone" (live), "Silk and Steel," "Hounds," "Summer's Rain," "Damien," and "Skraggy's Tomb" (live)] to the Music page.
Oct. 8, 1998 - New e-mail address:

[email protected]
Sept. 21, 1989 - A campaign has been started to vote for Criss as Time's Person of the Century. Please go to the TIME site to vote for Criss. Thanks.
Sept. 18, 1998 - Added tribute to Criss contributed by Dave Vaughan (see Articles page).
Sept. 9, 1998 - Added Web Rings page.
July 31, 1998 - Put up new images of the skeletal figure with candles and the guitar smashing into the piano, using the Gutter Ballet poster for greater detail.
June 16, 1998 - Added poem contributed by Peter D. Ley-Harris.
May 26, 1998 - Added Atlantic Records Edge of Thorns press release 4/93 to Pictures and Articles page.
May 20, 1998 - Added picture of autographed EOT promo photo contributed by Sarah Cavallo.
May 13, 1998 - Added pictures from Metal Edge 10/90, RIP 05/92, and Guitar World 12/91.
Apr. 26, 1998 - Added picture of Criss's guitar picks from Guitar Shop Spring 1998 issue.
Apr. 25, 1998 - Added more pics from Andy James.
Apr. 12, 1998 - Added picture of EOT tour drummer Andy James and Criss Oliva on the tour bus in Germany during the EOT tour. Thanks to Andy James for the photo!
March 11, 1998 - Added pictures of a Hall of the Mountain King Tour t-shirt.
Feb. 22, 1998 - Added picture of Streets ad.
Feb. 15, 1998 - Added From the Dungeons to the Streets and Savatage 1993 pics (Music page), Metal Hammer 10/87 and Metal Edge 05/94 pics, and Hit Parader "Celebrity Rate-A-Video" article (Pictures and Articles page). HP article contributed by Jen.
Dec. 21, 1997 - Added autographed Streets promo photo, Charvel ad, Edge of Thorns ad, History of Metal 05/93, and Metal Hammer 03/86 pictures.
Dec. 16, 1997 - Commentary and Links pages uploaded. Guestbook added.
Dec. 12, 1997 - Pic from Overkill CD contributed by Mike Eckman.
Dec.11, 1997 - Music, Pictures and Articles, and Updates and Credits pages uploaded. June 1993 Interview contributed by Jan Ziese.
Dec. 10, 1997 - Home page uploaded. "live1.jpg" provided by Lori Cressia.
Music and Images:
Mozart, W. A. Requiem. Pilz. 1991.
Savatage. Final Bell. Zero. 1995.
---. Gutter Ballet (promo poster). Atlantic. 1989.
---. Streets: A Rock Opera. Atlantic. 1991.
Link banner "CObnr2" by Danie Powers.
*This page is intended to present my commentary and criticism and inform, or teach, people about Criss Oliva and Savatage through articles, pictures, and music. The material on this page is not used for commercial or trade purposes. All rights are reserved to the copyright holders. If any copyright holders would like me to remove their material, I will do so.