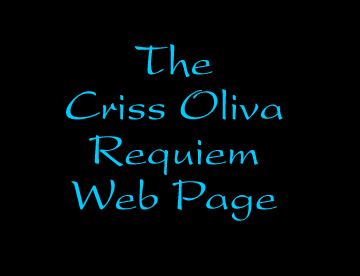 Gear
This page is provided courtesy of Bryan Holland/Real Savatage.com.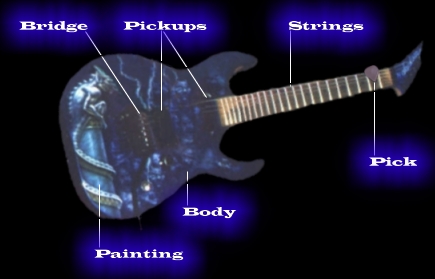 Guitars:
Some of the guitars Criss has used throughout his career:
1 White Charvel with airbrush painting of wife Dawn

1 Black Charvel

1 Black Charvel with airbrush painting of the "Mt. King"

1 Black Jackson with Skull (named by Criss as the "Don't Smoke" Guitar)

1 Blue Trans Jackson

1 Blue ESP with airbrush painting of Gargoyle, ESP logo airbrushed over as a Jackson

1 Red Dean star

1 White '77 Fender Strat

1 Yellow and Black striped Charvel

1 Cherry Sunburst Jackson

1 Kramer Ferrington

1 Ovation acoustic

1 '62 Fender Strat

1 Epiphone D-150 12 string.
"Gargoyle" description:
Ash body, bolt-on unfinished maple neck, 22 medium jumbo frets, 1 Bartolini humbucker in the bridge and a Bartolini single coil in the neck. The darkness on the neck in the picture above is due to heavy use during touring and recording. Oil from the hands, smoke, beer, etc. causes this.
This was Criss' absolute favorite guitar!
Originally an ESP, the "Gargoyle" painting and JACKSON logo were airbrushed by longtime Sava friend Gary Smith, who also painted the Sava album covers for Mt. King, Gutter Ballet, Streets, and Edge of Thorns.
Pickups:
Bartolini, Jackson/Charvel stock, Seymore Duncans
Bridge:
Floyd Rose, Jackson/Charvel stock
Amps:
Some of the amps that Criss has used throughout his career:
G-100 Solid State Yamaha Bass Cabinet

Marshall (w/ Celestions)

2 Laney Pro Tube 50 watt

1 Laney AOR Pro Tube 50 watt

20 Laney 4X12 Cabinets

2 Falicon Tri Guitar Cab Racks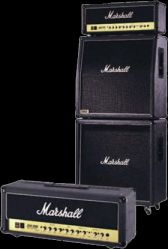 Criss ran his amps on the CLEAN channel ONLY!! Most amps have a high and a low output jack for the guitar plug, Criss ALWAYS ran in the LOW Channel.
Strings:
Pick:
Stainless Steel- Used for the more pristine, crisp and metallic sound, very thick! (same as those sold through the Sava Legion fan club)


StarPiks
(The makers of Criss' picks)
Pedals: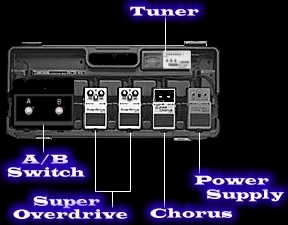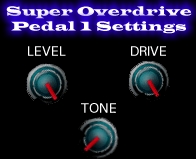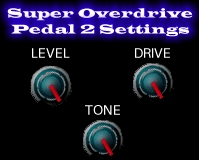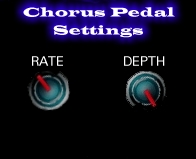 Some of the pedals that Criss used throughout his career:
1 Boss Pedal Board (case)

2 Boss Super Overdrives both all the way up except the 1st had the TONE all the way off and the 2nd had the TONE all the way up

1 Boss Chorus CE-2.

2 Boss TU-12H Chromatic tuner

1 Boss Power Supply, which powered the entire pedalboard

1 Boss Octave

1 MXR Pedal Board with "Toys"

1 Roland 201 Space Echo
Effects: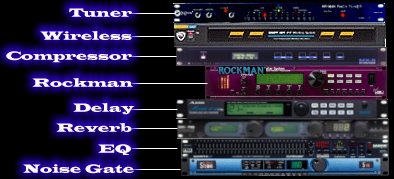 Rockman Handheld: After the Mt, King record he used a rackmount version (On the clean channel ONLY, used as a Pre-Amp). He also plugged in through the HEADPHONE jack which had been converted to a 3/4in. jack. He did this because the headphone jack had more output. And he often used the volume control on the Rockman as opposed to the volume on his amp. He could boost from 15-30db like this.
Other rack effects:
2 Rockman X100

1 Rockman Sustainer

1 Rockman Stereo Chorus

1 Gemini Power Supply

1 Nady Rackmount 650 Concert Series Wireless

1 Samson Wireless

1 Rackmount Tuner

1 Alesis Midi Verb Delay set to 400-440ms or approx. 4 repeats

1 Peavy Ultra Verb Reverb

1 Compressor

1 Vesta Fire Delay

1 Ibanez Delay

1 Peavy 31 Band Stereo EQ (gain all the way up). Exact settings are unknown, as they would often change with different venues' acoustics.
Tunings:
Savatage used 4 different tunings for their songs. And they also used different string gauges for each tuning.
Tuning:

'E'
Dropped 'D'
'D'
Dropped 'C'
Gauge:

9-42
9-46
10-48
10-52
Songs used with these tunings:


Damien, Gutter Ballet
All of 'Sirens' up to 'Mt. King'
Mt. King, POTN
---
This information was gathered from interviews with Dan 'The Man' Campbell (Criss' guitar tech), Steve 'Doc' Wacholz, Chris Caffery and countless hours of research.
- by Bryan Holland