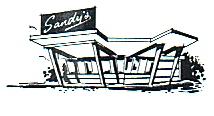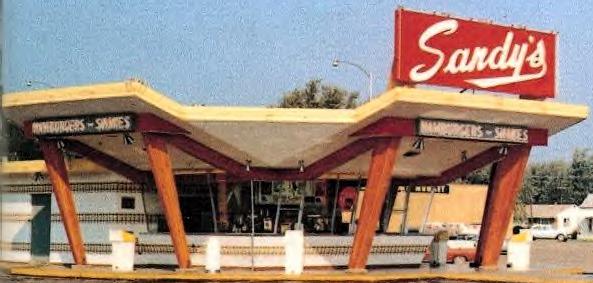 sandy's website gives special thanks to twig gravely for this image. please visit his incredible lendy's website soon at http://members.cox.net/lendys
click on image to go to Sandy's franchisee information
Welcome to the UnofficialWebsite!
McDonalds... Burger King.... Hardees... names that are all familiar in fast food. However, if you were born before 1969, you may just remember a fast food franchise that rivaled them all. The name was Sandy's.
Sandy's took on McDonalds for hamburger supremacy in the United States in the 1960's! Yet today, with our high speed information highway, one is hard pressed to find information on this historical restaurant from the dawn of time of the fast food wars. This website is a tribute to the memory of one of the greatest places to eat of them all.
In 1956, four business men from Kewanee, Illinois, Gus "Brick" Lundberg, Robert C. Wenger, Paul White and W.K. Davidson set out to start one of the first McDonalds franchises outside of the state of California. They acquired the rights to open a McDonalds in Champaign-Urbana (home of the University of Illinois). The McDonalds was such a success that they planned on opening another McDonalds in Decatur, Il., as well as one in Peoria, Il. but were distraught to find that Ray Kroc had violated the leasing agreement for both cities. This territorial dispute led to the four men deciding to pursue their own fortune and copied the McDonalds play book, calling their new venture Sandy's.
Sandy's Scottish name was a copy/play on "McDonalds" and was intended to present a theme of swift service. Sandy's was involved with an on going lawsuit with McDonalds which finally ended in an out of court settlement in 1965.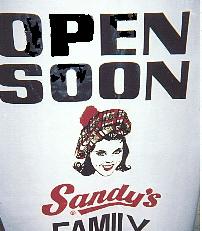 click on image to go to three pages of Sandy's memorabilia
The first store opened in 1958 in Peoria, Illinois followed by another location in St. Louis, Missouri. Within 10 years, the franchise had exploded to 100 locations with the 100th as well as the new company headquarters opening in Kewanee, Illinois, amidst much fanfare. Incredible as it sounds today, Sandy's was the first fast food experience for many midwest towns, introducing burgers on the go years before McDonalds arrived in many cities in this part of the country! As with most 1950's and early 1960's fast food hamburger joints, Sandy's started as a walk up, order and go restaurant and later expanded into sit inside and eat dining.
The company stretched throughout the midwest including locations in; St Petersburg, Florida, Tulsa, Oklahoma, Colorado Springs, Co. and Pittsburgh, Pennsylvania. In 1972 the chain had grown to 240 locations. Sandy's merged that year with Hardees. The new company with over 540 locations originally retained the two names. However, by 1973, ninety percent of Sandy's locations had switched over to the Hardees name.
Not only did the signs change but the concept was gone forever as well. Gone were Sandy's classic 1960's fins jutting from the roof of the buildings. The gigantic marque signs with the Sandy's trademark flasher bulbs and Scottish girl twirling in a diamond on top of the sign were lost as well. Never again would one get to taste the delicious milk shakes or order a tenderloin, big scot burger or a box of fish and chips. It was the end of an era. All that was left were great memories of one of the greatest fast food restaurants of all time.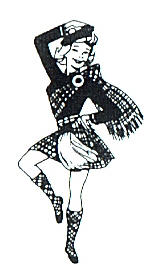 This page is always on the search for pictures of Sandy's memorabilia and of any known unaltered original Sandys' buildings. If you have pictures or stories to share please email them to me and let me know if I may use them on this website! Many, if not all Sandy's with their classic marque board as well as the incredible roof fins were demolished for the new, larger, concept Hardees buildings. A good place to look for a picture of Sandy's would be in a high school yearbook before the year 1973. Perhaps the local franchisee took out an ad in the back of the book which may have included a picture.
click on image to go to Sandy's Moline, Illinois page
Amazingly, one Sandy's icon building remains. One mile south of Kewanee on Highway 34, the original franchise headquarters still stands as a historical monument to what became and still is known as "the burger wars" and to the growth of three decades of American pop culture. It is now a United Methodist Church and the only change that appears to have been made is a cross on the roof. The original fins as well as the late 1960s tile motif on the walls are exactly as they were some 35 years ago.
click the image of the headquarters (below) for pictures of the national headquarters in Kewanee, Illinois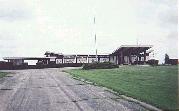 8/1/04 FOUND!!!! AN ORIGINAL SANDY'S BUILDING HAS BEEN LOCATED IN SALINA KANSAS... SPECIAL THANKS TO COLLIN FRANCIS FOR THE PICTURES.... NONE WERE KNOWN TO EXIST!!!! CLICK HERE TO SEE SALINA'S ORIGINAL SANDY'S BUILDING!
2/5/05 FOUND!!!! ANOTHER ORIGINAL SANDY'S BUILDING LOCATED IN WICHITA KANSAS.. SPECIAL THANKS TO CHUCK KERLS FOR THE PICTURES!!!!! CLICK HERE TO SEE WICHITA's ORIGINAL SANDY'S BUILDING! WITH MINOR RESTORATION, ITS 1969 ALL OVER AGAIN!!!
2/13/05 FOUND!!!! JIM KEITH NOT ONLY FINDS SANDY'S LOCATION #2 IN ST. LOUIS, HE ALSO PROVIDES AN ARIAL SHOT TO PROVE IT!!!! CLICK HERE TO SEE WHAT SANDY'S #2 IN ST. LOUIS LOOKS LIKE TODAY!
3/7/05 FOUND!!!! SPECIAL THANKS TO LEE WATSON WHO HAS NOT ONLY FOUND ONE OF THE "LOST" SANDY'S BUT THAT THE BUILDING STILL EXISTS AND IS BEING OPERATED AS A FAST FOOD RESTAURANT SOME 35 YEARS AFTER IT WAS FIRST BUILT!!!!! CLICK HERE TO SEE WHAT FAYETTEVILLE, ARKANSAS LOOKS LIKE TODAY!
3/16/05 UPDATE! CLASSIC 1960'S ADVERTISEMENTS FROM TED VLAHOS' INCREDIBLE MOLINE LOCATION! CLICK HERE FOR AN INCREDIBLE BLAST FROM THE PAST ON MOLINE SANDY'S PAGE #2!
3/20/05 IN 1967, SANDY'S WAS TAKING THE MIDWEST BY STORM! CLINTON, IOWA OPENED ON JULY, 13TH AND BECAME THIS PROUD MISSISSIPPI RIVER TOWN'S FAVORITE DRIVE-IN! CLICK HERE FOR THE CLINTON, IOWA PAGE!
4/7/05 LEE STAAK, OWNER OF IOWA CITY SANDY'S PRESENTS.... THE IOWA CITY SANDY'S PAGE!!!! CLICK HERE FOR THE IOWA CITY, IOWA PAGE! ALSO MAKE SURE TO CLICK ON THE NEWLY UPDATED LOCATIONS ICON AT THE TOP OF THE PAGE! SPECIAL THANKS TO MR. STAAK FOR PROVIDING THE 1973 SANDY'S FINAL DIRECTORY!
5/7/05 JUST ADDED... TED VLAHOS' ROCK ISLAND SANDY'S LOCATION'S GRAND OPENING AD FEATURING A GUEST APPEARANCE BY CAPTAIN ERNIE OF WOC-TV DAVENPORT TELEVISION FAME!
5/10/05 Once the highest volume Sandy's location in the Iowa/Illinois Quad City area, Harrison Street, Davenport, Iowa Sandy's location is now a vacant lot. Click here to view this powerhouse Sandy's opening day ad published on 6/3/62 in the Quad City Times!
5/14/05 RON BURRIS, SANDY'S MANAGER, SANDY'S SUPERVISOR AND SANDY'S CORPORATE MANAGER PRESENTS THE MARION, IOWA PAGE FEATURING SANDY'S PEORIA, ILLINOIS 1968 CONVENTION! CLICK HERE TO VIEW THE 1968 CONVENTION BOOKLET AS WELL AS SANDY'S EMPLOYEE HANDBOOK!
5/14/05 Mattoon, Illinois Sandy's opened in late 1967 or possibly early 1968. It was such a success that Sandy's unleashed an incredible location near Eastern Illinois University in Charleston, Illinois, sister city of Mattoon! click here to see Charleston, Illinois Sandy's!
5/25/05 ROB DELIUS PROVIDED THE ADDRESSES OF SEVERAL "LOST" SANDY'S LOCATIONS. NOW HE PRESENTS THE FIRST PICTURE OF A FLORIDA SANDY'S LOCATION!Click here to see Largo Sandy's!7/25/05, also take a peek at Rob's newly discovered Sandy's advertisement! Click here for the first glimpse of Atlanta Sandy's for over three decades!
6/6/05 RED ALERT!!!! PHIL, FORMERLY OF DUBUQUE, IOWA TELLS THE STORY OF DUBUQUE SANDY'S AND HITS A GRAND SLAM BY PROVIDING A FULL COLOR PICTURE!!!!!!!!!!!! UPDATE!! 08/13/05.. John Bonnette, franchisee owner of what is now Hardees on University, gives the history of the three proud Sandy's locations! CLICK HERE TO SEE A COLOR PICTURE OF SANDY'S IN DUBUQUE ON UNIVERSITY!!!
7/16/05 UPDATE! SANDY'S IN MUSCATINE, IOWA WAS MOST LIKELY THE LAST SANDY'S TO EVER EXIST AS SANDY'S BY NAME!! IT WAS OPEN UNTIL AT LEAST 1979. CLICK HERE TO SEE PICTURES OF THE LAST SANDY'S TO EVER USE THE CLASSIC DRIVE-IN'S NAME!!!!
7/16/05 SANDY'S IN BURLINGTON, IOWA OPENED IN 1969. THE CLASSIC THIRD GENERATION BUILDING WAS THE LAST SANDY'S BUILDING EVER USED BY HARDEES AND WAS TORN DOWN IN 1989. CLICK HERE TO TAKE A PEEK AT THE FINAL SANDY'S BUILDING!
7/16/2005 MOUNT PLEASANT, IOWA WAS HOME TO ONE OF THE FIRST NEW SANDY'S CONCEPT "MINI" BUILDINGS. BUILT IN LATE 1971, CLICK HERE AND SEE HOW THE LOCATION LOOKS TODAY!
7/20/2005 DICK OWENS IS NOT ONLY A SANDY'S FAN BUT HE WORKED THERE TOO! MR. OWENS PROVIDED ONE OF THE BEST UPDATES EVER INCLUDING THE FIRST EVER COLOR PICTURE OF A THIRD GENERATION SANDY'S BUILDING AND THE FIRST EVER COLOR PICTURE OF A SECOND GENERATION SANDY'S SIGN! CLICK HERE TO VIEW MR. OWENS' SANDY'S HAYS, KANSAS PAGE!!!!!!UPDATE>>> RED ALERT!!!! 7/29/2005>>> THE OWENS PROVIDE PICTURES OF MORE STELLAR SANDY'S MEMORABILIA! YOU DON'T WANT TO MISS THIS!!!!
7/25/2005 SANDY'S SUPERVISOR ROGER FRIES DROPS A SHOCKBOMB ON THE SANDY'S WEBSITE!!!! PRESENTING THE ONLY SANDY'S MENU-BOARD KNOWN TO STILL EXIST!!! ABSOLUTELY UNBELIEVABLE!!!! CLICK HERE TO SEE THE READERBOARD IN FULL COLOR AS IT IS TODAY, SAVED JUST MOMENTS FROM FINAL DEMOLITION IN 1973!!!!
8/4/2005 Jim Kelley was Sandy's original and only accountant. His hard work and dedication was certainly a factor in Sandy's success. Not only was he the accountant, hand chosen by founder Brick Lundberg but he was also the owner of Maquoketa, Iowa Sandy's. Join Mr. Kelley IN VIEWING HIS INCREDIBLE PICTURES OF THE LAST GENERATION SANDY'S SIGN AND BUILDING AS WELL AS HIS STELLAR SANDY'S MEMORABILIA COLLECTION BY CLICKING HERE!!!!!! HIS PICTURES COMPLETE THE CYCLE FROM THE ORIGINAL SANDY'S WALK-UP DRIVE-IN TO THE FOURTH GENERATION SANDY'S BUILDING! AMAZING!
UPDATE 8/13/2005 The Sandy's National Headquarters was located in Kewanee, Illinois. The building still exists today, now used as a church. Jim Kelley provides pictures from slides, hidden in storage for thirty-seven years, of the accounting department at the headquarters. These slides were used to show Sandy's representatives from across the nation a presentation of Sandy's accounting department, led by Mr. Kelley! If you worked in or with the National Headquarters, perhaps you may recognize some of the Sandy's employees! UPDATE 8/13/2005 THE INCREDIBLE UPDATES CONTINUE!!!! THIS TIME, DAN RIESKAMP PROVIDES PICTURES AND INSITES INTO THE STORY OF CINCINNATI SANDY'S WHICH NEVER CHANGED TO HARDEES! CLICK HERE AND BE PREPARED TO READ AND SEE WHATEVER HAPPENED TO THIS STELLAR LOCATION!!!! Just what did happen to oldest brother Bernie's french fries?!
UPDATE 9/12/2005 Sandy's manager Steve Bloecher was the final Sandy's Manager of Mattoon, Illinois. He not only saved one of the last Sandy's advertisements, his name is mentioned in it as well! Mr. Bloecher was also manager of Dixon, Illinois Sandy's. Click here to see one of the last Sandy's ads and Mr. Bloecher's memories of one of the greatest fast food restaurants of all time!
UPDATE 9/24/05 Sandy's fan, Ringling Brothers enthusiast and celebrated, award winning renoun columnist Bill Wundram of the Quad City Times writes a fantastic column about Sandy's and this website! Click here to read it ! THANK YOU MR. WUNDRAM!!!! Special thanks also to Sandy's fan Eldon Bowers!
UPDATE 9/27/05 Colorado Springs Sandy's was undoubtedly the most scenic Sandy's of them all. Click here to see what the view looked like from the front door!
UPDATE 9/28/05 Carl Wenger, son of late Sandy's founder Robert Wenger provides an incredible early history of Sandy's. Mr. Wenger also provides one of the rarest of all Sandy's memorabilia for your viewing pleasure. ITS THE STOCK CERTIFICATE ISSUED TO HIS FATHER AT THE CREATION OF MCDONALD'S CHAMPAIGN-URBANA!!!! THIS IS THE DAWN OF TIME OF SANDY'S AND MCDONALD'S AS A FRANCHISE AND IT DOESN'T GET ANY RARER OR BETTER THAN THIS FOLKS! CLICK HERE TO SEE THIS ABSOLUTELY INCREDIBLE ARTIFACT!!!! WHO WOULD EVER GUESS THAT IT EVEN STILL EXISTS FROM THE DAWN OF TIME OF FAST FOOD IN AMERICA???!!!!!
UPDATE 9/29/05 Kathy Bryner Anderson not only remembers Sandy's, she worked at the National Headquarters in Kewanee, Illinois! Click here to read her comments regarding working at the office during Sandy's peak period in the 1960's!
10/12/05 Trick or Treat! Click here for Halloween at Sandy's!
10/16/05 CHUCK KERLS STUNS THE SANDY'S WEBSITE BY FINDING ANOTHER ORIGINAL SANDY'S BUILDING!!!! THIS TIME IT IS SANDY'S #129 LOCATED IN TOPEKA, KANSAS!!!!! CLICK HERE TO SEE THE MOST PERFECTLY INTACT SANDY'S FOUND TO DATE! THE SANDY'S PLAID REMAINS NOW SOME FOUR DECADES AFTER TAKING TOPEKA BY STORM!!!!
11/03/05 Air-check collector and radio historian Larry Ware remembers the Sandy's McClure location. He provides a stellar picture of the inside of McClure Sandy's as well as some great memories! Dont forget to listen to the WIRL Sandy's classic advertisements from the 1960's!
UPDATE!!!! 11/06/05 Larry Ware provided a rare picture of the 1966 Earl Nightingale "Win With Sandy's" training record. He now provides A RECORDING OF THIS RARE RECORD AS WELL! Click here to go to the Sandy's on McClure website and then click on the record to begin listening! WARNING!!! Be prepared to feel assaulted by the end of the recording as Earl seemingly insults every citizen of the United States to go along with the Darth Vadar verbal attack! THIS RECORDING IS A RIOT FOLKS .. YOU DON'T WANT TO MISS THIS ONE! This is the largest file on the site and will take some time to download if you are on dial-up. Go grab a Hi-lo while you are waiting! You too can win with Sandy's if you can survive this record!
11/06/05 Bucky's drive-in in Lawrence, Kansas, was originally Sandy's. Bucky did not change his Sandy's to Hardees but instead put his name on the restaurant! Bucky's continued in operation even to this day in 2006 and is perhaps the last Sandy's by tradition! Chuck Kerls visited Bucky's and provides pictures of this Sandy's location, now in its fifth decade! Special thanks to Chuck Kerls yet again for his fantastic pictures!!!! THANK YOU! 11/10/05 Larry Ware provides yet another incredible addition to the Sandy's site. ITS SHERIDAN ROAD SANDY'S WHICH WAS SANDY'S #1 !!! THE BUILDING STILL EXISTS AND HAS BEEN CONVERTED TO A DAIRY QUEEN! CLICK HERE TO SEE CURRENT PHOTOS OF THIS HISTORIC POWERHOUSE SANDY'S!!!!!
11/27/05 Merry Christmas from Sandy's in Moline, Illinois!
11/29/05 Sandy's in Clearwater was one of just a handful of Sandy's Florida locations. On 5/25/05, Robert Delius provided a great picture of this incredible location. ROBERT DELIUS NOW UNLOADS WITH AN UNBELIEVABLE UPDATE... SANDY'S PLAID WILL NOT BE DENIED... THE PLAID BLEEDS THROUGH AT LARGO, FLORIDA SANDY'S!!!!!!
12/31/05 UPDATE!!!!! Sandy's Superfan Terry chimes in with the last great update of 2005! Its Salina, Kansas Sandy's with a new makeover!!! Click here and then scroll down to view this unexpected turn for this great Sandy's location! Thankfully the location still exists!!!
02/21/06 Gary Sundblad remembers Sandy's in Marquette. As a matter of fact, he shares an incredibly rare radio advertisement from his archives! Click here to go to the ad on the Marquette, Michigan page!
02/21/06 Twig Gravely, webmaster of the wildly popular Lendy's website provides yet another find! This time it is the legendary Sandy's float which appeared in the Kewanee, Illinois 1968 Hog Days parade! Click here, scroll down and notice the people as they scramble and read the Sandy's gold coins which gave them a free hamburger fries and coke!
02/22/06 Collin Francis, already a legend on this website, adds to his legacy by providing A FULL NIGHT SHOT OF SALINA SANDY'S FROM 1966!!! INCREDIBLE!!!!! DO NOT MISS THIS PICTURE>>>IT INCLUDES THE SIGN/BUILDING/ROOF FINS AND THE NEON IS GLOWING BRIGHT IN GLORIOUS BLACK & WHITE!!!! Three cheers for the yearbook photographer who took this killer picture!!!!! Four cheers for Collin Francis!!!
03/03/06 Sandy's fan Doug Smith remembers Sandy's in Davenport, Iowa and provides pictures of one of Sandy's favorite promotions, the Sandy's cup holder which was free with purchase! He also provides a scan of the incredibly rare Sandy's Christmas ruler! Click here and scroll down to see the pictures on page three of the Sandy's memorabilia section!
03/08/06 UPDATE!!! Sandy's fan and welcomed frequent contributor Robby Delius provides yet another stellar find! This time he provides early 1960's advertisements for Sandy's two Memphis locations! Click here to see four advertisements for Memphis Sandy's and the history Robby reveals about these sister drive-ins! 03/16/06 UPDATE!!! Mike Reeder provides pictures of Sandy's memorabilia from his Father's collection. His Father, Mr. Bill Reeder was manager of the mighty Burlington Iowa Sandy's! Click here to see an excellent photo of Mr. Reeder as well as pictures of Sandy's classic memorabilia!
06/03/06 UPDATE!!! Glenda Campbell shares stellar pictures from her recent trip to Wichita, Kansas Sandy's! With minor restoration, this Sandy's is ready to go! Click here to see her incredible update!
07/08/06 Peoria, Illinois was birthplace to Sandy's #1. Nearby Pekin, Illinois soon followed with Sandy's #12! Sandy's fan and excellent librarian Joanne Heilman presents Pekin, Illinois Sandy's! Click here to see pictures of Sandy's Pekin location!
08/21/06 In memory of Sandy's very own Jack Laughery.
08/26/06 Rich Kummerlowe, author of the amazing America's Landmark; Under The Orange Roof website presents advertisements for the mighty Elyria, Ohio Sandy's locations! Click here to view Elyria Sandy's #1 first anniversary ad!
09/29/06 In one of the greatest updates ever in the history of this website, GREAT FALLS MONTANA SANDY'S IS FOUND INTACT!!!! EVEN THE INCREDIBLE ORIGINAL SIGN STILL EXISTS!!!! THE ONLY ORIGINAL SIGN STILL KNOWN TO EXIST! Sandy's in Great Falls became Zandy's! CLICK HERE TO SEE PICTURES OF THIS INCREDIBLE SHOCKER!!! Special thanks to feature writer Rich Ecke of the Great Falls Tribune and David from the Greater Falls page on Flickr.com!
For an in-depth history of Sandy's, go to this website http://www.anbhf.org/laureates/lundberg.html Special thanks to Twig Gravely who provided the link. Please visit his his incredible lendy's website soon at http://members.cox.net/lendys/
Sandy's is an American classic.

Thank you!

If you have memories or pictures to share of Sandy's, please email me!