Shaikh Ayaz
Orginal Name: Mubark Ali
Literary Name: Mubark Ali Mubark, Shaikh Ayaz
Father's Name: Ghulam Husain S/O Abdul Hakeem Bangul
Mother's Name: Dadan (before being muslim), Bakhtawar (being muslim)

Caste: Shaikh

Date of Birth: Friday 2 March 1923 (12 Rajab 1341 H)

Birth Place: Shaikh Mohalla, Shikarpur, Sindh

Primary Education: Hindu Sindhi Muncipal School No.3 and Vernicular School No.2 Shikarpur
Death: -----------------------------------------
Teachers During primary Education:
Mr. Najamuddin Qazi, Abdul Rehman Hakro, Sheri Ali Khan Pathan and Wahid Bux "Ashiq" Pirzardo
Secondary Education: New Era High School shikarpur and Govt High School Shikarpur
Techers Duing Secondary Education:
Menghraaj Munshramani, Hasanand Parswani, Kialdas " Fani" Begwani, Chugo Mal Rejho Mal and Somdat etc.
Matriculation: March 1941
Higher Secondary Education: Chela Singh and Sitaldas (C&S) college Shikarupr
Teachers in College:
Hashmat Rai Choetram Malkani, Bhojraj Naagrani, Ghanshamdas Hathrani, Hashmi, Gaajra, Gini, Bhuta Charia, Naqvi and Khan.
Inter: 1943
Bachelor Education: Diya Ram Jethmal (DJ) college Karachi
B.A: 1945
Preparation For Ph.D:
Ayaz wanted to do Ph.D under the guide of Gurbakhshani on the personality of Allam Iqbal, but his guide died during this acttion, that is why, he left to do Ph.D
LLB: 1974/48

Professon:

He firstly got job there in Secreterait karachi
Starting of Adocacy:
Firstly he attched with Abdul Haee Qureshi, Khalid Ishaq and Abdul Qadir Shaikh in Karchi. He started his advocacy in sukkur 1952
Marriages:
First:
He married with Zareena, Anis Ayaz, Saleem Ayaz, Yasmeen, Roohi and Nighat are from her
Second:
He married with Iqbal Begum, Moonis Ayas, Sarmad Ayaz and Weengus are from her
Jail Yaatra:
First Time: three months in 1965
Second Time: He was jailed in 1968 and there till the end of Ayub's dictatorship at Sahiwal Jail
Third: From 5 May 1971 to December 1971
Post of Vice Chancellor ( VC ):
From 13 January 1976 to 22 January 1980..After vcship he commenced advocacy again there at Sukkur
Foreign Tours:
England, India, Russia and Dubai
In Political Parties:
1. An Active member in Bazm-E-Sophia-E-Sindh
2. With G.M Syed in Mutahida Mahaz
3. In central Committee of Shaikh Mujeeb Rehman's Awami League
Shaikh Ayaz in Literary Circle:
First Bait ( couplet) of Shaikh Ayaz in childhood: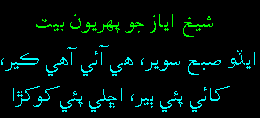 First Published couplet ( poetry ):
Sudarshan January, February 1938.
First Published Prose Writing:
Suhinee seer mein- Monthly " Sindhu" Sepetember 1942 ( Story )
First Editoship:
1- Agtey Qadam August 1947 Shikarpur
2- Editor Daily "Barsaat" Karachi
First Literary Award:
He was awarded 10 ruppees on writing a poem entitled as " Shaahad Jo Geet" in Shaeed Number- Monthly Sindh Magazine April, May 1974
Other Awards:
"Ham Kalam Award" for year's best poetry--All Pakistan Writers Guild
After publication of " Bhawaner Bhirey Akas" in year 1963--Pakistan Writer Guild
"Hilaal-E-Imtiaz" --Pakistan Government
Books:
1- Safaid Wahshi ( Short Stories) Baghi Frier Road Karachi ----------April 1947
2- Asaan Jee Sindh ( Short Stories ) Baghi Frier Road Karachi -------June 1947
3- Punhal Khan Poe ( Short Stories ) Habib Publication sukkur -------------1954
4- Boe Gul Nal-E-Dil (Urdu Poetry compiled by Afaque Sidique) Sindhi Adabi circle Sukkur 1954
5- Ak Joon Phulriyoon Bhej Bhinee ( Poetry ) Sambara publication Karachi 1954
6- Jey Kaak Kakoriya Kaapri ( anthology of letters ) Ghulam Rabani Aagro 1963
7- Baqol-E-Ayaz ( Speeches ) Insaan Academy Hyderabad ---------------1963
8- Shah Jo Risalo ( Versified Urdu Translation ) Sindh University Hyderabad 1963
9- Kulhey Paatam Keeniro ( poetry ) Ghulam Rabani Aagro Hyderabad Decmber ---------------- 1963
10- Kee Jo Beejal Boliyo ( Poetry ) Zaib Adabi Academy Hyderabad -------1973
11- Wijoon Wasan AAiyoon ( Poetry )Zaib Academy hyderabad ------------1973
12- kapar Tho Kun Karey ( Poetry ) Sindhi adeeban Jee Cooperative Socitey Hyderabad 1975
13- Lariyo Sij Lakan Mein ( Poetry)------------------------------------------1980
14- Patan Tho Poor Karey ( Poetry ) sambara Publication Karachi --October 1982
15- Tukra Tutal Saleeb Jaa ( Poetry ) Sugan Publication Larkana ------------1984
16- Pan Chan Pujaanaan ( Poetry ) Sambara Publication karachi --------Jan 1985
17- Jak Miryoee Sapano ( Autobiography ) Sugand Publicaitn Larkana --May 1985
18- Watoon Phulan Chaniyoon ( Poetry ) --------------------------------Jan 1985
19- Chand Chambely wal ( Poetry ) New Fields Publicaiton Hyderbad ---Sep 1985
20- Rin Tey Rim Jhim ( Poetry )-------------------------------------------Jan 1986
21- Saahival Jain Jee Diary ( Prose)------------------------------------- May 1986
22- Bhagat Sindh Khey Phaasi ( Opera-Poetry )----------------------- August 1986
23- Khat, Interview, Taqreeroon ( Vol.1 Prose ) -------------------------------1987
24- Raaj Ghaat Tey Chand ( Poetry ) ---------------------------------October 1987
25- Bar Jee Chanwan Agey Khan Ghaati ( Poetry ) ----------------------------1988
26- Akan Neera Phuliya ( Poetry ) --------------------------------------------1988
27- Karachi Jaa Deehan Ain Ratiyoon ( Prose ) ------------------------------1989
28- Jhur Nenaan Na Lahey ( Poetry ) -----------------------------------------1989
29- Uphir Chand Pas Pireen ( Poetry )----------------------------------------1990
30- Heenaro Darooa Gul Jeean (Poetry )--------------------------------------1991
31- Khat, Interviw Ain Taqreeroon ( Prose ) ----------------------------------1991
32- Katiyun Kar Moriya Jadahin ( Poetry ) -----------------------------------1991
33- Katiyun Kar Moriya Jadahin ( Poetry ) -----------------------------------1991
34- Nind Waliyoon ( Poetry ) ------------------------------------------------1992
35- Sar Loheera Gabhiya ( Poetry ) ------------------------------------------1993
36-Sooraj Mukhi Saanjh ( Poetry ) -------------------------------------------1993
37- Choliyoon Boliyoon Samund Joon ( Poetry ) Maktab-E-Daanyal 1993
38- Jer Diya Jhimkan ( Poetry ) New Fields Publicaiton Hyderabad 1993
39- Haran Akhee Kedanh ( Poetry ) ------------------------------------------1994
40- Kithey Na Phanjibo Thak Musafir ( Autobiography Vol.1) -----------------1995
41- Toon Chaper Toon Chanwa ( Prayers ) Sindh National Academy Trust Latifabad, Hyderabad 1995
42- Chand Galiyoon ( Poetry ) New Fields Publication Hyderabd -------------1995
43- Ghaat Mathaan Ghanghour Ghataaoon ( Poetry ) ------------------------1996
44- Kithey Na Phanjibo Thak Musafir ( Autobiography Vol.2)-----------------1996
45- Saanjhee Samund Sipoon ( Poetry ) Sindhi Adabi Academy Karachi 1996
46- Katiyun Kar Moriya Jadahin ( Poetry ) ------------------------------------1996
47- Uthey O'ur Allah Seen ( Prayers ) Mehran Academy Shikarpur -----------1997
48- Koonjoon Karkan Koh Tey ( Poetry ) New Fields Publication Hyderabad --1997
49- Kari Raat Kuhang ( Poetry ) Sindhi Adabi Academy Karachi--------------- 1997
50- Jey Tand Baraber Toriyaan ( Short Stories Compiled by Dr.Anwar Figar Hakro ) -------------------1998
51- Kithey Na Bhanjibo Thak Musafir ( Autobiography Vol.3 ) Shaikh Ayaz Foundation Hyderabad --1999
Courtesy: Janam Janam Jee Jeet Ayaz ( Book Compiled by Dr. Anwar "Figar" Hakro and some additions by Hisam Memon
Click here to read the poetry of Shaikh Ayaz
Copyright © All Rights Are Reserved at Hisam Memon 2004
No One can copy material from this site without permission