The story of John and Rufus Chandler, former students of President John Adams, is fascinating too.
According to McCullough's "John Adams," John Adams signed a contract on August 21, 1756 with a young Worcester attorney, James Putnam, "to study "under his inspection" for two years." "He changed lodgings, moving in with lawyer Putnam...." "Putnam's fee was $100, when Adams could "find it convenient."" James Putnam was a Loyalist who settled in St. John at the close of the war, and became a judge of the supreme court of New Brunswick.
John Adams continued his service as a schoolmaster in Worcester. He taught at two-room schoolhouse built in 1752 by James Putnam and John Chandler among others from 1755 until 1758. (James Putnam was the brother-in-law of John Chandler.)
In John Adams by David McCullough, David McCullough describes John Adams as a teacher.

Descendants of William CHANDLER
http://homepages.rootsweb.com/~nbpast/family/Chandler/pafn05.htm
On the Web page, the following is written of the descendants of John and Mary Chandler.
"The death of Mrs. Chandler raised a new set of questions. All rights of the family in the real property ceased with that event. This was partially rectified by special legislation, through which the children remaining at home were put in possession of a part of the property, the details concerning which are given further on.The social prestige of the family, which is alluded to in some of the notees which have been quoted, was doubtless due in part to the wealth accumulated during successive generations of peaceful prosperity,. Stripped of that wealth, the posterity of the refugee no longer held claim for social position on that ground. Yet it cannot be said that Chandler's descendants have, for that reason, failed in their hold upon the esteem of their fellow citizens. The daughter whose letter has called forth this investigation married Aaron Bancroft, a clergyman, who became a recog-nized leader in the Unitarian denomination, and was president of the American Unitanian Association from 1825-1836. He wrote a life of Washington which has gone through several editions and has been quite recently republished. In the next generation, George Bancroft the historian is to be found, who filled many public offices with great distinction, but whose name is better known through his literary work as the author of the "history of the United States." Two of the granddaughters of the refugee were married to men, both of whom were members of Congress and governors of Massachusetts, one being in addition a United States Senator. The male descendants of the next gener-ation furnish the names of several who achieved distinction in public life, and others who acquired renown in the army and in the navy. The fourth generation from the refugee has contributed to the public life of the country, but most of this generation are still too young to have made their mark. The fifth is represented in this world, but its history is as yet unwritten. It is indeed true that the voice of the sixth generation has been heard by a privileged few."
The story of Rufus Chandler, John Chandler's son and a firm Loyalist too, may be found at
http://homepages.rootsweb.com/~nbpast/family/Chandler/pafn05.htm#272. "...In his will he left all his portraits and sketches of himself and his wife to his kinsman, James Putnam. (Erskine, 346.) James Putnam was his father-in-law. Rufus Chandler & Eleanor Putnam were married on Nov. 18, 1770.
John Adams' diary is available on-line, as a transcription and as images. In John Adams' own hand, you can see where he wrote in his diary:
"This Day, Mr. Putnams eldest Daughter Eleanor, brought to the World her first Daughter, being married to Rufus Chandler, Son of Coll. John."
See: John Adams diary 17, 16 April - 14 June 1771 [electronic edition]. Adams Family Papers: An Electronic Archive. Massachusetts Historical Society. http://www.masshist.org/digitaladams/
The fate of John Chandler's [cousin (Changed to cousin from brother by the author of this Web page on April 16, 2008.)], Col. Joshua Chandler, was particularly tragic.
"CoI. Chandler (as above stated) had a large property at New Haven, which he was forced to leave. He sailed for England to see about a remuneration for his loss. Commissions were appointed to adjust the claims of the Loyalists. He returned to Annapolis, and on that fatal March of 1787, he, with his daughter Elizabeth and son William Chandler, took all their books, papers and evidence of their colonial property, and sailed across the Bay for Saint John, New Brunswick, to meet the Commissioners, to prove their titles and their losses and to get their claims allowed. But the vessel, in a violent snow storm, missing the harbor, was driven on the rocks at Musquash Point, within about nine miles of St. John. William, hoping to secure the vessel, fastened a rope around his body and jumped overboard to swim to the land, but he was immediately crushed between the vessel and rocks and was drowned. This was the 9th of March, 1787. CoI. Chandler, his daughter Elizabeth and others finally got ashore. But they were miles from any dwelling and the weather was severe. It is said that he urged his daughter to leave him and make her way to some house, but she refused to leave her father. He then climbed a high point of the rocks for a look-out, from which being so benumbed with cold, he fell and soon died. The others, his daughter and Mrs. Grant, after wandering about in the woods, perished on the 11th of March, 1787. Their bodies were found and carried to St. John, and buried in the old burying ground, at the head of King Street.... Years later their remains were carefully deposited in the lot of Amos Botsford, Esq., in the 'Rural Cemetery,' the beautiful Woodside grounds, at St. John." (From History of Sackville New Brunswick by W.C. Milner, 1934)..."
The British Government allowed the surviving children of Col. Chandler, Sarah, Mary, Thomas, Samuel and Charles, each £ 1,000 sterling. "...Sarah married William Botsford, father of the late .Judge William Botsford, and grandfather of Senator Botsford; Mary married Col. Joshua Upham, afterwards Chief Justice of New Brunswick. Thomas Chandler, M P P, a lawyer of eminence, died at Pictou...."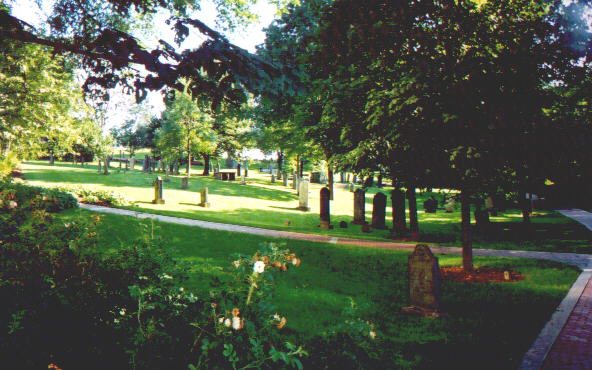 "The Saint John Rural Cemetery was incorporated in 1848. In 1899 the name was changed to Fernhill Cemetery...." Amos Botsford was born in Saint John on September 5, 1804. "...Described as a person of "discretion and intelligence", in 1852 Lieutenant-Governor Sir Edmund Head appoints Botsford to represent New Brunswick in Reciprocity Treaty discussions taking place in Washington (D.C.)."
The March 13, 1787 edition of the Royal Gazette (i.75/4) provided further details about the tragic fate of the Chandlers:
"On Friday evening last between 7 and 8 o'clock a very heavy snow storm, drove on shore the Schooner Patty commanded by Capt. [?Edward] Dalzell at the split rock, the eastern entrance of Musquash-cove, the violence of the storm so great that she instantly shove to pieces.
Mr. William Chandler perished in his attempt to reach the shore, Mr. Joshua Chandler, Miss Elizabeth Chandler and Mrs. Grant, (widow and relict of Major Grant late of the New-York volunteers), also perished...[several] were exceedingly injured by the frost; among the worst are Mr. Nash, merchant from Digby, Mr. Grant (Son of the said Mrs. Grant), Major [Thomas] Milledge and Cpt. Beasley...Mr. Lovett and other[s]...amounting to seventeen in all...are in a fair way of recovery.
...after getting on shore they had to climb up a precipice of uncommon height, and then to wade through the snow (4 feet deep on the level), until they reached a wood which sheltered them...here they...kept themselves in motion all night....The next morning the whole set out, wet to the skin [from a sudden rain], to seek their way to some house, in which attempt Col. Chandler and the said two ladies first perished, and the rest after wading about 10 miles...reached Mr. Egberts at night....One of the ladies got within two miles of the house, before she gave out and expired...had they shaped their course toward...Musquash, the whole might have been saved, as the distance is but two miles."
(Joshua Chandler was the father of William Elizabeth, and Mrs. Grant, and father-in-law of Joshua Upham and Amos Botsford.)
According to the March 20, 1787 edition of the Royal Gazette (i.76/3), their bodies were brought to Saint John a little over a week later:
"St. John....On Saturday last were brought to town, the bodies of Col. Chandler, Mrs. Grant, and Miss Elizabeth Chandler...and on Sunday they were decently interred in the burying ground of this city....Col. Chandler is said to have come to his death by falling down a precipice of about 150 feet...."
The articles were reprinted in Fit to Print by B. J. (Barry John) Grant, published in Fredericton by Fiddlehead Poetry Book & Goose Lane Editions Ltd. in 1787.
Judge and Mrs. Botsford would become the grandmother and step-grandfather of Ellen Murray. Her story is told on the Web site at http://www.geocities.com/rexanna_keats/emurray.html.
"The Memoir of LeBaron Botsford, M.D.," the son of William Botsford, by Frances Elizabeth Murray is now available on-line. (Saint John, N.B. : J. & A. McMillan, 1892.)
The first session of the Supreme Court in the County Court House was opened by Judge Botsford on January 12, 1830.
If our lives are a tapestry, there is a thread that connects Sarah Botsford and I.
"Thomas Millidge was a son of Major Thomas Millidge, Loyalist. He was an eminent merchant and magistrate in St. John, New Brunswick, and was elected to represent St. John County in 1816, and again in 1819. He was one of the first Directors of the Bank of New Brunswick, which received its charter in 1820.

Thomas Millidge was married in 1801 to Sarah, daughter of James Simonds. They had seven daughters and three sons, the youngest of the family being Thomas E. Millidge (1814-1894) who for thirty-three years or more was a prominent shipbuilder. For some time he sent three ships every year to England for sale. One hundred square rigged ships were built in Millidgeville. He contributed generously to the building of Millidge Street. He was President of the Bank of New Brunswick for six or seven years prior to 1853 when the business of shipbuilding declined. It was not until after the Indian Mutiny that shipbuilding started again. Thomas E. Millidge was married in 1840 to Sarah, daughter of James White, High Sheriff of St. John County. The Millidge connexion in St. John was large and affluent. And it was prominent in the Province. Two brothers of Thomas, the Rev. Dr. John Millidge and Stephen Millidge, married sisters, daughters of the Hon. Amos Botsford. Mrs. C.S. Putnam, wife of a prominent Barrister in Fredericton, was a granddaughter of Thomas Millidge, Loyalist, and a cousin of Thomas E. Millidge. She was also a granddaughter of that other Loyalist, the Hon. Amos Botsford, and his wife Sarah (Chandler).

...

Mrs. Amos Botsford (1744-1812)

This lady was Sarah, daughter of Joshua Chandler who, with his eldest son William and daughter Elizabeth perished when shipwrecked in the Bay of Fundy as they were reaching the shore of New Brunswick. She had accompanied her husband with their three children, Hannah, Sarah, and William. She came from a good home, and her husband was again providing her with a good home.

The two daughters of the Hon. Amos Botsford and his wife married brothers. Hannah married the Rev. Dr. John Millidge. Two of their daughters died in Fredericton, their graves in the old burial ground. Sarah married Stephen Millidge who, in 1782, was a Loyalist Associator in New York, and who came to New Brunswick, an ensign in the New Jersey Volunteers. He was High Sheriff of Westmorland County until his death in 1803. Sarah, his widow , in August, 1807, with her only son William Pagan Millidge aged seven was returning from a business trip when both were drowned while landing at Annapolis Royal from a schooner which had brought them from St. John.

[The five surviving daughters of Sarah went to live with their aunt and uncle, Judge. & Mrs. William Botsford, according to "The Memoir of LeBaron Botsford, M.D.," the son of William Botsford, by Frances Elizabeth Murray is now available on-line. (Saint John, N.B. : J. & A. McMillan, 1892.)]

Mrs. Amos Botsford was fated to lose her father, brother, sister, daughter, and a grandson, owing to accidents in the high tide of the Bay of Fundy.

In 1807 her son William brought his family to reside in Westcock. It was a satisfaction to the Hon. Amos Botsford and his wife having their son and eight small grandsons and two granddaughters living in Westcock."

"William Williams WALKER, the son of Thomas WALKER and Phoebe MILLIDGE, was born in 1802 at Annapolis, Annapolis County, Nova Scotia. d. 1889. He married Ann WOODWARD, born in 1809 at Granville, Annapolis County, Nova Scotia, and they had nine children. William died in 1889 and Ann died in 1881."

Also see: The Millidge Family Chronicles and The Millidge Family Chronicles.
The genesis of this Web site's Legal Page was an event that took place on Millidge Ave. Second Street, the location of the home of Thomas Millidge, figures prominently in the tale, as does First Street. Thomas E. Millidge built and owned One and Three First street. Woodward Ave., also in Millidgeville, figures prominently in the tale.

As an aside, William Chandler, the great-great-grandfather of John Chandler, had other descendants with a connection to the current presidency. His other son, Thomas, married Hannah Brewer. Hannah Brewer is the first cousin, 9x removed, of President George W. Bush. A descendant of Hannah Brewer is MARY BAKER EDDY (1821-1910), founder of Christian Science.

"John Adams says in his diary, "The Chandlers exercised great influence in the County of Worcester until they took the side of the government in the Revolution, and lost their position. They were well bred, agreeable people, and I visited them as often as my school, and my studies in the lawyer's office would admit.""
Send Jeremy or Rexanna an e-mail!
Optimized for Netscape 2.0 or better. Last Updated June 10, 2003.
Copyright Rexanna M. Keats 1999, 2000, 2001, 2002, and 2003. All Rights Reserved.