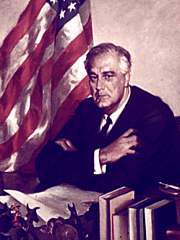 At left, Franklin D. Roosevelt from the collection of Download-Free-Pictures.com..
Papers concerning the property of the Ludlow family in Hyde Park, later a part of James (II) Roosevelt's "Springwood" estate are contained in the Franklin D. Roosevelt Library & Museum:
"...The "Crum Elbow" Papers, also from the "Rosedale" estate, mainly concern the property of the [Col. Gabriel George] Ludlow family in Hyde Park, later a part of James (II) Roosevelt's "Springwood" estate. The relationship between these Ludlows and Eleanor Roosevelt's grandmother, Mary Ludlow Hall, and great-grandparents, Elizabeth Livingston and Edward Hunter Ludlow, is not known...." See: the ROOSEVELT FAMILY PAPERS at the Franklin D. Roosevelt Library & Museum at http://www.fdrlibrary.marist.edu:8000/findbrow.cgi?collection=Roosevelt+Family".
According to a Web page that details the ancestry of Mrs. Parker-Bowles (As an aside, Mrs. Camilla Parker-Bowles has many ancestors from Quebec.), the relationship between these Ludlows and Eleanor Roosevelt's grandmother, Mary Ludlow Hall, and great-grandparents, Elizabeth Livingston and Edward Hunter Ludlow, is known:
.Anne Verplanck m. Gabriel George Ludlow (See: Pioneer Profiles of New Brunswick Settlers by Chalotte Gourlay Robinson for a profile of Ann Ludlow (Mika Publishing, Belleville, Ontario, 1980). Note: There is a significant error in the profile. The home that she claimed was Ludlow House is actually actually Sewall House.)
(The following is a baptismal record from "Anno 1751" available at New Amsterdam/New York Reformed Dutch Church Baptisms: "Feb 20; Gulian Ver Plank, Maria Crommelyn; Gulian; Gabriel Lodlow, Elizabeth Crommelin, z.h.v." It would appear to be record for the baptism of Ann Verplanck's brother, Gulian.)
.Gabriel Verplanck Ludlow m. Elizabeth Hunter (See: The New Netherland Ancestors of ANNA ELEANOR ROOSEVELT, the wife of FRANKLIN DELANO ROOSEVELT.
.Edward Hunter Ludlow, MD, m. Elizabeth Livingston (See: Eleanor Roosevelt's Maternal Ancestry at the Franklin D. Roosevelt Presidential Library and Museum.) Elizabeth Livingston was the daughter of the Hon. Edward Philip Livingston, Governor of the State of New York.
.Mary Livingston Ludlow m. Valentine Gill Hall (On a Web page of the Eleanor Roosevelt National Historic Site, there is a lovely picture of "grandmother Mary Hall [great-granddaughter of Saint John's first mayor], daughter Anna, ER, and Aunt Tissie, 1913." On the same page, it is written that "...ER understood Hall's sadness and used it as a catalyst for her own happiness. "My grandmother's life had a considerable effect on me, for even when I was young I determined," she wrote in This I Remember,"that I would never be dependent upon my children by allowing all my interests to center in them." ) See: the obituary of Edward Livingston Ludlow, the sister of Mary Livingston Ludlow.
.Anna Rebecca Livingston Ludlow Hall m. Elliott Roosevelt (On a Web page of the Eleanor Roosevelt National Historic Site, there are lovely pictures of Anna Rebecca Hall Roosevelt and Elliot Roosevelt.)
.Eleanor Roosevelt m. FRANKLIN DELANO ROOSEVELT (1882-1945)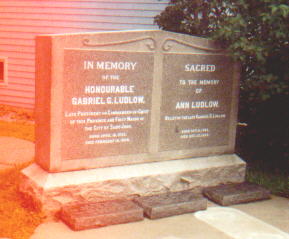 Just today, I found a letter which supports the ancestry of Eleanor Roosevelt as laid out in the ancestry of Mrs. Parker-Bowles.
The final paragraph on page 12 of Foot-Prints; or, Incidents in Early History of New Brunswick by J. W. Lawrence read, as follows:
"Banyer Ludlow, of Westchester, New York, Honorary memeber of the New Brunswick Historical Society, wrote the President Nov. 15, 1888: "You say I should be present at your Centennial, 1883. If I am alive, and able to travel, I shall be most happy to avail myself of the opportunity of visiting the home and resting place of my great grandfather, Colonel Gabriel G. Ludlow."
(See: COLLECTIONS OF THE NEW BRUNSWICK HISTORICAL SOCIETY, Volume I, Saint John, N.B., The Daily Telegraph Steam Book and Job Print, 1894. Banyer Ludlow is listed as an honorary member.)
BANYER LUDLOW, born June 1, 1835, was the oldest child of ROBERT HENRY LUDLOW and CORNELIA LEROY. Banyer Ludlow's father was the older brother of EDWARD HUNTER LUDLOW, Eleanor Roosevelt's great-grandfather. Banyer and ER were 1st cousins, 2X removed.
Vol. I, pp. 300-303 of Hudson-Mohawk Genealogical and Family Memoirs, edited by Cuyler Reynolds (New York: Lewis Historical Publishing Company, 1911), is available on-line. It also details the ancestry of Gabriel George Ludlow and George Duncan Ludlow.
There is a monument to Gabriel G. Ludlow and his wife, Ann, in Saint John. It is in front of Carleton-Kirk United Church, not in front of St. George's Anglican Chuch, as one might expect. The current monument was unveiled on May 19, 1928, the 145th anniversary of the landing of the Loyalists. The inscription on the monument is the same as the inscription for the tombstone for Gabriel Ludlow that stood inside an iron rail enclosure in the graveyard, Carleton:
IN
MEMORY
OF THE
HONORABLE GABRIEL G. LUDLOW, ESQ.,
Late President and Commander-in-Chief
of this Province.
Born April 16, 1736.
Died February 12, 1808.
SACRED
TO THE MEMORY OF
ANN LUDLOW,
RELICT OF THE LATE GABRIEL G. LUDLOW.
Born Oct. 11, 1743.
Died Dec. 13, 1822.
Nowdays, New Brunswick's President and Commander-in-Chief is known as its Lieutenant-Governor.
Three of Gabriel Ludlow's descendats were present at the unveiling of the monument: Col. B. R. Armstrong; J. M. Robinson, and Mrs Percy. Fairweather.
Col. B. R. Amstrong distinguished himself in the Boer War as a member of the 1st Canadian Mounted Rifles in South Africa. He was wounded in the right foot which was later amputated. Back home, he became a well respected lawyer and insurance broker. He formed an insurance and real estate partnership with Hugh Bruce which carried on under the name Armstrong & Bruce. Sadly, the company did not survive recent difficulties. There is a wonderful biography of Beverly Robinson Armstrong online which incudes pictures and portions of his diary.
Aspects of John Morris Robinson's story are told on my web page which is devoted to his Robinson anestors.
In Trinity Church, of which church he was a vestryman at the time of its burning, June 20th, 1877, there was a tablet in memory of Colonel Ludlow; on it was recorded:
"He Was Truly a Good Man."
"Were a star quenched on high,
Forever would its light
Still falling from the sky
Shine on our mortal sight.
So when a good man dies,
for years beyond our ken,
The light he leaves behind him
Lies upon the paths of men."
The Foot-Prints; or, Incidents in Early History of New Brunswick by J. W. Lawrence and the Saturday, May 20, 1908 edition of the Telegraph-Journal.
Poetry buffs may recognize the poem from which these verses were taken. They are the final two verses of "Charles Summer." Ironiclly, they were written by Henry Wadsworth Longfellow. His home for almost half a century (1837-1882) is now known as Longfellow National Historic Site. Longfellow House is also significant in America's colonial history. General George Washington, Commander-in-Chief of the newly-formed Continental Army, headquartered and planned the Siege of Boston here between July, 1775 and April, 1776. It was also the former home of Jonathan Sewell, another Loyalist who found himself in Saint John. Jonathan Sewell, Jr., and Gabriel V. Ludlow, Mayor Ludlow's son, both studied law with Ward Chipman.
A notice of the death of Colonel Gabriel G. Ludlow's second daughter was published in the New Brunswick Courier on February 15, 1840.
"At New York, on the 25th ult., after a lingering illness, Frances Ludlow, in the 74th year of her age, second daughter of the late Colonel Gabriel G. Ludlow, of New Brunswick."
Col. Ludlow supported the pall at Jonathan Sewell's funeral. The following is an excerpt from Judges of New Brunswick, published in volume V, number 1, of Acadiensis:
"...The following refers to the death of the Honorable Jonathan Sewell, the father of the the Attorney General of Quebec:
"ST. JOHN, N. B., 27th September, 1796. MY DEAR SIR,-- In the absence of our friend, Mr. Chipman, I consider it a duty incumbent on me to inform you of the melancholy event which has taken place here. Your much respected father had been evidently declining for some time past, and about ten days ago became so weak and debilitated as to be unable to rise from his bed. From that time the tender and indefatigable Dr. Paddock constantly suggested his fear that every day would be his last. He, however, rallied until 8 o'clock last evening, when he departed this life without a struggle or a groan. It was with unutterable concern and regret that Mr. Chipman left this place while your father's situation was so critical, but his departure was unavoidable. Amid the distress which this letter will most naturally excite in the heart of yourself and your brother, it may afford some consolation to know that Mr. Chipman, previous to his departure, left the most particular directions with Dr. Paddock and myself in case the event should happen in his absence. On Friday next, your father will be interred in the vault with Judge Putnam. The pall will be supported by Col. Ludlow, Mr. Hazen, Mr. Leonard, Mr. Wanton, Col. Billop, and Col. DePeyster. Mrs. Sewell is much exhausted by constant watchings, anxiety and fatigue; her friends are untiring in their endeavors to console her. Mrs. Chipman has been with her all the day. Most sincerely go I console with you on the loss of my truly valued friend.
Yours faithfully,
Edward Winslow.
Jonathan Sewell, Esq.,
Attorney General, Quebec.""
The notice of Gabriel G. Ludlow's death in the Montreal Gazette April 14, 1808 is availale online:
"Very suddenly, at his residence in St. John's, New Brunswick, the hon. GABRIEL G. LUDLOW, Esq. president and commander in chief of that province, in the 72d years of his age, universally regretted."
In "I Remember Hyde Park: A Final Reminiscence" (McCall's Volume 90 (February 1963): 71-73, 162-163.), Eleanor Roosevelt puts the historical significance of the former residence of George Duncan Ludlow into its historical perspective:
I remember Hyde Park on so many, many occasions, covering forty-odd years. I remember going to the big house when I was a timid young girl not yet engaged to Franklin Delano Roosevelt; he had brought me there to meet mother's relatives. . . . A year later, I remember our honeymoon there--ten days alone in the house, still closed for the winter, except for the Scotch laundress-maid, Elsie, who cooked our meals for us. . . . I remember going back every spring and autumn, with our growing family of energetic children. . . . I particularly recall being there for part of the year when Franklin, at thirty-nine, was stricken with polio. . . . Later, I remember going to Hyde Park when he was Governor of New York State, and the for all the years in the 1930s and early 1940s, when the old mansion was know as the Summer White House. How filled were the guest rooms with the famous statesmen of this country and of the World! . . . And I remember returning on April 15, 1945, on the funeral train from Washington, D.C., when my husband was laid to rest in the rose garden, close to the house in which he had been born and which he had loved so well for all his sixty-three years."
Judge George Duncan Ludlow's role in the judiciary of the State of New York through 1870 is considered in the Historical Society of the Courts of New York on-line book "The Judiciary" by Irving Browne, Editor of the Albany Law Journal, under the supervision of Charles J. Folger, Chief Judge of the Court of Appeals of the State of New York.
The William Heysham Line is not footnoted; however, if it is to be believed, "In 1778 he was made the Master of the Rolls and Superintendent of police on Long Island. Ludlow was a strong Loyalist, and the previous year his house at Hempstead had been plundered and it is said that he escaped imprisonment by climbing on the roof through the scuttle and hiding behind the chimney." Also, according to the same Web site, he became a judge "notwithstanding a serious impediment of speech."
Both Ludlow brothers are mentioned in The New York Act of Attainder, or Confiscation Act.
The emigration of the Loyalists from New York is poignantly described at "Expatriation - A New Home."
As was stated in "Expatriation - A New Home:"
"Market Slip at the foot of Market Square...is the Plymouth Rock of New Brunswick, for there landed her founders, men eminent through the three generations of their descendants."
The departure from America of Judge Ludlow and his brother are referred to in a "Letter from Edward Winslow Sr. to Edward Winslow Jr., June 20, 1783, Bowery:"
"...— The Commander in Chief and Commissary General are now Neighbors — the first where Governor Robinson lived & latter where Major Coffin lived last Summer — they frequently call and never fail to speak in your praise — Old friends are leaving us — Judge Ludlow sailed for Great Britain yesterday — I am told Col Robinson & Col Ludlow are soon to follow him ~..."
In a "Letter from Ward Chipman to Edward Winslow, June 25, 1783, New York," we learn that Judge Ludlow sailed for England in the Packet:
"Col. Robinson & his family are sailed for England in the Lion Judge Ludlow in the Packet – Col. Morris & family & Col. Cruger are gone. Several empty Transports arriving yesterday from England give us strong reason to suspect we shall all be off this fall. – Everything here remains just as when you left us – the People in the Country growing more violent every day. –"
Isabel Louise Hill wrote in her book entitled "Some Loyalists and Others" that "his vessel bringing his wife was wrecked in the Bay of Fudy on the voyage to New Brunswick, and the loss included their furniture, books, wearing apparel, linen, sterling, etc...."
Online, at Early Prints, Photographs and Watercolours of the St. John River Valley, 1780-1920, there is a picture of Chief Justice George Duncan Ludlow's home on the St. John River at Springhill, five miles above Fredericton, 1807, by George Heriot. Credit: Royal Ontario Museum/950.31.
In Foot-Prints; or, Incidents in Early History of New Brunswick, Hon. Chief Justice Ludlow salary was listed as 55 pounds, 11 s., 1 d..
There is a picture of Gabriel G. Ludlow's home in "Saint John and Its Neighbors," co-authored by David Goss and Fred Miller. The caption reads, as follows, "When the Loyalists arrived in Saint John Gabriel C. Ludlow was appointed as mayor. He had this home built on Duke Street on the site of the gardens of a former French settlement. Mr. Ludlow's house was torn down in the late 1880s, but his grave is still within a block of the house on Courtenay Hill. (New Brunswick Museum.)"
From "Saint John: More Postcard Memories," co-authored by Terry R.J. Keleher and Donald P. Collins, "...Saint John's first mayor, Gabriel Ludlow, living on the West Side, purchased his pew [in St. George's Church (still standing)] but died before the structure was completed.
Besides being Administrator, New Brunswick's President and Commander-in-Chief and Saint John's first mayor, on the organization, 1787, of the Court of Vice Admiralty, although not a member of the Bar, he was appointed Judge. Isabel Louise Hill wrote that Gabriel G. Ludlow maintained an active interest in military affairs, was Colonel of the St. John County Militia, and was promoted on June 26, 1798 to the rank of Brigadier General.
While he was Mayor of Saint John, he greeted Edward, Duke of Kent, who arrived in Saint John at 6:00 PM on June 19, 1794 on the sloop of war Zebra (having just crossed the bay from Annapolis N.S.). He was also greeted by Major-General Carleton (Governor of the Province), other officials, and a large number of enthusiastic people.
It was Ward Chipman who picked out town lots for Col. Ludlow. In a "Letter from Edward Winslow to Ward Chipman, July 7, 1783, River St. John's:"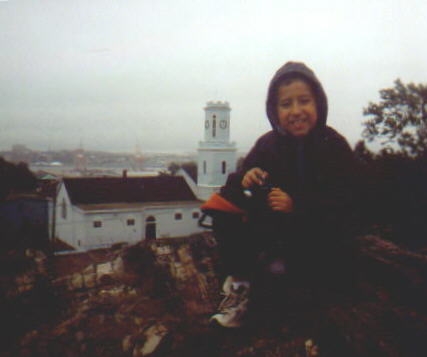 "So much for the family. On this side \ the Bay of Fundy / I am speculating pretty largely – I have taken three town lots on the West side the river in the most delightfull situations – \ I ever saw. / for myself Major Coffin & Col Ludlow, on condition to build a tenantable house on each within six months Coffins is already in some forwardness, & my own & Major Murray,s will soon make a figure. Shou.d our farms in the general division \ be / fall at a distance from this – we cannot lose by the exertion – the Houses will cost but a very trifle & those who are oblig.d to come without such covering prepared will be glad to pay the expense. –..."
From a "Letter from Ward Chipman to Edward Winslow, July 9, 1784, it would appear that the Col. Ludlow sailed for Saint John in August 1784:
"...— Col. Ludlow talks of taking passage in the Adamant, which sails the 1.st Aug.t It is not impro :bable that I shall accompany him, tell Mr. Townsend I shall in that case certainly avail myself of his very friend :ly offer of Quarters for a few- days. — ..."
In a "Letter from Thomas Aston Coffin to Edward Winslow, August 4, 1784:"
"Colonel Carleton has received his Commission & taken the Oaths & I suppose will leave this about the End of the Month. Chip Judge Ludlow &c will embark about the same Time — Colonel Ludlow has taken Passage in the St. Lawrence which sails in about a fortnight."
I discovered an old article pasted into the back cover of "Our New Brunswick Story" by Jessie I. Lawson and and Sweet, Jean M. Sweet.
"All links in the present chain of office have been presented to the city by friends of former mayors. At present there are 43 links in the chain. The name of each mayor with his term of office is inscribed on the back of each link...."
The names of both George Duncan Ludlow and Gabriel G. Ludlow as members of the College's governing body of the College of New Brunswick in its Charter of 1800 in which many prominent names appear as members of the College's governing body.
How was it that a Loyalist became the ancestor of a First Lady? That question was answered in the 1880s when Joseph W. Lawrence researched the history of judges in New Brunswick. The following is an excerpt from Judges of New Brunswick, published in volume V, number 1, of Acadiensis:
"...On the death of Bartholomew Crannell, (4) there were two applicants for the office of clerk [(common clerk of St. John)] vacated by his death, of whom the one was just entering on the activities of life, while the other was not only advanced in years, but was high in his profession. These were Gabriel V. Ludlow, a nephew of the Chief Justice, and Elias Hardy. (5) The latter received the appointment, as appears from the following letter: "ST. JOHN, N. B., 22nd June, 1790.
DEAR JONATHAN:--
Ga. Ludlow has lost the Clerk's office in a strange manner, it is considered a curious circumstance by all the whigs here, he had made application to the Chief Justice a long time ago, but as the demon of ill-luck would have it, he never mentioned it to the Governor, till the latter showed him an application from Hardy, which was considered by the Governor as the first application. The Chief Justice was excessively urgent for Gab., the Governor was as strenuous for Hardy and appointed him. It is supposed by some the whole is political business, but I am convinced what chiefly actuated the Governor was his strict adherence to his word, for I am told he has declared that the first applicant for any vacant office, if the person applying is capable and not immoral, shall be appointed; in consequence of the above Gab. i the first transport of his chagrin felt himself somewhat disappointed, and was turning his eyes round to find where he should go next. Montreal presented itself with all the charms and attractions of a Court of Queen's Bench. I had some serious conversations with him; the result was that he or I should write you for your opinion. I wish you to think seriously of the business and give us your sentiments by next mail.
Your brother,
STEPHEN SEWELL.
JONATHAN SEWELL, .JR
Quebec, Lower Canada"
Gabriel V. Ludlow shortly afterward removed to New York, which he made his future home. He wrote Ward Chipman, in whose office with the two Sewells he studied law:
"The practice of law is much more laborious business here than with you, as we do business frequently from five in the morning till late at night. The fees are very low and proceedings very lengthy. However, the practitioner makes it up in Court fees. The number of the Bar exceeds all bounds, notwithstanding which the most eminent make, I imagine, 2,000 pound a year."
Mr. Ludlow was a son the Hon. Gabriel G. Ludlow, Mayor of St. John; he died at New York, April 30th, 1825, aged 57 years...."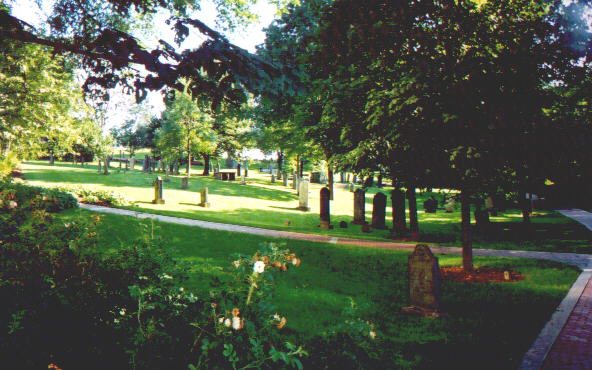 Later, Joseph W. Lawrence wrote: "The following certificate relates to the admission of Gabriel V. Ludlow on applying for admission as an attorney:
To the Honorable His Majesty's Justices of the Supreme Court, in the Province of New Brunswick:
I certify that Mr. Gabriel V. Ludlow has served as a clerk in my office with ability, industry and diligence, from Trinity Term, 1785, to Trinity Term, 1789, inclusive; that he is a young man of irreproachable morals, and that I recommend him as in every respect amply qualified to be admitted to be an attorney of this Honorable Court.
Given under my hand this 23 day of January,
in the year of our Lord 1790.
WARD CHIPMAN."
In 1790, Mr. Ludlow could not have imagined the circumstances under which his home in New York would be remembered almost 225 years later, or the circumstances under which his portraiture would be sold.
Mr. Ludlow's home in New York between 1808-1812 stood on the site of the World Trade Center which was destroyed in the terrorist attacks of 9-1-1.
APPENDIX K.3 TOPIC INTENSIVE ARCHAEOLOGICAL STUDY: WTC SITE of the World Trade Center Memorial and Redevelopment Plan
"...From 1808-1812, a single tenant, Gabriel V. Ludlow, a counsellor, occupied the middle address on the lot [10 of block 60] (New York City Directories 1808-1812; Assessed Valuation of Real Estate)...."
From the same document, we learn that:
"...Peter Mesier's land...included the northern portion of Block 60..." The earliest gravestone in the Loyalist Burial Ground in Saint John is dated July 13, 1784 in memory of Conradt Hendricks. Johannes Hendricks and Sarah Meiser, the parents of Conradt Hendricks, inherited the Messier farm and mill in 1784.
By 1820, Gabriel V. Ludlow had a fine residence on Broadway above Canal Street. (See: A HISTORICAL TOUR OF THE GREATEST STREET IN THE WORLD.......BROADWAY: FROM CANAL STREET TO UNION SQUARE, Prior to 1911.)
From "Spring Americana Auction" by Lita Solis-Cohen and Elizabeth Bates in Maine Antique Digest:
"Ralph Earl's nearly life-size portrait of a gentleman, possibly Gabriel Verplank Ludlow, seemed to be a good buy when it went at $41,825 [Christie's sale on May 29, 2002] to a phone bidder. The oil on canvas was in untouched condition with a crusty surface, signed and dated 1796, and consigned by a descendant of the sitter. According to the catalog, the sitter owned land in New York's Westchester County."
A picture of the painting, "Portrait of Gentleman, possibly Gabriel Verplank Ludlow; Oil on Canvas, 41 x 32 inches; Signed and dated at lower left; R. Earl 1796," is available on-line at Equinox Antiques.
"....There is a Verplanck Room at the Metropolitan Museum of Art in New York City that contains furnishings and paintings from the Verplanck house at 3 Wall Street dating from the time of Samuel Verplanck[, Gabriel Verplanck Ludlow's uncle,] in the 18th century...."
There are paintings by John Singleton Copley of two of Gabriel Verplanck Ludlow's uncles in the room, Samuel Verplanck, 1771 (Oil on canvas; 30 x 25 in. (76.2 x 63.5 cm)), and Gulian Verplanck, 1771 (Oil on canvas; 36 x 28 in. (91.4 x 71.1 cm).
There is another painting by Copley in the room, that of Daniel Crommelin Verplanck, 1771, Gabriel Verplanck Ludlow's cousin.
There was a tragic aspect to Daniel Crommelin Verplanck's life, as related by the Metropolitan Museum of Art in New York City.
"The suite of furniture and other objects in the room are from Samuel Verplanck's impressive town house built by his father before 1750. The house stood at 3 Wall Street in New York City; it was demolished in 1822 to make way for the Branch Bank of the United States, the faηade of which was preserved in 1924 as the front of the Metropolitan Museum's American Wing. In 1763, after he returned from a trip to Amsterdam during which he married his Dutch cousin Judith Crommelin, Samuel took possession of the house and most likely purchased the suite of furniture for his parlor. During the Revolutionary War, Samuel supported the Revolutionary cause but his Dutch wife did not. When the British took Manhattan in 1776, Samuel retired to Fishkill, New York, where he remained until his death in 1820. His estranged wife stayed in the Wall Street house, maintaining a friendship with Lord William Howe, commander in chief of the British forces. Howe presented her with two of the paintings currently hanging in the room, The Temptation of Eros and The Victory of Eros, both in the style of the Swiss artist Angelica Kauffmann. After Howe was recalled to England for "dissipation and high play," Judith remained in Manhattan until her death in 1803. After that, the house was closed and most of the furnishings were sent to Fishkill, where they remained until they came to the Metropolitan."
The aforesaid tale was told more delicately in "THE PROJECT GUTENBERG EBOOK A DISCOURSE ON THE LIFE, CHARACTER AND WRITINGS OF GULIAN CROMMELIN VERPLANCK."
A chair from the Verplanck Mansion sold for $387,500 (including buyer's premium), a record for a New York chair at a Christie's fall Americana auction in New York City.
According to "Footprints of Benedict Arnold Late Major General Congressional Army of the American Colonies, Late Brigadier General British Army," by Eric L. Teed, Q.C., M.L.A., Elias Hardy caused the resignation of Mayor Gabriel Ludlow in 1795 by slanderous accusations about the Mayor's conduct. Hardy's term of office as Common Clerk was the subject of official inquiry as to mismanagement of City funds. The common council petitioned the Governor to have Hardy removed and a committee reported the books were irregular, accounts were not kept, law suits against the City were allowed to go by default, improper and groundless charges of neglect were made against the Mayor and that Hardy was of such character as not to be trusted as Common Clerk."
New Brunswick is also the former home of John Peters Humphrey.
John Peters Humphrey, in 1948, was the Director of the Human Rights Division that created the code of human rights for the United Nations. Mrs. Roosevelt was its Chairman. Called The Universal Declaration of Human Rights, an unprecedented step was taken in human history when it was adopted by the United Nations.
John Humphrey faced personal tragedy early, losing his arm in an accident at age six, and both his parents by age 11. "John Peters Humphry is buried in the Hampton Rural Cemetery "with a very modest and small stone marker that simply says, JOHN PETERS HUMPHREY 1905-1995.""
John Humphrey and the Universal Declaration of Human Rights By Bob Carty, ex Montreal

"On September 24, 1998, to commemorate the 50th anniversary of the United Nations Universal Declaration of Human Rights, President Nelson Mandela of South Africa unveiled a plaque at the [Canadian Tribute to Human Rights Monument in Ottawa] honouring John Peters Humphrey. Professor Humphrey, a Canadian jurist, wrote the preliminary draft of the declaration while serving as the first director of the UN Human Rights Division. Professor Humphrey was a patron of the Canadian Tribute to Human Rights." The monument is located at the corner of Elgin and Lisgar Streets (southern gateway of Confederation Boulevard, the ceremonial route).
Organizers in Hampton, where John Peters Humphrey was born, have unveiled a scale model and launched a fundraising campaign to build a $200,000 monumment to him. ("John Peters Humphrey memorial struggles with name regonition" by Mac Trueman as published in the Telegraph-Journal on July 16, 2004, p. A5.)
For further reading:
There are 18 letters of Edward Winslow which refer to the Ludlow brothers available on-line at Edward Winslow Letters.
A discourse on the life, character and writings of Gulian Crommelin Verplanck, delivered before the New-York historical society, May 17th, 1870, by William Cullen Bryant., Bryant, William Cullen, 1794-1878.
Temperley, Howard - Gubbins New Brunswick Journals 1811 - 1813

Lieutenant Colonel Joseph Gubbins rode and sailed about the province of New Brunswick in the early years of the nineteenth century, recording his experiences and impressions, publishing his account as New Brunswick Journals 1811-1813. He lived at Chief Justice George Ludlow's estate in Springhill, just above Fredericton, and toured southern New Brunswick in 1811.
A Revolutionary Day along Historic Route 9
Send Jeremy or Rexanna an e-mail!
Optimized for Netscape 2.0 or better. Last Updated June 10, 2003.
Copyright Rexanna M. Keats 1999, 2000, 2001, 2002, 2003, and 2004. All Rights Reserved.