was a practicing physician of Dorchester and a founder of homœopathy.

I have yet to confirm this, but it would appear that Dr. Ruggles was Edwin Pakenham Ruggles (Born: Jan. 5, 1873; Died: June 19, 1940), a Basketball Hall of Famer. Dr. James Naismith, a Canadian who hailed from Almonte, Ontario, founded basketball when he drew up the original 13 playing rules and Edwin Ruggles was one of 18 Springfield College students who made history when they participated in the first basketball game ever played. Edwin Muggles is the first player from the left in the bottom row of the photo entitled "Basketball Pioneers." There is another picture of him at a Web page of the World Alliance of YWCAs. Edwin Ruggles was a member of the 1895 Springfield College graduating class.

Modern sports historians do not paint a pretty picture of Edwin Ruggles.

The Canadian Sports Tribune describes his class, as follows:

"Naismith was a teacher in an all-boys school, and he taught one of the most rebellious gym classes in the school. His belief that a healthy body and mind are directly connected was challenged not only by the lazy attitude of the students, but also by the winter season which limited their outdoor activity. The teacher needed something new to keep his sluggish pupils occupied."

The Heritage Foundation's Heritage Minute which presents this story to Canadiens is available on-line.

In 1878, Dr. LeBaron Botsford, Ellen Murray's uncle, and Ellen's sister made a trip South to the Penn School and Frogmore Manor.
"...Miss M -----'s sister, E----- M-----, and her friend, Miss L. M. Towne, from Philadelpia, had been engaged for many years in educational, temperance and missionary work among the freedmen of South Carolina, and when it was known that Dr. Botsford contemplated a trip to the South, Miss Towne kindly invited him and his niece to visit Frogmore, the pretty home she had made for herself in the Island of St. Helena."
Ellen met them at Beaufort and they crossed the Beaufort River in an open boat, rowed by blacks. The carriage was waiting, and Ellen drove the ten miles to Frogmore, where Miss Towne gave them a warm welcome. According to the Memoir, Ellen and Mrs. Towne had been carrying on their work for sixteen years.
The following is a brief history of Penn School's formation, taken from an annual report, printed by the scholars themselves on their school press, and reprinted in Memoir of LeBaron Botsford, M.D. by Ellen Murray's sister, Frances Elizabeth Murray: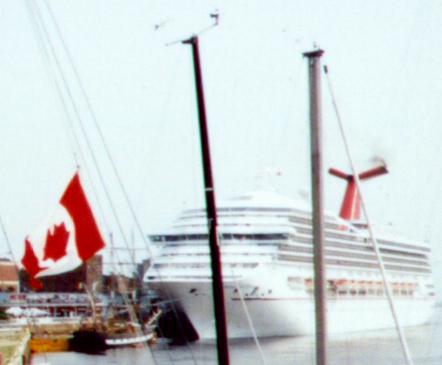 At left, John Chandler sailed to Saint John, and was shipwrecked, on a ship, not unlike the Jeanie Johnston shown in front of a cruise ship in Saint John harbour.
"PENN NORMAL AND INDUSTRIAL SCHOOL

Established 1862,

PRINCIPALS: MISS L. M. TOWNE, MISS . MURRAY

On the coast of South Carolina, near its southern border, lie a group f islands nstling together between St. Helena Sound on the north, and Port Royal Entrance on the south. Beaufort, the county town, and also the old fort of Jean Ribault, are on Port Royal Island.

When, in the late civil was, these islands were taken possession of by the Union forces, among those who came down to help and teach the freedman were two ladies, Miss L. M. Towne from Philadelphia, and Miss E. Murray from England.

Deciding on St. Helena for their field of work, they founded the Penn School, so called in honour of the Pennsylvania Freedmen's Relief Association, which had given them their commission, and continued generously and liberally to support the school."

When this Association disbanded, is work being done, an Auxiliary Society, the Benezet, with the kindest interest, cared for the school for years, and still gives occasional donations. When the Benezet support ceased, the two ladies, as Principals of the school, with the help of their own near relations only, undertook its support, and though necessarily cramped for means, have for many years kept it open and in working order.

When they first commenced they were told that the "field hands" of these islands were too low to learn anything; that "it was a waste of time to attempt to educate or civilize them; that few of them could count their fingers correctly, their language was unintelligible jargon, and it was impossible to teach them arithmetic."

Determined to prove that

"A Man's a man for a' that,"

The ladies called the school together in the Brick Church, in the center of the island, where, in 1862, the first division of the school was made into those who could repeat the alphabet and those who could not.

Sixteen years of work lie between that tome and this, and now the school has its Normal, High, Gramar, Intermediate, Primary and Infant Divisions, with its Industrial Annex.

The Industrial Departments consist of a Carpenter's Class in a shop erected by the young men of the school, and a Sewing Class.

The school has no State or County aid, and is a free school, furnishing higher instruction to the graduates of the District Schools of the island and preparing them for State examinations. Its graduate are employed as teachers in the different divisions of the Penn School, in the County schools of the island, also in other parts of the State, and as clerks in stores.

Especial attention is given to moral and religious training, and to the principal of teaching.

This brief history may well close with Gen. Saxton's comment, who, in revisiting the island after twenty years, said: "They do not seem to be the same race that we found here, their expression and bearing are so changed and improved.""
Dr. Botsford's name is listed at the end of the report as a benefactor. A poem, written by Whittier, for the first Chritmas in the Penn School, also appears at the end of the report.
Whittier is John Greenleaf Whittier (1807-1892).
"John Greenleaf Whittier (1807-1892) was the poet laureate of reform. He was an ardent abolitionist, a supporter of William Lloyd Garrison, who was the first to publish his poetry. He also edited anti-slavery newspapers, supported John Quincey Adams' campaign against the "Gag Rule," and supported various free soil political parties before becoming a staunch Republican. He was also a strong supporter of Temperance and became an advocate of the Maine Law. Whitter also was an advocate of woman's rights, although a somewhat cautious one in that he hoped that women would gain political rights without weakening traditional family roles. An extremely prolific writer, Whittier also produced poems about nature, Quaker religiosity, folk tales, and innumerable other subjects including the "barefoot boy with cheek of tan."..." (See: http://www.assumption.edu/ahc/Kansas/WhittierTop.html where there is also a portrait of him.)
In an online article In Teaching Tolerance MAGAZINE entitled "Let the Mainlands Hear the Word: Coastal Carolina educators work to preserve Gullah culture" by Brad Swope (See: http://www.tolerance.org/teach/expand/mag/features.jsp?p=0&is=34&ar=483.), and a couple dozen schoolchildren, ages 5 to 12, line up inside Faith Brown's classroom at the Penn Center school to "rehearse what Brown calls the theme song for the Penn Center's Program for Academic and Cultural Enhancement, or PACE. "St. Helena Hymn," by John Greenleaf Whittier, a 19th-century abolitionist-poet, was written for Charlotte Forten, the first African American teacher hired at the school." "St. Helena Hymn" is the the same poem, written by Whittier, for the first Chritmas in the Penn School, that appeared at the end of the report.
Charlotte Forten is also featured in PBS' Only a Teacher series (See: http://www.pbs.org/onlyateacher/charlotte.html). On theirWeb page about her, you will find a portrait of her. "She stayed on St. Helena Island for two years, then succumbed to ill health and had to return north. In 1864, she published "Life on the Sea Islands" in The Atlantic Monthly, which brought the work of the Port Royal Experiment to the attention of Northern readers."
From an on-line paper at http://www.public.iastate.edu/~borzoi/MaryCharlotte_paper.pdf, we learn that "..."...Thomas Wentworth Higinson [(A prolific writer frequently published in the Atlantic Monthly, most famous for his correspondence with Dickinson.)] wrote that "Miss Towne says she is the pet and belle of the island."..."
As an aside, Thomas Wentworth Higginson has a Maritime connection. His "...grandmother lived from childhood in the house of her grandfather, Judge Wentworth; her great-grandfather was the first of the three royal governors of that name, and the two others were her near kins..men....[I]t was a soldier...whom she married; and when she went to England fortunately under the proper escort of a kins woman - she was apparently received, both by her husband's relatives and her own, with all the warmth that might have been expected that is, with none at all. Yet she had sweet and winning qualities which finally triumphed over all obstacles; and her married life, though full of vicissitudes, was, on the whole, happy. They dwelt in England, in Jamaica, in St. Andrews, in Campobello, then in Jamaica again, Captain Storrow having in the meantime re signed his commission, and having died at sea on his passage to Boston, in 1795. [Thomas Wentworth Higginson's] mother, Louisa Storrow, had been born, meanwhile, at St. Andrews, in 1786...." We have another date for the death of Thomas Sorrow on another Web page (See: http://www.rootsweb.com/~nbcampob/tstorrow.htm.): Thomas Sorrow "died from ill health in December of 1794." "...Nancy, his widow, went on to open a boarding school in Vermont but her youngest daughter died six months after Thomas and that just did her in, so to speak and she fell ill and died in 1795. But their children went on to become quite famous and well travelled and of course their descendants were responsible for the development of Boston and the American railroad as well as being mayors of Boston. There is a route through Boston named in honour of James Jackson Storrow, Storrow Drive."
Louisa Storrow would reside for a spell in The Colonial Society's House at 87 Mount Vernon Street, Boston, completed by Charles Bulfinch for Stephen Higginson, Jr., her husband.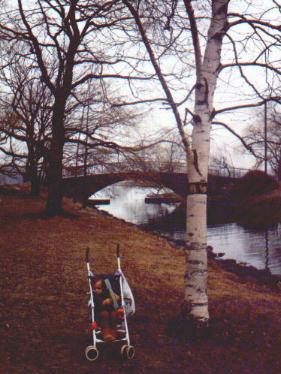 The following is from "Bay State Bridges, Tunnels Honor Politicians: Critics Say Liberty Tunnel Should Get New Name" at http://www.blackmarketgold.com/agents_battle_over_name.txt:
"For years, drivers heading from the western suburbs to Logan International Airport have taken Storrow Drive up onto the John F. Fitzgerald Expressway and into the Callahan Tunnel.

Storrow Drive is named after James Jackson Storrow, a reform-minded Bostonian who also happened to run against John F. "Honey Fitz" Fitzgerald in the 1910 mayoral race, one of the closest in the city's history.

Fitzgerald won and went onto become a patriarch of the Kennedy/Fitzgerald clan. His daughter, Rose, was the mother of President John Kennedy and U.S. Sen. Edward Kennedy."
James Jackson Storrow of Back Bay was the wealthy scion of one of Boston's finest families. From "Love That Dirty Water" by Mark Leccese, published in the March 2000 issue of Boston Magazine Online at http://www.bostonmagazine.com/ArticleDisplay.php?id=48, we learn that:
"...An investment banker and business partner of Henry Lee Higginson (the founder of the Boston Symphony Orchestra), Storrow would later spend four years in Detroit helping out a fledgling auto company named General Motors.

A lover of the river who in 1885 had captained Harvard's crew team, Storrow led a campaign to dam the mouth of the Charles. By 1910, an earthen dam with a pair of locks at what is now the Museum of Science was finished. The dam stabilized the water level from Boston to Watertown, eliminated the salt-water mud flats and marshes, and created the Charles River Basin we know today. After his death, Storrow's widow donated $1 million to widen the riverbank and create the Storrow Embankment, also known as the Esplanade, on the condition that the state drop its plans for a highway running alongside the river. State officials agreed, and the Esplanade was dedicated in 1936.

While the state was agreeing that no road would be built, the City of Boston was paying a New York City traffic consultant to map out a plan for just such a roadway. By 1946, Governor Maurice Tobin, in his State of the State speech, called for construction of the so-called Embankment Road "immediately." Arthur Fiedler, conductor of the Boston Pops (already well-known for its summertime Esplanade concerts), joined the fierce opposition. In April of 1948, legislative leaders locked Massachusetts House members in the House chamber and did not let them leave until approval of the road was given—which it was, by a one-vote margin. The legislature, deaf to irony, named the road that cut the city off from the river and its park land James J. Storrow Memorial Drive."
Henry Barlow Brown, Thomas Sorrow's brother-in-law (See: http://www.rootsweb.com/~nbcampob/tstorrow.htm.), a Loyalist, was for many years registrar of deeds for Charlotte County. His son, Thomas Storrow Brown, born in St. Andrews, was an author of some note.
Thomas Storrow Brown "...came to Montréal in 1818. In 1832 he was one of the founders of the Montreal Vindicator. He allied himself with the French-Canadian patriots and took part in the Rebellion of 1837. Brown was in command of the defeated rebel forces at the Battle of St-Charles. He subsequently escaped to the U.S. where he worked as a journalist in Florida until 1842. In 1844 he returned to Montréal under amnesty. He occupied minor administrative posts here from 1862 until 1876.'
We digress. Let's get back to Laura Towne and Ellen Murray.
According to "A lively past dating back to the 1700s at Frogmore Manor" By CATHY CARTER HARLEY, Beaufort Gazette assistant Lifestyles editor, Published Thu, Mar 18, 2004, "The plantation's history begins with a connection to Penn Center during the Civil War, when missionaries Laura Towne and Ellen Murray from Philadelphia bought the 1 1/2-story tabby foundation house and added a full second story around 1869."
"While Frogmore Manor plantation's history goes back to the 1700s, visitors may feel a connection to the house, which was the model for Mrs. Gump's house in "Forrest Gump," the 1994 Academy Award-winning film."
In my case, I would feel a very strong connection to the house. In 1994, I travelled from my home in Saint John to Moncton to have a pre-arranged Cesarean section. My family physician advised me to do something nice for myself the night before the surgery. My mother and I went to Crystal Palace to see Forrest Gump, a movie I would highly recommend for any for single parents. In the course of my research for this page, I discovered where the scenes of the floating feather were shot and I discovered the location of the beautiful, ancient oak tree in the movie. Recall Jenny's grave under the tree and the voice-over where Forresy says, "From that day on, we was always together. Jenny and me was like peas and carrots." "That photogenic tree is located at the entrance to Carolina Shores at the end of Carolina Avenue, off Bruce K. Smalls Drive (intersecting with U. S. Highway 21 in the Gray's Hill area, past the Marine Corps Air Station)." (See: http://www.locationcarolina.com/forrest_gump.html.) For some more Forrest Gump trivia, see Amazon.com: Quotes & Trivia: Forrest Gump (1994) at http://www.amazon.com/exec/obidos/tg/detail/-/B00003CXA2/102-8334213-5980162?v=glance&vi=quotes-trivia. Did you know that "Sinise, Gary's lower legs were wrapped in a special blue fabric that allowed them to be optically removed from the film by computer later?" I always wondered how they did that!!
While Ellen Murray lived at Frogmore Manor, "...beautiful pictures of Miss Towne's well-known artist sister, Mrs. Darrah, of Boston, adorned the walls...." "Built in 1903, Darrah Hall it is the oldest building on the grounds [of Penn Center]. The original buildings of the same name dated from 1882; it was a memorial to Sophia Towne Darrah, the sister of Laura Towne, and stood on "The Green," at the intersection of U.S. 21 and Martin Luther King Drive...."
In Dr. LeBaron's memoir. there is a sketch of the school-house from a pencil drawing by Mrs. Murray, the widow of Dr. Botsford's step-brother. After her mother's death, Mrs. Murray and her daughters came out to Boston. In 1861 she accompanied her daughter to St. Helena, South Carolina. She took an active part in work among the colored people, and died of malarial fever, August, 1867. According to the Canadian Dctionary of Biography Online (See: http://www.biographi.ca/EN/ShowBio.asp?BioId=41071), Ellen Murray's mother died in Newport, R.I., in 1867. The The Rhode Island Historical Cemeteries Transcription Project Index at http://www.rootsweb.com/~rigenweb/cemetery/cemetery265.html records the burial of "MURRAY HARRIET LETITIA (DESPARD) - 4 AUG 1867 NT500." NT500 is WILLOW CEMETERY in NEWPORT, Rhode Island, at FAREWELL STREET and WARNER STREET (5/1/74). The Common Burying Ground and Island Cemetery, as it is also known, is on the National Register of historical properties.
Dr. Botsford enjoyed his trip so much that he repeated it the next year, accompanied by his brother, the Senator. His memoir relates their visit along with Ellen to the Brick Church, the largest coloured church on the Island.
We know that Laura and Ellen were active in the church from Laura's diary. On July 20, 1862, she wrote:
"This morning there was no white preacher. After church Father Tom and his bench of elders examined candidates for baptism and asked Ellen to record their names. We stayed.... "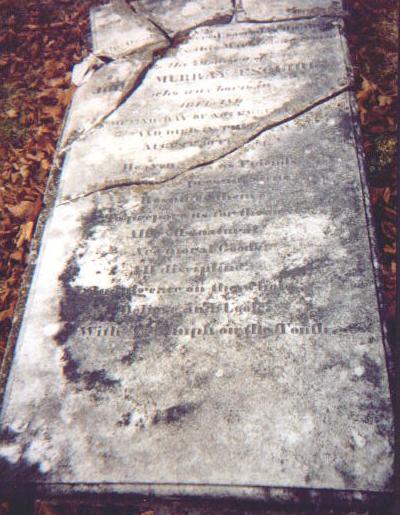 The memoir of Dr. Botsford closes with a poem written by Ellen Murray on the anniversary of Dr. Botsford's death. It was sent as a memorial to relatives and friends.
Another poem written by Ellen Murray was published by J. & A. McMillan in Saint John, New Brunswick, in 1891. "Angel Watchers" was "Written in Aid of Lady Tilley's Hospital Work." "...After taking possession of Government House, Fredericton, for the second time, in 1885, Lady Tilley gave herself up almost wholly to benevolent work, with the result that, since that time, she has been instrumental in giving to her native Province several institutions which will be of lasting benefit to its people. Chief among these are the Victoria Cottage Hospital at Fredericton, and the Industrial School for Boys, the Nurses' Home, the Seamen's Mission, and the Home for Consumptives at St. John...."
A third poem by Ellen Murray was written for Progress, a literary newspaper published in the 1890's. It is available on-line in the May 2004 edition of Trinity Church's Weather-Vane, a newsletter published by Trinity Church, the very same church that Ellen Murray's sister wrote about in Dr. Botsford's memoir..
At the Brick Baptist Church, there are memorials to Miss Towne, 1901, and Ellen, 1908. A Savannah Morning News file photo of the memorials may be viewed at "Penn Center celebrates Heritage Days," an on-line article by Margaret Bailey on the Savannah Morning News Web site at http://www.savannahnow.com/stories/110303/LOC_penncal.shtml.
Miss LAURA M. TOWNE, and Miss ELLEN MURRAY are also memorialized in Slave Songs of the United States by William Francis Allen, Charles Pickard Ware, and Lucy McKim Garrison in which they are credited as having contributed to.
Laura Towne was the daughter of John Henry Towne.
"John Henry Towne was a mechanical engineer, who had a spectacular career designing and constructing heavy steam engines, particularly those used in ocean-going steamships. Like many successful Philadelphians, including our new Dean, Towne was not a native. He was born in Pittsburgh, where his father was in the steamboat business on the Ohio and Mississippi rivers. Towne arrived in Philadelphia in 1840 and learned mechanical engineering from Samuel Vaughan Merrick, one of the City's pioneers in introducing the new technology of the Industrial Revolution. Merrick became the first President of the Pennsylvania Railroad and Towne became his junior partner. In 1848, at the age of 30, Towne left the Merrick firm to establish his own business.

Towne was already wealthy and among his many investments was the North Pennsylvania Railroad Company. In order to understand the Towne silver more fully, I recommend that Dean Glandt find his way to the old Reading Terminal head house building at 12th and Market Streets and down the escalators to SEPTA's new Market East commuter rail station. There, if he will board the R1 Glenside train, or the R3 West Trenton, or the R5 Doylestown, he will travel over the rail lines whose original construction was superintended by John Henry Towne. The North Pennsylvania Railroad Company was incorporated in 1852 and soon thereafter began building its 55-mile line north to Bethlehem (the trunk portion of the North Penn includes today's R1 Glenside rail line). Along the way the North Penn also built a 10-mile branch east from Lansdale to Doylestown (today's R5 rail line). In July 1857 the first train traveled the entire roadbed, from Philadelphia to the terminal in Bethlehem. Three months later the branch to Doylestown also opened.

Almost from the day it opened, the North Penn made money. The directors were confident of this and therefore voted a silver presentation urn to man most responsible for their success, John Henry Towne. Anticipating the opening of the railroad, the directors presented the urn to Towne in June 1857. The North Penn met and exceeded its directors' expectations. It became so profitable that in the mid-1870s the directors invested in a second branch railroad, this one from Jenkintown to Yardley, Bucks County, just across the Delaware River from Trenton. There passengers and freight alike could connect with trains to New York City (today's R3 West Trenton rail line). Almost immediately after the Yardley branch opened in 1876, bigger companies took a strong interest in the North Penn and in 1879 the Reading Railroad paid top dollar when it purchased the company.

Towne kept on good terms with the Merrick family. In 1860, Samuel Merrick's son, John Vaughan Merrick, became CEO of the Merrick & Sons business. During the Civil War the U.S. Navy hired both Towne and the younger Merrick as consultants in engine design and manufacture. After the War, Vaughan Merrick, as he was known, continued a few years in business and then retired at age 42, an even earlier retirement than that of Benjamin Franklin, a century earlier. The same year he retired, Merrick was elected a Trustee of the University of Pennsylvania. He championed the cause of the Scientific School and when it was re-organized, he was no doubt instrumental in recruiting Towne's interest in the School. Towne was elected a Trustee in 1873, at the age of 55. He lived only two years before his sudden death. There is no evidence that the Trustees knew in advance that Towne had named the Scientific School his principal beneficiary, but when his will was proved and the size of his bequest revealed, they immediately renamed the School in tribute to him. Towne's benefaction, nearly half a million dollars, was far and away the largest gift Penn had received up to that time. It guaranteed the rise of a great school of engineering at Penn and we stand here this afternoon as the beneficiaries of his continuing generosity."
Through a man named Henry Towne, Linus Yale, inventor of the widely used pin-tumbler lock, met John Henry Towne and his son Henry Robinson Towne. All of them as partners brought about the establishment of the Yale Lock Manufacturing Company in October 1868.
As an aside, Penn Center was the site of a number of Dr. Martin Luther King, Jr.'s meetings. "...From 1949 to 1968, [Elizabeth Siceloff] and her husband, Courtney, directed the work of the Penn Center on St. Helena Island in South Carolina. This Quaker retreat center was one of the few places in the South during the volatile days of the Civil Rights movement where blacks and whites could stay together overnight. From 1964 to 1967, Dr. Martin Luther King, Jr. came there to lead annual retreats of the Southern Christian Leadership Conference.... Many of the Civil Rights campaigns, including the Poor Peoples? Campaign, were developed at the Penn Center...." Some of the planning for the 1963 March on Washington was carried out at Penn Center (Krull 25). There is a great photo of Elizabeth Siceloff, her son, and Martin Luther King, Jr., at an annual retreats of the Southern Christian Leadership Conference in the online article entitled A TRIBUTE TO ELIZABETH SICELOFF by Joe Parko at the the Web site of the Atlanta Independent Media Center at http://atlanta.indymedia.org/newswire/display/18840.
Today the school continues its commitment to education. For a number of years, beginning in 1968, it was used by the Peace Corps as an agricultural training facility.
In "Brick Baptist parishioner is leader in church, community" by Cathy Carter Harley, there is a picture of Leroy E. Browne Sr. posing in front of the Brick Baptist Church on St. Helena Island. The online article was published March 27, 2004 in the Beaufort Gazette (See: http://www.beaufortgazette.com/features/religionnews/story/3455407p-3071679c.html.). Brown, a former Penn School student (Browne's father was a basket weaving instructor at Penn.), is the oldest active parishioner of the Brick Baptist congregation. "For 75 years, Browne has been a member of Brick Baptist Church on St. Helena Island. He's served as treasurer for 15 years and also as a trustee." He worked as maintenance supervisor at Penn School for 23 years. "...He knew Martin Luther King Jr. In fact, it was Browne who built a cottage near the river specifically for King to stay in, but King was assassinated before he returned to Penn." "In 1960, Browne was the first African-American elected to public office in South Carolina since Reconstruction when he was first elected to Beaufort County Council. Re-elected for nine terms, Browne served a total of 20 years as chairman of the Health Committee."
It has been said that some of our best living is done by those we leave behind. Laura Towne and Ellen Murray live on.
To celebrate the lives of Laura Towne and Ellen Murray or Black History Month, serve up a menu from FROGMORE STEW and Other Lowcountry Recipes at http://www.co.beaufort.sc.us/bftlib/frogmore.htm. "According to the Penn School & Sea Islands Heritage Cookbook (1978), the traditional New Year's menu on the Sea Islands "is a simple one: Hoppin' John, collard greens with hog jowls, and ribs for a side dish. Hoppin' John, or brown field peas cooked with rice, is eaten for good luck throughout the year. The collard greens represent dollar bills. It is said the more one eats, the more money one will have.""
See also: