Welcome to the RETROGAMER web site! Thanks for visiting, I hope it jogs some nostalgic memories. So what is this site all about? RETROGAMER is a printed fanzine published in Liverpool, UK which is dedicated to classic video games. The zine's definition of classic is any old game (basically 8-bit and 1980's) that made you forget the time or ate all your money at the arcade.

The editor of RETROGAMER, Keith Ainsworth, also wrote the monthly retro page in professional UK magazine Computer and Video Games through 1998. He has also appeared on BBC television talking about the coin-op Space Invaders.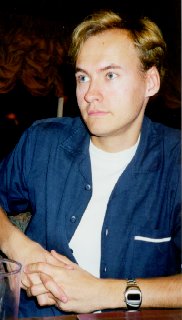 Keith Ainsworth

RETROGAMER covers video game consoles, home computers and the coin-ops themselves. It has features on the companies who made the games, the individuals who programmed them and articles on popular games and series of games.

Retrogamer is the best retro read around. A complete set will tell you everything you'll ever need to know about classic games.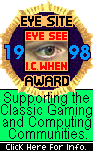 I'm very proud to say our site gained the I.C.When Eye Site Award a couple of years back. This is awarded to exceptional sites that support classic video games and computers. Please click on the logo and check out the other winners. I am in very good company indeed.
The page recently gained a recommendation from thearcades.com. This is a directory, a bit like
Yahoo, but more focused on gaming. Clicking on the icon will take you there.
What's here?
To act as a taste of what is in an issue this site contains two articles from past issues of RETROGAMER (on Ultimate Play the Game and the Atari VCS) and a Matthew "Manic Miner" Smith article exclusive to this web page. The latest additions are some photos of certain items from my collection. These things aren't for sale, they are just to make your mouth water!
The history of the Stamper brothers work on the Sinclair Spectrum computer as Ultimate Play The Game appeared in issue two of RETROGAMER. They produced a series of games of unrivalled quality for the Spectrum in the mid Eighties. Game fans in the UK will know who they are immediately but for those readers from further away you will known them as RARE.
RARE, of course produced lots of quality Nintendo NES games, the Donkey Kong Country series and more recently Goldeneye, Perfect Dark and Banjo Tooie for the N64. You can find out more about Jet Pac the hidden Spectrum game in DK64 and how Rare started right here.
For the details of what has been in each issue of RETROGAMER go to the the back issues section.
Reviews
Who says RETROGAMER is the best retro mag? Loads of people! There have been many excellent reviews in the professional game press. Here are five example reviews for you to peruse. NMS (Nintendo Magazine System) changed it's name slightly to Nintendo Magazine when the N64 was released, the reviews are from the January 96, April 96 and August 96 issues. The Super Play review (sadly they're no longer with us) is from Jan 96 and the N64 Magazine review from February 1998.
Credits
RETROGAMER has had a home on the web since 1996. The contents of this site are copyright Keith Ainsworth. Keith wrote all the words and produced most of the pictures. The design and look of this site is by William Chiu at Connect ([email protected]). The original version of this site was coded by Mark Ramsay and bits of his work may still be present.
The "pictures from the collection" were created by scanning some high quality photographs taken by Denis Shiel. Below is a pic of Denis acting perfectly normal. You can contact him on [email protected]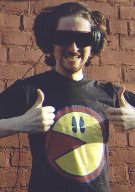 ---
Thanks to everyone who contributed to RETROGAMER in the last 5 years. Their enthusiasm and knowledge is what made it the best. If you have any suggestions on how to improve this site please let me know. Any comments or questions please e-mail me at [email protected] Write now and I'll get back to you within two days.
To finish off I'll just give you the meaning of life.
Happiness is derived from four points...
1.Satisfying work
2.Satisfying Leisure
3.A strongly supportive social network
4.Being extrovert and positive
Peace
Happy Gaming!!!
Keith Ainsworth 2001