Turist PMP-56
---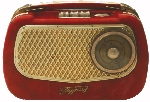 Produced: circa 1956 in Russia

Case: red catalin with gold coloured metal applications, round dial

Size: (w/h/d) 26 x 19 x 8 cm only 1.4 kg w/o batt.

Loudspeakers: 1

Antennas: ferrite

Frequencies/Bands: LW, MW

Power: two filament batteries, one anode battery, additional mains adapter delivering 150V DC and 8 V DC

Tubes/Semicond.: 5 peanut tubes 1W2P, 1A2P, 1K2P, 152P, 2P2P this is the transscription from cyrillic letters

Originally priced:

Condition: excellent

Comments: The set stands on the mains adapter made from brown bakelite. Has somebody out there a electrical scheme??

---
Schaub Amigo II



Tesla Orient
---
This page hosted by
Get your own Free Home Page
---