Schaub Amigo II
---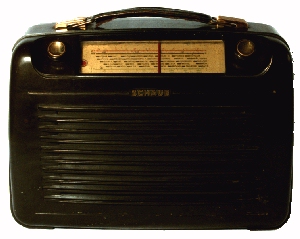 Produced: circa 1955 in Germany

Case: dark olive bakelite

Size: (w/h/d)

Loudspeakers: 1

Antennas: frame antenna in the back cover

Frequencies/Bands: LW/MW/SW

Power: 110/127/155/220 V AC or batteries 90V + 9V filament

Tubes/Semicond.: 5tubes: 1T4=DF91, 1R5=DK91, 1T4=DF91, 1S5=DAF91, 3S4=DL92(missing)

Originally priced:

Condition: excellent

Comments: This set is the smaller brother of Camping II (previous page) but originally equipped with tubes of the American numbering system. Does anybody know the reason? Maybe an export model. Marc Graviere owns a very similar set with the brand name "LMT" type Weekend, which is the size between Amigo and Camping.
---
Schaub Camping II



Russian Turist
---
This page hosted by
Get your own Free Home Page
---