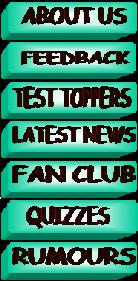 Harry Potter: Harry Potter is a series of books written in the 21st century. Harry Potter Series talks about a hidden magical world. These books have been authored by J.K Rowling. The books in the series so far are Philosopher's Stone, Chamber of Secrets, Prisoner of Azkhaban and Goblet of Fire.The name hogwarts express has also been chosen from the books.It is through this train that harry and his fellow wizards reach hogwarts.Hogwarts Express is the school train.
Hogwarts
Enrol at Hogwarts
Want to know the teachers?
Like to know the Students?
Take Lessons
Diagon Alley
Platform 9 and 3 quarters
Quidditch Tips
Quiddditch training!
Other Witches and Wizards
The Daily Prophet

Site Reviews-Latest