[ Español ]
WinModelines
Description
WinModelines is a Windows tool to tune the video signal generated by your computer video card. It allows you to adjust line and frame frequency for special monitors or televisions, picture borders and create custom resolutions for optimal video and game playback.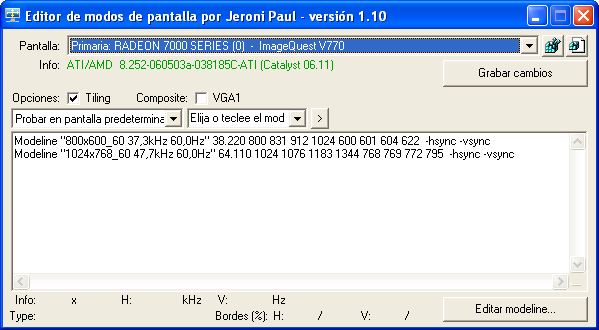 WinModelines can be used:
starting from scratch, it has a Modeline editor that allows you to create new modes from specified device, resolution and border size
if you already have some useful modelines you can just copy, paste and set them easily. You can find useful modelines in Useful modelines tutorial or other sources on the web.
Compatibility
For WinModelines to work it must support your video driver:
AMD-ATI: Catalyst drivers, all versions supported including some old Pre-Catalyst drivers. Tested on: Windows 95, 98, 2000, XP and 7. It could work on other Windows versions.
NVidia: ForceWare drivers supported starting in version 61.x (without interlacing) or 66.x or newer (with interlacing), compatible only with Windows XP drivers.
We managed to make it work on Windows Vista/7 forcing the install of Windows XP driver. The XP driver must be extracted from the installer and then installed from the device manager.
Intel: GMA900 and later models. Tested on: Windows XP, 7, 8 y 10. All Intel cards seem to have a limitation where pixel clock cannot be set below 20 MHz. Low line frequency modes (15kHz etc) can be used increasing their horizontal resolution so the pixel clock remains above 20 MHz.
Matrox: driver version 5.33 or 5.82. Tested on: Windows XP.
3Dfx: version 3 or newer. Tested on: Windows XP.
ArcadeVGA: Catalyst version 4.3. Tested on: Windows XP.
Download
Tutorials
Version history
1.9: May 2015

fixed support for Intel graphics drivers on Windows XP
redesigned the mode tester
added the monitor name in the display lists
added button to open the driver configuration in regedit

1.8: December 2014

added support for Intel graphics drivers
fixed compatibility issues in Windows Vista / 7
added option to reboot the computer after saving changes
added message when the program is closed and there are unsaved changes
improved compatibility with ATI drivers

1.7: September 2011

fixed black screens after using WinModelines on some ATI cards
fixed compatibility issues in Windows Vista / 7 with UAC enabled
added command line option to backup registry settings to file
minor improvements and bug fixes

1.6: March 2010

support for virtual resolutions in ATI and NVidia drivers

1.5: April 2009

modeline editor redesigned for easier use and better features. It will guess the device that a mode belongs to and calculate its original borders. It will also hide advanced settings that could cause confusion.
settings "Show advanced settings", "Exact refresh" and "Even lines" kept on program exit.
added command line parameters support. This allows the automation of mode insertion and test.
added a quick guide.
icon redesigned.

1.4: January 2009

added a button to store registry settings to a file
better handling of polarities for ATI drivers
improvements in the mode generator

1.3: July 2008

multimonitor support in the mode tester (Calamity)
fixed a bug listing "Other" entries (SailorSat)
some improvements in the modeline generator
support for "doublescan" in the generator
fixed restoration of previous mode under Windows 98/Me

1.2: February 2008

ArcadeVGA support (Calamity)
implemented a modeline generator

1.1: December 2007

fixed a problem adding more than 20 modes in ATI driver
improved modeline parser: now it will accept spaces between parameters and report incorrect options
added a mode tester
added option to toggle "Tiling" in ATI drivers
fixed some presentation problems using big fonts

1.0: June 2007
Credits
Many thanks go to:
Calamity: great investigation work
Archibael: Intel driver investigation
SailorSat: to report some bugs
Fast Icon: design base for WinModelines icon
Myself: to create and maintain this project
Licence
WinModelines is a program designed and programmed by Jeroni Paul and is freely distributed under the GPL licence.
You can read the terms of this licence here: http://www.gnu.org/licenses/gpl.html

Project completed on June 2007 by Jeroni Paul.
Copyright © 2007 Jeroni Paul.