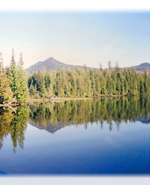 Did you ever think about how
your home turf lines up with
the "traditional" idea of
Christmas? Here with a QCI
Christmas...
A Haida Gwaii Christmas
'Twas the night before Christmas
And all through Masset town
Not a creature was stirring--
Even sand fleas settled down!
Boots and slickers were hung
By the wood stove with care,
With hopes that the 'morrow
Would bring weather fair.
The children were nestled
All snug in each bed,
While the storm outside
Filled my heart with dread.
The stockings were hung
On the hooks by the door;
As they hung limp and empty,
My heart felt so sore.
For how should we fill them?
What could we put there,
When the ferry's still in Rupert,
And Masset Cupboards are bare?
We ordered from Sears, and
We ordered from Regal.
But parcels come surface--
It should be illegal!
Yet while I stared at the TV,
Bemoaning our fate,
MHTV flashed out the message,
"It isn't too late!
Look out the window--
'Tis a sight to behold!
We'll have Christmas after all."
So off the couch I rolled.
Away to the window
I flew like a flash;
Tore open the storm windows
And got soaked with a splash!
And then in a twinkling
I saw in the inlet,
The ferry come sailing,
With eight reindeer before it!
As I drew in my head,
The rain turned to snow,
And the Queen of Prince Rupert
'Gan to twinkle and glow!
It rose through the air
With the greatest of ease,
Then settled on the housetop,
('Twas a bit of a squeeze!)
And then in a twinkling
I heard on the roof,
The prancing and pawing
Of each little hoof.
As I drew in my head
And was turning about--
Well you know the rest
Without 'ere a doubt.
Old Santa came through,
Though I'd never have guessed,
With a "Ho! Ho! Merry Christmas!"
It was one of the best!

Have a joyful and blessed Christmas--
and remember--
Jesus is the Reason for the Season
Date: December mid-1990s!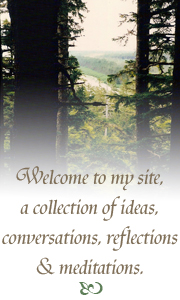 My name is Norma. I'm married to Lionel. We have 5 kids - Taryn, Sarah, Robyn, Wendy and Peter, and one grandchild, Tony. At the moment, I am teaching French and Home Economics at a Christian School. I also enjoy writing, reading, facilitating Christian study groups, exercise, gardening, playing guitar, and a multitude of other interests.

I hope you will find some stimulating ideas here, and I'd love to hear your reactions and thoughts too... leave a note in the Guest Book, or email me.