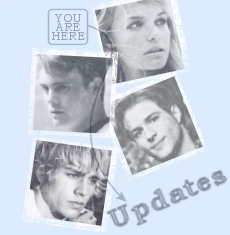 April 28, 2009
The site has been migrated to my personal domain due to the impending closure of Geocities. The new site is at nickyfic.obsessive24.net. Please change your bookmarks as this site will be shutting down shortly. I look forward to seeing you at the new address.
June 15, 2008
Finally a new episode is up.

YA6:08 - Velocity. I aim to finish writing the series this year.
December 29, 2006
*gasp* Could it be? A new episode? Just when everyone was giving up hope that anything would ever be written again.

YA6:06 - Ghosts.
July 25, 2006
A quick update since it's been ages since my last one. I haven't given up on the series, but life has been incredibly hectic this year, and I'm juggling multiple commitments, so I don't know when I'll be able to get back to writing. There are only 5 more episodes planned before the end of the whole series (bar the possibility of one "movie-length" conclusion), so I'm certainly not going to stop writing altogether. I'll keep you posted via the progress journal. Cheers.
December 26, 2005
New Scout/Will fic in the other fiction section, Panacea, NC-17. This is a post-summer session fic that takes place in the same alternate universe as The Forgotten.
December 25, 2005
No new episode - but I do come bearing a YA-themed gift: a music video! It's called Think Twice and features Matt "Crunchy" Czuchry, Mark "Man-boobs" Famiglietti, and the lovely Kate Bosworth as Bella The Hussy. Check it out here. Merry Christmas YA fandom!