Why Nicaragua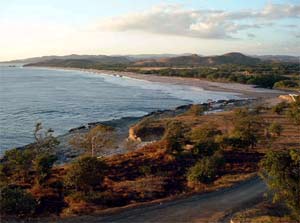 This coastline looks like California's about 100 years ago. Today it's about 1/10th the price.
Nicaragua is virtually unknown—and usually misunderstood—by most people, which is why forward-thinking investors can find some of the best real estate deals on Earth in this country.For the record, this country is not in the midst of a civil war...and it's not a Communist state. It has, however, suffered from a serious case of bad press.
Because most of the world still believes Nicaragua is a country full of problems and political unrest, local real estate is extremely undervalued.
Before I explain exactly why we chose Nicaragua, let me back up for a minute to put this country into perspective…
1/10th the price of California
The first time I stood looking out over the Pacific Ocean on Nicaragua's western coast, wild horses galloped down the beach. The sun was shining overhead, glinting off the water as the waves rolled onto the beach. The air was hot…but a constant breeze made it comfortable. It was like a scene out of a film…a place it's hard to believe still exists in our world of tract homes and shore-side resorts where you battle boom boxes and boardwalks for an eight-foot square of sand.
What 's really amazing, though, isn't that a place like this has remained untouched for so long…it's that right now—today—you can own a piece of it for as little as $39,000. What 's more, you're only a two-hour flight from Miami.
To give you a point of reference, not too long ago, I was in California to visit a friend and drove along the Pacific Coast Highway.
The shoreline in California is hard to resist, with its inlets and coves, dramatic, rocky drop-offs, and long stretches of sand and surf. But for a 1-bedroom, 1-bath, cracker-box home in Malibu you'll pay $244,500. For a larger place—4 bedrooms with a gourmet kitchen and an artist's studio—you'll fork over at least $1.6 million.
Further north, on South Highway 1, in Mendocino, I saw a Victorian ocean-front house, perched on a bluff top with views to the west of the Pacific's rugged coastline and east to grazing pasture lands. This 3-bedroom house, with a deck, was listed at $1.25 million.
A million dollars for a house is a lot of money, no matter where you are. Yet for less than one-tenth that amount, you can buy a half acre of dramatic coastline in Nicaragua—that same, dramatic Pacific coast—and build a spectacular home complete with handmade tiles and mahogany finishings, perched on a secluded shore that looks like California's did 100 years ago.
Why American beaches are becoming overcrowded
Nicaragua though, is not simply a bargain in comparison to expensive California. It's much less expensive than any beachfront property you'll find in the United States. As Americans buy second homes in record numbers (the National Association of Realtors said second home sales were up 30% last year), they are driving up the costs of vacation homes everywhere in the country. A recent USA Today article stated that 1 in every 7 people in the United States now lives in a county bordering the coast.
The simple fact is that almost every bit of U.S. coast is becoming overcrowded and overpriced. Consider these items from the same USA Today story…
In Naples, Florida, recently, during a six-hour "sale" of condo units averaging $1 million each, 99 people plunked down $25,000 apiece for apartments that won't be built until at least 2002.
In Folly Beach, South Carolina, quarter-acre lots that sold for $50,000 10 years ago now fetch as much as $500,000.
One contractor in North Carolina reports that he's building $200,000 homes along that state's Outer Banks faster than ever before.
How does Nicaraguan beachfront compare with other Central American countries? Well, for now, Nicaragua costs a fraction of what you'll pay in neighboring countries.
Consider Costa Rica. In the early 1980s, it was the place to go for affordable beachfront. Today, in the beachfront community of Tamarindo, a quarter-acre beachfront lot sells for $150,000. That same lot in Nicaragua...not 100 miles away on the same stretch of coast...costs about $45,000.
In Belize, it's the same story. Ten years ago, you could buy a beachfront lot on one of the islands off the coast here for $35,000. Now you'll pay $280,000 for a modest home on that same lot. In Nicaragua, by the way, you'll pay low property taxes. Honduras' Bay Islands have boomed as well. Just five years ago, these little dollops of land in the western Caribbean were virtually unknown to anyone but hard-core divers. Half-acre beachfront lots sold for less than $20,000. But today, if you can buy a half-acre on the beach for $75,000, it's a bargain.
Nicaragua makes smart investment sense. Just as the cost of beachfront property has appreciated in neighboring countries, so too will it appreciate as this emerging country continues along the road to development.
You still have time, though, to get in ahead of the crowd. The country's current prosperity is being fueled mostly by non-American investment. Most Americans still don't understand that this is now a safe, stable country.
Why on Earth did we choose this country? Well…in short…we believe there are three very good reasons why we decided to invest here.
1) First, there's very little land like this remaining anywhere in the world. And dollar for dollar, the best deals in North American property are on Nicaragua's Pacific Coast.
This gives our property tremendous investment potential. If you look at buying similar land in Costa Rica, you'll pay about five times as much money. In Belize and Honduras, you'll pay about three times as much. We expect similar appreciation in Nicaragua. And, of course, anything evenly remotely familiar in the United States—if you could figure out some way to purchase it—would cost you 15 to 50 times the money. I probably don't have to tell you how much money you'd be worth today if your grandparents had made a small investment in California's coastal Pacific property a few generations ago.
The good news is that prices in Nicaragua are still just starting to rise. The region is benefiting from the free-market phenomenon that gave political tranquility to so many other countries after long periods of turmoil. U.S. News &World Report rated Nicaragua one of the 10 best places to retire in the magazine's most recent survey. And things are only getting better (see #2).
2) Nicaragua is in the middle of a boom trend that has seen millions of dollars in infrastructure improvements and foreign investment. For example…
The first Hard Rock Live in Central America opened just last year.
A Taiwanese group bought the InterContinental Hotel in Managua and added a shopping mall and another hotel.
A Guatemalan group invested $8 million in a Princess Hotel. Another Guatemalan group has taken over the run-down Hotel Camino Real, completely refurbished it, and added a convention center.
A New Orleans company just a few weeks ago finalized a deal with the Nicaragua legislature for the rights to run Puerto Cabezas, Nicaragua's closest developed port to the U.S. Gulf Coast. The company will spend more than $100 million on improvements, which will cut the cost and time for goods to get to Managua, in some cases by more than half.
The list goes on and on. In short, Nicaragua is on the right track.
As The Wall Street Journal reported just last month…"Suddenly, Managua has a skyline. New hotels and shopping centers--with elevators, and even escalators--have sprouted in a capital flattened by a 1972 earthquake and laid low by failed socialism. Arco gas stations, Pizza Huts and McDonald's golden arches rise from the gentle hills. Once a live-fire franchise of the Cold War, Nicaragua and other Central American countries have embraced franchise capitalism."
The paper continued: "U.S. companies arrive to build power plants and telephone networks, to sell hamburgers and pizza. Foreign investors who were fleeing the country a decade ago put $280 million into Nicaragua last year."
The country's tourism business is taking off too. Cruise ships are regularly docking at San Juan del Sur. And the country has opened its first-ever tourist office in the United States, on the streets of downtown Miami. The office will operate a toll-free number for the U.S. and Canada…with a goal of attracting 500,000 tourists to Nicaragua by year's end.
This development is good news for us as fellow Nicaraguan investors.
To give you an idea of just how far this country has come, from 1979 to 1989, according to World Bank statistics, Nicaragua's GDP shrunk by an average of 1% per year. From 1989 to 1999, GDP averaged 2.8% growth. In 1999 alone, the GDP grew 7%…and it's expected to grow by an average of 6.2% over the next two years. As the country's Vice President recently told Newsweek magazine: "Fewer than 15 countries in the world have achieved 6% growth in a year."
3) We want to take advantage of the growing trend taking shape in the United States and in other developed countries. That is, people's desire to invest, live, vacation, or even retire outside of their home countries.
People are starting to relocate on a global scale. One article in The International Herald Tribune stated that, in the past 30 years, the number of Americans living abroad has more than quadrupled. In fact, according to the U.S. State Department, it has risen from 2.3 million to 3.3 million just since 1990.
This movement is expected to increase exponentially. To profit from it, you need to look for real estate markets that will capitalize on the direction the world is starting to move.
Overseas retirement real estate is going to be big business in the coming years. As the first of the 76-million, baby-boom generation turns 55 this year, more people are going to look outside of the United States for real estate, second homes, and retirement homes. They will come looking for places like Bahia Azul for privacy, safety, warm weather, and a relaxed and sometimes adventurous lifestyle.
Did you know that Baby Boomers make up almost a third of the U.S. population? And they are aging fast. Beginning in 2000, boomers started turning 50 at the rate of just under 10,000 a day. Already, more than 14 million boomers are 50 and up, and some aren't waiting until 55 to take early retirement. It's a well-educated crowd: Nearly 90 percent of boomers graduated from high school, and more than a quarter have at least a bachelor's degree. More than three quarters own homes, and 73 percent have some form of investments.
As Time Magazine recently reported: "Many of the 76 million American boomers are more likely than their parents to consider retiring to a foreign land, because they have traveled more, have higher hopes for retirement, and tend to be more active and adventuresome."
Think about it this way…more than three million U.S. citizens have already moved abroad, looking for cheap real estate, low taxes, and better qualities of living. This trend will only increase in the years to come.
4) Nicaragua offers advantages few other places can match. The cost of living, for example, is a fraction of what you're accustomed to back home. You can employ a full-time maid here for about $100 per month. You can see a movie for $2...and get your hair cut for $1.25. Two people can have an excellent meal, including a good bottle of wine, for less than $20.
Plus, the tax burden is very light. And as a foreigner qualifying for Nicaragua's Pensionado program, you may be exempt from import duties on your personal and household goods; and be allowed to bring a vehicle into the country tax-free once every five years.
And if you are looking to start a business, few places offer better incentives than Nicaragua, which recently passed tourism Law 306. This law allows you open a tourism-related business and 1) pay no taxes for 10 years 2) bring in (or buy locally) all the supplies you need, from furniture and boats to linens and cash registers…all tax-free.
Year-round sunshine…and the world's only freshwater sharks
These are the primary reasons we have invested in Nicaragua. The numbers and the trends are just too good to pass up. But these facts and numbers don't begin to tell the story of the laid-back atmosphere and natural beauty of Nicaragua.
Nicaragua is an exotic land…where the sun shines all day long…on rugged and tropical rivers, colonial cities, friendly and lively people, and the largest body of fresh water south of the Great Lakes (with the world's only freshwater sharks).
As the publisher of a newsletter that investigates the world's best places to travel, buy real estate, invest, live, and retire, I know that the opportunity to get in on the ground floor of a place like Nicaragua does not come along very often.
Nicaragua has undergone tremendous change. A forty year military dictatorship was upset by a peoples' revolution. Thirteen years ago the government held elections and the country embarked on a new course. The administration of Violeta Barrios Chamorro led the country through the difficult transition from a one party state to majority rule in a new Democratic Republic. New laws were passed and the painful process of building a free nation began. Relations with international financial institutions were forged, old loans were renegotiated, and major investments in the nation's infrastructure were obtained. Multi-Nationals such as Holiday Inn, Intercontinental Hotels, Princess Hotels, Coca-Cola, General Motors, Toyota, Ford, Mercedes Benz, Mitsibushi , Chrysler, TGIF Fridays, Benetton, Radio Shack, Pepsi, MacDonalds, and many others have moved in. Elections were again held in 1996 , during the administration of Ms. Chamorro. Arnoldo Aleman was elected in what independent international observers noted was a clean and fair election. Incentive programs such as the Law 306 Tourism Investment program were implemented to further encourage investors. More than 100 schools were built and re-built, and further International Finance agreements were negotiated. In 2001, the third Democratic Free election was held and Enrique Bolaños, a personally successful free enterpriser , was elected under the Liberal banner. Mr. Bolaños immediately has gone to work to enhance the incentive progams and has in a short few months attracted millions of dollars in investments and projects that are now underway . Today we experiencing unprecedented major growth in the economy without the unwanted concurrent expansion of the public sector. Continued proper management of the national debt will free tax revenue for the improvements to the infrastructure. Foreign investment has increased and shows signs of more rapid growth. Unemployment is falling steadily. The standard of living is improving. Construction is rampant, particularly in the Managua area where business is being centered. Resort projects in the 100's of Millions of dollars have been announced, many of them in the San Juan del Sur area, the prime resort destination in Nicaragua. Spec houses are being built again and are selling prior to completion. Prices are rising at a fast rate. Builders are enjoying good profit margins. Jobs are being created.
Highlights of the past ten years of new government include:
Three elections followed by orderly transfers of power to opposition parties;

The army was returned to civilian control, and its' size reduced from 70,000 to 12,500;



Inflation fell from 30,000% to single digits during this period; high GDP growth, and now the second lowest inflation rate in Central America at under 10%.



GNP and economic growth projections ( as a percentage ) are the highest in Central America;



International Banking accords and free trade agreement with Mexico have been reached; NAFTA and MERCOSUR market access.



Geographically , Nicaragua is only 3 hours by air from Miami and Houston , is in the heart of Central America, and is exposed to both major Oceans, the Pacific and the Atlantic.



Most land reform issues have been resolved through the legal process and without conflict;



Foreigners may own land without Nicaraguan partners.



Investors may repatriate 100% of their profits and may repatriate their initial investment after three years.



Tax collection is up; but is so low, it is almost a non-issue in financial considerations.



Average labor cost approx. U.S. $ .70 per hour., including social benefit programs



An extremely young population , over 50% of the population is under 18.



A greatly improved Education system, made up of local and international universities, literacy rate of over 85%.



A great interest in the learning of English as a second language, and many professionals are proficient in Portuguese, Russian , French and Italian.



The Police Force is being trained and modernized by international aid programs; Crime statistics are down in all major felony categories;



After electing the first female President in all of the Americas, Nicaragua revels in the increasing roles and responsibilities of women;



The government recognizes the benefits of tourist dollars and is heavily promoting tourism , especially in the south west coast areas. The Cruise Ship industry has discovered San Juan del Sur, since January 2000, and in 2003 , over 50,000 passengers are expected to come through the port.



The spin-off in subsequent years from return visits by these short term visitors will be significant and property prices will escalate beyond comprehension as they always do in cruise ports

Recent political announcements including a new Dry Land Canal from the Atlantic to the Pacific and a new Pacific Highway are huge developments in the economic future. The opening and widening of the Rio San Juan into Lake Nicaragua, has also recently been announced.



Roads

( Nicaragua has some of the best roads in Central America ),

communications

,

potable water, electricity

, and related infrastructure have undergone substantial improvements;

new blacktop is evident in

many areas of the country.



Many previous citizens who left the country during harder times are now returning with new educations and methods and are seeking out the investment opportunities and the trend continues.