Nicaragua in the News
Word is quickly getting out on Nicaragua in the mainstream press. Here are a few recent examples.
In the February 2002 issue of Conde Nast Traveler, the magazine reported:
"Land prices are ridiculously inexpensive."
"Nicaragua seems to be the logical next choice for adventurous travelers in Central America. Costa Rica is a lot more expensive than it used to be…Guatemala is still suffering from the effects of a 36-year-old civil war…even Panama, a relatively wealthier nation, is much more developed and expensive than Nicaragua."
On February 17, 2002, The New York Times reported: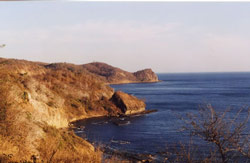 Looking south along the Pacific Coast, where you'll find, in Conde Nast Traveler's words, "unspoiled Pacific beaches."
About the colonial town of Granada, an hour and a half drive from Bahia Azul, The Times said: "Granada, founded in 1524 and said to be one of the oldest cities in the
Americas, has become a wonderfully rewarding place to visit. Mansions and churches have been restored and painted in soft pastel colors, monuments have been
polished, and new restaurants and hotels have opened."
The story continued...
"Tourists are welcome and - as in the rest of the country - there have been few reports of the robberies and assaults that have kept tourists away from some other parts of Central America."