Welcome to my new Neo Geo Pocket Colour Site (or Color for the Americans), this site is based in the UK so release dates and reviews are of UK games unless otherwise stated. This site is currently under construction and should be undergoing constant updates so please check back.
New Reviews
[2.5.00]
2 new reviews, I bought Metal Slug 1 and Metal Slug 2 together.


I'm Back
[1.5.00]
I'm back, sorry it took such a long time to update I've been writing quite a bit and reading an interesting article that I received from someone in Australia. I will be updating the web page soon with a few more reviews and a lot of news. By the way I have thought that since there is such an alarmingly large catalogue of games for the console now that I will open the reviews forum to the public. Send a review in for any game in a similar format to that of my reviews and I will update it assuming it is not poor.


MP3 coming to Neo-Geo
[1.5.00]
The Song-Boy, scheduled for the Game Boy, is now also scheduled for the Neo Geo. It should be standard with 32mb and be flash upgradeable.
A picture from the in 'game' software.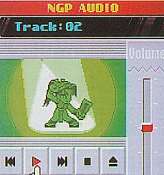 Poor Updates
[1.5.00]
Sorry about the lack of and then sudden burst of pages. I'm going to keep it a little constant hopefully with more daily or a t least weekly updates. The next week may be a bit sparse as I will be writing reviews.

New Releases
[1.5.00]
Sonic is now definitely out in England and is selling apart from on it's own with it's system the Neo Geo for around £69.99. Faselei is now out in England as is Dive Alert, both versions. Incidently, I will be starting up a Releases section soon and adding links perhaps with reviews as well for online shops inculding imports (obviously just for the mp3).

Leaving for a Bit
[15.4.00]
I'm leaving to Australia for a week so hopefully I'll have written a LOT of things by the time I get back so don't worry, I'm not leaving this site already.

Notice to Viewers
[14.4.00]
Hi, sorry about this but I really could do with having my guestbook signed so I know how to improve the site and have an idea of how many people have visited. My counter seems to be a bit corrupt.

New Site Features
[14.4.00]
3 new reviews posted, check it!

New Web Page Launches
[12.4.00]
Hello and welcome to my new Neo Geo Pocket Colour website. It's run by one person, me. I did not start this web site so that I could leave it to become outdated. I will do my best to update it with News, Reviews and the lot and hope that you check back regularly for updates. Special features such as exclusive previews and downloads will become more available once I have the bulk of the site running. That means getting at least 6 or 7 reviews up. I have the console, and the games, it's just a matter of writing it up and uploading it. Oh and by the way this news section is meant to contain short snippets of information with links to the relevant stuff so there won't normally be huge paragraphs like this. I started developing this site on April 4th 2000 and launched it on 12.4.00.

New Site Features
[12.4.00]
I will be implementing two new features into my web site hopefully within a couple of weeks. These consist of a release dates page and also a records page where buy I will update records for any games on the Neo Geo Pocket Colour. Just email me with the record and some sort of proof such as a picture of the record displayed and I will upload it with your name and any other details that you suggest. I will delete any forgeries.