I met John Gillies soon after they took down the Scotland On Line web cam. We had both signed up on a cryptozoology site to discuss what we had seen and share our pictures with others. John had posted a picture that he had taken on Scotland On Line's underwater camera. The image although as abigious as it was to others made a light go off in my mind. The image looked like the jaw that I had seen on Nessie the morning me and my husband saw her in 1999. John sent me the picture and I placed it beside the sketch Lindsy made for me.
John told me that a few months before he had taken his family to Loch Ness for a outing and he had gotten some footage of Nessie. He told me that when he got home he viewed the footage and he couldn't see anything but a blurry blob moving in it. He said that what he took the footage of looked just like Lindsy's scketch.
We lost contact for over a year. Until last week. John got ahold of me here via the guestbook with very interesting news. He looked at the video frame by frame and could clearly see the same animal I had seen in 1999.
We are in the process of trying to find someone who we can trust to enhance both the stills from the video and the video itself. We want to share a few stills from the video with you here before they are enhanced.
John's Underwater Picture along side of Lindsy's Sketch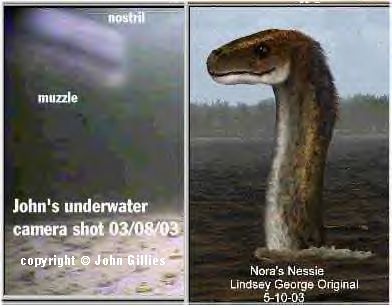 Still From Video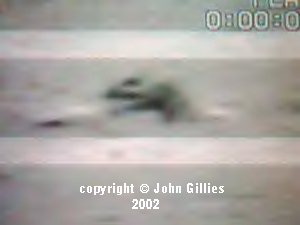 Still From Video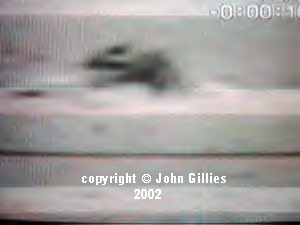 my enhancement with crude outline drawing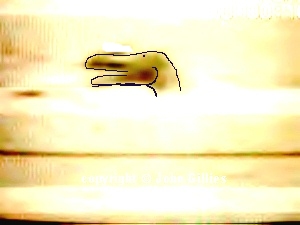 my enhancement with detail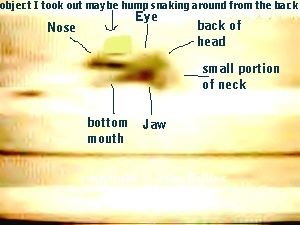 Please bookmark page we will let you know as soon as the video has been enhanced and is out for public viewing. We want to get the truth out to the world.