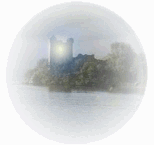 Hunters


Many people came to the loch to find Nessie after the sightings started coming out. Some of these earlier ones are the most famous, Tim Dimsdale, Dan Taylor, the crew of the recent Deep Scan Project, and two very important and recognized men: Robert Rines and Issac Blonder. All of these men got some sort of results from their expeditions. Tim Dimsdale filmed her and, just very recently, got recognition from NASA that what he filmed was a live, animate object and not a boat - as some had scoffed when he first released the film. I am sad to say, Mr. Dimsdale died several years ago, never getting the answer to his question about Nessie. Dan Taylor claims his yellow submarine was spun around by something big with great force while he was under the waters of Loch Ness. He had planned to get a skin sample from the beast to find out what she was. The Deep Scan came back with sonar readings of a large, moving object and some pictures that, to my knowledge, have never been published! The only hunt that ever came back with solid evidence was the one that Rines and Blonder manned in the 70s.

Robert Rines has invented many wonderful tools for mankind; he is the one that invented the microwave sonar device, and he invented a device to keep the soldiers in the Gulf War safe. When he went to the loch in 1970 he got a lot of amazing results, sonar readings of something big moving along the bottom of the Loch, the largest being 65 foot in length. He snapped several under water sonar flashes from a device he invented just for his expedition there at Loch Ness. The pictures were remarkable! ! There was one of a diamond-shaped fin that was attached to a large body, a couple of this fin in motion and one that some say is a rock or cavern in the loch and others say it is a picture of her head. The article wasn't in the news or a tabloid. It was put in print in a very esteemed magazine, one that has brought us wonderful pictures and geography from around the world. This magazine is the National Geographic.

What makes all of the real pictures and stories so unbelivable is the many pictures taken by people that were props, fakes and hoaxes. The most well known of these is Dr.Wilson's picture, "The Surgeons Picture", and Frank Searl's pictures. I feel for these people because they never got to experience what the few like me and all the above mentioned experienced. I wish I had known how to do a print screen the very first time me and my husband saw her. ...Misty Morning...swiming(sailing)pass the side of Uhquart Castle, head and neck up out of the water just as pretty as you please, reminded me of a swan... "Graceful" forward motion, not a zig zag motion, with a thick v shaped wake forming from her neck out... the waters white, little caps cresting the top of the wake. Purely Mythlogical picture but it was real.... It wasn't a scarey experience though I could not see the face clearly... It was a serene, heart-tugging moment that will last me the rest of my life. I cried; tears just rolled down my cheeks like a dripping faucet . A question of 32 years had been answered. She is real. A wish had been granted. I was allowed to see her.