You are attacked by Ramtor, the Advisor! (health 200)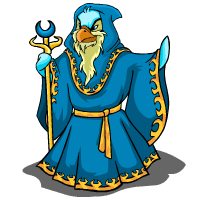 Ramtor says, "So, I have a challenger for the throne, eh? Others have fallen before me. Let's see how you fare!"
------------------------After halving Ramtor's Hitpoints----------------------
Ramtor grunts as he is struck, his eyes burning with hatred. "So, it seems you are more formidable opponents than I thought! Well, I think I shall take my leave now, for I must have time to prepare for our next encounter. Farewell, foolish enemy, but not for the last time: when we next meet, I shall destroy you!" Ramtor takes a step back, waves his hand, and there is a blinding flash of light accompanied by a thunderous sound. When your vision clears, Ramtor is gone. All around you, the other people in the castle seem to be blinking with astonishment, as if they've woken from a long dream.



Captain Jologa says, "So you are the one who freed us from Ramtor's clutches, eh? Well, no time for chit-chat. You'd better set about finding the king, while I get the castle back in order for his return."
> Say, "Where is the king now?"
"Ramtor had him taken to an old tower that overlooks the sea to the west. It's at the tip of the peninsula, beyond the Treacherous Forest, on the Plain of Retreat. I don't know if that's where Ramtor will have gone now that he's vanished, but it seems likely."

Countess Haren smiles as you approach. "Oh, you are so heroic! And we are all so grateful for your heroic deeds. That dreadful Ramtor had cast a spell upon us to make us obedient. Thankfully he didn't ask much of us lordly folk; I suppose he had nefarious plans to attend to."

Count Sadath runs his hand through his hair and releases a pent-up sigh of relief. "Well, I can't say I've ever been happier to see a commoner," he says. "I don't know what you did to get rid of that dreadful villain Ramtor, but I'm certainly thankful. We all are, I'm sure."
You say, "What happened here?"
Count Sadath says, "Well, a few weeks ago, Ramtor somehow got the castle guards to take the king prisoner. I suppose he had already cast a spell upon the guards to make them do his bidding. Anyway, I don't know where they took the king. After the king was gone and Ramtor announced that he was now king, we all started to feel unnaturally frightened. Frightened, and... well... sleepy. I suppose it was another spell of Ramtor's, but it seems to have been dispelled by Ramtor's disappearance."
You say, "Where is Ramtor now?"
Count Sadath says, "I'm afraid I don't know. I can't imagine he'll have gone far, if he'll try to take the throne again as I suspect. He may have fled to the west, an area which has long been uninhabited... mostly. It would be easy for him to go about his business there, without much notice."

Lady Adrile stands, looking out a window to the south. She turns to glance at you, and says, "It is such a beautiful view, is it not? And to think that all these weeks I've been unable to enjoy it, locked in the embrace of Ramtor's spell as I was. It was a truly horrifying experience. I thank you gladly for freeing us." She turns back to the window, smiling broadly.
---------------------------------------------------------
guards at entrance
---------------------------------------------------------




Guard Thyet rubs his eyes. "Oh, I can't believe it! You've defeated Ramtor! Or at least, gotten him away from the castle. I guess his spell was broken when he fled. I hope you can truly defeat him, once and for all, though. At any rate, if you wish, you are welcome to use any of the castle's empty bedrooms to rest for the night. No fee, of course."
> Say, "I'd like to rest for the night." (Cost: free)


Guard Paniga smiles at you warmly. "Oh, thank you for releasing us from Ramtor's clutches! I don't know how I ever thought I supported him. I suppose it was some spell he had cast upon us."

---------------------------------------------------------------------
Guards outside Ramtor's Chambers
---------------------------------------------------------------------

Guard Cault bows deeply as you approach. "I thank you, as I'm sure will all others here, for disposing of that awful advisor. We're freed from his control, at last!"
> Say, "I don't think he's quite disposed of yet. He disappeared."
"Is that so? Well, I suspect he's run off to some hidden fortress or other lair of evil. Despotic villains always do!"
Guard Zanale smiles at you, and shakes your hand. "Oh, I heartily thank you for releasing us all from the grip of that confounded wizard. He made us do such awful things... even take the true king prisoner!"
> Say, "Where is the king now?"
Guard Zanale says, "I'm not sure. I remember pretty clearly, he had us take the king to a wagon outside the castle gate, but other guards took over at that point. I can't say for certain where, though. Captain Jologa might know, if you can find him."