The Dixie Darlin's present to you some excerpts from their tapes and live performances! Just click on the little Victrola to hear the sample you want. We admit the sound quality could be better, but we made them mono so as to use as little memory as possible. For more information on tapes and prices, click here to email The Dixie Darlin's




OVER THE WATERFALL


SIDE 1 Red Hills Polka, Wexford Carol, Reel Beatrice, Sweet Sunny South, Over the Waterfall/Liberty, Polly's Waltz, Whiskey Before Breakfast

SIDE 2 Full Rigged Ship, Jock O'Hazeldeen, St. Annes Reel, Westphalia Waltz, Arkansas Traveler, Bob's Farewell/Dancing Bear, Going Home

This tape is The Dixie Darlin's at their best! (Some tapes include former Darlin's, Margie Earles on autoharp, and Karen Kraft on banjo).

"Jock O'Hazeldeen" Beautiful Scottish ballad sung by Deb

"Sweet Sunny South" Karen sings this Southern classic

"Polly's Waltz" Dance elegance

"Over the Waterfall" Title tune
---




FIDDLER'S NIGHT OUT



SIDE 1 Blackberry Blossom, Levi Jackson Rag, Granny Will Your Dog Bite/Bill Cheatum, Miss DeJersey's Memorial, Growling Old Man and Grumbling Old Woman, Millers Reel, Sally in the Garden/Southern Soldier Boy
SIDE 2 Redwing, Cotton Patch Rag, Ookpik Waltz, Mississippi Sawyer/Golden Slippers, Hungarian Hornpipe, Gypsy Waltz

This is DeeAnn Gillispie's first solo tape. It features her hot fiddlin' with The Dixie Darlin's, plus Cindy and Albee Tellone on bass, guitar and mandolin.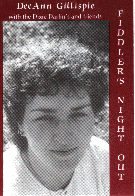 Miss DeJersey's Memorial A haunting waltz

Gypsy Waltz Jazzy gypsy tune

Cotton Patch Rag LIVE with the "River Rats"
---
NO BOYS ALLOWED
Brand New release from DeeAnn Gillispie and banjo player/vocalist Beci Fuller, in collaboration with Prairie Land Stringband fiddler Shanda McDonald, and The Leatherwoods keyboardist Jackie Phillips.

SIDE 1 April Waltz, Wizard's Walk, Waltz of the Wind, Darkness on the Delta, Sittin' on the Dock of the Bay.
SIDE 2 Angels Watchin' Over Me, Medley: Breakout/Full Rigged Ship/June Apple, Lovers' (Romance) Waltz, Chosen Challe Mazeltov, Medley: Crow Creek/ Snake River Reel.
Sound samples available soon!


---
The Official Dixie Darlin's Home Page
Scedule of Dixie Darlin's Performances
Reviews of the Dixie Darlin's Tapes
Links to Old-time Music Sites
The Official Deb Carbone Colonial Living History Page
The Official Beci Fuller Banjo Page
The Official DeeAnn Gillispie Fiddle Music Page
---
This Page hosted by
Get your own FREE Home Page