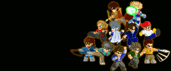 Little Fighters 2
Home | Characters | Items | Snapshots | Cheats | Tutorials | Downloads | Links
---
Characters
There are 12 main characters who all has up to 4 special moves. Not including their normal punches, kickes and defends. All characters are very equal, no one has greater power.



Template Bandit John Deep Henry Rudolf Louis Firen Freeze Dennis Woody Davis
There are also other special characters too, some you can use and some are in the stage mode which you can get using cheats. Some of these characters are very strong, even stronger than the main characters!...




Hunter
Jack
Mark
Monk
Sorcerer
Louis EX
Jan
Firzen
---
M a I n C h a r a c t e r s
---
Template is known as the invisible guy, but still, you can still see him~ Just not his face. He doesn't have any special moves except normal punches and kicks. But he has "hard" punches and kicks, which does a lot of damage! But other than that, he's useless...
T>>>.>>Top
---


Bandit is a strong sailor, who is just as stupid as template. They both does not have any special moves, but have "hard" punches and kicks that does a lot of damage. He is very useless too!...
T>>>.>>Top
---


John, a strong magician who has deadly energy disks that can hurt everyone in the field. He can also heal anyone including himself on the field. Hiding behind his energy shields, no one or energy balls can hurt him. He is a very smart character.
T>>>.>>Top
---

Deep, a crazy guy with a sword. Look at him, he's sleeves are tear apart and he looks angry. He has powerful sword energy blasts that give out 2 of them at a time at different directions. His dashing strafe charges at anyone who's in front of him and keep going until he's tired. He is a very crazy berserker!
T>>>.>>Top
---


Henry, just like Robin Hood except wearing yellow clothing, he carries a flute, bow and arrow. With his powerful fire arrow, it hits anyone or anything that's in front of him and keeps hitting until its out of reach. He is a very good flute player, and when he plays, you'll be sleeping like a dead man and loses your hp.
T>>>.>>Top
---


Rudolf, a ninja, carrying two katana. He has unlimited star blades that stops you from getting to him. One of his specialties is to double, which makes two other ninjas' who has the same moves and looks just like him gaining on you! And once his invisible, you're doomed!
T>>>.>>Top
---


Louis, a well trained prince warrior. He wears full body armor and has powerful scary punches and kicks. His flying kick knocks out anyone who's in front of him and goes on until he has no mp. He's ground energy hits both sides of enemy no matter how far they are!
T>>>.>>Top
---


Firen, born to play with fire. He holds unbelievably strong fire balls and throws them until it gets you. He runs with fire and knocks out anyone who's in front or behind him! Beware of his fire breathing inferno, which he spits out fire just like a fire breathing dragon!
T>>>.>>Top
---


Freeze, plays and lives with ice since he was born. He summons a deadly ice sword which freezes anyone he hits. He is like the ice lord, who can call out whirlwind storms and causes the enemy to fly out of sight. He's powerful ice blasts changes enemy energy balls and double it into his own and freezes the enemy so that they can't move!
T>>>.>>Top
---


Dennis, a normal citizen that likes kong-fu. He may look normal, but he got the scariest kicks which keep knocking you out until he ran out of mp. You may think he only got those powerful legs, but wait until you see his homing energy ball that follows everywhere you go.
T>>>.>>Top
---


Woody, a soldier who has powerful leaping kicks that charges at the person in front of him. He also can teleport to your back and start whipping your ass. He also have red energy waves that gives out 2 at a time also just like Deep. But most of all, he wears hard boots and he kicks hard!
T>>>.>>Top
---


Davis, another kong-fu guy who has power punches that knocks you down far away and up into the sky. With his unlimited energy blasts, you'll be running and dodging and will still get hit.
T>>>.>>Top
---
S P E C I A L C H A R A C T E R S
---

Hunter, just as useless as Template and bandit. Plays a small enemy roll on the game. Appears almost in every level and attacks with punches and kicks. But, he also shoots arrows this time, but no very far!
¡@T>>>.>>Top
---


Jack, a special character that you see on the stage mode that you have to rescue and help you get through the levels. He has powerful fire ball blasts just like Firens' but just a little bit bigger. He also have a powerful kick. He is like a modern fighter that has fires energy balls!
T>>>.>>Top
---

Mark, a very strong and powerful modern guy. He has very very powerful punches. If he runs and charges you with his body, you and all the people behind you would be knocked down until he gets tired (no mp). But, he does not wastes lots of his mps' since he doesn't really need any mp to attack!
T>>>.>>Top
---

Monk, another strong and muscular guy. He lives and trains in a temple where he sits and tries to figure out reality and life's true form and meaning. He has powerful Shao Lin's secret attack, which is ShaoLin Palm. It hits and pushes the person away from him and knocks them down. It's very powerful!
T>>>.>>Top
---


Sorcerer, another magician but not as good as the others. He is a normal character (enemy) that appears almost in every stage mode levels. But, he fires out ice and fire energy balls and blasts, so he's just like Firen and Freeze. But, he can also heal his team mates and himself. So he is a very good normal character!
T>>>.>>Top
---

?????????? He's moves will remain secret! ????????
Louis EX, he's actually Louis but without armor and with a axe-like spear. He is a secret character that you will soon meet in the stage mode. He is very crazy, as he charges at you, any energy balls or anyone gets bounced return back to you or gets knocked down. He has a scary powerful technique using the axe, which swings "x" and does lots of damage to you.
T>>>.>>Top
---

??????????? Her moves will remain secret! ??????????
Jan, the only girl character in the whole game. She is another powerful magician who sums out a magic pheonix, who can heal her team mates and also herself. She also throws out 3~4 fire balls to any one in front of her. So, don't look down upon her or let her go because she's pretty!~
T>>>.>>Top
---

?????????????His moves will remain secret! ???????????
Frizen, actually the combination of Firen and Freeze. So he got the powers of both of them. We can say that he is the most powerful fighter in the whole game. But it's pretty hard to get him in stage mode, because he's at the real back and as I say, very powerful. He's got some ice blast and fire blast combine together that shoots out in a straight fat line, and anyone in front of him would be hit until there been knocked down!
T>>>.>>Top
---
---