"Golfspeak" Series
"Here's an interesting variation. While other golf widows simply sulk and dream of wrapping five-irons around the hubby's neck, look what Josie Lim Cruz has come out with..." Read full article here (Alya Honasan, Phil. Daily Inquirer, May 1, 1995).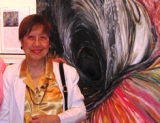 About the Artist. Maryland-based artist and recent blogger Josie Lim Cruz is an experienced art instructor, offering special classes for art enthusiasts of any age. She holds workshops at the Jewish Community Center for Greater Washington and at her studio. One-on-one sessions for children and adults can also be arranged. Her students range from those who want to pursue art seriously as well as those who want to develop it as a hobby.
A special one-day session is offered for any student to learn to paint and take home one finished art piece. Commissioned paintings are accepted on all subjects, which include murals, portraits, pets, houses, etc.
The Artist's work has been viewed at select shows in the Midwest, U.S. East Coast cities and in several venues in the Philippines. She has had numerous one-person as well as group exhibits internationally. Her paintings are abstract expressionist works on large canvasses. (Lithographs of previously exhibited paintings are available upon request.)
Josie Lim Cruz finished her Bachelor of Fine Arts, cum laude, and took post graduate studies at the University of the Philippines. She has been actively painting for a number of years. Some of her students have mounted their one-person shows of which she was curator and she has served as juror for some musical and painting competitions. Various retirement homes have engaged her services as art teacher and piano performer.