The "Rooms"
1873 - 1882
1883 - 1911
1912 - 1945
1947 - 1951
1951 To ?
Reflections
Hymn
Ideals
Cheers
Songs
Annuals
Students
Campus
Photos 1
After School
Et Cetera
Places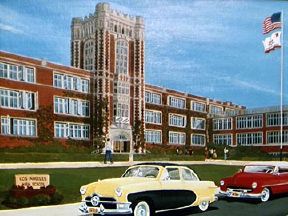 Welcome to ROME.
This is an unofficial LAHS website of what may have been the grandest of all high schools.
Most of what is found in the "halls" of this website will relate to that period of time prior to the demolition of the school in 1971. Fortunately, I have kept some of the items that allowed me to retrieve the information included here. After more than 50 years, I would not want to rely on memory alone. A great amount of the history and facts presented were taken directly from the 1953 issue of L. A. HIGHWAY, a handbook published by the Student Body and presented to each new student upon enrollment at LAHS.
Pictures and information relating to LAHS and the surrounding area during the 1950s are very difficult to locate. Contributions of such are most welcome. Bill Noyes



P.S. All the links on this site will be in Romes brick color.