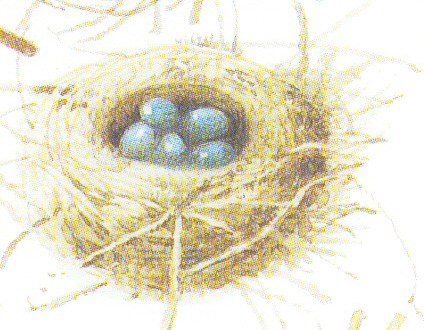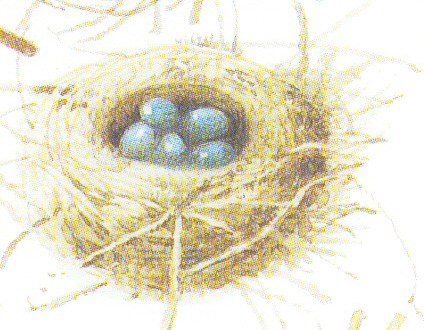 BROKEN SHELL
I remember climbing to see
A robin's egg in a nest
So perfect and beautiful and blue.
Young friends had showed me it was there
And warned me to beware
Only to look but do not touch
I was enticed; it looked to be a jewel.
Surely one touch could do no harm?
But the shell fractured and the yolk and white leaked out.
Embarrassed, I hid the shell and told no one.
I am sorry for the children
Who returned to view the special egg and found none.
I am sorry for the mother bird
Whose offspring was never seen.
I am sorry for the life of the bird
Who never even got to be in the shell.
And it seems to me that most of our sins
Are not out of maliciousness nor meanness
But rather simply not heeding a warning
And handling something fragile in a clumsy way.

Kitty Schooley
© 2002

BROKEN SHELL
Now available.
Kitty Schooley was notified by Mary Benard, Editor, on August 6, 2002, that her submission Broken Shell is included in Skinner House Books meditation anthology, How We Are Called, published in December 2002.
Skinner House Books, the imprint of the Unitarian Universalist Association, invited members of UU congregations to submit original poems, prayers, or short prose pieces for possible inclusion in their meditation manual December, 2001. Unlike most of their meditation manuals, which are by single authors, this is an anthology of pieces by many Unitarian Universalist authors. Pieces may be serious or funny. They will be suitable for both private reflection and public worship. Recent meditation manuals include This Piece of Eden by Vanessa Rush Southern, Dancing in the Empty Spaces by David O. Rankin, Out of the Ordinary by Gordon B. McKeeman, and The Rock of Ages at the Taj Mahal by Meg Barnhouse. Please see http://www.uua.org/skinner for more information about UUA Meditation Manuals still in print. To order a copy of the meditation anthology, How We Are Called, with Broken Shell by Kitty Schooley visit www.uua.org/bookstore or call 1-800-215-9076.