As you have known, Oda Nobunaga lifted up a Chinese coin -- the currency of his territory -- onto his personal battle-banners (click here for pictures of the authentic Oda Nobunaga banners). He said it was based on a real-life event in the morning before his first great battle of Okehazama (click here for everything about this battle), in June 1560. He was 26 years old.
He was to face the army of the Imagawa clan of Suruga that morning.
The Imagawas brought more than 25,000 men toward Oda's home of Kiyosu castle.
Oda himself had no more than 3,000 men behind him.
He woke up at 5, danced his favorite 'Atsumori' (click here for pictures of the dance and what it means), had some breakfast, and galloped to the battlefield at 6.30.
At 7 he reached a temple, by which time a few of his captains had caught up with him. Oda waited until the rest of them assembled, then he went into the temple and prayed for victory (against the impossible odds).
Getting out of there, Oda said to his men, "If Buddha is with me, the head of this coin will show up!". The superstitious soldiers waited in a dreadful silence as their boss flipped the coin in the air. Then it fell to the ground. The head was indubitably the side they saw.
Jubilant because this was surely the most auspicious omen, they marched on, and just a few hours later Oda Nobunaga won this improbable bet against the Imagawas.
| | | |
| --- | --- | --- |
| | | |
| Oda Nobunaga's battle-banner | Oda Nobunaga | the coin |
They stopped at the same temple on their way home, exhausted but imaginably euphoric, and Oda Nobunaga gave the priests his horse as an offering (no, it wasn't slaughtered -- this is a vegetarianist Buddhist Japan, remember?). One of his dad's relix, Hayashi Sado, said to him, "This is really the gods' will that we should win the war, when everyone just never imagined it to be possible. The gods have spoken through the coin here this morning."
"What gods?" Oda Nobunaga smirked at Hayashi. "It was just me!"
Then he showed the coin he tossed to Hayashi; both of its sides are heads.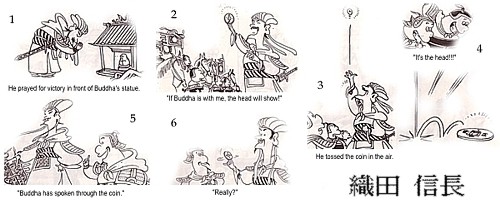 Oda Nobunaga & his coin in a Zen comic book, 1998
This episode of that very famous day of the Okehazama victory might have just been some amusing anecdote told among the Oda retainers later, but it has been considered as credible enough given the characteristically Odaist way of having his own way in everything.
In Zen teachings afterwards, Oda Nobunaga's coin-tossing scene would be told from one generation to another, as an example from real life that stresses this very Zennist notion: no god will be there -- help yourself.
The coin itself bears the inscription that reads: "Ware tada shiru taru", i.e. "Only I know that I'm okay with what I got".

This is a very Zennist statement, and Oda Nobunaga gave life to the saying by what he did that morning of June 1560. He alone knew they would win the impossible battle.
See the complete account of the battle of Okehazama so you'd know what the statement really meant to Oda, and why it fits to be his personal slogan after that day -- fluttered as his personal battle-banners in every war he was to go to (Oda's 'public slogan' was, of course, "One Realm Under One Sword", AKA 'tenka fubu'). Click here for the story and picture of that.