AUSTRALIAN SUPER HERO PROJECT
HINT - This BLUE BAR above is a NAVIGATION BAR - Click on WORDS - To Go to SPECIFIC WEB PAGES
BONUS VIDEOS at Bottom of Web Pages

_________________________________________________________________________________
VISIT - Instagram Account - @jon.mick.artist - For Latest Work
_________________________________________________________________________________
_________________________________________________________________________________
The Awesome Aussies - "The Avengers" of Australia

Who ban together from Australia's Cities to Fight Evil

Vengeance, The Savage Sheila, Outback Jack, The Raging Roo
and The Crazed Killer Koala

Sometimes joined with Boomer, The Burst and The Amazing Aborigini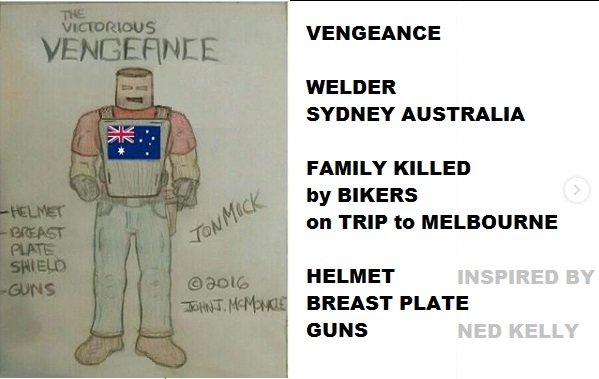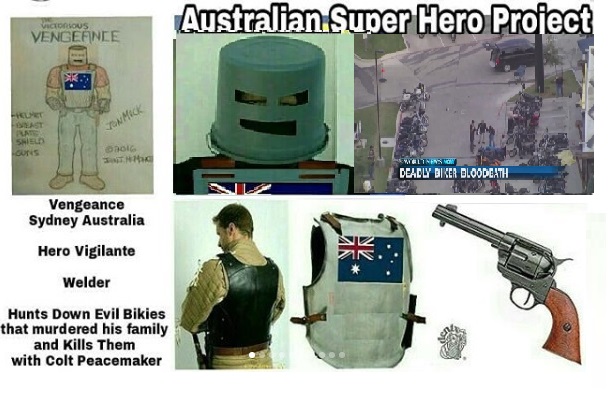 The Victorious Vengeance

Welder
Sydney, Australia

The Punisher / Capt America / Iron Man
of Australia

Inspired by Ned Kelly

Whose family is killed on a trip to Melbourne

Who then makes his Demented Knights - Helmet + Breast Plate
to hunt down Evil Bikies in the night...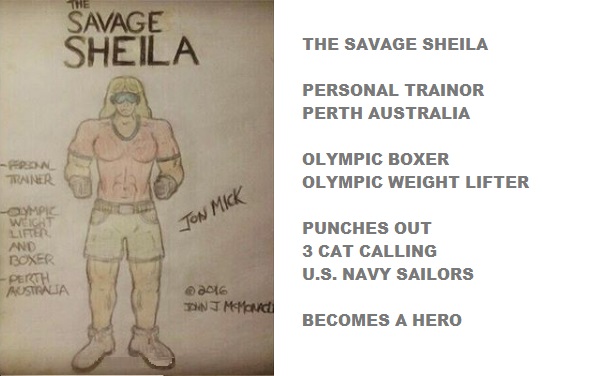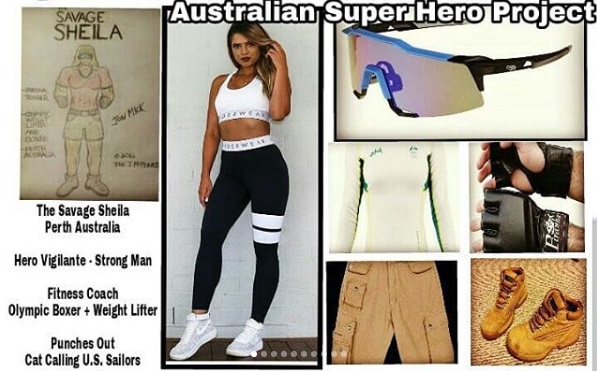 The Savage Sheila - CosPlayer portrayed by
Ashley Annaca - Personal Trainor + Fitness Coach of Australia
The Savage Sheila

Personal Trainor

Olympic Boxer
Olympic Weightlifter

Perth, Australia

The Strong Man - Fighter of Australia

Who became a Famous Hero Vigilante
after punching out 3 U.S. Sailors in Perth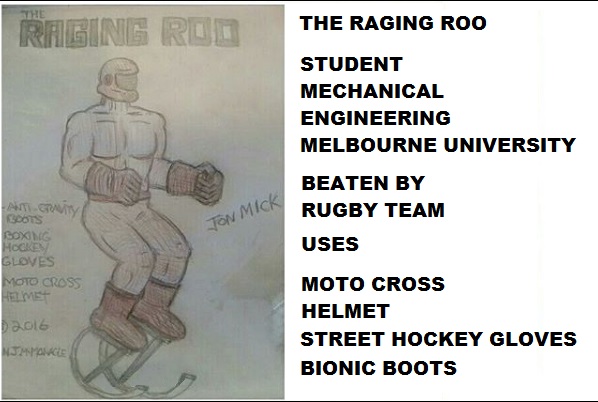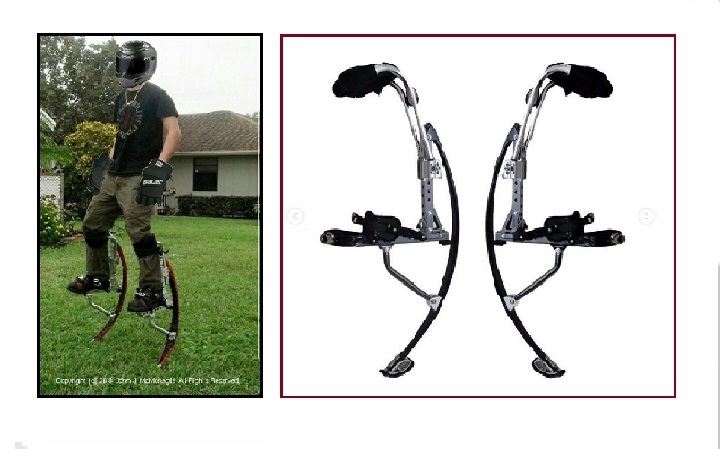 The Raging Roo

Mechanical Engineering - Student
Melbourne University

The "Peter Parker" of Australia

Who puts on his Moto Cross Helmet, Hockey Gloves
and Air Trekker - Bionic Boots
to get revenge on The Rugby Team of Melbourne U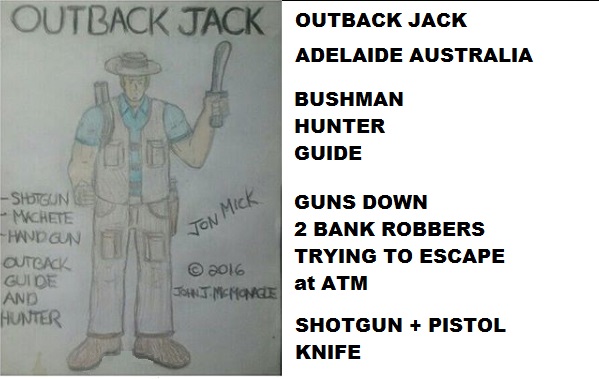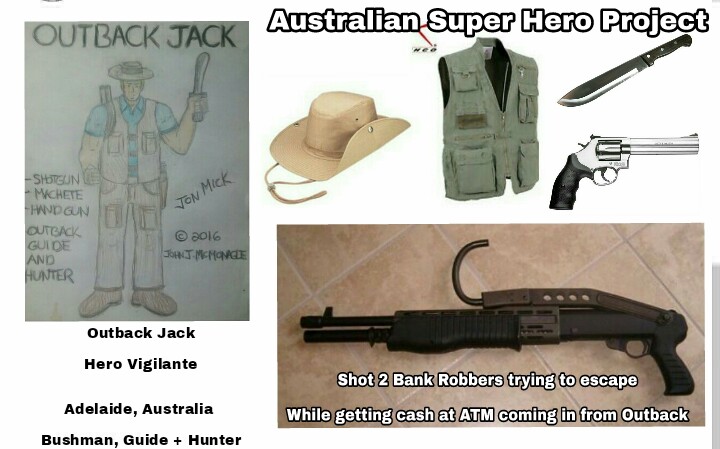 Outback Jack

Bushman, Guide + Hunter
Adelaide, Australia


Who killed 2 Bank Robbers trying to escape while he at the ATM
coming in from Outback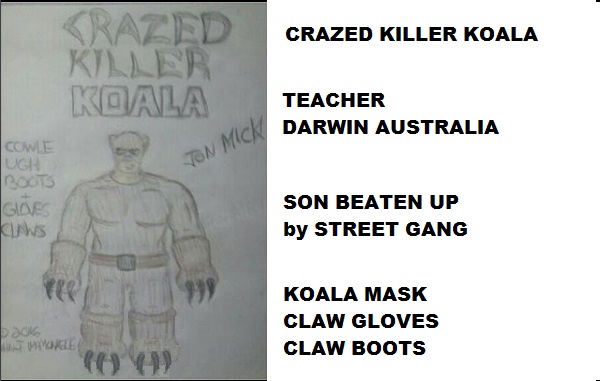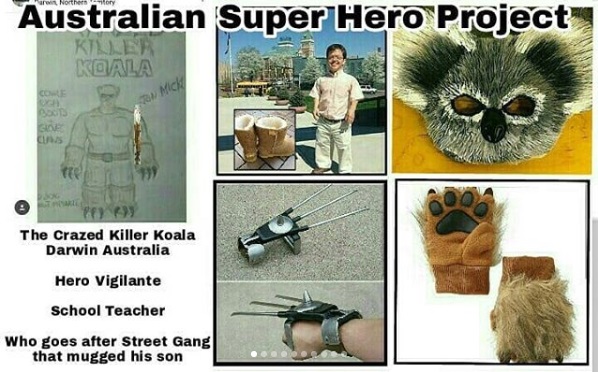 The Crazed Killer Koala

School Teacher
Darwin, Australia

The Defender of Darwin

Who put on his Koala Mask, Clawed Gloves and Boots
to avenge his son who was attacked by a Street Gang
_________________________________________________________________________________
BONUS VIDEOS !!!
Copyright © 1979-2018 John J. McMonagle All Rights Reserved.
# #the #awesome #aussies #avengers #of #the #australia #the #australiansuperheroproject #theaustraliansuperheroproject #australian #super #hero #project #vengeance #the #savage #sheila #thesavagesheila #outback #jack #outbackjack #the #raging #roo #theroo #the #crazed #killer #koala #boomer #the #burst #the #amazing #aborigini, #jonmick #artistjonmick #comicbook #comic #book #characters #australia #sydney #perth #melbourne #brisbane #darwin #adelaide #supervillians #super #vilians #alicesprings #pinegap #nsa #cairn #superhero #superheros #superheroes #herovigilante #herovigliantes #vigliante #viglantes #vengeance #theragingroo #theroo #savagesheila #savageshiela #savage #sheila #shiela #outbackjack #outback #jack #thecrazedkillerkoala #crazed #killer #koala #thecrazedkoala #bigbloke #theburst #the #burst #boomer #augmentedman #augmented #Man #mastermason #master #mason #drone #dronetheassassin #themick #the #mick #theflyingfox #flyingfox #theamazingabhorigini #tasmanianshedevil #tasmanian-she-devil #tasmanian-shedevil #tasmanian #she #devil #shedevil #she-devil #rlsh #reallifesuperhero #reallifesuperheroproject #theblackrat #blackrat #black #rat #projectgrizzly #project #grizzly #bear #suit #man #bearsuitman #by #artist #jon #mick #penname #pen #name #aka #john #j. #j #mcmonagle #wall street #nyc #new #york #city #bayonne #n.j. #nj #new #jersey #america #usa #u.s.a. #the #united #states #of #america