Rubik's World Championships 2003
Banquet
Home | RWC2003 | Pre-competition gathering | Day 1 | Day 2 | Banquet | News article
---
After the presentation ceremony on Sunday evening, we all headed back to the hotel. The official competition was over, but no one could stop cubing (as had been the case all weekend). Well, we did pause briefly to eat, but everyone still had their cubes with them and continued cubing and discussing algorithms in between visiting the sandwich buffet.
---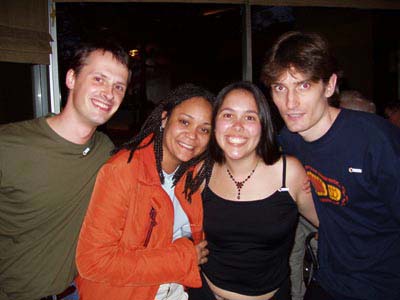 Michiel van der Blonk, Yasmara, Jasmine Lee and Peter Still
Michiel taught Yasmara how to do the cube in the week before the competition. She entered the 3x3x3 and solved in under 4 minutes - very impressive for someone who only picked up a cube for the first time the week before! I think having an excellent cube teacher certainly helped. :)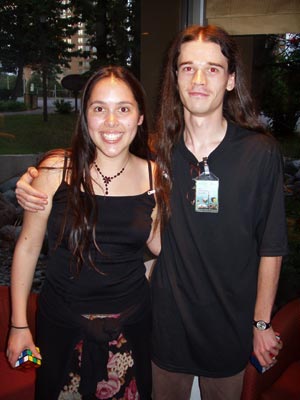 Jasmine Lee and Lars Vandenbergh.
Lars is the master of the Square-1 cube. He has held the unofficial world record for Square-1 for a while, and now has the official record too. Lars is also very fast with a regular cube and came 4th in the 3x3x3 speedsolve.

Jean (Jon Morris' wife), Jennifer (Lars Petrus' wife), Yasmara (Michiel van der Blonk's wife) and Peter (my fiance). As you can see, there were several 'spouses of cubing' who accompanied their obsessed puzzle-wielding partners to Toronto. Jean introduced Peter and Yasmara to 'cinnamon fireballs'. Peter liked them. I think Yasmara found them rather scary!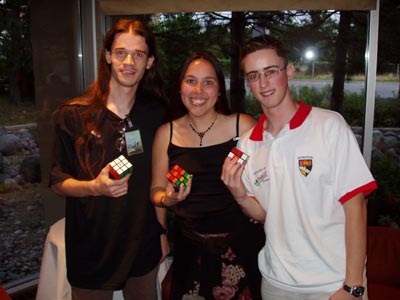 Lars Vandenbergh, Jasmine Lee and Dan Harris
Here's me with Lars and Dan - both very good cubers, and very fun guys as well. :)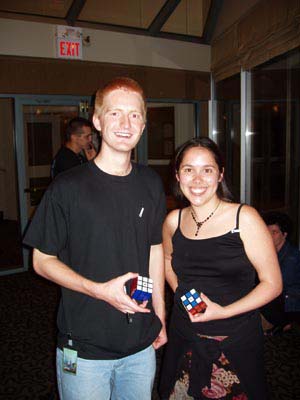 Chris Hardwick and Jasmine Lee
Chris is the master of one-handed cubing. He's also pretty fast with a regular cube and the large cubes. Chris has an excellent reference site for anyone needing help with their 4x4x4 - especially those annoying parity pairs that trick everyone!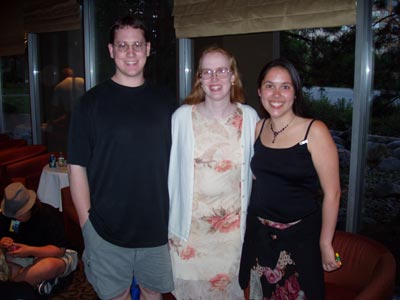 Grant Tregay, Betty Tregay and Jasmine Lee
Grant is the master of the Megaminx (and also very fast with many other puzzles). It appears that he's turned Betty into quite a puzzle fan too - she competed in the 3x3x3, the 4x4x4, the 5x5x5, and the Megaminx.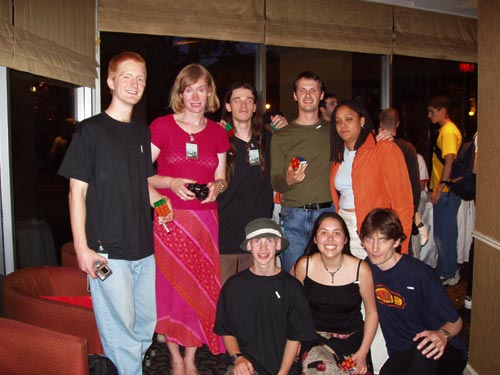 Lots of cubers!
Back row: Chris Hardwick, Jessica Fridrich, Lars Vandenbergh, Michiel van der Blonk, Yasmara
Front row: Andy Bellenir, Jasmine Lee, Peter Still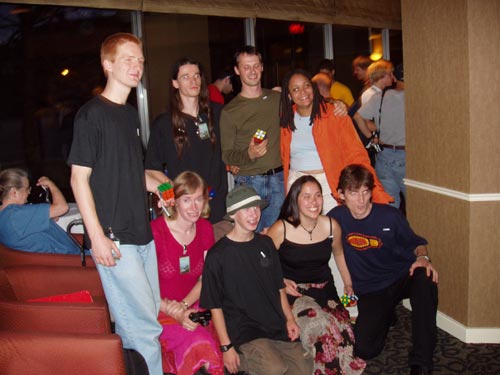 Lots of cubers again! This time looking at someone else's camera.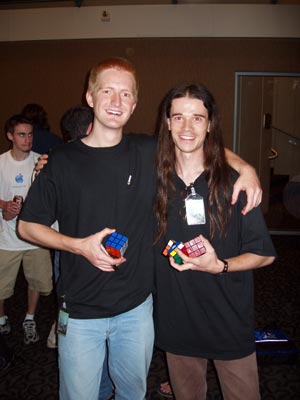 Chris Hardwick and Lars Vandenbergh
What a happy photo. :) You'd be happy too if you'd just won 1st place in an RWC event.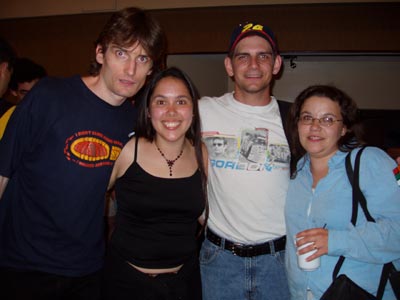 Peter Still, Jasmine Lee, Jon Morris and Jean Morris
Jean and Peter are not cubers, but were still very much getting into the spirit of things in Toronto. Jean once made a birthday cake for Jon that was in the shape of a huge Rubik's cube, and it was iced with all the Rubik's colours!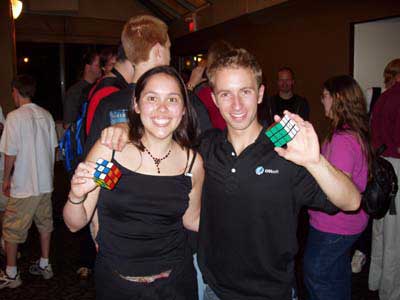 Jasmine Lee and Dan Knights.
Dan is the new Rubik's World Champion. He also holds the unofficial record for the fastest solve during freefall!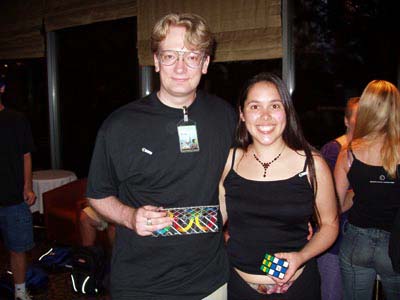 Jaap Scherphuis and Jasmine Lee
Jaap is a 'jack of all trades' when it comes to puzzles. If there was a prize for the person who could do the greatest number of different puzzles, I think it would have to go to Jaap. He's pretty good at the other puzzles too, winning three RWC events (Magic, Master Magic and Rubik's Clock).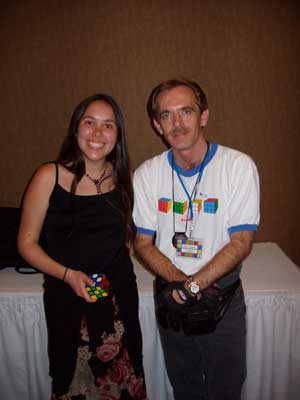 Jasmine Lee and RWC Chief Organizor, Dan Gosbee.
DanG - the man who made it all happen.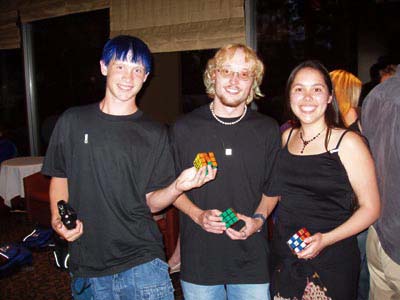 Peter Babcock, Jake Reuth and Jasmine Lee

---
Photography by Peter Still | Page last modified Saturday 2 October 2004 by Jasmine Lee.