Improving the Lima 38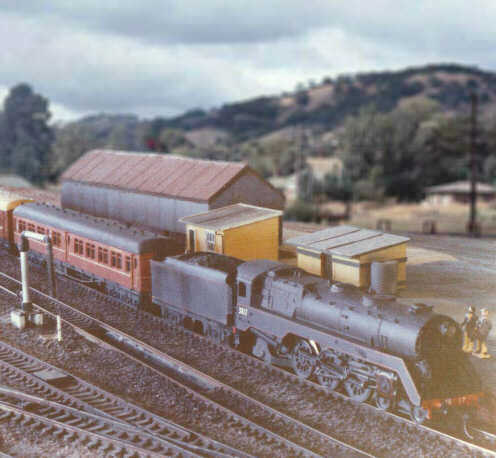 A long time ago, in a place far, far away.......... Lambing Flat had code 100 rail and mainline
engines. This photo, dating from 1982, shows my converted Lima 38 entering the platform
at one of the early versions of Lambing Flat.
Despite being designed in the early 70s, the Lima 38 is actually a pretty reasonable model. While the chassis is actually one of their standard designs, from a German Pacific and the tender is from their Yank 2-8-2, the body, particularly in its latest guise, is very close to the Data Sheet drawing, with one major, (and fixable) exception.
For those interested in using the Lima 38 as a basis for a reasonably quick and easy "dress-up" I present the following quick notes.
Chassis:- The big visual discrepancy here is the cylinders, wheels and the shape of the trailing truck. If Classic Hobbies still have their white-metal 38 bits available than it is a relatively simple matter to fit new cylinders, front bogie and trailing truck. New wheels for same can be fitted that more closely approach reality. Not much can be done quickly and easily to fix the driving wheels (other than reducing the flange depth by carefully holding a fine file against them while they revolve under power, sounds frightening, but is actually quite easy to do once you have summoned up the bravery to try!), the valve gear or the mechanism. Painting and weathering will reduce the impact of the overscale and incomplete valvegear. The mechanism actually runs quite well for a 70s era proprietary loco, particularly if heaps of lead is squeezed into every spare corner and it is not being used to attempt to win slow running contests!
My dear old 3817, that I converted back in about 1978/79 still gallops convincingly along with anything I care to place behind it when we go visiting layouts big enough to take it.
Tender:- The tender is not worth keeping, especially if you can get the Classic Hobbies whitemetal one, or one of the Workshop 5 epoxy kits that were also produced by Main West. (3817's is completely scratchbuilt from styrene, except for the Lima bogies)
Loco Body:- The biggest appearance fault with the loco body is that the side valances are a couple of mm too long, having been extended to clear the incorrect cylinders. Taking a slice out of them, and shortening the front
of the chassis to fit, along with the fitting of correct cylinders, transforms the appearance of this locomotive and it really starts to look like a 38.
After that it is just a matter of detailing to taste and repainting and weathering.

Here is 3817 back in 1980 when it was quite new! This
photo was taken during the very first model photography session I ever did, thank heavens I've learnt from my mistakes!
A converted Lima 38 might not be quite as accurate as the brass models, but it doesn't cost $2000- either!
Basic list of materials:-
Data Sheets drawing of 38
Good photographic references such as John Thomson's 38 Book, available from the ARHS, and most good hobby shops and railway enthusiast's bookshops.
38 Tender, cylinders, leading bogie and trailing truck from Classic Hobbies at Liverpool in whitemetal, or equivalent in epoxy from Workshop 5 and Main West sometimes available second hand.
Various detail bits from Classic Hobbies (or Mansfield Hobbies, if one had the foresight to stockpile them when they were available)
New leading bogie, trailing truck and tender wheels from your preferred source.
The Lima 38 should not be dismissed by the "serious" modeller, because with a little extra work and imagination it can be turned into quite a decent model.