CH Ersehnen Designer Genes JH CD VC
Travis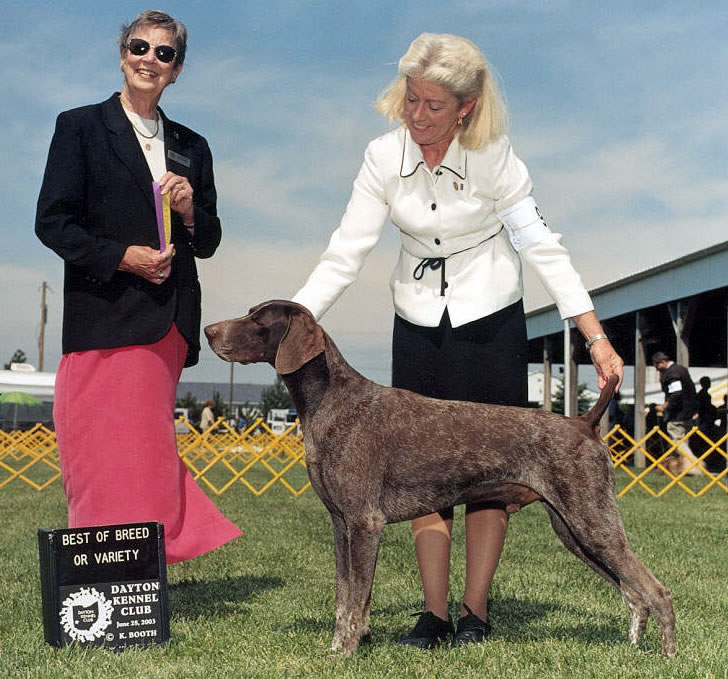 (CH Wyndbourne Rock of Inverness JH UD AX OAJ NRD VCX VDA x Am/Can CH Malhaven Sage Grouse)
---
Travis came to Inverness as a stud fee puppy from a breeding to the multiple
best in show producer, Sage. He finished his championship from the puppy
class with multiple Best of Breed wins. After finishing Travis had a short stint in
the field where he earned his Junior Hunter title and field trial puppy placements
prior to obtaining his companion dog title. Shown above with PHA Handler
Diane P. Steele, Travis is a multi breed winner and group placer and
is the sire of multiple obedience and agility titled dogs.
---
SIRE OF MULTIPLE CHAMPION, OBEDIENCE AND AGILITY TITLED OFFSPRING, AND OTHER RISING STARS
Below, Travis won the Field Trial Dogs Class at the 2007 GSPCA National Specialty Show!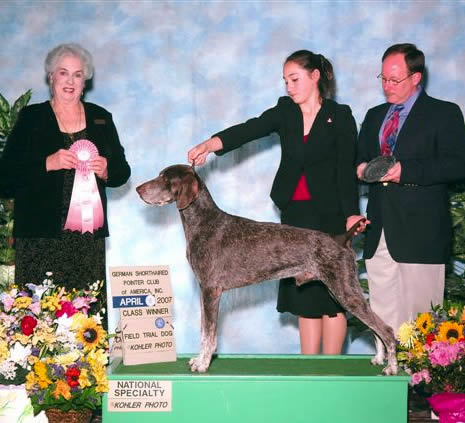 ---
Fresh or Frozen Semen Available to Approved Bitches

OFA Hips (Excellent) • OFA Cardiac • CERF • CD Clear
---
Travis and Ch. Marquis Berihill DesignT'Fly, JH, RE, VC ~ "Birdee" welcomed five bitches and four males on July 6, 2007!

Six puppies have started in the conformation ring: 3 Champions by 15 months old, and another needs only one major.
CH Slipstream Two Moons A Ticken CGC ~ "Shiloh" won his first major at 6 months of age and finished out of the puppy classes owner/handled!
CH Slipstream Full Moon Flyer NA-I ~ "Cosmo" won a 5 point major going Best of Breed over ranked specials in Atlanta, GA on Feb 2, 2008. Cosmo then went on to place 4th in a very strong Sporting group! Cosmo won his 2nd major at Perry in April and finished his Championship on November 1, 2008!
CH Slipstream Kyoto Moon CGC ~ "Tsuki" won back-to-back 4-point majors in Atlanta on Sept 20-21, 2008. Tsuki won all her points from the Bred-by-Exhibitor class and finished her Championship on November 2, 2008!
Slipstream Huntr's Moon Arizin ~ "Rizer" went BOW over his littermate for the 4 point major on Sept 21, 2008 in Atlanta, and now needs only 1 major!

In the bird field: Ch Slipstream Two Moons A Ticken JH CGC ~ "Shiloh"New Junior Hunter! - October 26, 2008!
Ch Slipstream Full Moon Flyer ~ "Cosmo" NAVHDA Natural Ability Prize I, October 12, 2008!
Slipstream Luna Sea Dog CGC ~ "Bruno" NAVHDA Natural Ability Prize III - October 12, 2008! AND! New Junior Hunter, November 8, 2008!

In the performance rings: Slipstream Sparks A Flyin CD RN CGC ~ "Fly" finished her CD at 11 months of age, her RN soon after and 2 legs on RA as of Oct 11, 2008.
Slipstream Kallisto Selene RN CGC ~ "Arista" finished her RN at 11 months of age!

FLASH! TRAVIS DAUGHTERS AT 2008 NSS!
Slipstream Kyoto Moon CGC ~ "Tsuki" placements in Sweepstakes and Futurity and made the cut in the Bred-By class at 10 months old!
Slipstream Sparks A Flyin ~ "Fly" 2 qualifying legs toward her CD and a 1st place and a 2nd place in the Novice B class!

Visit Slipstream GSPs Web Site To See Photos Of These Outstanding Puppies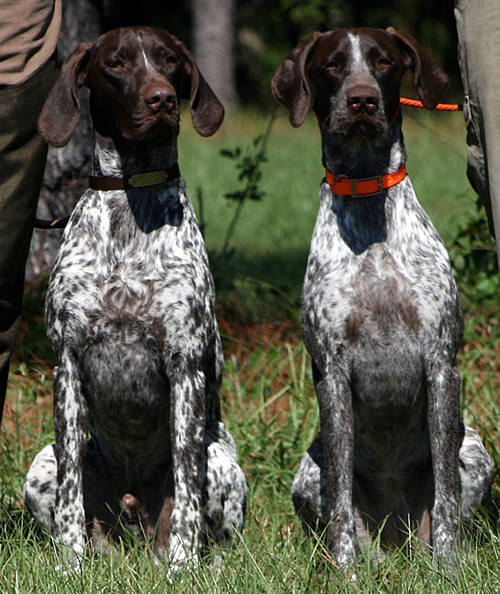 Ch Slipstream Two Moons A Ticken JH CGC ~ Shiloh (left) and Slipstream Anja Der Mondjager ~ Anja (right) at the hunting tests on Oct 26
---