People of Faith Working for Justice in Public Policy
Dinner to Honor Bishop Howard Hubbard

Please join the Interfaith Alliance of the Capital District as we honor Bishop Howard Hubbard with the Robert Lamar Humanitarian Award, and Ed Bloch, Mussarat Chaudhry, Joe Seeman and John Amidon with the "Voices That Challenge" Award. Dinner will start at 6 p.m. on Tuesday, April 29 at the Albany Country Club, Wormer Rd., Voorheesville. Keynote address by Bishop Thomas Gumbleton of Detroit. Please call 783-7769 for more information.

Help With Interfaith Dialogues

Click here to find a form which will allow you to get involved in an effort to bring people from diverse religious traditions together in meaningful, respectful discussion.

Keep in Touch!

Subscribe to the local Interfaith Alliance's email list, and learn about what's going on! To subscribe, send email to

[email protected]

. Click here for more information about the email list.
An affiliate of The Interfaith Alliance (TIA) based in Washington, DC, the New York State chapter is a grassroots organization that provides a mainstream, faith-based voice on issues involving justice and peace. TIA of New York State is a membership organization open to all people of faith, including those not affiliated with any congregation. A major goal of the organization is to foster social and economic justice by examining public policy through the ethical lens of the major religious faiths. In addition to studying public policy options, the Alliance also advocates for those policies which are most consistent with the fundamental religious principles of justice, fairness and tolerance.
Continue to watch this site for more information on upcoming activities!
To contact The Interfaith Alliance of NYS:
The Interfaith Alliance of New York State

Office address:
1 Lear Jet Lane, Suite 1A
Latham, NY 12110-2313

Tel: (518) 783-7769
Fax: (518) 786-3146

E-mail The Interfaith Alliance of NYS (via [email protected])
---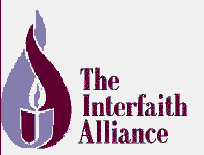 ---
Web site maintained by John D. Bullough for the Interfaith Alliance of New York State. Copyright 2008 by the Interfaith Alliance of New York State.
.