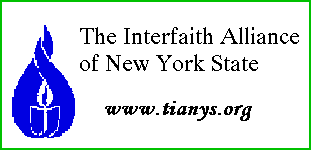 Your Support is Essential
---
Educating people of faith about public policies and our power to influence those policies requires financial resources. Interfaith Alliance chapters have already formed or are forming in New York City, Westchester and Long Island, the Southern Tier, Syracuse, Rochester, the Finger Lakes, Buffalo and Albany. We ask that you get involved with your local chapter and join us by returning The Interfaith Alliance "Commitment to What is Right" form below. We have established a strong viable organization that needs funding for materials, organizers and operating costs. We know you understand the urgency for The Interfaith Alliance to be fully mobilized in time to provide a voice in upcoming debates on welfare reform and other important issues.

Each person of faith who sits on the sidelines without voicing their opinions on important issues we face contributes to a faith climate where only those with extreme views are heard. Your support of The Interfaith Alliance will create opportunity for change.

Please consider supporting The Interfaith Alliance, by completing and mailing in a copy of the form below. If you have questions, please e-mail us or contact The Interfaith Alliance office at (518) 783-7769.
---

E-mail The Interfaith Alliance of NYS
(via [email protected])
---

  ============================  cut here ==============================



              THE INTERFAITH ALLIANCE OF NEW YORK STATE

                     Committment to What is Right



     YES! I/we want the mainstream community of faith to be heard!

     Here is my contribution of:



      __ $30     __ $50     __ $100     __ $250     __ Other:____





          Name ____________________________________________

                (as you wish it to appear in our listings)



          Address _________________________________________



          City __________________ State ____ Zip __________



          Daytime Phone: (_____) ____________



          Evening Phone: (_____) ____________





     Make check payable to THE INTERFAITH ALLIANCE OF NYS and

     return to:



          The Interfaith Alliance of New York State

          1 Lear Jet Lane, Suite 1A

          Latham, NY  12210-2313



     The Interfaith Alliance of New York State is a 501(c)4

     non-profit corporation (tax status pending). Contributions

     to TIA of NYS are not tax deductible for federal income

     purposes.