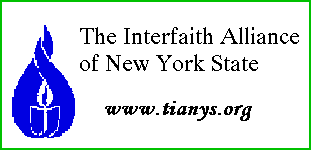 What is The Interfaith Alliance of New York State?
---
At the national level, The Interfaith Alliance was established in 1994 to ensure that all persons of faith can be heard in the ongoing debate regarding the direction of our nation.

The New York chapter organized for the same basic purpose in early 1996 in an effort to examine state issues as well as national issues. The Interfaith Alliance believes religious and political diversity is a source of strength for our nation - not a liability. TIA confronts all who exploit religious language and symbols to further political agendas that are hostile, narrowly self-serving and intolerant. TIA ensures that the mainstream religious community has a say in the current political dialogue, offsetting distortions and demonization with a constructive and healing response.

The Interfaith Alliance of NYS invites all New Yorkers to join us in our efforts to create a new politics - a politics rooted in an inclusive and progressive interpretation of the ethical prescriptions of the great religions.
---
Return to The Interfaith Alliance of NYS main page
---
Web space is provided by GeoCities.