NICKNAME:
Beautiful




Current Rank

15


Last Rank

10

Last Challenge

Tony Miller

Result

Win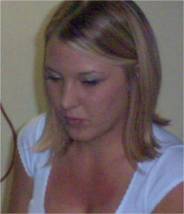 Bio:

A well rounded girl who wears the most enticing....perfume. That vanilla perfume is enough to drive us crazy...it's truly a distraction...well, to some it is.

Staci has the uncanny knack for whipping up on the guys in one on one competition.

Staci's skills have rapidly developed. She has a quick move up front and a sweet 5 bar. She's proved she has more assets than good looks when she steps up to the table.
---
What have you done for me lately??? Has yet to win a championship with Steve and hasn't made the championship board in quite a while. If she doesn't pick it up...she may land herself an OUTSIDE ranking.