01.05.02: Vaulen C (2) 7- 1 (1) Muskel [Menn 7.div. 7er]
Vaulen C opened their season at home to last years local champions in 7-a-side, Muskel. A strengthen Vaulen C should soon show themselves too strong for the team from Sandnes. Manager Frode Lima made a tactical masterpiece when he gave trust to Jostein Jensen as striker. Jensen didn't took long to send the home team in the lead. Vaulen C dominated the game, but Muskel should anyhow get a goal after a bit poor keeper play. Paul Tore Or fired it in for Muskel from 15 meters.

Goals galore:

1-0, Jostein Jensen
1-1, Paul Tore Or
2-1, Pål Særvoll
3-1, Arnfinn Kleven
4-1, Fredrik Eriksen
5-1, Jone "Poddi" Olsen
6-1, Arnfinn Kleven
7-1, Arnfinn Kleven

But just before half-time Pål Særvoll gave Vaulen the lead again. After the break Vaulen boss Lima took none chances and changed keeper.
With security at the back the Vaulen players managed to untie themselves more and Arnfinn Kleven became the great player of the half. Kleven made it 3-1, before Fredrik Eriksen and Poddi Olsen made it four and five. Then it was time for Kleven show, he added it to 6-1 before he completed his hat-trick. With that could he take the match ball with him home as a souvenir. After this demonstration of power Vaulen C is likely to be found in the top also this season!

Christian Lie, Vaulen

04.05.02: Vaulen (1) 4 - 0 (0) Vedavåg/Karmøy
Before so utopian words as "second division" was heard in the crowd on Friday as Vaulen performed one of their finest displays in their history! Vaulen won 4-0 over a team with a budget ten times more than the mighty Beachboys!

Surprisingly had Vaulen's Eirik Sunde stepped in as linesman just before the game, a task he did very well.

C H A N C E S T A T S

C O R N E R S

S-A P O I N TS

5: Jarle Eike
4: Erik Gysland
3: Stein Ivar Andersen
1: Pedro Salgado

He made none mistakes throughout the game. But after he had to wave off a big Vaulen chance for an offside, the fans on the opposite side could see Eia's body language telling that it wasn't an easy decision to make.
FIRST HALF
Vaulen took the lead after 21. minutes. Kleiby flicked the ball on to Alexander Landsnes on the left side, he controlled the ball well and fired it home in the opposite corner.
After an half hour Inge Martin Hinna came in for Pedro Salgado in a tactical change.

"Aah - Jarle Eike is a player that always does everything so sensible!"
Viking supremo and scout for the day Reidar Goa.
In the stands was a representant from premierside Viking. Former star player Reidar Goa (60) had been told by Viking manager Benny Lennartsson to scout on Vedavåg's striker Morten Wiik. But he was most impressed by the former Viking youngster Jarle Eike. That was not without reason - Jarle "Captain Fantastic" Eike was dominating the midfield and was always choosing the right solutions.

1. Tom Arne Bø Pedersen
2. Jan Erik A. Pedersen
3. Erik Hildén
4. Jan Egil Salvesen
5. Erik Gysland
6. S-I. Andersen
7. Jarle Eike
8. Anders Idsø
9. Jan Tore Kleiberg
10. Pedro Salgado
11. Alexander Landsnes
12. Inge M. Hinna
13. Ole B. Bredesen
14. Eirik Ekholdt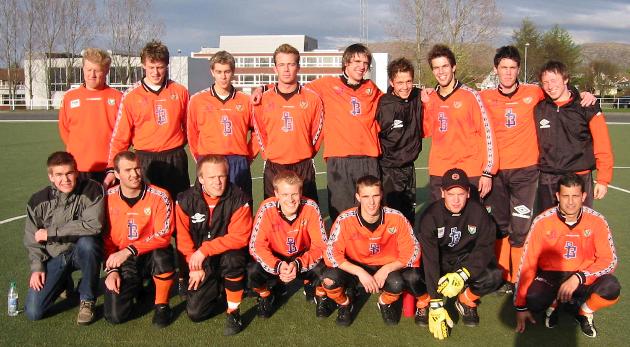 Back row from left: Kjetil Aasland, Jan Tore Kleiberg, Jarle Eike, Alexander Landsnes, Erik Hildén, Ole Bjørn Bredesen, Jan Erik Ahlstrand Pedersen, Anders Idsø and Eirik Ekholdt. Front row from left:Bjørn Helge Husebø, Erik Gysland, Inge Martin Hinna, Stein Ivar Andersen, Jan Egil Salvesen, Tom Arne Bø Pedersen, Pedro Salgado.
SECOND HALF
None changes was made at half time. Beachboys started the second half very well and Jan Tore Kleiberg's looping headed hit the bar.
After 55. minutes Pedro Salgado came in for Alexander Landsnes. But the opposite change came not longer afterwards as Pedro went off with ankle problems.
Vaulen made it two after 60. minutes with Stein Ivar Andersen. From 16 meters at the right side of the goal he thundered it into the roof of of the net! Manager Tore Haugvaldstad celebrated the goal as previous only seen on Latino Sports Specials. His giant jump showed that the former keeper still got enough elastic muscles in his lanky body.
Stein Ivar Andersen scored his second for the day only eight minutes later, a very similar goal where Steini came into "Steini's-shooting-area" and gave the 'keeper no chance! This time the manager duo made a synchroned jump, that during landing time probably could had been seen on Richter's scale.
Vaulen's defense was very safe during the whole game, the closest Vedavåg came was on a shot from Kristian Størkersen. But Tommen in Vaulen's goal fisted it over via the bar.

"I told Steini during the warm up not to score as he always do so on training." Øksnevad explain Stein Ivar Andersen's brace.
Between all the goals Vaulen's good left back Erik Hildén picked up a yellow card for a sliding tackle. Honestly a fair decision by the referee.
"Vaulen are kings!"
Jarle Eike puts it simple after the game.
With a quarter to go Man of the Match, Jarle Eike, was brought down by Bjarne Kallevik in a silly challenge. The referee gave the V/K midfielder a yellow card, but a red color wouldn't had surprised many for this late tackle. A knee injured Eike had to be helped off by Ahlstrand Pedersen and Svein Øksnevad, but after the game he managed to limp around at his own.
Vaulen was really playing well now as Vedavåg had understood that there was nothing to get from the game. Inge Martin Hinna came closest, with his pace he managed to snap up a pass trough. Alone with the goalie he decided to shoot, but unfortunately the ball shaved the outside of the post.
| | |
| --- | --- |
| After 83. minutes was Vaulen player Anders Idsø brought down in the box. Referee Jan Øyvind Ulseth first saw if there was an advantage before he blew for the penalty. Inge Martin Hinna stepped up and made it 4-0! That was in fact a goal most of the 40 people in the crowd didn't noticed as they joked with Ole Bjørn Bredesen instead. Oli was to come in for Stein Ivar Andersen at the right midfield and the people ringside told him that he needed to score to get back his topscorer title! Tore Haugvaldstad gave Ole Bjørn his instructions, when we heard the players cheer. However it's believed that Hinna's penalty went in at the right side of the 'keeper. (That can anyhow be a well kept secret, so I will not tell the truth anyway...) | "If Vedavåg won 7-0 against Buøy, do that mean we will win 11-0 against them?" Assistant boss Svein Øksnevad doing his maths during the game. |
With five minutes or so to go was also Eirik Ekholdt getting a go. In fact he was close to make it 5-0 just before the end but he failed to convert the cross from the left.
| | |
| --- | --- |
| "Without doubt the best we have done this season." Vaulen boss Tore Haugvaldstad. | It was a really good game by Vaulen. Especially the second half was very entertaining, despite the Beachboys was playing against the powers of the nature with a low sun in their face and a slight wind against them. The whole team was steady. Jarle Eike have already been mentioned, but also Erik "Conan - the warrior" Gysland was a giant in the defense. His will to win brought the others with him. |
Next for Vaulen is Tasta that lost 7-1 to Buøy on Friday, in other words a 18-1 win according to my stats...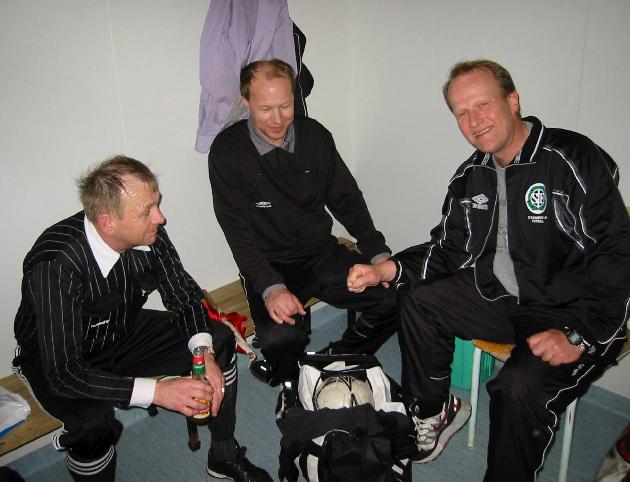 "What do you think? A Tippeliga referee stood behind me during the game and showed his thumbs up." Mr. Vaulen, Eirik Sunde, was forced to take the role as linesman just before kick off.
WHAT THE PAPERS SAID
Rogalands Avis: Vaulen's very own Christian Lie writes: "The cats play with the mice! Vaulen welcomed league leaders Vedavåg on their artificial pitch at Hinna last evening. Before the game this would had been seemed on as an even battle, but it was in fact the cats play with the mice. In reality the game never became thrilling, and Alexander Landsnes opened the party with a well placed shot after 20 minutes in the first half. Vaulen had several big chances to make the lead bigger, but failed to do so in the first half. After the break many thought Vedavåg should get help from the wind and managed to get into the game that way. But a very good Vaulen team was in periods rolling over Vedavåg. Steini Andersen made it 2-0 after the hour. Ten minutes young Andersen made it another time, with a fantastic volley shot from 16 meters. the goal was so great that Vaulen's managers Øksnevad and Haugvaldstad did their somersault's! Vaulen continued their race and the players was at times standing in queue to score. Vedavåg's players became more and more frustrating in the end and that led into several nasty challenges in the end. Vedavåg must feel lucky that they ended the game with 11 men. The last goal was putted in from the chalk point by Inge Martin "Inges" Hinna, after Anders Idsø had been putted down in the box. Vaulen showed another time that they have something big going, and home at the astro turf they can beat anyone!
Haugesunds Avis: HA meant the best trio on the pitch was Jarle Eike in front of Erik Gysland and Stein Ivar Andersen. Vedavåg chairman Inge Kristiansen explains the loss. "The players failed to handle the difficult astro pitch. It favored the home team. But honestly, it was a deserved win to Vaulen. We played poor."
Stavanger Aftenblad: "Vedavåg soon came down to earth after their great season premiere when they won 7-0 over Buøy. A spirited and hard fighting Vaulen team impressed against one of the league favorites. After Vaulen managed to get the ball down to the ground they created the big chance after the other. Exciting forwards, a solid defense and with a good Jarle Eike in the midfield it will be exciting to follow the young Vaulen team further this season," writes Håkon Fossmark.

-We must get our feet to the ground

| | |
| --- | --- |
| 04.05.02: After Vaulen's 4-0 win over the fishermen from Karmøy this weekend have assistant boss Svein Øksnevad told his players and fans to get their feets back to the ground again. The club shouldn't takes easy on the Tasta game as the three points against league favorites Vedavåg will not count more than the one that is to be handed out on Wednesday. | Chances per goal conceded |
"I must say this to all of you," Øksnevad said on Vaulen Beachboys' website, "Thank you for a wonderful performance yesterday. It's the nicest I have ever been a part of. On the level with the 6-4 win over Vardeneset last year."
Aftenbladet børsen

| | |
| --- | --- |
| Tom Arne Bø Pedersen | 5 |
| Jarle Eike | 5 |
| Erik Gysland | 4 |
| Stein Ivar Andersen | 3 |
| Jan Egil Salvesen | 3 |
| Pedro Salgado | 1 |

After the game Vaulen was alone on the top of the table with maximal six points. "Now we must keep our feets to the ground. We will meet a Tasta team that is looking for revenge on Wednesday. So we will need to recharge until then," warns Øksi.
Vaulen's technical players have taken the advantage of the home pitch, against Tasta it will be a diffrent world. "With the standard of the pitch on Tasta, it will be hard to play as well as we did yesterday, but I think we can handle that as well," explain the assistant.
Vaulen have now kept the goal clean in 180 minutes. Goalie Tom Arne Bø Pedersen seems to have closed the goal. This weekend the youngster will spend in Kongeparken as Rødruss. See picture below:

05.05.02: Due to football in Premier League and the Norwegian Tippeligaen, Vaulen and Tasta tried to move the kick off time for their game on Wednesday. "We are working on to get the kick off moved forward to 17.30 due to Viking's game and the season ending in Premier League," Vaulen assistant Svein Øksnevad told Vaulen Beachboys on Sunday. But this was not easy to change, therefor will the game now be played 19.00 as first planned.
Vaulen have had a really good start of the season, but traditionally they struggle against fighting teams like Tasta. Jarle Eike will be in doubt for Vaulen after he was victim for a late challenge in the game versus Vedavåg. Eike have a past in Tasta and hopes that he can play against his former club.
"I have got a little torsion in my knee, but I hope to be ready against Tasta," said the midfielder that scored two goals against Tasta last time the two clubs met.
Tasta is a team that is predicted in the lower parts of the 3. division table. Their expirenced manager duo Erik Tangen and Ingve Bøe haven't had success in the preseason after the Hammer Larsen duo Stig and Knut left them after last season where Tasta ended as number seven. Tasta have however strengthed their team with the likes of Jan Håstø (Sandnes), Tallat Abunima (Vardeneset) and Thomas Justad (Vidar) but there is quality diffrences inside the team. So far this season have it been various results. They lost 2-0 against Hundvåg in the cup, but won at home to Ulf Sandnes in their league premiere. However they lost 7-1 to Buøy last time, according to the reports was Tasta then frightenly weak. Experts will say that Tasta is a ineffective team that will win their points by fighting at home on their bumpy stadium. However they are well trained and should give the league leaders a real fight.
Last season Vaulen lost 2-5 at home to Tasta in their nervous 3. division debut. Vaulen also lost away to Tasta 3-4 and should be looking for revenge now.

06.05.02: Høle 2 - 2 Vaulen B
Vaulen B played 2-2 away to Høle this warm evening with assistant boss Svein Øksnevad looking for players for the first team. Goalscorers for Vaulen was Eirik Ekholdt and Jone Holgersen. Vaulen was unlucky and got two penalties againts them. Beachboys also played much of the game at Høle grasbane with 10 men after Vaulen's Henrik Seiffert was sent off.
Next game for the Reserves is already on Friday when they meet Suldal at home.

Barbeque at the club house

07.05.02: The A, B and C team will this weekend arrange a "barbeque evening" for players, managers and the staff around the senior teams. The party will find place in the club house and in the green garden on Friday evening.
The old house is likely to be demolished just before the New Year as the club is to build a new club house close to Vaulenbanen. Vaulenhuset that Vaulen got from the local councils several decades ago for a symbolic fee of 1 krone. So this will be a good oppurtunity to celebrate the club that at the moment are amongst the top clubs in the town, but also an old house with a lot of good memories.
So will this be the absolute last party? Will Tore come this time after he read the oh so realistic detective novel last easter on this site..? Will Vaulen's famous band Ordrenekt have a gig? Questions will be answered on Friday. The real fun start after the B-team game, but it's allowed to come earlier.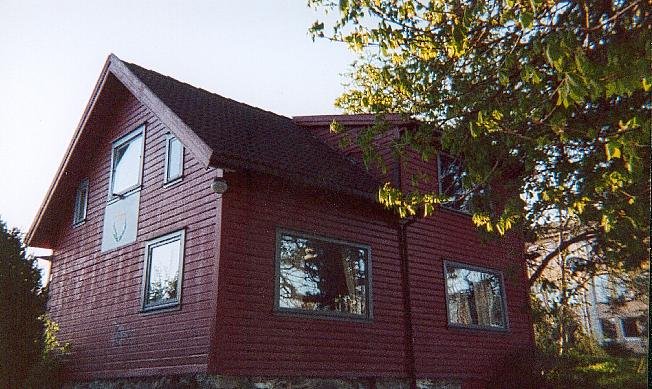 Vaulenhuset
Our latest information from the club on the upgrade of Vaulenbanen told that wardrobes and pyloon lights was to be installed this summer. The club also hope to get a new club house realised in the autumn. In a document dated 10. March leader in Vaulen, Petter Bjørheim, told Vaulen's plan.
"Vaulen have achieved to get the football stadium regulated, and even been granted money for pylon light and wardrobes on Vaulenbanen. This will be financed by the council. The club house will be paid by the club at their own. We will cover some of the expenses with sponsorships deals from the industry," said Bjørheim that hopes many wants to have their logo along the pitch and at the club house.

Vaulen continue their run

08.05.02: Tasta (1) 1 - 3 (1) Vaulen
Vaulen boss Tore Haugvaldstad chosen a 4-4-2 formation with Jan Tore Kleiberg back in the midfield. Jarle Eike was unable to play after he failed to return from his knee ligament that he picked up during last game against Vedavåg.

FIRST HALF
Vaulen's aim for this game was simple; to get three points. After about 40 seconds was the ball in the net behind Tommen. A Tasta player managed a beautiful lob from around 25 meters that nicely went down in the corner of the net.

Sequence records in 3. div.
Wins : 22.09.01 - > Defeats: 19.04.01 - 04.05.01 Draws: 08.06.01 (first time) Unbeaten: 13.09.01 -> No win: 19.04.01 - 04.05.01

After this Tasta had their best period in the game; they won the duels and was far more aggressive. But Tasta wasn't able to keep up their start, Vaulen should therefor get more and more control. It therefor came like no surprise when Alex Landnes fighted in the equalizer after 20. minutes.
The rest of the half was dominated by long balls and not much delicate play.
SECOND HALF
The second half should be better from Vaulen. Tasta was revealed! While Tasta continued with their hopeless long passes, Vaulen managed to get more structure on their play. This led into several chances. The leading goal came in the 60. minute on a penalty from Inges Hinna; after Alex had been put down by the keeper.
In the 75. minute Pedro passed Ekholdt beautiful trough. Super sub Eirik Ekholdt used his calm and sent Vaulen in a 3-1 lead! In the rest of the game Vaulen had full control and cruised home three well deserved points.

Also in this game there was much rotation with players coming out and, and it was easy to loose the control. Eirik Ekholdt got about 20 minutes all together. Husebø was on twice, but surely had not more than a minute in total... Else Bredesen got about 5. minutes.

1. Tom Arne Bø Pedersen
2. Jan Erik A. Pedersen
3. Erik Hildén
4. Jan Egil Salvesen
5. Erik Gysland
6. Jan Tore Kleiberg
7. Stein Ivar Andersen
8. Anders Idsø
9. Pedro Salgado
10. Inge Martin Hinna
11. Alexander Landsnes
12. Eirik Ekholdt
13. Bjørn Helge Husebø
14. Ole Bjørn Bredesen

-Everyone wants to get us now

09.05.02: Assistant manager Svein Øksnevad was pleased to see Vaulen win away again on Wednesday evening. "I would like to congratulate all of the players for their three points against Tasta. It was excellent," Svein told on the sites guestbook.
While teams like Tasta takes to simple metods when the ball isn't running their way, Vaulen always want to entertain with good football with. "It was nice to see that Tasta didn't managed to get something with their 'Wimbledon' style. You got to search for a while to find so many long balls and bad tackles," said the Leeds United fan.
"We were, as Tore told before we kicked off, pasionated something we showed by coming back after the shock start. Marvellous!"
Svein now think that all of the teams will be doing all they can to take the league leaders. On Tuesday Vaulen will meet Ulf Sandnes in a six pointer in the top of the table.
"Now we must manage to hold our consentration further. There will be more and more teams that will take Vaulen 'serious' now, and that wants to take the league leaders. I hope the players keep up their spirit, and I'm already looking forward to next game," said Svein that turns 40 in September.

11.05.02: Vaulen B 2 - 5 Suldal
Vaulen B took an early lead on Friday evening, but after lack of consentration in Vaulen's defense it was Suldal that took home a 5-2 win in the end. Goalscorers for Vaulen were Eirik Ekholdt and Christian Titlestad (pictured). Without the mistakes Vaulen played an equal game, but tired players meant many changes in and out such that it was hard to find each others on Hinna grus this evening.
Anyhow the night was spent on the the barbeque evening at the club house, meaning that the mood for next game away to Figgjo B on 18. May should be in order.

12.05.02: Vaulen will meet Ulf Sandnes on Tuesday in a six pointer between number one and two on the table. Manager Tore Haugvaldstad hope the run continues, but Vaulen haven't changed their goal that is to establish themselves in the division. "We have got an terrific start of the season, but we don't aim higher than around the middle of the table," said Tore Haugvaldstad. Much of the secret behind Vaulen's success this season have been their great defense in front of a talented goalie. The stat tell that they so far only have let in one goal.

| | | |
| --- | --- | --- |
| Period | Scored | Conceded |
| 1-15 | | |
| 16-30 | | |
| 31-45 | | |
| 46-60 | | |
| 61-75 | | |
| 76-90 | | |

While they have scored 8, of them 75% in the second half. Previous points have been brought home after technical play, but they can also show muscles when needed. Versus Tasta reports told that they showed a good physic and stayer ability and won on that.
Ulf Sandnes was founded in 1911 and was rated amongst the best teams in Norway in the late 30's, as they were playing in Norgesserien. Since then they have been the best club in Sandnes and brought forward players as Gunnar Aase and Bjørn Berland. Then in 1997 they was replaced by Sandnes FK in the division system. Sandnes FK was a connection between all the clubs in Sandnes. They eyed 1. division football in their town, but it shouldn't be that easy. This meant that Ulf had to start again, and after a break they joined the 6. division in 1998. In 2001 they was back in the 3.rd division, and this season Ulf and Sandnes FK play at the same division level. Ulf have established themselves in the 3. division now and they are likely to fight for promotion this season.

Aftenbladet børsen

| | |
| --- | --- |
| Stein Ivar Andersen | 7 |
| Erik Gysland | 7 |
| Tom Arne Bø Pedersen | 5 |
| Jarle Eike | 5 |
| Alexander Landsnes | 5 |
| Jan Egil Salvesen | 3 |
| Pedro Salgado | 1 |
Topscorer in league

| | |
| --- | --- |
| Stein Ivar Andersen | 2 |
| Alexander Landsnes | 2 |
| Inge Martin Hinna | 2 |
| Ole Bjørn Bredesen | 1 |
| Eirik Ekholdt | 1 |

Ulf have a mixture of old players that wasn't interested in a move to Sandnes FK and many exciting talents from their Youth set up. It seems like they have managed to compose a good team this season as they at the moment are number two on the table. Last season Vaulen won 5-2 at home, after Inge Martin Hinna netted twice in addition to goals from Alexander Landsnes, Anders Idsø and an own goal. In the away meeting it ended 0-0, with second half substitute Sverre Møllegaard coming closest hitting the post.
Vaulen league record at home is strong as they haven't lost at home since September in 2001. Be sure to support the players on Tuesday, the game kick off 19.00 on Tuesday at Hinnabanen.

| | |
| --- | --- |
| | 12.05.02: Supersub Ole Bjørn Bredesen can miss some points in Haugesund Avis this summer as he is amongst the last 100 candidates for reality show Robinsonekspedisjonen. The hairy winger is the only one from Stavanger that have advanced to the further stages, and he will now hope for a "free" vacation from July to August this summer. |

14.05.02: In front of the game against Ulf-Sandnes tonight, Vaulen struggle with some injury problems. Jan Egil Salvesen (pictured) feels a minor stretch at the frontside of his thigh, also Stein Ivar Andersen have the same problem. Of Salvi and Steini it's most likely that Salvi will get ready. Else will midfielder Jarle Eike remain out with his knee ligament injury. According to the physio Eike will need between two and five weeks to recover.
Jone Holgersen have been added to the squad tomorrow. After he have completed his building project at Kvitsøy, he will now join the team for full.
Meanwhile have Tasta's Kim Henriksen been training with Vaulen lately. The midfielder that is a 1978-model have a past from Vidar FK's youth set up.
OddsAlive name Vaulen as their favourites, it's TIPS that writes this today. The betting and football paper asked the Internet bookmakers to name their favourite in each of the 24 groups in the 3. division, and OddsAlive had no doubt in their mind when they named Vaulen as favourites in group 13.
Meanwhile is the game against Ulf on Oddsen this week, and Vaulen is favorites at Norsk Tipping at Hamar. Vaulen - Ulf-Sandnes 1,50 - 3,60 - 3,25. TIPS think it's an open game on the paper, and that they don't want to put much money on the game. Anyhow they think it should be a home win to Vaulen. Rogalands Avis is more clear in their opinion. "A top game in group 13 in the 3. division. Vaulen is leading the table after three straight wins, and despite Ulf have taken home two of three games we think the home team will manage to do it once more," writes Oskar Holter in Rogalands Avis and put the bet in his 'double of the day'.

Beachboys with late equalizer

14.05.02: Vaulen (0) 1 - 1 (1) Ulf Sandnes
The parvenus from Vaulen met Ulf, that after ten years are back as the best football team from Sandnes.

0-1, Trond Hoel (31)
1-1, Jan T. Kleiberg (72)

It became a crowd friendly clash on windy Hinna stadion. Where the home team continued on their great league run, having now played six games in a row without loosing.
Points percent
1999 - 4. division - 27 points 2000 - 4. division - 43 points 2001 - 3. division - 30 points 2002 - 3. division - 10 points*

FIRST HALF
Both of the teams struggled in the start to get control over the ball. The play really didn't established itself before after about a half hour. And with the help from Vaulen Beachboys (Vaulen's supporter club) the young players managed to put pressure on the more expirenced Ulf players.
Well lead by plumber Erik Gysland, Vaulen manage to get a grip on the game. But still it was Ulf that should get the opener after a corner. After a fine combination by Ulf's two lighthouse's, Kjetil Gilje and Trond Hoel.

1. Tom Arne Bø Pedersen
2. Jan Erik A. Pedersen
3. Erik Hildén
4. Jan Tore Kleiberg
5. Erik Gysland
6. Anders Idsø
7. Pedro Salgado
8. Alexander Landsnes
9. Ole Bjørn Bredesen
10. Inge Martin Hinna
11. Eirik Ekholdt
12. Kjetil Aasland
SECOND HALF
Second half started similar to the first, but then Vaulen's run ability should be to hard to handle for the away team. After a massive pressure, with amongst others several dousin of corners, the deserved equalizer came. Jan Tore Kleiberg was awake on a rebound from the keeper and made it 1-1. Unfortunately Vaulen didn't managed to get the win in the end, as it was to be with the singel goal, but the players gained a moral boost as they still are unbeaten. The traveling Sandnes cuckoo's, with the Nygaard family in the lead seemd very pleased with that.
Todays one-liner came from Vaulen's Jarle Eike. The midfielder maestro that currently is injured commented all the Vaulen goal chances. "They must smell them."

Sindre Jensen "The Butcher from Hinna"

| | |
| --- | --- |
| | 19.05.02: Vaulen is well prepared before the game away to Buøy, they have now included some trainings at gras at Shellbanen and should be used to the surface that expect them at Buøy stadion on Tuesday. The manager team is likely to have more alternatives to choose from now. Jan Egil Salvesen and Stein Ivar Andersen was injured last time, but they will perhaps reach this game. Meanwhile will Jarle Eike try again on Wednesday or Thursday, he will hope to reach the Grannekam game at Friday. |
After the Reserves won 5-1 away to Figgjo 2 on Saturday some of the players from that game should also be in contention now. Goals from Eirik Ekholdt (3), Jone Halvorsen and Christian Lie made it easy for Vaulen. Beachboys also had a comeback from Morten Sivertsen, the playmaker did very well according to himself and it's understood that he now expect a call from Tore Haugvaldstad... Also a former Junior star have made comeback amongst the Reserves, Stian Opsal, that scored 19 goals in the 1996 season will surely add an extra dimension up front for the Reserves when he get match fit again.
Buøy have done well at home this season and have two wins, first 7-1 to Tasta and last time they won 4-2 at home to Grannekam a match Vaulen's assistant boss Svein Øksnevad was watching at "Humpen". However their away record is hopeless, first they loosed 0-7 to Vedavåg then 2-5 away to Ulf.

Aftenbladet børsen

| | |
| --- | --- |
| Stein Ivar Andersen | 7 |
| Erik Gysland | 7 |
| Tom Arne Bø Pedersen | 5 |
| Jarle Eike | 5 |
| Anders Idsø | 5 |
| Alexander Landsnes | 5 |
| Inge Martin Hinna | 3 |
| Jan Egil Salvesen | 3 |
| Jan Tore Kleiberg | 1 |
| Pedro Salgado | 1 |
Buøy have an even squad, it's not many seasons ago since they was in the 5. division, now are their Reserve team at that level! Gaute Johannessen's Buøy is characterized as a team with good moral, and his players never leaves a football pitch without a fight. That was perhaps the reason why they won the so-called winter league, Nærbø's vinterserie, this season.

Vaulen won battle at Buøy

21.05.02: Buøy (0) 0 - 2 (0) Vaulen
Buøy had invited to a battle on Tuesday evening, with probably the highest grass in the division system and a strong wind, everything was set for the Buøy's not so very sophisticated way of football.
Vaulen missed their midfielder/striker Jan Tore Kleiberg due to personal duties. With Jarle Eike still out injured, Pedro Salgado was moved back in midfield. While Eirik Ekholdt got the chance up front again. DJ that scored three goals for the Reserves last time! Meanwhile was both Andersen and Salvesen back again after missing last game with thigh injuries. Starting in a 4-4-2 formation the team elsewhere was as expected. On the bench was Jone Holgersen, Ole Bjørn Bredesen and Kjetil Aasland.
FIRST HALF
Vaulen started with the ball, as Buøy decided to change side and get the wind in their back in the first half. With the wind Buøy should manage to make some pressure. Their long passes was luckily not that dangerous, as most of them seemed to be gone by the wind. In fact Vaulen created most of Buøy chances, defensive mistakes lead into several chances and nerve problems amongst the Vaulen fans. However Beachboys managed to get away with it by having the fastest players.
There wasn't many chances for Vaulen in the first half. A Idsø corner was well met by strong Alexander Landsnes, but his header went over. Also Hinna had a big chance in the middle of the half, he came trough but was pressed to shot with his left foot. The ball slide off his foot and went well wide. The last part of the first half was a nightmare by Vaulen that was lucky to keep the goal clean. The distance between the defense and midfield became to big as the players went tired on the soft surface. The management duo decided to fall back 10 meters only to try and keep it to half time.

1. Tom Arne Bø Pedersen
2. Jan Erik A. Pedersen
3. Erik Hildén
4. Jan Egil Salvesen
5. Erik Gysland (C)
6. Anders Idsø
7. Stein Ivar Andersen
8. Pedro Salgado
9. Eirik Ekholdt65
10. Inge Martin Hinna
11. Alex Landsnes85
12. Kjetil Aasland65
9. Eirik Ekholdt85
But as Buøy was going forward, Hinna got more room to run in. Inges, that was very good today, won an equal fight inside the box. Being the strongest he won the duel and was free with the Buøy 'keeper. But the referee was a coward, and blew for the defending team despite Buøy's defender pulled and pushed with his hands just as much as the Vaulen player.

SECOND HALF
With the wind in the back Vaulen managed to push more forward in the second half. At one of many free kicks in the game Anders Idsø loaded from 25 meters at the left side of goal. His good shot towards the nearest top corner just shaved the bar. After about an hour Erik Hildén picked up a yellow card for a late challenge. Hildén's second booking for the season.
Striker Eirik Ekholdt was changed with Kjetil Aasland, with about 25. minutes to go. The big defender got the chance up front, being big and strong he should change the game for Vaulen. He started very well. As he almost picked up a rebound on a shot on his first involvement in the game. On the following corner from the right, Aasland showed his strength heading it home on the second post! Buøy had their greatest chance on a thunder shot that went in the bar and down on the line. Luckily for Vaulen the referee blew for offside on the rebound, as three Buøy players was ready to put it in. We all praised the referee's way of looking at the things then. Buøy was pressing forward after the goal, but Tommen was very steady in goal despite the strong wind.
Buøy's players was picking up several yellow cards through the game, but it should had been even more. With a quarter to go Buøy was down to 10 men after one of their strikers pick up his second for the day after kicking the ball away after a offside decision.
With 10 minutes to go Vaulen have a free kick from the middle of the pitch. Jan Egil Salvesen steps up, but the long pass goes straight against the keeper. However the keeper miss to collect the ball and the 45 meters shot goes straight into the net!
We all though it was 3-0 when the Buøy goalie gave away a rebound on a Vaulen shot, Aasland snapped the ball and rounded the goalie, but the referee once again blew for offside on the player picking up the rebound. Eirik Ekholdt got the five last minutes as well for Alexander Landsnes that struggled with a cramp.
So 2-0 it was to be, flowers must go to all the players and management, winning away at Buøy is seemed on as a very hard task. Also credit to Vaulen's traveling supporters! According to the speaker it were 205 people in the crowd, of them was at least a third supporting Vaulen.
PS: Pedro Salgado had the moment of the game with a fantastic "back-heel-to-myself-trick", by coincidence "El Matador" did it just in front of all the Beachboys fans. Thank you.

Haugvalstad praise players

22.05.02: Vaulen boss Tore Haugvaldstad was very pleased on Tuesday after his team had won 2-0 away to Buøy. This season have Vaulen conceded goals only per 225. minute against every 32. minute last season. "It was strong to keep the goal clean once again," praised Haugvaldstad in Stavanger Aftenblad. "We have now only let in two goals in our five first games."
Vaulen combines different skills well, meanwhile as the group of players enjoy themselves both on and off the pitch. "It's without doubt the good mixture of player types that is the main reason behind the good start," said Haugvaldstad.
PICTURE BELOW: Anders Idsø win duel against Mats Årthun.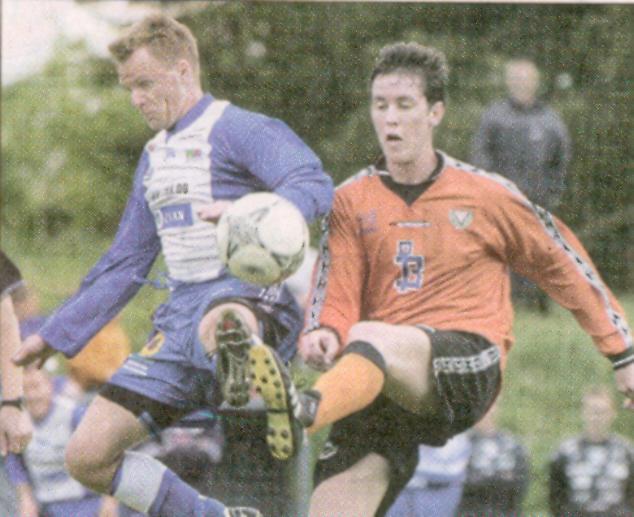 22.05.02: Looking back at the win yesterday Vaulen assistant Svein Øksnevad was very pleased to see Aasland get in the opener. "It was a great team effort. Extra nice it was to see Aasland get in there showing the old striker in him!"
On Friday Vaulen will meet Grannekam at home. The game will be top against bottom, but Øksnevad warns on taking to easy on Grannekam. "I see some are announcing the game on Friday as easy, top against bottom etc., but we should be aware. I have seen Grannekam myself and they are not that bad that we can enjoy ourselves to a win. I don't think we can do that against any team in this group."
"Still I look down on the table, and I think that can be healthy to do. Now we will have two good training sessions, I already look forward to Friday," admitted Øksi.
Looking at the support Vaulen got on Buøy, Øksnevad will now hope for a record crowd for the season on Friday. "We must hope that there will come at least that many Beachboys fans as yesterday. That was fantastic," enthused Svein. Looking at the team will Vaulen miss their central defender Erik Gysland due to personal duties.
Grannekam is a relatively new club it was founded in 1991, when it was fusion by two clubs - Vindafjord and Ølen. Since then they have been between the third and fourth division. This season have Grannekam only got one point, but they have lost many equal games. Harry Skulerud's team is young and technically, but miss the strength therefor they have often conceded goals on free kicks and corners this season. Vaulen will perhaps not have such a big advantage of the astro turf versus Grannekam, as they play on a similar surface through the whole winter.

Meanwhile isn't it only Vaulen's first team that top the table. Vaulen Beachboys website have been rated as number one amongst all the sites in the division group by OddsNet. Check out the link!

Aftenbladet børsen

| | |
| --- | --- |
| Anders Idsø | 10 |
| Erik Gysland | 8 |
| Stein Ivar Andersen | 7 |
| Jan Egil Salvesen | 6 |
| Tom Arne Bø Pedersen | 5 |
| Jarle Eike | 5 |
| Alexander Landsnes | 5 |
| Inge Martin Hinna | 3 |
| Jan Tore Kleiberg | 1 |
| Pedro Salgado | 1 |

25.05.02: Vaulen (1) 3 - 2 (0) Grannekam
The rain started to fall down only minutes before kick off this Friday night as Vaulen said welcome to Grannekam. This was top against bottom on the paper, but should be an equal affair. Vaulen boss Tore Haugvaldstad had made two changes since last time. Kjetil Aasland replaced Gysland that had valid absence. While Kleiberg was back again, meaning that Ekholdt was forced to sit on the imaginary bench. On the bench was Bjarne Hov, Bjørn Helge Husebø, Ole Bjørn Bredesen, Eirik Ekholdt and the brave and tricky Gitle Martell Aarre...
FIRST HALF
Vaulen took an early lead after 12. minutes. A Salgado shot from the edge of the box was saved by Grannekam's goalie, Olav Anders Helgevold, with his right foot, but Jan Tore Kleiberg was awake on the rebound and fired it home!
It was perhaps a too easy start as Vaulen lost their initiative, the play soon became as grey as the weather. Meanwhile the rain started to pour down. The rain gave associations and the crowd started to talk about fishing a while. Then Pedro Salgado should get two big chances. First was he played through in the right channel, he advanced past defenders and the goalie, but he was blocked just in front of the goal to a corner. Not much longer afterwards he took a high cross on the volley from 8-10 meters but the shot hitted the bar and went over! Then it went a bit quiet again, but Grannekam got a sort of disease as several of them picked up knocks. Probably not a fishy tactic, but the tempo of the game was at least slowing down.

1. Tom Arne Bø Pedersen
2. Jan Erik A. Pedersen
3. Erik Hildén
4. Jan Egil Salvesen
5. Kjetil Aasland
6. Jan Tore Kleiberg
7. Stein Ivar Andersen
8. Anders Idsø
9. Pedro Salgado
10. Inge Martin Hinna
11. Alex Landsnes (C)
12. Eirik Ekholdt
13. Ole Bjørn Bredesen
But Grannekam was not a bad team, they had two very fast forwards that gave Vaulen trouble on counter attacks. Their most dangerous chance in the first half came down their left side, he was left alone with no marking and run down the flank. He passed to the striker in the middle that managed to come alone with Tom Arne Bø Pedersen in the goal. But the Grannekam striker sent away a so-called "fourth-division-shot" straight into Tommen's hands.
SECOND HALF
A tactical change was made at half time as Pedro Salgado was moved up as striker and Jan Tore Kleiberg went down in midfield. Kleiby took Anders Idsø's defensive role, while Idsø got the offensive role. With the move Vaulen tried to get more runs through the compact Grannekam defense, meanwhile as the manager dup hoped for more defensive control in the middle. However the move meant that Vaulen lost a big man in Kleiberg to keep the ball up front.

Aftenbladet børsen

| | |
| --- | --- |
| Anders Idsø | 10 |
| Alexander Landsnes | 9 |
| Erik Gysland | 8 |
| Inge Martin Hinna | 8 |
| Stein Ivar Andersen | 7 |
| Jan Egil Salvesen | 6 |
| Tom Arne Bø Pedersen | 5 |
| Jarle Eike | 5 |
| Erik Hildén | 3 |
| Jan Tore Kleiberg | 1 |
| Pedro Salgado | 1 |

This meant that Beachboys lost more their pressure and Grannekam started the second half in the best manner.
After 55. minutes Vaulen made their first substitution with Eirik Ekholdt coming in for Hinna that had picked up a minor knock only minutes before. Grannekam got a deserved equalizer after 57. minutes. A cross from the right found Kjetil Bjørgen unmarked on the first post, he headed it past Bø Pedersen that had no chance to save. Vaulen had been very uninspired at the start of the half, but after the equalizer they luckily managed to put in a another gear. Vaulen therefor took back the lead only three minutes later with Anders Idsø. Then after 71. minutes Pedro Salgado finally got his goal. However came all of Vaulen's goals after poor defending. With a quarter to go Grannekam reduced the lead on a penalty from Erik Reistad.
HAUGVALDSTAD PICK UP A TRICK: Øksnevad try to explain Tore how he used to catch the ball as goalie for the C-team.
Topscorer in league

| | |
| --- | --- |
| Stein Ivar Andersen | 2 |
| Inge Martin Hinna | 2 |
| Jan Tore Kleiberg | 2 |
| Alexander Landsnes | 2 |
| Ole Bjørn Bredesen | 1 |
| Eirik Ekholdt | 1 |
| Anders Idsø | 1 |
| Pedro Salgado | 1 |
| Jan Egil Salvesen | 1 |
| Kjetil Aasland | 1 |

But Vaulen should manage to get home three new points. "Today was it only the points that was warming," said Tore Haugvaldstad after the game. Vaulen that now have gone eight 3. division games in a row unbeaten including end of last season will now try to continue their run at home to number five on the table, Åkra. This game will be played on next Saturday at 15.00.

WHY I PREFER FRIELE: The rain is falling down, but Haugvaldstad Senior is still smiling with his warm coffee and friends in Vaulen!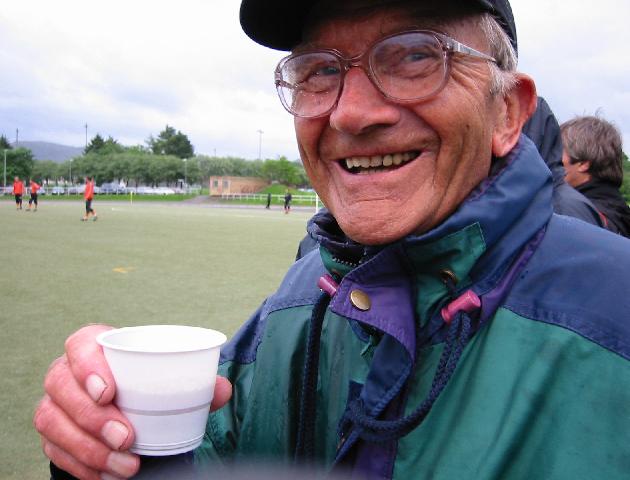 | | |
| --- | --- |
| | 28.05.02: We have now got pictures from the Grannekam match. Check out this link! You can also make a humorus caption for every picture, for the Beachboys webmaster to upload below the picture. Meanwhile the site now seems to be in order again after some technically problems this weekend. |

| | | | |
| --- | --- | --- | --- |
| # | Team | GD | P |
| 1 | Vaulen 3 | +17 | 12 |
| 2 | Leedalk. | +13 | 9 |
| 3 | Kvitsøy | +1 | 6 |
| 4 | Øyane | -13 | 4 |
| 5 | Storhaug_2 | +1 | 3 |
| 6 | Finnøy 2 | -2 | 3 |
| 7 | Muskel | -8 | 1 |
| 8 | KFUM 2 | -9 | 0 |

Brilliant start for 7-a-side

29.05.02: While the first team is amongst the best local sides in Rogaland, Vaulen C top their local seven-a-side division together with Morten Abel's Leedalkameratene. After four games are Vaulen unbeaten, however the level seems to have raised this season and Vaulen can't take easy on any of the teams in the group. It all started at home to Muskel where Vaulen became too strong for the side that won the KM Championship last season. Vaulen didn't stopped before it was 7-1 after goals from Arnfinn Kleven (3), Pål Særvoll, Jone Olsen, Fredrik Eriksen and Jostein Jensen. Next up for Frode Lima's men was away to ambitious Storhaug 2. Despite they used players that was aiming for 4. division play, they failed to handle with the well trained Vaulen players. Vaulen finally won 7-4 after goals from Jostein Jensen, Kjetil Stensland, Frode Lima, Jone Bø, Espen Særvoll, Arnfinn Kleven and Pål Særvoll. On Tuesday 14. May should the team get their hardest challenges so far, against a KFUM 2 side with former Bryne and Viking ace Colin Pritchard Davies in the team.
Beachboys finally won 4-2 after goals from Kjetil Stensland, Pål Særvoll, Jone Olsen and Stian Lima. Yesterday they took home their fourth win in a row with a 7-1 win at home to Øyane. Vaulen's goals was scored by Espen Særvoll (2), Jostein Jensen (2), Øystein Winsnes, Stian Lima and Arnfinn Kleven. You can read all the results from Vaulen C's division here!

Tore talks about Viking on the radio

29.05.02: Tore Haugvaldstad was on the local radio today and we got the audio file. To minimalize the size of the file, it has been saved in WMA (Windows Media Audio) mono format. Haugvaldstad comments 29.05.02 (size 237kB).
Beachboys' virtual world can now also offer more photos, this time from the BBQ party. Check the last pictures in this collection!

29.05.02: Vaulen will miss Anders Idsø in their next game against Åkra as he is traveling to Bergen for a wedding. Though will another midfielder return in Jarle Eike that now is back from a knee injury. The Beachboys skipper have missed the last four games, but is likely to take Idsø's defensive midfielder role on Saturday. Also Erik Gysland will be back again after he was in a family meeting in Vrådal last weekend. New on the injury list will be forward Ole Bjørn Bredesen that picked up a foot injury during the weekend.

| | | |
| --- | --- | --- |
| Period | Scored | Conceded |
| 1-15 | | |
| 16-30 | | |
| 31-45 | | |
| 46-60 | | |
| 61-75 | | |
| 76-90 | | |

Meanwhile have Vaulen boss Tore Haugvalstad allowed some of his players to play for Vaulen 2 on Thursday. Both Bjørn Helge Husebø and Bjarne Hov are likely to start against top team Dirdal on Thursday. The game starts 19.00 at Hinna grus.
| | |
| --- | --- |
| Åkra are known as an attacking side, but their 3-5-2 formation also gives goals in the wrong direction. Last season Åkra's player manager Knut Boge surprised with his team, after they promoted the season before. Players to look out for is their star striker Rune Warholm and goalie Ståle Oldeide. Last season Rune scored 27 goals, while he this season have netted 7 goals in three games! Oldeide, that is a veteran with a past in Bryne and Lyn, missed last game against Buøy (4-3), after he was sent off in their 1-6 defeat to Ulf, on a game scouts from Vaulen was observed. Åkra's results this season have been all right, together with Vaulen are they the only team that have managed to beat Torvastad this season. | Chances per goal conceded |
Vaulen Beachboys call upon everybody to make their support on Saturday, for Vaulen to maintain their four points lead in the division. The game at Saturday starts at 15.00 on Hinnabanen.

31.05.02:Vaulen B - Dirdal (1) 1 - 1 (1)
Vaulen B met top team Dirdal on Hinna grus at Thursday. With Bjarne Hov and Jone Holgersen back should Vaulen dominate the game. Reports also tell that Marius Veseth did his comeback for Vaulen. VZ that have struggled with a knee ligament problem in the last three years after his first operation was unsuccessful. Marius have also been studying in Bergen, but will now at least play some games in the summer. The first half started a bit careful from both teams. The first 20 minutes were dominated by clearances and long and high passes. But after numerous of chances should Vaulen's Eirik Ekholdt managed to break himself through the defense after 35. minutes. With a sensitive lob he managed to outwit Dirdal's very good keeper Martin Espedal. Ekholdt got the chance again two minutes later, but for an open goal from five meters he hit the post. Luckily for Ekholdt the referee wrongly said it was offside.
With five minutes to half time, Øystein Winstnes was near to be the scapegoat. With his ponytail he almost headed the ball into his own net, but a tiger leap from Bjarne Hov avoided the equalizer. But after 43. minutes Dirdal got a fantastic hit, from 25 meters Ole Gilje fired it into the goal and past an outplayed Hov in the Vaulen goal.
The second half started with play against one goal. Vaulen's two central midfielders, Jone Holgersen and Sverre Møllegaard, steered the midfield completely. With some brilliant breakthrough passes they gave Ekholdt many chances. But Dirdal's good veteran goalie with nearly 600 appearances for his club avoided Vaulen from taking back the lead. With a quarter to go came perhaps the best save at Hinna grus through all time. Head specialist Eirik Ekholdt met a corner perfect on the first post. Everyone was expecting the goal, but Espeland managed to reach the top corner and hit it to corner. Vaulen had several chances in the end, and came closest when Morten Sivertsen was pulled down in the box by the goalie. But the referee only waved on. It was therefor to be 1-1, a result Dirdal must be most pleased with. After all it gets though and close when two top teams meet.

Christian Lie