Manchester 1993:
We reached the Semifinal in Manchester Cup. We lost 1-0 to Aldershot
Dana Cup 1994:
We didn't won in Fredrikshavn, but we surely learnt to sleep 17 people in a room!
Drammen 1997 I: | Drammen 1997 II:
We travelled to Oslo and Drammen. Lost against giants Strømsgodset 1-0.
/ Grimsby could need a striker don't you think?
Stavanger 1999:
Jostein (right in 2 row) plays for the local 7 player team Vaulen 3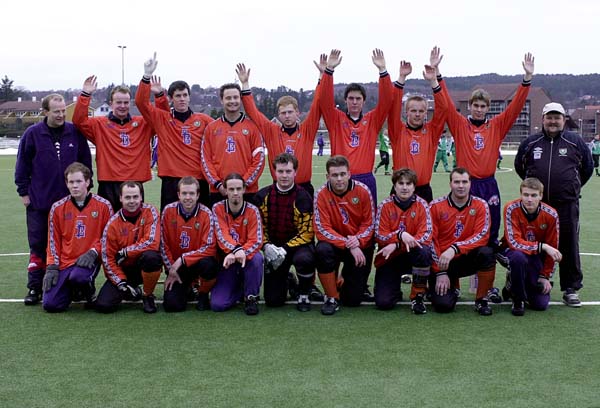 Back from left: Eirik Sunde (assistant), Sondre Urban, Anders Idsø, Jone Holgersen, Anders Schøyen, Thomas Idsø, Inge Martin Hinna, Jarle Eike, Svein Øksnevad (coach). In front from left: Øyvind Steinsbø, Glenn Malmin, Svein Bjørnar Skjæveland, Øystein Winsnes, Bjarne Hov, Tord Løberg, Gitle Martell Aarre, Erik Gysland, Fredrik Eriksen.
Others in squad not on picture: Morten Auklend and Alexander Landsnes.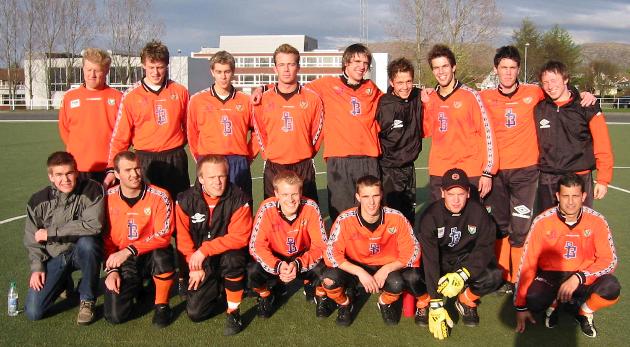 Back from left: Kjetil Aasland, Jan Tore Kleiberg, Jarle Eike, Alexander Landsnes, Erik Hildén, Ole Bjørn Bredesen, Jan Erik Ahlstrand Pedersen, Anders Idsø, Eirik Ekholdt. In front from left: Bjørn Helge Husebø, Erik Gysland, Inge Martin Hinna, Stein-Ivar Andersen, Jan Egil Salvesen, Tom Arne Bø Pedersen, Pedro Salgado.
Desktops
Do you got a Vaulen related picture? Send them to Vaulen Beachboys!
Click on your wanted size, then right click on it to use it as background screen on your desktop!

Jarlinho's: Vaulen/TBK Skrivebordsbakgrunn

Jostein's: Finn Fem Feil
800x600 pixels
Paparazzi Special
Pictures from the game against Grannekam in May 2002, and also some party pictures. Here!
Pictures from league win 28. September 2002 and the party. Here!