| | | | |
| --- | --- | --- | --- |
| 1 | Klepp | +45 | 49 |
| 2 | Bryne 2 | +39 | 49 |
| 3 | Eiger | +9 | 41 |
| 4 | Randaberg | +7 | 39 |
| 5 | Vardeneset | +20 | 35 |
| 6 | Vaulen | 0 | 30 |
| 7 | Tasta | 0 | 30 |
| 8 | Ulf_Sandnes | -4 | 28 |
| 9 | Egersund | -6 | 28 |
| 10 | Staal | -4 | 27 |
| 11 | Rosseland | -13 | 22 |
| 12 | Nærbø | -93 | 3 |
| | | |
| --- | --- | --- |
| 1904 | TASTA | 2-5 |
| 2804 | Eiger | 2-3 |
| 0105 | RANDABERG | 1-2 |
| 0405 | Klepp | 0-6 |
| 1005 | NÆRBØ | 8-0 |
| 1505 | Rosseland | 1-0 |
| 2305 | VARDENESET | 6-4 |
| 0206 | Egersund | 0-3 |
| 0806 | Staal | 3-3 |
| 1406 | ULF S'NES | 5-2 |
| 1806 | Tasta | 3-4 |
| 2506 | Bryne II | 0-3 |
| 3107 | EIGER | 3-2 |
| 0308 | Randaberg | 3-3 |
| 0808 | KLEPP | 1-2 |
| 1108 | Nærbø | 4-1 |
| 1708 | ROSSELAND | 4-2 |
| 2308 | Vardeneset | 1-6 |
| 3008 | EGERSUND | 4-1 |
| 0609 | STAAL | 3-5 |
| 1309 | Ulf Sandnes | 0-0 |
| 2209 | BRYNE II | 7-4 |
| | | |
| --- | --- | --- |
| 1 | Ø Winsnes | 141 |
| 2 | T Løberg | 15 |
| 3 | Gitle Aarre | 13 |
| 4 | E Gysland | 7 |
| 5 | B Hov | 5 |
| . | S Urban | 5 |
| 7 | J Eike | 4 |
| . | T Idsø | 4 |
| 9 | Ø Steinsbø | 2 |
| . | F Eriksen | 2 |
| 11 | J Holgersen | 1 |
| . | A Idsø | 1 |
| . | A Schøyen | 1 |
| . | I M Hinna | 1 |
| . | K Aasland | 1 |
| | | | |
| --- | --- | --- | --- |
| 1 | Oltedal | +54 | 45 |
| 2 | Sanved | +18 | 34 |
| 3 | Høle | +10 | 32 |
| 4 | Forsand | +18 | 28 |
| 5 | Åsenkam | +8 | 26 |
| 6 | Vaulen 2 | -21 | 23 |
| 7 | Sviland | -12 | 20 |
| 8 | Hana 2 | -14 | 20 |
| 9 | Stangeland | -33 | 19 |
| 10 | Gauken | -28 | 16 |
| | | | |
| --- | --- | --- | --- |
| 1 | Fallom | +55 | 28 |
| 2 | Vaulen 3 | +78 | 25 |
| 3 | Madla 3 | -7 | 13 |
| 4 | Kåsen 2 | -44 | 10 |
| 5 | Hinna 2 | -6 | 9 |
| 6 | Riaren | -76 | 0 |
Don't you eat that yellow snow!

29.12.01: It was cold outside this Saturday, but a lot of young men was observed walking with indoor shoes in the direction of Hetlandshallen. It was time for the now annual 'TBK RomjulsCup'. After last season icy affair the cup had now been moved indoors. With in total 13 teams going for the trophee! It was a long day with a lot of good football and sweat aroma for all in the crowd! Hellvik, TBK, Vaulen C, Vaulen B, Vaulen V, Vaulen H, Fallom and Bullshit Spankers advanced to the Q-finals. After a lot of intense games it was time for semifinals where TBK won against Vaulen Veterans while Vaulen Håndball won against Fallom. In the final to equal sides met, both teams had their key players. TBK managed to hold 2-2 after their goalie Kjartan Bærem once again had kept them going, but with 25 seconds left on the clock Gysland scored the winner to make it 3-2 to Vaulen Håndball! It was a successful tournament of 'Futsall' with few hard challenges.
The referees controlled the games well and after the tournament referee Ronald Urban won the award as best referee as well! TBK's Øyvind Steinsbø was topscorer in the tournament scroing 6 goals, despite not playing all the games! Else was the 'keeper at Vaulen Veteran team voted as profile of the cup, after many great saves espescially in the Q-final where he took most of the 8 penalty-shots!

C-TEAM
IN
THE
SPOT

Goal inferno for Vaulen C

27.12.01: Vaulen C failed to win their 7-a-side league group this season. They ended as number two despite only loosing 4 points through the season. Scoring 106 goals wasn't that bad either in only 10 games! Topscorer for the successful team that only have lost 5 league games the last three seasons was Stian Lima. In 8 games he scored 20 and had 18 assists. Meaning he was involved in 4.75 goals per game. Eirik Eckholt was involved in 4.4 goals while Olaf Espeland got a rate on 3.55. Espen Særvoll (3.17) and 'Poddi' Olsen (2.88) also did well in front of goal! But - 'the best attack is of course a good defence...' Player of the Year was announced as the tecnical skipper Olaf Espeland.
| | | | | |
| --- | --- | --- | --- | --- |
| Name | Games | Goals | Assists | Y |
| Jone Bø | 9 | 6 | 2 | . |
| Eirik Eckholt | 5 | 13 | 9 | 1 |
| Ole Egeli | 1 | 0 | 0 | . |
| Erik Espedal | 9 | 3 | 3 | . |
| Olaf Espeland | 9 | 18 | 14 | . |
| Jone Halvorsen | 1 | 0 | 0 | . |
| Jostein Jensen | 10 | 0 | 1 | . |
| Kristian Lie | 7 | 0 | 0 | . |
| Frode Lima | 8 | 3 | 0 | . |

| | | | | |
| --- | --- | --- | --- | --- |
| Name | Games | Goals | Assists | Y |
| Stian Lima | 8 | 20 | 18 | 1 |
| Jone 'Poddi' Olsen | 8 | 13 | 10 | . |
| Vegard Ravndal | 1 | 0 | 0 | . |
| Kjetil Stensland | 9 | 9 | 12 | . |
| Kjell Ivar 'Brori' Strand | 1 | 1 | 1 | . |
| Vidar Skålevik | 8 | 6 | 5 | . |
| Erik Sunde | 1 | 0 | 0 | . |
| Espen Særvoll | 6 | 10 | 9 | . |
| Arnfinn | 2 | 1 | 1 | . |

TBK Cup - an era for new deodorants?

25.12.01: On the 5.th day of Christmas the TBK cup kicks off in Hetlandshallen. Local lads will then get the chance of one year of admiration if they should go all the way to win the cup! With new deodorants and football shoes it goes against a cup with a lot of clashing affairs between friends. To get a fair decision some rules have been set. There will be kick-ins and the new back-pass-to-goalie rule counts. Else is the goalie not allowed to kick or throw the ball over the middle after the ball have been dead.
The six seconds rule for the goalie will also count here! To prevent injuries in the hall are all sliding tackles forbidden, else are all free-kicks direct. It have also been some changes as the games now will be played in one half that is 12 minutes. One player can also of course only play for one team during the tournament. All the rules will be available during the tournament in the secretariat.
There will also be available to spend some money on hot-dogs, coffee and lemonade in the nearby shop! A wine and beer lottery will also be arranged for fund raising to the club. According to Club Secretary Kjartan Bærem must all the teams pay their 100 kroner fee before 11.00 on Saturday morning. There will also be wardrobes and showers available for them that wants that informs Bærem. A banquet in Vaulenhuset is also planned in the night it is told.
Meanwhile it have been reported that referee Nils Vold unfortunately not can be a part to this years cup due to a accident on the road. Nilli broke some fingers and ribs, so we wish him well on his way back to recovery and new games.

B-TEAM
IN
THE
SPOT

Ups and Downs for Vaulen B

21.12.01: The Reserve team Vaulen B had a various season in 2001. Mainly due to the diffrent team used from game to game. The B team ended as number six in the 6.th division. In total was 19 games played, of them Vaulen won 8, draw 2 and lost 9. Vaulen scored 40 goals a good average, but 60 goals ended in their own net. In front of the next season it's expected that the squad will be stronger and to hope for promotion isn't unrealistic. Topscorer was Eirik Eckholt that scored 11 goals in 16 apperances, while best player was said to be veteran Eirik Sunde. Eia have this season played much in the goal, but have been used in the midfield as well!
| | | | | | |
| --- | --- | --- | --- | --- | --- |
| Adjemi | René | 2 | 1 | . | . |
| Bjelland | Terje | 5 | 0 | . | . |
| Bøvik | Terje | 17 | 5 | . | . |
| Bredesen | Ole Bjørn | 6 | 1 | 2 | . |
| Eckholt | Eirik | 16 | 11 | 1 | 1 |
| Egeli | Ole | 2 | 0 | . | . |
| Elseth | Tom | 2 | 0 | . | . |
| Eriksen | Fredrik | 6 | 0 | 1 | . |
| Espedal | Erik | 6 | 0 | . | . |
| Espedal | Olaf | 3 | 0 | . | . |
| Gysland | Erik | 1 | 2 | . | . |
| Halvorsen | Jone | 16 | 0 | . | . |
| Hegelstad | Elling | 1 | 1 | . | . |
| Hilden | Erik | 3 | 0 | . | . |
| Hjelm | Kenneth | 2 | 0 | . | . |
| Holgersen | Jone | 1 | 0 | . | . |
| Husberg | Tron | 1 | 0 | . | . |
| Jensen | Jostein | 1 | 1 | . | . |
| Jensen | Sindre | 8 | 0 | . | . |
| Josdal | Peddi | 1 | 0 | . | . |
| Idsø | Anders | 1 | 1 | . | . |
| Landsnes | Alex | 1 | 0 | . | . |
| Larsen | Espen | 4 | 0 | . | . |
| Larsen | Rune | 6 | 0 | . | . |
| Lie | Kristian | 11 | 0 | 1 | . |
| Lima | Frode | 8 | 0 | 1 | . |
| Lima | Stian | 15 | 2 | 1 | . |

| | | | | | |
| --- | --- | --- | --- | --- | --- |
| Lyse | Kristian | 2 | 0 | . | . |
| Løberg | Tord | 2 | 0 | 1 | . |
| Molaen | Preben | 2 | 2 | . | . |
| Møllegaard | Sverre | 2 | 0 | 1 | . |
| Noah | . | 1 | 0 | . | . |
| Nordbø | Frode | 4 | 0 | . | . |
| Olsen | Jone | 5 | 1 | . | . |
| Olsen | Owe Kenneth | 1 | 1 | . | . |
| Seiffert | Henrik | 6 | 0 | . | 1 |
| Sivertsen | Atle | 1 | 0 | . | . |
| Skjæveland | Karl Morten | 7 | 0 | . | . |
| Skogen | Morten | 1 | 1 | . | . |
| Skålevik | Vidar | 1 | 0 | . | . |
| Stensland | Kjetil | 4 | 0 | . | . |
| Steinsbø | Øyvind | 3 | 0 | . | . |
| Sunde | Eirik | 17 | 2 | . | . |
| Særvoll | Espen | 3 | 1 | . | . |
| Særvoll | Pål | 2 | 0 | . | . |
| Timm | Jan Erik | 16 | 1 | . | . |
| Tittlestad | Christian | 8 | 2 | . | . |
| Urban | Sondre | 1 | 0 | . | . |
| Winstnes | Øystein | 5 | 1 | . | . |
| Zakkariassen | Helge | 1 | 0 | . | . |
| Zeiler | Simen | 1 | 0 | . | . |
| Aarre | Gitle Martell | 1 | 0 | . | . |
| Aartun | Øystein | 6 | 0 | . | . |

21.12.01: It's the off season and rather quiet just in front of Christmas but there is always some related stuff in the newspapers.
There is perhaps not that many Vaulen celebrity fans out there, but there is some! Frank Halvorsen that saw most of the games with Vaulen last season was in the local paper this week. Frank is a true Beachboy that actually work at the local beach Vaulen badeplass! The Beach is known for it's sand from Miami Beach and the pleasant caretaker Frank that have worked there for 25 years! The story said a bit about his Vaulen interest, Frank admitted that he was more involved in the club earlier. "I guess I'm third or fourth umpire arbitrator," he replied.
Vaulenbanen have now official been agreed by the politicians. The training field at Nesflåtveien and Langflåtveien will be upgraded for 2.500.000,- in 2002!
Vaulen's lottery for 2001 is over. The club hoped for an income of 60.000,- kroner in their budget. Which of course is much money for V.I.L. Mr. Erik Handal Nilsen took the 1.st prize that was a bike. Funnily was last years skipper Jarle Eike and his family amongst the winners together with last years manager Svein Øksnevad!
Referee legend Svein Inge Thime have been added as ref to TBK cup. It's understood that Vaulen Veteran's coach 'Kistå' have arranged the deal that means that Thime will have at least the four first games.

Six Vaulen teams ready for TBK CUP 2001!

19.12.01: Six Vaulen teams will play in the second TBK Cup ever! Vaulen C won last season, they will this season get competition from Vaulen B, Vaulen B2, Vaulen Håndball, Vaulen Juniors and Vaulen Veterans. Else will TBK use several players with a combination of current Vaulen first team players and some stars with a blast of the past. The other teams are Bullshit Spankers, Fallom 1 and 2, Kondis FK and Hellvik! Also several other teams was interested to get into the popular cup, but the limit was 12 teams. Else it has been known that Nils Vold and Ronald Urban will be refs during the tournament. The cup will be played 29. December 2001. Below is the fixture list for the the cup.
Group 1

| | | |
| --- | --- | --- |
| 11:00 | Vaulen B2 | - Fallom 1 |
| 11:45 | Vaulen Jr | - Hellvik |
| 12:30 | Vaulen B2 | - Vaulen Jr |
| 13:15 | Fallom 1 | - Hellvik |
| 14:00 | Vaulen B2 | - Hellvik |
| 14:45 | Fallom 1 | - Vaulen Jr |

Group 2

| | | |
| --- | --- | --- |
| 11:15 | Vaulen C | - Bullshit S. |
| 12:00 | Fallom 2 | - Vaulen H |
| 12:45 | Vaulen C | - Fallom 2 |
| 13:30 | Bullshit S. | - Vaulen H |
| 14:15 | Vaulen C | - Vaulen H |
| 15:00 | Bullshit S. | - Fallom 2 |

Group 3

| | | |
| --- | --- | --- |
| 11:30 | Vaulen V | - Vaulen B |
| 12:15 | TBK | - Kondis F.K. |
| 13:00 | Vaulen V | - TBK |
| 13:45 | Vaulen B | - Kondis F.K. |
| 14:30 | Vaulen V | - Kondis F.K. |
| 15:15 | Vaulen B | - TBK |

| | | |
| --- | --- | --- |
| 15:30 Q1: One G1 - Two G2 | | |
| | 16:30 S1: Winner Q1 - Winner Q2 | |
| 15:45 Q2: One G2 - Best '3'.* | | |
| | | 17:00 Final: Winner S1 - Winner S2 |
| 16:00 Q3: One G3 - 2.nd Best '3'* | | |
| | 16:45 S2: Winner Q3 - Winner Q4 | |
| 16:15 Q4: Two G1 - Two G3 | | |
*Best and 2.nd Best '3' will not meet team from their own group in the Q-finals.

| | |
| --- | --- |
| | 18.12.01: A former Haugar player called Frode Nilsen was training with Vaulen on Monday. It's understood that the midfielder have played non-league football the last two seasons trough his work. Nilsen have a good right foot and a good eye for the game but miss some match training have only played in the Bedrift league. It will be interesting to see if he and other new ones will try to convince Vaulen manager Tore Haugvaldstad next year when the official training starts again. |
Haugar boss Jens Egil Vikanes have been coaching Nilsen in both Haugar and Nord. "Frode is a hundred percent okay lad. He is dutiful and serious. Frode have some limited skills, but he is a player that gives it all. I used him as a right back or as a defensive midfielder. He is better defensive than offensive. I hope he will have luck with Vaulen," Vikanes exclusively told Beachboys.

Haugesund to cut player wages - in with Idsø?

18.12.01: Vaulen's talented midfielder Thomas Idsø have been linked to FK Haugesund lately, but with an economical crisis in the club there is more questions than answers in the 1. division club. Vaulen Beachboys wondered if the turbulence in the club meant that FKH would replace the high earners with youngsters like Idsø. Journalist in Haugesund Avis, Hans Inge Ringodd, answered Beachboys per e-mail. "I haven't heard anything. My personal tip is that FKH not can get in new players before the conflict with the player organization NISO is solved. The answer for the club is that players will leave the club, and that they need new faces to fill up the 18 mans squad," replied Ringodd. FKH boss Bråtveit have earlier said that he wants to see Idsø on a trial, but due to sickness have Idsø not trained lately.
Else is it now understood that the fixture list now have been handed to the clubs, but the final list it will not be released until early in January after a meeting between all the clubs.

Team Bygg Kons Romjulturnering 2001 on it's way!

17.12.01: Local street team Team Bygg Kon, TBK, is to arrange another After Christmas Tournament on Saturday 29. December. The games will be played indoors this year in Hetlandshallen. Twelve teams will fight for the trophy that Vaulen C won last year. So far are nine teams ready: TBK, Vaulen Veteran, Vaulen B, Vaulen C, Vaulen Junior, Fallom 1, Fallom 2, Hundvåg Allstars and Vaulen Håndball. TBK manager Jarle Eike informed about the rules this year. "The games will last in 12 minutes. We will have four players plus a goalie. There will be kick-ins instead of throw-ins."
Else there will be sold lemonade and hot-dogs - so have some money with you to support the TBK boys! On Monday 17.12.01 Kam-Kam, Boganes-Kameratene and a Hinna Allstar team was likely to be the last three teams in the cup. But that is not finalized yet. In a last desperate try to join the cup you can therefor contact Club President Mr. Jone Halvorsen at

[email protected]

. Halvorsen's number is 909 37 660. Or contact the Secretary Mr. Kjartan Bærem at

[email protected]

, or call his hot-line 976 56 480! More information is also availebal in the new Vaulen Beachboys' Guestbook!

| | |
| --- | --- |
| | 14.12.01: The local paper Stavanger Aftenblad meant that two of the Vaulen refs was best this season. Sven Ravn Carlsen got the award in the 2. division while expirenced Tore Nybø scored highest in the 3. division! In front of next season have Sven Ravn Carlsen been rated amongst the 6.th best referees from the district! Meaning that the former Vaulen player and Youth team coach can be used in the 2. division, or as assistant in the 1. division. Tore Nybø will still continue to be referee in the 3. division, Tore that ofcourse have a past at a higher level. |
Meanwhile have Vaulen's Eirik Sunde got an authorization diploma to be a regional referee. Sunde that is the Vaulen player with most first team apperances ever!

11.12.01: One of the invited players was at the training on Monday. The 23-year-old midfielder Kris Georgsen trained with the team, and will also train with the team next Monday before he is belived to make a desision. Kris with a past from Viking's Junior team have the last years studied and played for Nesna and Åsgårdstrand before he this season played for Tasta. The midfielder can also be used as a full back.
Meanwhile was Pedro Salgado observed talking with Tore Haugvaldstad before the training. The former Sola star have had one season off and it's understood that he consider a comeback. He is an technical and offensiv player. But none of these players have so far said yes to play for the club.
Else will Vaulen play in the cup next season after ending as number 6. in the 3. division is it belived that they will come into the early stages. It's understood that the team will start in 1 Qualify Round. These games will be drawed around 1. March and will be played 24. April.

Vaulen to upgrade Vaulenbanen!

08.12.01: Vaulen IL have got another lift the last months as Vaulenbanen now is ready for an upgrade. The training ground will get lights and a new club house with wardrobes. Meaning that the pitch can be used in the winter time and also that the club can gain a better club enviroment with shorter distance between the teams. The plan was voted trough at the local council. In 25 years have the club with members and parents worked to secure their players better training conditions and Chairman Petter Bjørheim was sending warm thoughts in a newsletter to all of the clubs members recently!
The gravel ground was first only seemed on as a ball pitch, but have now got the status as a sports arena. With that could the club get a go ahead. The pitch is currently 59 x 92 meters but the new plans includes an extension to 60 x 100 meters. A club house with a car park for 3 cars will include wardrobes with showers also means that games more easily can be played there now. Several Vaulen teams have also trained at Hinna earlier in the winter time as the about 500 members have problems to share the only alternative Hetlandsbanen in a fair way. In 1998/99 was 360 of the 450 members under 17 years old - and with several games arranged in the week there have been problems to have good training facilities for all the teams. To avoid dust and strong lighting from the pitch will there be build a 2,5 meter high wall around some of the ground. An extended six meter ballnet will be added on the top. The pitch will also be moved 4 meters away from the houses on one of the sides. It have been suggested that the gravel must be of the highest standard to avoid dust, an artificial alternative have also been considered. Pylons will be allowed to be upwards 15 meters tall and will have maximum 200 lux/m².
The building close to the pitch will be on 100m² in the slope terrain at the west side. Meaning that there will be room for two floors, but only on 5.2 meters above the ground. Wardrobes and toilets for men and women, a ref room and an equipment store.
The proposal is seemed on as a positive upgrade in the area and it's hoped that the bulding can start very soon despite protests from some of the local inhabitans.

'Winston' returns after European tour

07.12.01: Versatile star player Øystein 'Winston' Winsnes is now expected back after a three weeks tour around in Europe listening to Motorpsycho! After a month away will the left full back now boost the quality of the trainings with some amazing raids!
Else will the club hope to see a lot of new faces through the winter. It's understood that at least nine players have got request from the club so far. Vaulen is a young side but the board have no intentions to get more experience into the team.
Most of the wanted players is mainly youngsters from local Stavanger sides. Speculations about any of the players is from one of Haugvaldstad's former clubs like Sandnes and Sola will of course mount the coming weeks! Defenders and strikers is also the positions that is most wanted to strenghted the side that have plenty of midfielders already. Perhaps will some players appear on trainings already in December month?
Meanwhile have the former Vaulen youngster Rolf Magne Olsen (21) now started to train with Tippeliga giants Viking. Rolli that have signed a one year deal will wear kit number 16 next season. The striker that played as a goalie in Vaulen will now try to play next to former Manchester United striker Erik Nevland for the Norwegian Cup Champions!

-You have to wait on the fixture list

06.12.01: Do you planning to take the away trip to Haugesund this season? Well the fixtures list for next years 3.rd division is still not ready. Leader in Rogaland Fotballkrets, Odd Svensen, hoped to have the games ready in January. "A proposal from us will be sent out before the New Year. And a fixture list meeting will find place in January," said Svensen. Next years 3. division group is belived to be a lot harder than this year. Haugesund 2, Randaberg, Vardeneset and Åkra is amongst the other teams in Group 13. But it's worth to mention that Tippeliga team FK Haugesund have released several of their players lately meaning that FKH2 probably will a very young side.

Haugvaldstad to give money boost?

05.12.01: According to rumors have Vaulen now requested several giants firms about sponsorship money for the next season. With the first team having success and the coming Vaulen Vårcup can the club now hope for more money than ever before. Chairman, Petter Bjørheim, will have to hope that new first team boss Tore Haugvaldstad can give the club an extra lift in media interest that can gain the sponsors. So far have the players got equipement deals. Meaning that they don't have to pay for shoes, football nickers and sweatshirts.

| | |
| --- | --- |
| | 05.12.01: Stig Molde have now desided to say yes to Vaulen. Stig that have a past in foreign leagues will be Haugvaldstad's assistant. Stig have the last years played for Storhaug FK, but it's not likely that he will be a playing assistant boss. A niggling achilles injury costed him last season. He is waiting on an operation, but it's not unlikely that he will get on the orange kit once again trough the long season. |

| | |
| --- | --- |
| | 05.12.01: Tore Haugvaldstad was on his first Vaulen training on Monday 3. December. The new boss presented himselves and observed 40. minutes of the training talking with amongst others this years assistant Eirik Sunde. The official trainings will first start 7. January meaning that also B and C team players will keep on training with the first team trough December month at Hinna Stadion. It's also understood that Haugvaldstad have requested for a removeable full size goal for box play training. Vaulen Beachboys have understood that Mr. Bjørheim and Mr. Møllegaard at the board is working on the case. Else was talented Sondre Urban injured on a training this week. It was understood that he picked up a foot problem. Landsnes and 'Steini' Andersen had to carry off the limping warrior. The suburban lad with a past in Viking have struggled with injuries all this season and only got one league apperance in the 2001 season. |

Nordland: -Thomas hasn't signed yet!

30.11.01: According to Stavanger Aftenblad dated 29.11.01 was Thomas Idsø ready for FK Vidar. The second division club that aim to fight for promotion next season wants to get a bigger squad. Leader in the Stavanger club, Alf Nordland, explained that he now have Helge Aune, Petter Aase and Thomas Idsø ready. While also further names are on the block.
"If everyone gets ready we will have strenghts in all our parts of the team," he said.
This was not true as none of them have signed yet! Alf Nordland exclusively talked with Vaulen Beachboys.
"I use the story in Stavanger Aftenblad 29.11.01 as a start point. There I came with some statements. Several of players that FK Vidar wants for next season are mentioned there. Further it says that none have signed a contract, but that they will be offered deals. With that isn't Thomas 100 percent ready, neither 1 percent - as he hasdn't signed any contract," said Nordland that wasn't sure on when Thomas' contract with Vaulen ended.
The story in Stavanger Aftenblad was surely not telling the same however! Bodø/Glimt's Helge Aune therefor felt he had to underline that he hadn't signed, in SA dated 30.11.01 was Aune therefor quoted on the issue. "I'm training with them, but I haven't sign a contract with them!" defined Aune precisely. It's therefor understood that Thomas Idsø still will wait a while before he deside if he should stay in Vaulen or join a better club on the paper - like Vidar or FK Haugesund. None of the Vaulen players have signed any contracts however. They only have an equipment deal that can be expanded some the coming year.

Circle to end for Stig Molde?

29.11.01: Vaulen have finally settled a new coach in Tore Haugvaldstad. New assistant can be the former Vaulen player Stig Molde. Stig that also have a past as a pro in Germany is considering an offer at the moment. The 33-year-old have lately played some in the lower divisions for FK Storhaug. He is an offensive midfielder, but it's not known if he will have a role in the club as a player. 'Stikkå' have played for several well known clubs as Vaulen, Jarl, 1. FC Union and Georgtown Metros in New York. Stig have also worked as a team-coach for Canada's Telemark team! Something that tell that this is a person with a lot of expirence he can add to the young Vaulen side. With the manager duo almost clear can Vaulen now hope to see new players be added to the squad. There have been a lot of writing about Vaulen in the media lately, something that hopefully can give the club a boost in the transfer market. Haugvaldstad will already on Monday come on a training session to present himself and be known with the players.

Thomas Idsø on trial with FK Haugesund

29.11.01: Norwegian 1. division club FK Haugesund have offered Vaulen midfielder a weeks trial. Also Vidar have been rumored to be interested in Thomas. The 20-year-old was the best player in the 3. division this season, and Haugesund boss Kjell Inge Bråtveit wants to see more of the player he first got to know as assistant boss in Viking when Idsø played for the Youth and Reserve team. "Thomas is 190 cm tall and have a good football understanding. This year he have also scored quite much," said Bråtveit that thought he was a bit simular to AIK's Swedish International Svante Samuelsson.
Bråtveit know Idsø well from the time as talent developer in Viking. He have also been coach for the midfielder in three seasons for the district team of the best youngsters in Rogaland. Idsø have this autumn had the mononucleosis. He will wait until he is in good shape before he goes on the trial. Bråtveit will await on the midfielder.
PS: According to Stavanger Aftenblad is now Thomas Idsø ready for Vidar. The second division club wants to fight for promotion next season, and wants to get a bigger squad. Leader in the Stavanger club, Alf Nordland, explains that he now have Helge Aune, Petter Aase and Idsø ready. While also further names is on the block. "If everyone gets ready we will have strenghts in all our parts of the team," he said.

28.11.01: Tore Haugvaldstad seems likely to sign up for Vaulen, after a years rest he now goes for a comeback. It seems like Tore will sign a one year deal with Vaulen.
"I'll have a meeting with assistant candidates on Wednesday evening," said Tore.
The former top keeper have earlier been manager for SIF, Sola and Sandnes, but ended the partnership with the 2. division club Sandnes last autumn.
"The alternative is another years break, but I want to do this. There will be less travelling in the job in the coming time."
He don't think Vaulen will be an absolutely top team next season, but he think the club have several exciting and young players. "Meanwhile it suits me nice that training sessions is to start rather late in the evening."

Haugvaldstad consider move

23.11.01: Vaulen awaits on Tore Haugvaldstad. The hunt for a new manager is still going on, and the former Viking goalie is most hot at the moment. Meetings with the local hero have found place, but Tore is still in a bit of a doubt about Vaulen is the right. "Tore Haugvaldstad have got an offer, and he is to consider the situation. Not at least the circumstances around the team is important for him," said Vaulen's Sverre Møllegård. The Beachboys site have understood that Tore think only three training sessions a week is too little, this and other questions is things he have to consider closely before he gives an answer.
Vaulen have also been in touch with other names, but they now hope that Haugvaldstad will say yes. A name like Tore Haugvaldstad can give the club a new lift.
"We haven't any traditions in Vaulen to have contact with resources as Haugvaldstad. If he choose to say yes, it will be very exciting for a club without much experience as a 3.rd division club," said Møllegård that now hopes for an answer in a couple of days.
Now it will be interesting to see if Tore comes, if so it's expected that he will try to get more professional surroundings around the side. More interest around the club, and interest for new players to join the club is also positive aspects that can come out of such a deal.
Haugvaldstad had a great career for Viking in the 80's and 90's, the 'keeper became know for the fans as a penalty expert. Later on he became boss for several local sides. Last time for ambitious Sandnes FK, that failed to become the second biggest club in the area.

21.11.01: The Norwegian FA, NFF, have announced dates for the 2002 NM Cup.
1.st Qualify Round: Wednesday 24.04.02
2.nd Qualify Round: Wednesday 01.05.02
1. st Ordinary Round: Wednesday 29.05.02
2.nd Round: Wednesday 12.06.02

3.rd Round: Wednesday 26.06.02
4.th Round: Wednesday 24.07.02 - Wednesday 07.08.02
Q-Finals: Wednesday 28.08.02 - Wednesday 04.09.02 - Wednesday 11.09.02
Semifinals: Saturday 21.09.02 and Sunday 22.09.02
Final: Sunday 03.10.02, kick off 13.15CET



Hans Petter Hansen & The Jan Høiland's won Cup!

19.11.01: Radio 1's Løkkecup was arranged in Åsenhallen and Ynglingehallen this weekend. 120 teams was involved, amongst them "Hans Petter Hansen & The Jan
Høiland's". This team was of seven Vaulen players plus Arild Sværen from Buøy. Vaulen used these players; Eirik Sunde in goal, Erik Gysland, Alexander Landsnes, Anders Idsø, Jarle Eike, Inge Martin Hinna and Stein-Ivar Andersen. The team went all the way to the top in the tournament that had a high quality!
The team had to go play nine games before they could lift the trophy. With the goal difference: 27-3! On the road to the final they met amongst others two teams from Bergen. Where one of the teams had two Brann players. But Norwegian International Alex Valencia was to predictable and easy for the indoor specialists from Vaulen. The only game Hans Petter & Co had to see a goal go past their skillful goalie Erik Sunde was in the semifinal against Ivar Hauge's team. The game ended 3-3 and it had to be decided on a penalty shoot-out. But Eia stood as a living wall and saved the team from an undeserved loss. Stein-Ivar patronized the final penalty! Vaulen won the final 2-0 over Pokerlaget, an another team from Stavanger.
Read more on http://kameratfotball.no!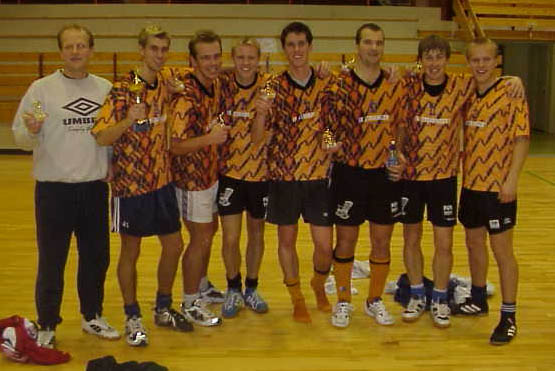 Former youngster to sign for Viking

17.11.01: Rolf Magne Olsen (21) is to sign a one year deal with Tippeliga club Viking. Rolli played some years as a youngster for Vaulen before he moved on. The last seasons have he played for local side Vidar. "I want Rolf Magne in my first team squad next season," Benny Lennartsson told Rogalands Avis.

| | |
| --- | --- |
| | 14.11.01: Next years 3. division is ready. In group 13 Vaulen will meet these teams; Buøy, Grannekam, Haugesund 2, Kopevik, Randaberg, Tasta, Torvastad, Ulf-Sandnes, Vardeneset, Vedavåg-Karmøy and Åkra. In other words many teams from the northern parts of the county. Last season we met teams from the southern part of the area where only four teams in this new group played. Meanwhile have Vaulen 2 got this group in the 6.th division; Dirdal, Figgjo 2, Forsand, Hana 2, Høle, Malmheim, Riska 2 and Åsenkam. |

| | |
| --- | --- |
| | 11.11.01: Gaute Johanessen was one of the candidates for the coach position. But also Sola and Buøy requested for the former Vidar boss. "To continue in one of these clubs is of course interesting. I want to continue, and in the 3.rd division I will get more free time in the weekends. Something I and my family have missed quite a while," said the former Viking player before the decision. Unfortunately for Vaulen he choosed Buøy. Also Randaberg wanted him, but Gaute choosed Buøy that have promoted the two last seasons. "I'm looking forward to the job. Buøy have ambitions for a step further," said Gaute. |

| | |
| --- | --- |
| | 07.11.01: Vaulen have still not hired a new boss for the next season. After talks with Tony Knapp and Frank Roland was it desided that Roland was the man to go for. But the plans stranded when Roland instead said yes to Hana. Now is Vaulen on a new hunt for a chief coach for the 2002 season. The club hopes to solve the situation trough November month. There is also expected some changes in next years squad. Midfielder Thomas Idsø have given signals that he perhpas will try his luck in the division above. Jone Holgersen will take one year of rest. Meanwhile will Tord Løberg not have the possiblility to play for full. |
Else are the most ones positive to continue further. The club will try to boost the squad before the next season and have sent requests to about ten players. Players in local clubs like Tasta, Sola, Vardeneset and Randaberg have got letters. The club is therefor waiting for positive answers. To copy or improve the 6.th place this season Vaulen must probably get one class player in every central parts of the pitch. Highest on the shortlist is a good central defender/full back, a warrior in the midfield, and a striker that can complete with topscorer Inge Martin Hinna's skills.
Vaulen will also be into the cup the coming season. This will be the road to Ullevaal in 2002:
1.st round - Wednesday 29. May / 2.nd round - 12. June / 3.rd round - 26. June / 4.th round - 24. July / Quart final - 28. August / Semi final - 22. September / Final - 3. November

| | |
| --- | --- |
| | 26.09.01: Influent midfielder Thomas Idsø won Stavanger Aftenblad's award as the best player in the third division in Rogaland! The youngster have earlier played for top flight team Viking's Youth and Reserves team, before he returned back to Vaulen in front of last season due to the promotion to the 3.rd division. Number 7. on the topscorer list was Inge Martin Hinna with 16 goals, Thomas was 15. with 12 goals. Meanwhile was Beachboys' Poll over best player a diffrent story as Øystein Winsnes took an easy win. The versatile player have impressed at the left full back this season - performing hard rock solid! |

Fantastic! Vaulen (4) 7 - 4 (1) Bryne II

22.09.01: Before the match anxious Vaulen supporters feared relegation, but after an unbelievable 7-4 win over top team Bryne 2 the Beachboys ended 6.th in their first year in the 3.rd division. All honor to the young team that scored 61 goals in 22 matches, if they manage to keep the players for the next season - Vaulen could get up there!
Vaulen triumphed in their last match against Bryne 2. Vaulen had great spirit and took the lead only after a minute with Anders Idsø, after a pass from Jone Holgersen. Later on Bryne equalized on a free kick, 1-1. Already mentioned Holgersen raised on a corner and headed Vaulen back in the lead. Bryne 2 continued with their short passes, while Vaulen though that the Bryne players could have done mistakes. And when the mistake came was the Vaulen players like hungry wolves. They counter attacked with every opportunity. 3-1 came on a header from Thomas Idsø.
The 4-1 goal was a blue copy; Vaulen came down the left side with Anders Idsø. He crossed it to Eike that sent it to Thomas that headed it in. His scored his 12.th for the season! 4-1 should also be the half time score!
After the break Bryne 2 got a penalty after a terrible cross pass. 'Keeper Hov couldn't do anything. 3-4 came after the ball was 30 cm over the line. Vaulen stopped the play and awaited the poor referee Stople to stop the play. Well he didn't and the Bryne starlets could easily score their third goal.
The 5-3 goal was after another free kick - Kjetil Aasland found the rushing Jarle Eike that headed the ball into the top of the net. 6-3 came after that Eike played trough Stein Ivar Andersen that with calm putted the ball past the goalie. The goals was really coming now as Bryne reduced the lead to 4-6. Then Vaulen's strong central defender Aasland was moved up as a striker. The ex-goal machine of course scored. A pass from the left side was volleyed home with Kjetil Aasland's leg. The thunder ball was of course not to reach for the busy Bryne goalie.

After Vaulen advanced to the 6.th place both the players and the club would be satisfied. The hope is now that the situation about the coach position will be solved. And that as many as possible of the players will continue. It will also be extremely important to keep Thomas Idsø in the club. According to the local papers he was the best player in the 3.rd division this season. The rumors also tells about a well deserved party at the club house next month!

| | |
| --- | --- |
| | 15.09.01: Unfortunately for all Vaulen fans did Tasta won over Vardeneset on Friday with the result 4-3. While Vardeneset laid as number three from the top, was Tasta number three from the bottom before the match but that shouldn't help the Beachboys. The positive is though that Staal meet Ulf in the last round ergo will at least one of these teams loose points. Vaulen have also scored most of the bottom teams. Else will it probably depend on Bryne and Sandnes about it will be two or three teams that relegate as the teams in Vaulen's group have more points than in the other section. |

Ulf/Sandnes (0) 0-0 (0) Vaulen

13.09.01:Vaulen couldn't afford to loose this clash against Ulf on Sandnes Stadion. Ulf was before the match two points behind the Beachboys, and would with a win past Vaulen on the table. Ulf started the game with a high pressure. The Vaulen players didn't managed to create any play, and they mainly had to defend. One of the Ulf strikers came trough a couple of times, but a brilliant Bjarne Hov saved Vaulen. The 1.st half should end with 0-0. Topscorer Inge M Hinna was injured early in the 2.nd half. In came hard working Sverre Møllegaard. A move that meant Øksnevad rotated the team putting Stein Ivar Andersen up front while Sverre took the place next to Jarle Eike in the heart of the midfield.
Vaulen was a lot better now and already mentioned Møllegaard had a shot in the post and one that stroke the post. Also Stein Ivar came near but he didn't managed to get the ball into the net. But both the teams had their chances. In the end was Ulf getting a lot of throw-ins that resulted in many half chances. The biggest moment of danger came with a shot from 20. meters that had the direction to the uper corner of the net. No one can still really understand it; but 'keeper Bjarne Hov made a tigerish leap and the acrobat fisted the ball over. The match finally ended 0-0. Something Vaulen was pleased with. If only Vardeneset beat Tasta later this week the stay in the division can be safe. Vaulen's life in the division is based on that assumably three teams relegate, but it can also only be two teams that relegate due to what happens in other divisions.

Vaulen (2) 3 - 5 (0) Staal

06.09.01:Staal had travelled over Boknafjorden with the Tau-ferry and was probably not looking for a return empty handed. But once again was Vaulen the favourite among the bookies. Gysland & Co. closed the defence for Vaulen in the first half and they leaded 2-0. But something happend in the second half as Staal came strong back winning 5-3! This of course mean that Vaulen still have to struggle for their contract in the division, with hard remaing matches; first a six pointer away to Ulf Sandnes before a clash with leaders Bryne II at Hinna later this month. This was also a big setback on Vaulen's home record that was so good before this match. The advantage of the artificial pitch have perhaps meant a bit in the batle of points but unfortunately that didn't helped this grey afternoon.
Vaulen had all the chances to get out of the relegation battle. 2-0 to half time should have been enough after goals from Anders Idsø and Stein Ivar Andersen. But the Staal coach changed the system in the second half. Staal putted one more player in the midfield. A move that surely gave them the upper hand. Vaulen could have made 3-0 when Inge M. Hinna got a big chance, but the ball stroke the post. Instead Staal scored to make it 1-2, then Vaulen lost it. Despite Thomas Idsø managed to score a late goal to 3-4 was 3-5 the final result. Injuries on the Idsø brothers and Eike had to cost dearly. The moves was on a minimum. Big mistakes in the defence and little precision forwards meant a deserved win to Staal at last.

Struggling Vaulen to get revenge

30.08.01:After a heavy loss in Vaulen's last match was the hope that the players could get some points out of the meeting with Egersund. Vaulen was once again on the national betting charts on the 'Tipping' and 'Odds' coupon. And the so called experts had the Beachboys as favourites at home to Egersund. Both TV star reporter Arne Scheie and the local paper tended to agree on Vaulen as the strongest team. Before the match had Vaulen also been mentioned on the Official Viking Stavanger site. Viking have desided to use orange kits in the UEFA cup against Kilmarnock. Kitman Henry Hinna first response was: "I guess they will cheer on Vaulen at the match..."

Vaulen won the match 4-1, and those that betted that would have got 19.97 times the money back.
Vaulen (1) 4 - 1 (0) Egersund
Vaulen needed three points to get away from the bottom struggle. EIK is a technical and young team that fits Vaulen's way of play. Home at Hinna Vaulen seldom loose. That stat should surely continue also after this match.
The coaches had choosed a new midfield tactic with Eike in a defensive role, Thomas Idsø in a free offensive role, new investment Stein Ivar Andersen at the right and Anders Idsø on the left. A move that should be very successful. Thomas Idsø blossomed in his free role and got big spaces to makes his runs in. The strikers Landsnes and Hinna burned some 'fat' chances alone with the goalie in the first half. But Vaulen should lead after the first half after a goal from Beachboy Thomas Idsø on a rebound from the 'keeper in the 32. minute.
Second half started with a massive pressure from EIK. But after a while came was Vaulen's chances rolling in. Again was it Thomas Idsø that got his name on the scoreboard after 61. minutes. After the 2-0 goal had Vaulen several opportunities with topscorer Inge M. Hinna. Among the chances was a shot on open goal that hitted the inside of the post. EIK striker Kim Vamråk should though reduce the lead after a fantastic drible. Just afterwards the equalizer could have comed, but Bjarne Hov managed to make a reaction save of world class!
And finally should it success for Hinna, he simply made it 3-1 on his 16 league goal of the season. After that was EIK's Asle Sirevåg sent off for protests with his second yellow card. Supersub Tord Løberg putted in the 4-1 goal that should be the last goal in the match on a rainy evening with 40 people in the crowd.
Vaulen seemed solid all over. All off the Vaulen players seemed to enjoying the game and fighted well for the points. Im total a great effort from the Beachboys! And new player Stein Ivar Andersen made a very good debut. Congratulates! Man-of-the-match was according to the local paper Stavanger Aftenblad Thomas Idsø, but also his twin brother Anders was good together with Hinna and Eike.
Vaulen boss Svein Øksnevad was of course pleased with the result after the match, but: "I feared that the ineffectively in front of the goal should cost us the win."

| | |
| --- | --- |
| | 27.08.01: On special request will I give a mini report on Vaulen B's last match away to Hana B. It should be a hard challenge for the unfit Vaulen team. Hana's coach, the former Spurs trainee and Tromsø and Viking striker, Mike McCabe had assumably used some of his players from the first team. But it was Vaulen that scored first. A free kick from the right side was headed on towards the goal from Espen Særvoll, but Terje Bøvik claimed the goal with a little touch. Hana came back and changed the score to 1-2 before Vaulen should equalize. A low corner from Eirik Ekholt at the left side miraculous slided trough all the players and into the goal at the slippy pitch. After that Vaulen started to feel the tempo and some changes was made, but Hana scored three goals before Vaulen came back again. 'Eddie' Ekholt came trough at the left side and sent in a low ball. Whom other than the natural goalscorer Jostein Jensen was at the first post to fire the ball into the net for 3-5? But that was pretty much it from Vaulen today, the soaky pitch was simply to much for the Beachboys. The second half was lost with 6-0 for the final result to be 11-3! |

Defeat for Beachboys; Vardeneset (3) 6 - 1 (1) Vaulen

23.08.01: Fans favourite Øystein Winsnes (picture) couldn't avoid Vaulen's second loss after the summer break on a warm Thursday night at Tasta Stadion. Anders Idsø scored the 1-1 goal for Vaulen. High flying Vardeneset is currently number 3 at the table, but as we remember was Vaulen beating Vardeneset 6-4 at home earlier this season. Next up for Vaulen is Egersund a match that will be on the national 'midtukekupongen'! With Jarlinho and Landsnes back will they probably be back to normal form!

Pizzaboys delivers! Vaulen (1) 4 - 2 (1) Rosseland

17.08.01:A Vaulen team without vital players like Eike and Landsnes had a tough clash with Rosseland on Hinna this late summer evening. Rosseland started well and the first big opportunity came after 10. minutes. Their right winger got a room on the his side - he sent a dipping volley over Vaulen's 'keeper Hov. But the ball went at the bottomside of the bar and danced at the line before a Vaulen defender hacked it away.
Vaulen seemed to be out of formation in this period. Inge M. Hinna up front was very alone and against four defenders he had no chance at the balls that was hoofed up by the defence. After 20. minutes was also the right back Fredrik Eriksen injured he had to be replaced by Tom. Then after 28. minutes Rosseland got a free kick - the ball went in the bar but the rebound was headed past all the Vaulen players and in the corner of the net. A deserved lead by Rosseland that had owned pretty much of the game. But just before half time Vaulen counter attacked on the edge of the box was Anders 'Mozzarella' Idsø he curled the ball behind the steady Rosseland goalie. Vaulen went to half time with 1-1, could the luck continue?
Vaulen started the second half very good, Rosseland seemed tired and demolished by the late goal in the first half. But only after 10. minutes of the second half was a Rosseland midfielder given enough room in front of the goal - a 20-meters shot went in on the goalies right side. The Beachboys players must had felt this hard after a good period. But the magican pizzaboy Thomas'Pepperoni' Idsø' should deliver. From 35 meters he saw Rosseland's goalie out of the goal. A perfect lob met the net and the about 30 Vaulen fans went wild!!
It was 2-2 and Vaulen had camed from behind twice! With an half hour to go should Vaulen dominate the rest of the match - the players was stronger and could run more than the away team. With 25. minutes to go was super-sub Tord Løberg replacing a midfielder and coach Øksnevad changed from 4-5-1 to 4-4-2. Strong Løberg managed to keep the ball up front and the Vaulen team managed to move the team up several meters. With 20 minutes to go a low crosser from the right was thundered in front of the goal. Whom other than Thomas 'Pepperoni' Idsø managed to get in a magic toe? The ball humbled past some confused Rosseland defenders - the time stood still but the ball sawed to be steered by a telepathist into the net! A hat-trick from the central midfielder that is ranked as the best player in the division in the local paper! Vaulen was infront for the first time in the match. Hinna should also have a big chance but the ball should not go Hinna's way. With 10. minutes or so left Vaulen played the ball well and it was Øyvind Steinsbø that got the ball on the right side. A outsided ball was curled into the goal. A reflection of perfection from Steinsbø that was near to be sent of only minutes before after he had picked up a yellow card earlier on as well. Also Hinna should be booked for calling the ref blind, oh dear... 4-2 to Vaulen it was in an entertaining match.

Match report: Nærbø (0) 1 - 4 (0) Vaulen

11.08.01: Vaulen won again this weekend when the Beachboys had travelled south to Nærbø. After a boring first half without many chances should the second half be the opposite. Technical Vaulen was always looking to attack while Nærbø was most interested in fighting. The second half should be really entertaining with five goals! Jone Holgersen opened the party for Vaulen with his 50. minutes goal, but Dag Arild Hansen equalized eight minutes later. After 62. minutes was it time for left footed Anders Idsø to come on the scoreboard. Vaulen now owned the match and Tord Løberg should make it three before midfield maestro Jarle Eike fired in the last to make it 4-1 to Vaulen! Vaulen was a number to big for Nærbø, they produced most chances and with more sharpness in front of the goal could it had been much more.
"I'm very pleased with three points. I told the guys before the match that it was important to get the first goal against a team like Nærbø. We managed that and won in a convincing way. Though we should maybe have scored some more goals," told Vaulen boss Svein Øksnevad that saw his team climb one spot on the 3. division table.

Match report: Vaulen (1) 1 - 2 (1) Klepp

08.08.01: On a dark and rainy summer evening Vaulen met another team in form when Klepp was at he oppsite side at Hinna stadium. The Beachboys started the match with a high pressure and was very agressive. This resultet in the first goal as Vaulen took the lead after 25. minutes after man-of-the-match Thomas Idsø elegantly sent a lob over the Klepp 'keeper.
Later in the half Klepp rolled up on the right side and Kjøllestad shoud soon equalize on Bjarne Hov in the VIL goal, to make it 1-1 after 33. minutes. In the second half the 30 diehard fans saw the situation change as Klepp took the initiative. Karlsen took the lead for Klepp after 58. minutes on a corner. There was really not many chances in this match. Those chances Vaulen got was though BIG. Alexander Landsnes can't have slept well after he missed on open goal! And 2-1 to Klepp should be the final result, both teams was technical strong but it was a deserved win to the Jæren team. Vaulen's central defenders was great in this match. Erik Gysland and Anders Schøyen was probably among the best players at the pitch. Unfortunately for Vaulen will the versatile Schøyen now travel to Oslo to study. He have been Vaulen's best player after the summer break! We wish Anders good luck :)

Hinna unfire with Vaulen on TV!

31.07.01:Vaulen (3) 3 - 2 (2) Eiger
For the first time in the clubs history was Vaulen live at TV! At least on text-TV as Vaulen was one of the matches on Norsk Tipping's betting chart.
Topscorer Inge Martin Hinna should score two goals in this match and was after this round number two on the topscorer table with 14 goals!
Vaulen took the lead early it was 2-0 after only 18. minutes with two goals from the topscorer Inge Martin Hinna, but Eiger came back and it was equal after an half hour. Then just before half time Vaulen scored again with man-of-the-match Thomas Idsø to make it 3-2!

While Vaulen was the best team in the first half was Eiger better in the second half. But all the hard training trough the summer break seemed to have given results. A deserved win to the Mighty Beachboys...

PICTURE: Vaulen on Norwegian Text-TV

ASS FOOTBALL?

Vaulen lost to Tippeliga Reserves

25.06.01:Bryne 2 (0) 3 - 0 (0) Vaulen
Vaulen faced a tough challenge on Monday when they met the Bryne Reserves. Bryne that of course have their first team in the Norwegian Premier division - Tippeligaen. Bryne 2 featured some stars like Rangnes and Mikaelsen both two expirenced players. And it should be a hard away match for the 'Beachboys' but with defensive tactics they kept it 0-0 a long while out in the second half. But Vaulen managed some dangerous attacks where the pacy Vaulen striker parked big Jørgen Rangnes. In the second half Bryne substituted the two most well known stars, first Thor Mikalsen and later also Jørgen Rangnes. But this move made the Bryne team look a lot quicker. Some of the Vaulen players could of course not keep the tempo trough the whole match, the players didn't managed to keep the ball in the team for long periods. And on ten minuted they got in three goals past the Vaulen goalie. Hopefully will a well deserved vacation now give the Vaulen players back some surplus to survive in the division.

Match report: Tasta (3) 4 - 3 (2) Vaulen

18.06.01: It was time for revenge when Vaulen should meet Tasta again, after loosing the opening round to the side that now also include the former Viking defender Ingve 'Chips' Bøe. But it should be an unnecessary defeat for Vaulen. The match started well and the Beachboys took the lead 1-0 with the midfielder Jarle Eike. Thomas Idsø doubled the lead to 2-0 before Tasta managed to change the scoreboard with the energic star striker Knut Hammer Larsen. He fighted in two goals against an almost paralyzed defence. And just before half time he made the third on a rather cheap penalty. Tasta looked tired in the second half. But the hot weather seemed to have influenced the Vaulen boys as well, with many poor passes. Thomas Idsø must have had trouble to see the diffrence between orange and red in the sun - at least he served a Tasta player the ball which gave them just another cheap goal. 15. minutes before the end Eike headed in his second goal for the day. And in the end Vaulen had the chance to equalize the lead, but they wasn't good enough on the last move. Now a tough away match to Bryne 2 awaits the Vaulen team.

| | |
| --- | --- |
| | 14.06.01: In the next home match the lads was back in the route and they took their fourth win for the season versus Ulf/Sandnes. The first half was a bit boring and ended 0-0. As usual came the Beachboys strong forward in the second half. The topscorer Inge Martin Hinna putted in the opener after Kjetil Aasland had been pulled down in the box. The midfielder Aleksander Landsnes that had a very good match followed with a header to make it 2-0. The third goal was of the lucky sort, a Ulf defender shot on the striker Hinna and the ball amazingly went in the net. 4-0 was an own goal, after Landsnes had sent a hard crosser infront of the goal. Later on Ulf reduced the lead to 1-4, before Anders Idsø made it 5-1. In the end all Vaulen players wanted to score, and it ended with a goal for the opposite team instead. It was difficult to choose the best Vaulen player this time, but the whole defence was steady. With the successive win Vaulen climbed on the table and was on a 6th place just after the match. |

24.05.01:VAULEN - VARDENESET 6-4
Next up for the Beachboys was against the unbeaten leaders Vardeneset. And Vaulen should just another time make it into the headlines! Midfielder Jarle Eike exclusive told Jailhouse Rock about the amazing result!
| | |
| --- | --- |
| - Vaulen yesterday took their third win in a row. This time it was the leaders Vardeneset IF that came out of it empty handed. The match was a party for all the 120 supports that showed up on the stadium at Hinna. VIF took the lead 1-0, before Inge Martin Hinna putted in the equalizer on a shot in the corner of the net from 20 meters! But to half time it should become 2-1 to VIF. After the break goals surely went in! Inge Martin Hinna putted in two more, Hinna that now got seven goals so far this season after he started the season on the bench. The score 20 minutes before the end was 3-3. Then coach Svein Øksnevad made a very smart choice. He putted on the steady Tord Løberg on as a striker after he had played well for the Reserves the day before. He made one goal before VIF another time equalized. But 'Tord the lord' scored two more such that Vaulen beated Vardeneset 6-4. | |
Vardeneset that was unbeaten before this match! It must also be said that the midfielders from Vaulen neutralized VIF's warriors with a lot of technical play! Vaulen was now that team that have scored second most in the division with their 20 goals, but also that team that have letted in second most with 20 goals! Later followed a 0-3 defeat to Egersund, before they drawed 3-3 away to Staal.

15.05.01: After a poor opening of the season with four straight loss. Vaulen now seemed to have acclimatized the level with three wins in a row! Vaulen gave the fans an amazing 8-0 win versus Nærbø after goals from Hinna (3), Aasland (2), Gysland, T. Idsø and Schøyen.
Then an impressiv match against Rosseland came with a successful 1-0 win. It was a strong away win where Thomas Idsø scored after giant Tord "Tøbbi" Løberg had done the job.

18.04.01:VAULEN LESS THAN A FAVOURITE AT THE BOOKIES!
This season you can bet on Vaulen on Centerbet! It was none surprise that Vaulen was predicted on last place by the Australian based bookmaker firm, hopefully it will be the players and fans of Vaulen that laught at last!


3. Division avd. 12, odds at 18/04/01

| | | | | | | | | | | | |
| --- | --- | --- | --- | --- | --- | --- | --- | --- | --- | --- | --- |
| 1 | Klepp | 1.80 | 4 | Ulf Sandnes | 12 | 7 | Staal | 40 | 10 | Vardeneset | 100 |
| 2 | Randaberg | 2.95 | 5 | Egersund | 16 | 8 | Rosseland | 50 | 11 | Nærbø | 150 |
| 3 | Bryne 2 | 8.00 | 6 | Eiger | 20 | 9 | Tasta | 100 | 12 | Vaulen | 150 |
THE PRESS ABOUT VAULEN
Meanwhile have the newspaper Stavanger Aftenblad predicted Vaulen on 9.th place in the league.
"A team that have started with a new generation players, a lot of 20- and 21-year old players. Is characterized with a technical midfield where Anders and Thomas Idsø together with Jarle Eike will dominate."
Vaulen kicked off the season at Thursday 19/04 home to Tasta. A lot of fans came to the stadium Hinna krøllgressforVaulen's first match in the 3. division for the first time in over 40. years! Vaulen that had six players with expirence from the Youth and Reserve team started nervous. They finally lost 5-2, but won the second half 2-0 after much elegant play, something that prove that there is something in the team.