Siesta football gave Vaulen's first loss

01.06.02: Vaulen (1) 2 - 4 (1) Åkra
Hinna stadion, 60 spectators
Goals: 1-0 Inge Martin Hinna (3), 1-1, Morten Vea (30), 1-2 Morten Vea (48), 1-3 Henning Stava (63), 1-4 Knut Boge (67), 2-4 Eirik Ekholdt (87).
Yellow cards: Jan Tore Kleiberg, Pedro Salgado, Jan Egil Salvesen (Vaulen) and Ståle Oldeide (Åkra).
Referee: Sigve Jan Melby
FIRST HALF
On Saturday Vaulen had the chance to get a bigger lead on the table against Åkra, but instead of samba football it became siesta for the home team that lost 2-4. But it was Vaulen that took the lead at Hinna stadion. A play trough pass from right full back Jan Erik Ahlstrand Pedersen found Pedro Salgado on a run, he raided past two players before he found striker partner Inge Martin Hinna with a brilliant pass. Hinna showed class when he placed the ball in the longest corner behind an outplayed Ståle Oldeide in the Åkra goal.
Now the around 60 spectators believed that Vaulen should confirm the place around their hegemony, but not this time around. The half hour were played when Morten Vea forced down the right side, with only the goalie in front of him Vea placed it past a chance less Tom Arne Bø Pedersen.
What about the Beachboys? After having surfed on a wave this season they now seemed to had lost the edge.

1. Tom Arne Bø Pedersen
2. Jan Erik A. Pedersen
3. Erik Hildén
4. Jan Egil Salvesen
5. Erik Gysland
6. Jarle Eike (C)
7. Stein Ivar Andersen
8. Jan Tore Kleiberg
9. Pedro Salgado
10. Inge Martin Hinna
11. Alex Landsnes
12. Eirik Ekholdt
13. Kjetil Aasland
The players didn't found each others and there became distant in the team. Åkra on the opposite side got confidence of the goal and the rolled up attack after attack with their click-clack football down the sides, only good Vaulen defenders in Salvesen and Gysland and a good goalie avoided Åkra taking the lead at half time.

SECOND HALF
At half time Vaulen changed to a 4-3-3 system, meanwhile Ekholdt replaced Hinna. The fishermen from Karmøy started the half with a shock. A splendid pass from the midfield found Morten Vea, that elegantly lobbed the ball over Bø Pedersen in Vaulen's goal.
The goal gave Åkra another vitamin injection, and when substitute Henning Stava scored on his first touch after 63. minutes was the game actually over. The same man was in focus five minutes later. A throw-in found Stava with the back against the goal, an inpatient Vaulen player gave a little push in the Åkra player and the referee pointed at the penalty spot. A strict decision by the referee, that though kept the same line throughout the whole game. The chubby right full back Knut Boge got the chance from the penalty spot and found the net to the left of Vaulen's keeper. Inge Martin Hinna was the man behind Vaulen's biggest chance this period, his shot from outside the box curled in the post and out in play.
With a 4-1 lead Åkra relaxed a bit and Vaulen got more initiative in the end. With ten minutes to go Eirik Ekholdt ran through but was brutally stopped by Oldeide. the referee answered by handing Åkra's last man a yellow card. It wouldn't had been anything to say if he had showed the red card in that situation as Ekholdt was in a clear scoring position. However Vaulen got their goal of consolation after 87. minutes. Skipper Jarle Eike passed an eminent inside pass from the middle of the pitch to Stein-Ivar Andersen on the right winger. Somehow the ball went in a bow over to Eirik Ekholdt that was ready on the second post. Ekholdt is not the one that need to be asked twice, after he got the ball he fired it home with his right foot above the tall Åkra goalie.
Åkra could travel home with a 4-2 win in the bag, while Tore Haugvaldstad's boys now can see the first league loss is a fact.
VAULEN RAN OUT OF LUCK: Haugvaldstad's lucky shirt could avoid the club from loosing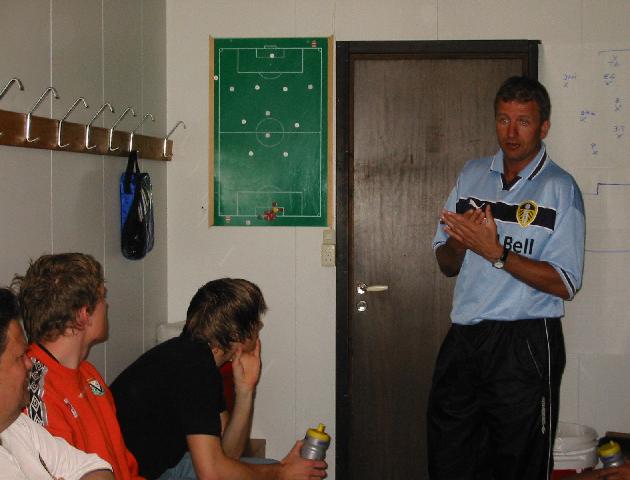 | | |
| --- | --- |
| | 03.06.02: Vaulen have joined a lower division 'dream team' competition called Helteligaen. The game at www.zporty.no give you the chance to compose a team from the local divisions. Foootball expert Egil 'Kistå' Christensen rated the players against Åkra. Check out Vaulen's site here! |

Vaulen hope Tommen can stay

04.06.02: Vaulen will now seek a permission from the Norwegian military for their keeper phenomenon Tom Arne Pedersen. He is told to travel to Sessvollmoen, but Vaulen will do all they can to move his duty locally. The 18 year old have played all of Vaulen's league games this season, and is seemed on as an important player in the squad both on and off the pitch. Vaulen have therefor applied to get Bø Pedersen moved to Madlaleiren instead. The popular youngster that joined the club from Vidar in front of this season is not only an important player, he have also been coach for SK Jarl's U-13 boys team the last two years. Both Jarl and Vaulen will now hope that they can keep their key man. The Mariero raised starlet will this summer end his studies at Bryne Vidergående.

| | |
| --- | --- |
| | 04.06.02: Vaulen had invited 'keeper talents in the club for a special training session this weekend on Vaulen Badeplass. With manager Tore Haugvaldstad as their coach, there was much to learn for the youngsters as well as getting inspiration from the former star 'keeper. The former Viking and Bryne player is a resource to the club, he have a D course and have been coach for several local clubs. In fact he was linked to the post at Tippeliga side Bryne in the 2001 season. His talents work have already sent the young first team to the top of the third division. Hopefully will we see even more results from the Youth work in some years time. Vaulen Beachboys have got pictures from the 'keeper school. |

05.06.02: Vaulen eye new points when they travel to Kopervik on Saturday. However will they miss two players due to exams, Jarle Eike and Anders Idsø are forced to stay at home. Also defender Bjørn Helge Husebø can't travel to Kopervik due to work, meaning that boss Tore Haugvaldstad must rotate a bit on the team. Ole Bjørn Bredesen is still on the injury list, but he have now done some light running. However will new signing Kim Henriksen from Tasta travel with the team.

Plan your summer holidays

| | | | |
| --- | --- | --- | --- |
| Sat | 08.06 | Kopervik | 15.00 |
| Thu | 13.06 | VARDENESET | 19.00 |
| Mon | 24.06 | Haugesund 2 | 19.00 |
| Thu | 27.06 | RANDABERG | 19.00 |
| Wed | 03.07 | TORVASTAD | 19.00 |

Kopervik have done well lately, last Friday they played 1-1 away to Buøy. Last season KIL managed to survive on defensive cynicism, admits their manager Bengt Førland. "Every game was like a cup game last autumn. We won several games 1-0 without entertaining at all. But we managed what we wanted, and that is now history," said Førland.
Haugesund born Førland was their savior man last season however there have been conflict inside the the club about the playing system. This season Bengt wants to attack with a 4-3-3 tactic. "This winter we have almost not trained defensively. Our focus have been forward on the pitch. We focus on structure and defined roles to each player," continued the 27 year old. KIL that play at the fantastic stadium Åsebøen look forward to a good season. "We as everyone else will struggle with injuries on keyplayers. Our central line have expirence and I think we can end in top six in the end," continued the manager that aim for 2. division football in a three years period.
Kopervik's perhaps most known player is Knut Ystaas that was a period in FK Haugesund, now is he back where it all started as assistant player manager. Kopervik have though missed important Roger Jakobsen to Vard in front of this season.

| | |
| --- | --- |
| | 06.06.02: Nor Jan Tore Kleiberg and Bjarne Hov can play the game against Kopervik, from earlier we know that Ole Bjørn Bredesen, Bjørn Helge Husebø, Jarle Eike and Anders Idsø can't travel with the team. Kleiby will miss out as he is to work at his house project at Gausel, while Barni will miss out as he will travel to Biri and look at his horse. Hov is part owner of several horses. most known is perhaps four year old "Sweet Revenge". With all the decays will Marius Veseth now be added to the squad that travel with the coach to Kopervik on Saturday morning. VZ that also is known from cinema commercials, have trained with the team lately and is rated good enough despite he miss some fitness after knee problem the last three years. |
With several players missing is it likely that Tore Haugvaldstad now will choose a defensive tactic. Perhaps 4-5-1 with one of the central defenders Aasland, Salvesen or Gysland moved up as an anchor in the midfield.

Berntsen will help Vaulen

07.06.02: Viking plan to build a new stadium in Jåttåvågen near Hinna stadion and a top class training field nearby. However Viking Director Bjarne Berntsen tell that Vaulen not can be allowed to play their games at their modern training facilities. This despite the club is amongst the best clubs in the district and use Hinna IL's astro turf as their match arena. "With a move to Jåttåvågen it will be of massive importance to build a training ground of top quality. This can only be used by Viking, it's not possible to keep a good enough quality if several teams should use it," Berntsen told the Vaulen Beachboys site. Viking's youth set up will stay at Eiganes as today when Viking move away from Stavanger stadion. But eleven league games with two times 45. minutes a season on gras seems unlikely for the promising third division side. "A training ground of gras will not manage more than 10 hours use every week to keep a top quality," claim the Director. However was Jåttåvågen chosen by it's football environment.
Here are area enough for football, Hinna stadion is nearby, meanwhile a new secondary school with a football set up is planned. Also plans for an indoor hall is in the early stages. "When it comes to training facilities for other clubs in this area we are in a good dialog with Hinna Fotball and we will help them with pushing forward with their meanings regarding the discussion with Stavanger's council about new training areas for Hinna and Vaulen," explain Berntsen.

Kopervik hard to cope with

09.06.02: Kopervik (2) 2 -1 (0) Vaulen
Åsebøen stadion, 99 from Karmøy and Sverre Haugvaldstad from Vaulen Beachboys.
Goals:

| | | |
| --- | --- | --- |
| 1-0 | Torbjørn Kristiansen | (30) |
| 2-0 | Per I. Jøssang | (40) |
| 2-1 | Alexander Landsnes | (84) |

Yellow card: Hein Mangor Hemnes, Per I. Jøssang (Kopervik) and Erik Hildén (Vaulen).
Referee: Tore Loftheim, Haugar

PARENTAL ADVISORY: "Better than pussy." Landsnes was more than pleased with his fantastic volley goal.
Vaulen started in a 4-5-1 formation with the normal back five, in midfield were Landsnes and Ekholdt playing wide while Henriksen was behind Andersen and Salgado in the center. Alone up front was Hinna.

FIRST HALF
As expected Vaulen got a hard challenge in the tropical heat on Åsebøen Stadion. Without the four central players Eike, Idsø, Kleiberg and Bredesen, the team missed a lot of their running stamina and creativity that have characterized Vaulen this year.

Kopervik had respect for the league leaders and Vaulen had a couple of chances early on. After a while the home team got more control. Long balls was kicked upwards their lanky striker Knut Olav Ystaas, that was good in heading down to the hard working midfield. This resulted in two quick goals before half time.

1. Tom Arne Bø Pedersen
2. Jan Erik A. Pedersen
3. Erik Hildén
4. Jan Egil Salvesen
5. Erik Gysland
6. Kim Henriksen
7. Alexander Landsnes
8. Stein Ivar Andersen
9. Pedro Salgado
10. Inge Martin Hinna
11. Eirik Ekholdt
12. Kjetil Aasland36
13. Marius Veseth46
14. Øystein Winsnes80
SECOND HALF
Also second half started well for Vaulen, but the team should idle. Little happened the next half hour. But then Alexander "Faxe" Landsnes managed a fantastic volley, from 25. meter that found the opposite top corner. The temperature on the pitch and in the stands went to the boiling point. An enormous pressure from Vaulen could had led into an equalizer, but it wasn't to be. Kopervik took three deserved points. Vaulen traveled from Karmøy without points, but with the honor. More important than getting points from the northern part of the county is to take the scalp on Buøy, Tasta, Randaberg and not at least Vardeneset, that is our next opponent on Hinna stadion on Thursday at 19.00.

PS: Hildén picked up his third yellow card in the game and will now be suspended for the next game, but with Øystein Winstnes back Tore now got options. Also Tommen will miss the game as he will travel away, meaning that Bjarne Hov will play.

NEW FACES: Marius Veseth (left) and Øystein Winstnes (right) with comeback, while Henriksen in the middle got his Vaulen debut!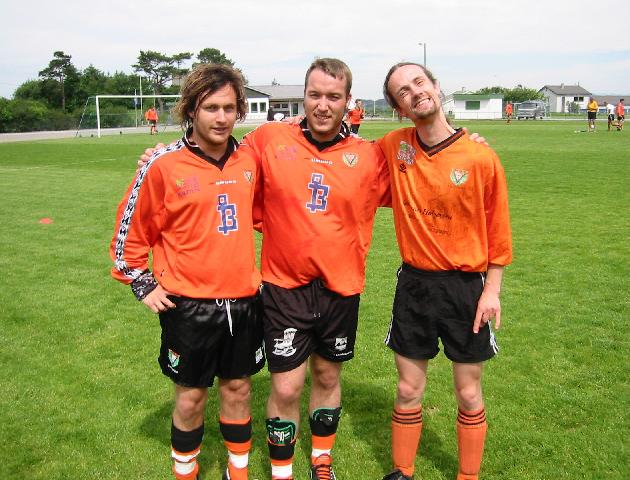 Nevland hopes on Vardeneset at Thursday

09.06.02: Vaulen's next opponent is Vardeneset. Norwegian international Erik Nevland's favorite club. "In the third division is Vardeneset my team," admits the Viking ace. Vaulen have done well this season, but have now lost twice in a row before the meeting with Vardeneset. "To be honest I haven't paid so much attention to Vaulen, but Vaulen have lost lately and that is good for VBK," said the 24 year old striker. Nevland have gone the grades in Viking and have played with some of the Vaulen players there. "I have played together with Idsø, Landsnes and Ingis, if they still are in Vaulen then," said Nevland that also forgot some names in the hurry. Having played for Manchester United he is the right man to compare David Beckham and Alexander Landsnes, after Landsnes wonder goal this weekend. "I'm sure Landsnes shoots harder, but Beckham have a larger precision," Nevland told Vaulen Beachboys.

11.06.02: Vaulen boss Tore Haugvaldstad had no problems to admit Kopervik was the best team on Saturday. "It was okay that Kopervik won the game. They played best," Haugvalstad told Stavanger Aftenblad.
For the game against Vardeneset will Vaulen miss Tom Arne Bø Pedersen in goal as he will be involved in "Russe" celebrations. This mean that Bjarne Hov will be back in the goal. Else will left full back Erik Hildén miss the game as he is suspended after three yellow cards this season. Alternatives can be Øystein Winsnes (pictured) that now goes for a come-back.
Against Kopervik were Idsø (exams), Eike (exams), Kleiberg (house building), Husebø (work) and Bredesen (injury) missing. However is it likely that most of them will be available for this game.

Aftenbladet børsen

| | |
| --- | --- |
| Alexander Landsnes | 13 |
| Erik Gysland | 11 |
| Anders Idsø | 10 |
| Inge Martin Hinna | 8 |
| Jan Egil Salvesen | 8 |
| Stein Ivar Andersen | 7 |
| Jarle Eike | 7 |
| Tom Arne Bø Pedersen | 5 |
| Erik Hildén | 3 |
| Pedro Salgado | 2 |
| Jan Tore Kleiberg | 1 |

The game is also on Langoddsen. A Vaulen win gives 2.15 times back the money, while Vardeneset is slightly favorites with 2.10, a draw gives back 3.20.
PS: The referee in the Torvastad game have register a yellow card on Jan Tore Kleiberg, instead of Ole Bjørn Bredesen that got the card. The referee have written wrong, and the local football association, RFK, can't change it before they get the approval from the referee. It's not yet decided if the club will contact the referee.
Vardeneset are one of the biggest clubs in Rogaland with 900 members. Last season Vardeneset ended as number five in the third division, but it was said that they could had been amongst top three with a larger squad. This season Vardeneset have got a more even squad, with new important additions. Jostein Breivik have done comeback. He have earlier played for Randaberg and Brommapojkarane. He is a clear strength to the team. Also Even Klinkenberg was added to the team, but the former Viking and Vidar player have been a lot injured this season.
Vardeneset boss Ole Søyland think there will be less goals between the two teams this season than last year. Then Vaulen first won 6-4, and later lost 1-6. "I don't think that there will be that many goals this year, both team are better in defense this year. This year we also got an even squad, perhaps too even! We have got in new faces, most known are perhaps Jostein Breivik and Asle Nordahl from Randaberg."
For Thursday is Even Klinkenberg likely to miss out. "Even is ill so he is doubtful, but he have missed games before so that will be no problem." With Even missing Ole is forced to make a new striker duo. "Trond Jensen and Richard (Enge) are food players that means a lot. But Richard is far away from the form he had last year."
Despite only two trainings a week Søyland aim high. "We have as goal to be at least as good as last year."
Søyland have seen a lot of Vaulen this season and know what that expects. "I have seen Vaulen three times this year. One very solid against Buøy. Then the two games against Sandnes and Åkra that was weak performances. Vaulen is a good team with many very fine type of players on the team that will do well. I think it will be an equal game and wish Vaulen well," told Ole.
Previously have Vardeneset been seemed on as a good technical team that was better to attack than defend, but this season have VBK managed to defend their goal better. "That Vardeneset is a technical team is true I guess," Vardeneset fan Kristian Vestbø tell Vaulen Beachboys. "After all it's more fun to win 4-3 than 1-0. But the defense have been our best part of the team this season. Assistant coach Gunnar Tjelta have re-educated Svein Roar Henriksen to central defender this year. A smart move by the man that is told to be the miracle man from Tasta.
Before this season was it expected that Vardeneset boss Ove Søyland should use Richard Enge and Even Klinkenberg up front as his striker duo. Enge that was topscorer in the 3. division last season, and Klinkenberg that was seemed on as one of the biggest talents in Stavanger some years ago. "The striker duo Richard Enge and Even Klinkenberg doesn't exists any longer. Richard have lately played as left winger, while Even have been injured, Instead have youngsters like Trond Henriksen and Elias Bob Ackermann done well."
Star striker Erik Nevland is a Vardeneset fan, and he will maybe come to the game. "It's not a secret that Erik Nevland have a heart that beat for Vardeneset. He see some games. Also former giants like Egil Fjetland, Jan Fjetland, Morten Myhre and Mark Trotter often comes to watch the team."
Vardeneset won the POL final this winter, and have done quite well this season. But the game against Vaulen is not seemed on as easy. "We will be pleased with one point on a neutral stadium at Hinna. Actually we thought the second season should be more difficult that it have been, but the quality on the teams is poor. Vardeneset is actually the best team in the group and they could had promoted if they really wanted. But then isn't it enough to train twice a week," said Vestbø.

Was the referee coming from a Vorspiel?

12.06.02: Vaulen C - Kvitsøy 0-3
Referee: Eirik Sunde, Vaulen Beachboys (a catastrophe in easy game)

League leaders Vaulen C welcomed Kvitsøy on Vaulenbanen last night. On the paper this seemed as an easy game for Beachboys. Kvitsøy came to Vaulen with only seven men, but got unexpected help from an eight, referee (our own) Eirik Sunde!
Vaulen started the game clearly best and had several big chances. But they didn't managed to get the ball over the line before in the second half. Vaulen's very good midfielder, Lie putted the ball in the net. But according to referee Sunde the goalie saved laying behind the goal!
Frustrated Vaulen players didn't managed to get their play going, and Kvitsøy took the lead just before half time. In second half Vaulen pressed for an equalizer but then it happened as it always does with counter attacks to the opposite team. Kvitsøy got two goals in the end. With that Vaulen got their first loss for the season. Kvitsøy played very good tactically, with five men in defense, a striker, and then the referee Sunde in the middle. But in total a deserved win for Kvitsøy.

Christian Lie, Vaulen

More photoes from the game here!

14.06.02: Vaulen (1) 3 -2 (1) Vardeneset
Hinna stadion, 100 spectators.
Goals:

| | | |
| --- | --- | --- |
| 1-0 | Jarle Eike | (37) |
| 1-1 | Ole Kristian Dahl | (39) |
| 1-2 | Richard Enge | (80) |
| 2-2 | Anders Idsø | (83) |
| 3-2 | Pedro Salgado | (91) |

Yellow cards: Inge Martin Hinna (Vaulen) and Kjetil Vestbø (Vardeneset)
Referee: Sigve Jan Melby (Buøy)

A chilly breeze surrounded the local derby between Vaulen and Vardeneset. Beachboys had made quite a few changes since Saturday. Hov took the number one jersey with Bø Pedersen away. While a suspended Hildén was replaced by Aasland on the left full back. In midfield were Jarle Eike and Anders Idsø back in central positions, meaning that it was time for 4-4-2 again. Landsnes continued at the right side of the midfield while Andersen was on the left. Hinna and Salgado got the chance up front.
TRIBUTE T-SHIRT: Anders Idsø celebrated his goal with pulling his shirt over his head and show a t-shirt with a picture of Eirik Sunde's characteristic finger.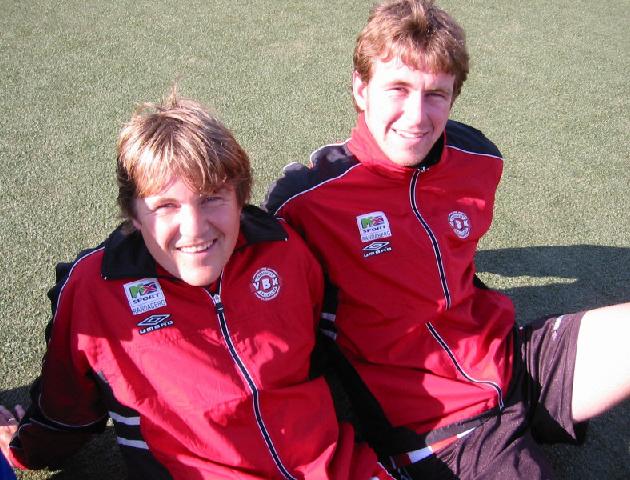 VARDENESET PLAYERS: Kjetil "Mølby" Vestbø and Richard Enge in good mood before the game.

FIRST HALF
This game was between number one and three on the table, but it took a while before the players dared to do the unexpected. However it was Vaulen that managed to keep the ball best in their team.
There was really not that many chances to each of the teams in the first half hour. For Vaulen first Andersen and then Idsø had their chances inside the box, but Vardeneset came closest with Richard Enge, he ran trough in the middle and really only had to shot the ball past Hov. But quick Salvesen showed class as he managed to run it up. Vaulen failed to create much, therefor Haugvaldstad made his first change after 25. minutes putting in Ekholdt for Hinna.
After 37. minutes Vaulen got a free kick. Anders Idsø curled in a wonderful free kick that found skipper Jarle Eike's head. The ball made a bow over the tall keeper, Ulseth, and the ball found the back of the net to make it 1-0 to Vaulen. But Vaulen should not manage to keep their lead until half time. A VBK corner from the right found their defender Ole Kristian Dahl that made it 1-1 with a header from short range.

1. Bjarne Hov
2. Jan Erik A. Pedersen
3. Kjetil Aasland
4. Jan Egil Salvesen
5. Erik Gysland
6. Jarle Eike (C)
7. Alexander Landsnes
8. Anders Idsø
9. Pedro Salgado
10. Inge Martin Hinna
11. Stein Ivar Andersen
12. Eirik Ekholdt
13. Øystein Winsnes
14. Kim Henriksen
After the equalizer there were fueled a lot more of aggression into the game. After a duel and some wrangling between Ekholdt and their right full back, a punch from the Vardeneset hit Ekholdt in the face. But the incident happened away from the ball action and none of the three referees saw the incident. The Vardeneset player later made an apology to the Vaulen striker.

SECOND HALF
One change was made at half time as Hinna and Ekholdt changed between playing and being on the bench again. At the start of the half it was back to where it all started with the ball stucked in the middle of the pitch. Vaulen had a big chance with Salgado, but alone with the keeper his shot went wide. After 55. minutes Vardeneset had a lovely shot with their hairy and tricky right winger that looked just like a football cartoon hero. With the outside of his wrist he curled the ball just over the bar and Bjarne Hov. After the hour Vaulen changed their tactics as Landsnes was pulled into a more central role. Together with Idsø he was in front of the defensive alibi Eike. Andersen remained on the left winger as Vaulen played something between a distorted 4-4-2 and 4-3-3. Or perhaps it was the "diamond" or the "christmas tree" for all I know.
It was Hinna that had Vaulen's biggest chance in this period, but he missed alone with the goalie instead he was booked for attack on the goalie. Hinna's second yellow card this season, meaning that he will be suspended if he get one more. With a quarter to go Hinna went off for Ekholdt to re-enter the stage. Also fans favorite Øystein Winsnes should get his season debut at home only minutes later, as he replaced Aasland on the left full back. "Winst" should soon send away some great offensive passes to make Vaulen look more dangerous. Dark clouds was now hanging above Hinna stadion, after nice sunny weather earlier on the day. Then out of nothing Vaulen gave away an easy goal. A pass found an unmarked Richard Enge at their right side, he advanced towards Bjarne Hov. With no mistakes he putted on the cold shower, 1-2 with ten minutes to go. Now Vaulen really started to move forward with more and more players and several chances was created down both sides. Then it was time for Anders Idsø show. He got the ball around the penalty spot and sent away a driver that went past the shaved goalie. Idsø's celebration sent all World Cup stars in the shadow, as the t-shirt under his Vaulen shirt showed Eirik Sunde's famous finger. All of Vaulen's fans jumped up and down and clapped their hands, laughed and smiled.
Vaulen now made a substitution as Kim Henriksen got the last six minutes or so for Alexander Landsnes in the midfield. Vaulen and Winsnes were now circus owners. From 20 meter Vaulen's most hairy player loaded the human canon and fired away a fantastic shot. But Vardeneset's goalie managed to fist it to corner.
The referee showed the signal for one added minute, and Eirik Sunde had started to pack his stuff when Winsnes forced down the left side once more, a cross finally found Pedro Salgado on the "second post", he made no mistakes and thundered in 3-2! Football is surely entertainment for the people. The supporters hadn't stopped to dance when the referee blew for full time only second later, as it was to be three points to Vaulen!

PEDRO IN 1000: Two lads from Sola was really nervous throughout the game. And when Pedro Salgado scored they went totally crazy. The 3-2 goal meant a profit at over 200 000 kroner on Langoddsen. The final whistle came only seconds after the goal and the lucky winners ran against Pedro and gave him 2 000 kroner. Pedro was hysterical after the game and even brought the money with him in the shower. Pedro gave away 1000 kroner for the team to use later in a pleasant occasion.


16.06.02: Vaulen have now signed another player from Tasta IL. Kim Henriksen joined Beachboys a month ago, now have also Omar Mohammed Ali decided to leave the 'sinking ship'. Tasta is second to bottom in Vaulen's division and there have been frustrations inside the team after only six points in nine games.
Kim Henriksen got his debut against Kopervik a week ago and also got some minutes in the successive 3-2 win over Vardeneset on Thursday. Kim is characterized as a technical gifted player with a good eye for the game. The 1978-born player is a typical defensive anchor in the midfield and is good to distribute the ball with his good passes. However he miss some tempo. Omar is a offensive midfielder, but can also be used as striker. He runs a lot, have great technical skills but is a bit light weighted and miss some at the tactical level.

| | |
| --- | --- |
| Bø Pedersen | Vidar |
| Pedersen | Vidar |
| Bredesen | Vidar |
| Hildén | Vidar |
| Henriksen | Tasta |
| Omar M. Ali | Tasta |
| Kleiberg | Viking |
| Husebø | Hinna |
| Salvesen | Riska |
| Salgado | Sola |
| Marius Veseth | Studies |
Vaulen have got a contingent of players this season, enough to line up a whole new team! Ten have arrived from other clubs, meanwhile have players like Holgersen and Winsnes done comeback after some months out ot recharge the batteries. Also Veseth have returned after some years with studies in Bergen.
Assistant boss Svein Øksnevad (pictured) was pleased with Winsnes performance last time, despite he only played some minutes he was rated amongst the five best players by the local newspaper. "It was great to see 'Winston' back in the team. I hope he now would like to continue. He lift the team, despite he not will admit it himself."
Svein was also pleased with the whole team, that showed moral with fighting back from 1-2 to 3-2 in the last part of the game. "I must thank all the players that played against VBK on Thursday. They worked hard and showed brilliant moral!"

17.06.02: Vaulen Beachboys' kjendis skribent Øystein Winsnes har skrevet en epistel om Vardenesets spillere fra quiz-laget Biff Sundstrøm, siden de var avbildet på Beachboys-sidene nettopp.
Vardenesets gode humør forsvant etter et knepent tap grunnet Vaulens intelligente angrepsspill. Seieren smakte nok ekstra godt for noen av Vaulens skarpe hjerner, som har lidd en del sure nederlag mot Vardenesets Quiz-lag på (Inge) Martinique: Biff Sundstrøm.
"Det virker som om Sundstrøm-gjengen har det mere i hodet enn i beina" antydes det fra Vaulen-leiren. Eller kanskje laget er avhengig av sjefsbiffen Martin Kolnes, som ikke spilte kampen?
Ellers mente Vardeneset-spillerne at Beachboys' internettsider virker meget bra, men det er litt vanskelig med bare engelsk. Kanskje ikke så rart, tatt i betraktning av at det snakkes mest Tasta-engelsk på Vardeneset...

El Diablo
Biff Sundstrøm: Martin Kolnes, Kjetil "Mølby" Vestbø og Richard Enge.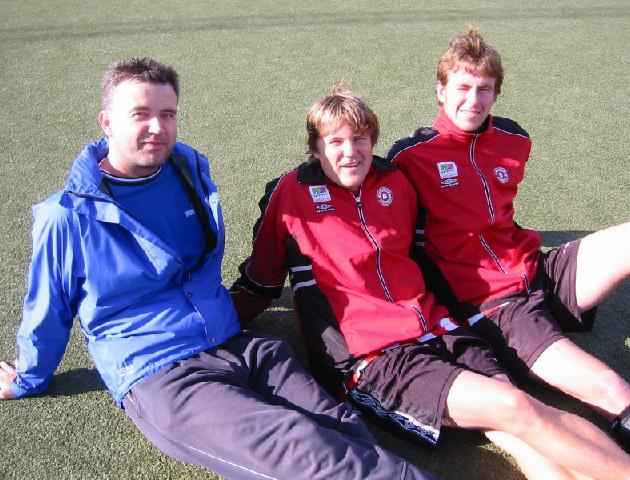 18.06.02: Vaulen 2 - Åsenkam 3 - 1

1-0 Eirik Ekholdt
2-0 Jan Erik Timm
2-1 Ukjent
3-1 Eirik Ekholdt

5 poeng: Jan Erik Timm (Vaulen)
4 poeng: Eirik Ekholdt (Vaulen)
3 poeng: Sindre Jensen (Vaulen)
2 poeng: Terje Bøvik (Vaulen)
1 poeng: Stian Liman (Vaulen)

| | | | |
| --- | --- | --- | --- |
| 1 | Riska 2 | +9 | 13 |
| 2 | Åsenkam | +5 | 9 |
| 3 | Vaulen 2 | +3 | 8 |
| 4 | Dirdal | -1 | 8 |
| 5 | Malmheim | -1 | 7 |
| 6 | Hana | -2 | 7 |
| 7 | Høle | +3 | 6 |
| 8 | Suldal | -6 | 6 |
| 9 | Figgjo | -10 | 3 |

Vaulen B tok imot Åsenkam. på Hinna grus i går kveld. Vaulen stilte med flere av sine stjerner, deriblant Ole Bjørn Bredesen som var tilbake etter en skade (uheldig bytur!). Vaulen tok initiativet tidlig og Vaulens svar på Leo, Stian Lima, dominerte midten fullstendig. Men det var Vaulens gode høyreback, Gitle, som fant toppscorer Ekholdt med en nydelig lissepasning. Ekholdt gjorde som han ofte gjør, rundet keeper og satte ballen i det tomme buret. Vaulen fortsatte kjøret og fem minutter senere kom Jan Erik Timm stupende inn fra høyre, han møtte innlegget perfekt og stanget ballen i mål, helt utagbart for keeper.
Dette var for øvrig goalgetter Timm's første for sesongen (og fjorårets og året før), men jeg er sikker på at det kommer flere fra den fronten! Etter dette slapp Vaulen Åsenkam inn i kampen, men en feberredning av Sindre Jensen hindret scoring. Hvis århundrets redning kom forrige hjemmekamp, så må dette være tidenes redning! Jensen var i det umulige hjørnet og det måtte et lykketreff til for å sette ballen i mål. Fra 30 meter satte Åsenkam-spilleren ballen i mål i en bue over keeper.
Men Åsenkam. kom aldri nærmere og Eirik Ekholdt kunne sette inn 3-1 rett før pausen.
I 2.omg. kontrollerte Vaulen kampen og bare rodde seieren i land. Vaulen er dermed oppe på 3. plass i en veldig jevn serie.

Christian Lie, Vaulen

21.06.02: GUTTER 15 TO THE TOP! Vaulen's great U-15 team won the spring league division 1 for teams from the Stavanger region. There was really never any doubt about the outcome. With the maximum of eight wins, and 31-7 in goal difference - coach Bent Lie (pictured) must be pleased with his boys. Stats here!
ØKSNEVAD Assistant boss Svein Øksnevad will not be in the dugout during Vaulen's two next games due to holiday. While Beachboys play FKH2 and Randaberg will Svein be in Denmark together with the family. "I will travel on Sunday, and return 3. July. I hope to reach the Torvastad game," said Svein.
RESERVES LOST Vaulen B lost 1-2 at home to Malmheim this midweek. According to the reports Vaulen had deserved at least one point from the game.
HUSEBØ QUITS Defender Bjørn Helge Husebø have decided to quit in Vaulen. Husebø joined the team at the start of the season from neighbors Hinna. 'Bønna' got one league apperance for Vaulen.
EIA IN ITALY Eirik Sunde have travelled on vacation to Toscana and will be away to 6. July. Therefor will Geir 'Gilla' Larsen be travelling leader on the coach trip to Haugesund on Monday. The team will travel 15.20 from Hinna.

| | |
| --- | --- |
| | 21.06.02: Vaulen still lead the division in front of the game against FK Haugesund away on Monday. Last time Beachboys were loosing 1-2 with under ten minutes to go. But a late goal from 30 year old Pedro Salgado gave Vaulen a 3-2 win in the end. "We struggled in a game that was dominated by much duel play," explain Pedro Salgado to Stavanger Aftenblad. His goal came in extra-time, and it gave him a 2 000 kroner 'bonus' from some lucky gamblers that earned 198 800 kroner on their bet. "I'm not sure about whom they were, neither I know their names. Actually I have never seen them before," said the former Figgjo and Sola player. |
Pedro gave away half of the money to the team. "It wasn't only due to me that we won," laughed Salgado.
Looking at the team for Monday will only Alexander Landsnes miss out, he is on vacation in Thailand with Sondre Urban. Else will Erik Hildén be back from suspension, while Ole Bjørn Bredesen now is back having played for the Reserves this week.
FK Haugesund's Reserve team is lead by Asbjørn Helgeland and Bjørn Helge Olsen. Both with a past in the club. Helgeland was amongst others the man behind the 2-0 goal versus Viking in FKH's famous win in 1997. 'Rocket' Olsen was a key player when FKH promoted in 1996. The game will not be played at Haugesund Stadion, instead Sakkestad gras will be used. This as the local council don't want to have 3. division games played at their best stadium, FKH's first team and Vard have the first priority. However is Sakkestad rated as the second best stadium in the town. With a good pitch and fine facilities.
FK Haugesund 2 can be reduced in their game against Vaulen. The first team have a hard schedule with a league game on Sunday (Tromsdalen) and a cup game on Wednesday (Start). Meanwhile will Jone Samuelsen (from Kvernevik), Christian Grindheim and Jan Kjell Larsen be away on national duties for Norway's U-19 team from 24. - 28. June. Samuelsen and Grindheim is first team player, while Larsen often play for the FKH Reserves.
FKH2 have been in a good form lately, last time the played 1-1 away to Buøy despite they used many junior players. In the game before they won 1-0 against Ulf. Former Vidar defender Ronny Espedal can take a lot of credit for that. "A solid game by us. Ulf didn't came to a chance, so good was FKH 2 defensively," said Leader of Sport, Bjørn Helge Olsen. He is not sure what team they will use against Vaulen. "What team we use against Vaulen depends on many variables, amongst them the injury situation in the first team. The team is a mixture of players from our recruit squad and first team players that not will play the game on Sunday."

Haugesund game called off!

23.06.02: Vaulen's game against Haugesund 2 on Monday have been postponed due to the first football strike in Norway ever. The player organization NISO haven't managed to get trough their demands with the clubs and NHO. NFF have therefor decided that all teams in Tippeligaen and the 1. division not should play their games, but also Reserve teams to the professional clubs are not allowed to play. Instead will Vaulen therefor train as normal on Monday.

FORM TABLE LAST 5

| | | | | | | | | |
| --- | --- | --- | --- | --- | --- | --- | --- | --- |
| # | | W | D | L | HG | - | AG | P |
| 1 | Åkra | 4 | 0 | 1 | 15 | - | 11 | 12 |
| 2 | Vardeneset | 3 | 1 | 1 | 15 | - | 8 | 10 |
| 3 | Kopervik | 3 | 1 | 1 | 10 | - | 7 | 10 |
| 4 | Vedavåg | 3 | 0 | 2 | 16 | - | 9 | 9 |
| 5 | Torvastad | 3 | 0 | 2 | 13 | - | 11 | 9 |
| 6 | Vaulen | 3 | 0 | 2 | 11 | - | 10 | 9 |
| 7 | FKH 2 | 2 | 2 | 1 | 7 | - | 10 | 8 |
| 8 | Buøy | 1 | 2 | 2 | 10 | - | 9 | 5 |
| 9 | Randaberg | 1 | 1 | 3 | 7 | - | 11 | 4 |
| 10 | Ulf | 1 | 1 | 3 | 6 | - | 9 | 4 |
| 11 | Grannekam | 1 | 0 | 4 | 9 | - | 18 | 3 |
| 12 | Tasta | 0 | 2 | 3 | 7 | - | 17 | 2 |

25.06.02: With the planned Haugesund game on Monday called of due to strike, is it now two weeks ago since last Vaulen match. On Thursday is it time for rivals Randaberg at Hinna Stadion. Vaulen boss Tore Haugvaldstad only miss Jan Tore Kleiberg that build on his house and Alexander Landsnes that is on vacation in the Far East.
Guest Randaberg have struggled this season and are currently third from bottom, it seems like a generation change give them problems. Randaberg used more money than they could earn in the 2. division, and after the relegation they were forced to sink their ambition level. But vice chairman in Randaberg, Morten Bjørkelund, claim that promotion to the division above still is the goal. "Everybody should be aware of our goal that still are play in the 2. division. The most easy way would had been to open that wallet and buy us back, but we have seen others in the division system do that. This have several places destroyed the effort inside in the club," claimed Bjørkelund.

Empty handed in collective coma

27.06.02: Vaulen (0) 0 -1 (0) Randaberg
Hinna stadion, 70 spectators.
Goals:

| | | |
| --- | --- | --- |
| 0-1 | Henning Frode Holm | (60) |

Yellow cards: Three Randaberg players
Referee: Cosmin Dima (Kopervik)
Manager Tore Haugvaldstad had made some cosmetic changes on the team since last game. Bjarne Hov continued in goal, while Øystein Winsnes got his first start of the season on the left full back. In midfield had Tore decided to start with Kjetil Aasland in a defensive role with Eike and Idsø in front of him. Andersen had a more traditional winger role at the left. Up front was Ekholdt and Salgado.
FIRST HALF
Vaulen's three biggest chances in the first half was all very equal, headers on passes from the sides. First a cross from the left by Andersen to Salgado, but he headed high over. Then a precise Ahlstrand Pedersen cross from the right to Aasland, but the header shouldn't find the net. It was also 0-0 after the third attempt, this time it was Ekholdt that found Salgado from the right. His header went just over the bar.
After a quarter Vaulen made a tactical change as Ekholdt went down at the right winger, Eike fell down in a more central role while Aasland went up front.
After 28. minutes Eirik Ekholdt broke his thumb in a duel with the goalie, Ekholdt tried to play on with the pain but had to go off ten minutes later. Kim Forgaard Henriksen replaced "Fast Eddi".

1. Bjarne Hov
2. Jan Erik A. Pedersen
3. Øystein Winsnes
4. Jan Egil Salvesen
5. Erik Gysland
6. Kjetil Aasland
7. Jarle Eike (C)
8. Anders Idsø
9. Pedro Salgado
10. Eirik Ekholdt
11. Stein Ivar Andersen
12. Kim Henriksen
13. Inge Martin Hinna
14. Ole Bjørn Bredesen
SECOND HALF
Ekholdt was back in the team after the break, with his right hand covered in sport tape. Henriksen was back on the bench. After 60. minutes Randaberg took the lead. Their striker Henning Frode Holm was passed through and made no mistakes. After the goal Randaberg had an enormous chance after a corner, luckily the ball finally went out of danger.
Vaulen had lost their initiative and Inge Martin Hinna got the chance, he replace Aasland up front. Vaulen psuhed forward more and more players, but Randaberg was good to defend themselves. Defender Gysland came close, but his header was saved by RIL's goalie.
Randaberg was close to double their lead with 20. minutes to go. A good strike from a Randaberg midfielder had a good direction, but was saved in athletic manner from Vaulen's kitten in goal, Bjarne Hov.
With 10. minutes to go Ole Bjørn Bredesen came in for Ekholdt. Meanwhile Haugvaldstad brought Gysland up front to add some muscles. Minutes later he also took out Winsnes and threw in Aasland up front. Vaulen now played in an old fashioned 2-3-5 formation. This created a massive pressure, however the tactic needed precise passes from the sides something that was of the rare sort this afternoon. Actually was it Randaberg's goalie that created Vaulen's biggest chance when he made an indirect free kick from 14 meters on the six seconds rule. However was the shot from Hinna blocked by a Randaberg player.
It ended 0-1 and for the first time this season Vaulen left the pitch without having scored a goal. It was an even game, but Vaulen failed to create big chances. Vaulen wasn't willing to fight for the points, then it was okay that Randaberg got the points.

| | |
| --- | --- |
| | 29.06.02: Tore Haugvaldstad is on a one year contract, but Chairman Petter Bjørheim admits that the club probably will try to continue with the same people and methods also next year. "We haven't started yet with the process for 2003. That will start in August or September in connection with the budget. But with the results we got at the moment, there isn't much that indicate a change from our side. Though is it the football committee that will come with their recommendations in the end to the board," said the former parliament member to Vaulen Beachboys. |
Vaulen is now number three on the table, but with one game in hand is promotion still realistic. Vaulen supporters ask themselves if Vaulen can take the step up financial. "With promotion we must take what comes along with it. It will be just as big challenge for the board to manage this as it will be for the team to eventually qualify for the 2. division," ended Petter Bjørheim.