01.07.02: Torvastad skipper Arthur André Amundsen look forward to the meeting with Vaulen on Wednesday, but he rate Vaulen as the favorites. "Torvastad always try to act like a playing team. But with their astro turf at home, and their stabile results through the whole season will Vaulen be seemed on as favorites. But Torvastad will do all they can to avoid being rolled over," said the 26 year old goalie.
Torvastad's playing boss is the former FK Haugesund and Bryne player Sjur Jarle Hauge, together with him he got Rune Lothe with experience from FKH. "Hauge became man in charge when Torvastad promoted to the third division three years ago. The team is based around players from the Northern parts of Karmøy. With supplement from the whole Haugland district," continued Arthur that think the club have got good results out of their work. "From being in the elevator between the third and fourth division have the team now established themselves in the division. In the two last seasons have we ended as number six. This year we modestly aim for a bit better," explained the former University of Reading and Vard player.
Torvastad have done well lately and lead the table at the moment, but Vaulen will pass them with a win. "In the autumn we had three even goalies, that is very seldom around here, but due to injuries and vacations the manager had to wear the 'keeper gloves in our last game versus Buøy. Hauge will now press the other goalies after brilliant play in the 2-1 win. We will see whom that will play on Wednesday," said Amundsen.
Torvastad have many up and coming players, something Amundsen can confirm to Vaulen Beachboys. "The team consist of several interesting names. Viking's Benny Lennartsson was during the Buøy game on Friday scouting at Andreas Steinsnes, a youngster with qualities. Center defender Kjetil Tveito is new in front of this season, with him in our back four there have been less goals against us this season. Up front we got Henning André Johannesen, that is our topscorer with several hat-tricks this season," ended Amundsen that surely will look for revenge after Vaulen won 1-0 away to Torvastad in the first league round this season after a goal from Ole Bjørn Bredesen.
Looking at Vaulen's team there isn't believed to be many changes. Jan Tore Kleiberg and Alexander Landsnes are believed to be the only one missing out.

-Your boys took a hell of a beating

04.07.02: Vaulen (2) 4 -1 (0) Torvastad
Hinna stadion, 50 spectators (amongst them future Viking boss Kjell Inge Olsen).
Goals:

| | | |
| --- | --- | --- |
| 1-0 | Stein Ivar Andersen | (3) |
| 2-0 | Inge Martin Hinna | (31 pen) |
| 3-0 | Anders Idsø | (58) |
| 3-1 | Andreas Steinsnes | (80) |
| 4-1 | Jan Egil Salvesen | (84) |

Referee: Leif G. Alstadsæter
Bjarne Hov continued in goal, while there were no changes in the back four. Tore had moved Salgado and Idsø in the wing positions, Andersen went into a central role with Eike. While versatile Aasland started up front with Hinna.
FIRST HALF
Vaulen should get a great start on the game. Idsø got Vaulen a free kick just over the middle on the left. Winsnes sent away a high free kick, after some fighting inside the box Stein Ivar Andersen get the ball with his back against the goal. He twist around and blast home a volley via the bar and into the net. But in total the first half was very equal. Torvastad had much of the ball but failed to convert their chances. Much due to good defensive work by the Vaulen players. After 30. minutes skipper Jarle Eike won the ball in front of the goal, he advanced forward and was brought down in the box after a smart dribble. The referee could only blew for penalty, and Inge Martin Hinna could step up. Hinna made no mistakes and sent the ball close to the right post. It was very strong to lead 2-0 against league leaders Torvastad to half time, after all Torvastad had played very well.

1. Bjarne Hov
2. Jan Erik A. Pedersen
3. Øystein Winsnes
4. Jan Egil Salvesen
5. Erik Gysland
6. Jarle Eike (C)
7. Pedro Salgado
8. Stein Ivar Andersen
9. Kjetil Aasland
10. Inge Martin Hinna
11. Anders Idsø
12. Eirik Ekholdt
13. Erik Hildén
14. Kim Henriksen
SECOND HALF
The second half started as the first, but after five minutes Vaulen started to dominate the game and came to several chances. First Eike found Idsø, but the good Torvastad goalie saved. A similar chance came not long afterwards, this time was it Hinna that served in a beautiful curled ball over to Andersen that was moved over to the left wing. Unfortunately was Steini's shot saved. The third goal should come just before the hour with Anders Idsø. He got space from 25 meters, everyone know what that mean. The ball flew straight into the left top corner, and it was time to show the famous T-shirt again! Vaulen continued their class act through the half, with chain reactions of chances. Ekholdt headed just wide, even Gysland went forward and came close, while Hinna shot over with the goalie doing a swim. Salgado was playing really well at the right wing, and came close several times as he advanced towards the goal. It was also fun to see the speedy duo Ekholdt and Hinna over a long period in the second half. In the end Vaulen lost a bit concentration as all Beachboys went forward trying to get their glory goal, such that Torvastad's Andreas Steinsnes made 1-3 with ten minutes to go on a beautiful attack. Few minutes later defender Jan Egil Salvesen used his pace on an amazing run, he went past a Torvastad player before he lobbed the ball over Amundsen. Torvastad now faced reality and took it easy the last minutes, as Vaulen created chances on chances. But it should be 4-1 to Vaulen in this duel between perhaps the two best teams in the division at the moment. Beachboys impressed after a down period lately, it was good to see the players will to win. Vaulen found the rythm again, and was very effective.

| | |
| --- | --- |
| | 05.07.02: It's summer time for Vaulen now. After 4-1 versus league leaders Torvastad it's time to spend some time on the beach. But assistant boss Svein Øksnevad warns the players to take it too easy. "It was a brilliant game. The players was awake again after the Randaberg game, with high moral and a lot of effort. I wish them a good vacation, but I ask them not to sit completely still during the break. They need to move a little," warned Øksnevad. From Monday is it likely that there will be some light training sessions with players from all of the clubs senior teams on 'Frode Lima's Football School'. |
"The players will return again on Monday 29. July to usual time," confirmed Øksnevad. Next league game will be away to Vedavåg/Karmøy early in August. "Tore Haugvalstad have arranged a friendly against Sandnes FK on Tuesday 30. July, at 18.00 on Sandnes Stadion. It will be great to get a game in the legs before it starts for real."
Looking at Aftenbladet børsen after Wednesday is it Jan Egil Salvesen (pictured) that now have taken the lead with 18 points. This season have he also scored two mighty goals, on Wednesday he was played through by Eike on a 35 meter pass. Alone with the goalie he lobbed the ball over the goalie. "It was an okay goal," said the modest defender to Stavanger Aftenblad after the game.
Also midfielder Eike played well being the man behind two important goals, first he earned Vaulen a penalty on 1-0, and then he found Salvesen to make it 4-1 in the end. The skipper is delighted to have a break after the great win. "It's delicious to take holidays with 22 points. Only eight points missing to last years total!"

Aftenbladet børsen

| | |
| --- | --- |
| Jan Egil Salvesen | 18 |
| Erik Gysland | 14 |
| Anders Idsø | 14 |
| Jarle Eike | 13 |
| Alexander Landsnes | 13 |
| Inge Martin Hinna | 8 |
| Stein Ivar Andersen | 7 |
| Tom Arne Bø Pedersen | 5 |
| Erik Hildén | 3 |
| Pedro Salgado | 2 |
| Jan Tore Kleiberg | 1 |
| Øystein Winsnes | 1 |
Meanwhile the Reserves do well at the moment. Earlier in the week they lost 1-2 to league leaders Riska 2, but according to the reports Vaulen played respectably well. Sverre Møllegaard headed in Vaulen's goal. On Thursday Vaulen got revenge against Hana 2 winning 2-0 at Hinna kunstgras.
Else has the date for the postponed game against FK Haugesund 2 not yet been announced. Talks between the two clubs and Rogaland Fotballkrets have however found place.

Hot Chili Pepper - strongest there is!

09.07.02: Vaulen's goalie and trot racing enthusiast Bjarne Hov was really having success this weekend at Jarlsberg! As his horse Hot Chili Pepper, that he own together with his father Toralf, won 600,000 kroner in Ulf Thorsen's Memorial Race! Coming from "death" driver Frode Hamre managed to take it home with class.
"This was an enormous expirence. Hot Chili Pepper is the best horse I ever have drove," said Frode Hamre.
THE HOV FAMILY AT JARLSBERG: Reidun Hov, Bjarne Hov, Frode Hamre and Toralf Hov.
The three year old talent is now valued to be Norway's next super horse. Finally a Norwegian born horse that can make it at international level in the future, says the experts. However the Hov family is not interested to sell their starlet.
"The honor means more than the money," claim the Hov family. "The money is not the reason why I keep on with this sport. the expirence is more valuable. Therefor I will never sell the horse," explained Toralf to Stavanger Aftenblad.
"I have had a dream to won a horse like this since I started with trotting races for 40 years ago," continued the 55 year old.

HOT CHILI PEPPER

Haugesund game rearranged

10.07.02: Rogaland Fotballkrets have now rearranged Vaulen's away game to FK Haugesund 2. The game was meant to be played in June, but was postponed due to the football strike. The game will now be played on 22. August, kick off at Sakkestad is set to 19.00.
This mean that Vaulen will have three games in a row in the Haugesund district - first FKH2 on Thursday, then Grannekam at the following Saturday and Åkra the Saturday after.

Vaulens kjæledegger slår til igjen

12.07.02: TBK (3) 6-6 (3) Ledaalskameratene
2x30 min
Solslettå
Tilskuere: Vegard, Lima, Vc
Mål:
1-0 St.Hans-Runo (Frode Nordbø), 3 min
2-0 Sindre Jensen (Nordbø) , 6 min
2-1, 10 min
2-2, 13 min
2-3, 19 min
3-3 Gabba (Nordbø), 29 min
3-4, 40 min
3-5, 46 min
3-6, 50 min
4-6 Karly (St.Hans-Runo), 53 min
5-6 Gabba, 53 min
6-6 Jarlinho (Nordbø), 56 min
Dommer: Eirik Sunde, 8p. Meget god TBK-dømming.
Gult kort: Gabba
Spillerbørs: (4-10)
Keeper: Jarlinho, 7
Forsvar: Runo, 5
Midtbane: Sindre, 6
Forsvar: Sikvis, 6
Forsvar: Bønna, 5
Angrep: Tonstad, 4
Midtbane: Karly, 6
Angrep: Klatten, 5
Midtbane: Frode, 8 BB
Midtbane: Gabba, 7
Forsvar: Erik Gregor, 6
TBK var mildt sagt heldige i sin første kamp siden romjulsturneringen 2001. Med tre debutanter fra start; Nordbø, Gregor og Gabba var det høye forventninger fra de trofaste tilskuerne. Alle tre gjorde manns jobb, og
spesielt Nordbø var fremragende i sin midtbaneposisjon.
Resultatet va meget bra for TBK-gottene. Ledaalskameratene dominerte kampen igjennom, men ble straffet av TBK's drepende effektivitet. Pasningsfoten til Nordbø var dagens store beholdning.
Skrevet av: Marius Veseth

| | |
| --- | --- |
| | 15.07.02: Ja hvem er denne Svigg som i Dagbladet for nesten nøyaktig ett år siden uttalte seg i forumet "Sterke kåringer". Her ble Vaulens oransje polyester trukket frem av denne ukjente kujon og rangert som den styggeste fotballdrakten overhodet! Nå er det på tide å få vite hvem denne Sviggen er! Er det en lokal skrue med sterke bånd til Hinna, som av mindreverdighetskomplekser og en smule sjalusi prøver å trø Vaulen ned i den finkornete Vaulensanden? Eller verre - er det en av våre egne? En såkalt Beachboys-infiltratør. En bålluktende bandasjert fyr som lusker rundt i strandkanten på sen nattestid og som ikke sier nei takk til litt fyr og flamme om Vaulen. |
Eller kanskje det er Bodø/Glimt spissen Bengt Sæternes? I Mai uttalte nemlig den godeste Sæterkjeksen seg om Vaulen i ett Tett på nett intervju i VG. Her fremgår det at han ikke ønsker seg en overgang til Vaulen tiltross for at det tilbys litt gratis treningsutstyr for hver sesong. "Vet ikke om jeg liker fargen på draktene så godt. Men kanskje når jeg blir 40," uttalte den blaserte Egersundsgutten som nok fikk smake litt av hvert mot Vaulen i sine fårna da'r.
Ja ikke før dette mysteriet er oppløst kan man sove tryggt i de forvokste villaene på Vaulen, derfor håper vi at nettopp du kan tipse oss om hvem Svigg er! Det gjør du enklest i gjesteboken vår som du finner her!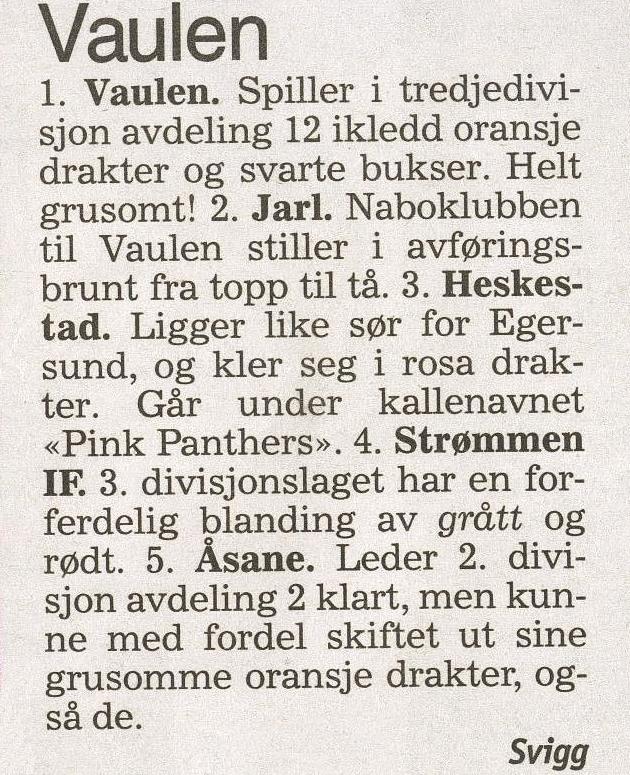 24.07.02: Vaulen's successful U-15 team have met hard challenge in Dana Cup this week. In their first game they lost 4-0 to Swedish team Backa IF, but versus Lithuanian outfit Klevas on Tuesday they showed better play and finally won 1-0. Vaulen could had advanced with a win over Finnish team HJK Malmi P87 on Wednesday, but Bent Lie's (pictured) team only managed 1-1 meaning that they now must concentrate on the B-finals in Hjørring.


| | | | |
| --- | --- | --- | --- |
| 1 | Backa IF (SWE) | +4 | 6p |
| 2 | HJK Malmi P87 (FIN) | +1 | 5p |
| 3 | Vaulen IL (NOR) | -3 | 4p |
| 4 | Klevas (LIT) | -0 | 1p |
UPDATE: Vaulen's U-15 team lost in their semifinal in the B-finals in Dana Cup on Friday evening. Vaulen failed to qualify from the group play, but at the knock out stage they showed class. First they won 2-0 against Oden on Thursday. Then early on Friday morning they beat Bergen based team Tertnes 3-2. Before giving HEI IL a hard time by winning 1-0 later at the day. However late on Friday they lost their semifinal against Uetersen TSV with final score 1-2.

| | |
| --- | --- |
| | 26.07.02:I glohett vær beveger dem seg frem i en midsommerssonate med listepop og billig sprit, Vaulengutta som i disse dager tilbringer sine feriedager på den spanske ferieidyllen Magaluf. Med kafkask regelmessighet har Vaulens "rådagjeng" tøyet grensene i en rulade av livets skyggesider. Christian Lie kjent fra Rogalands Avis og "TV1000 hjelper deg" gir oss en liten Magaluf hilsen. "Her e det konge! Andi og Eddi e jo drita kver dag, så her e det mye godt stoff for ein journalist. Du hadde likt deg her," beretter unge Lie til vår reporter Eirik Sunde. |
Tiltross for atletiske kropper har det blitt lite halmdans for ballvirtousene. "Ingen damer i kveld, men Eddi blei ikkje med oss hjem, så mon tro korr han har blitt av? Har vært ein ti tolv mus, inn og ut av rommet kver dag. Men kor mangen full pakke overlate eg te fantasien," avklarer en betuttet Lie.
Men gutta i Magaluf kan roe ned bekymmrede trenere tilbake i moderlandet. "Me har hatt egentrening to ganger te dagen. Ole Auflem sto for chochingå," fortelles det fra Lie som har martyrstatus også på sørlige breddegrader. "Mange norske her har lest innleggene i RA. Så eg e konge på byen!" avslutter Cissa "Rio" Lie.

Bildene er tatt fra www.auflem.com, og er fra fjorårets Magaluf tur.

Informasjon etter sommerpausen

29.07.02: Her er litt informasjon for å oppdatere etter sommerferien. A-laget startet sine treninger i dag mandag og spiller allerede i morgen den 30. juli treningskamp mot Sandnes borte. Høstsesongen begynner for alvor på lørdag den 3. august da laget reiser til nordfylket for å møte Vedavåg Karmøy. Senere på kvelden er det planlagt Vaulenfest i klubbhuset. B-laget sparker i gang sesongen tirsdag den 6. august hjemme mot Høle. B- og C-laget flytter sine treninger tilbake til Hetlandsbanen fra mandag den 5. august, treningen vil starte klokken 20.00 som vanlig. C-lagets første kamp vil være borte mot Muskel tirsdag den 13. august.

31.07.02: Sandnes FK (2) 6 -1 (1) Vaulen
Sandnes stadion
Dommer: Ronald Urban (Ingen kort)

Vaulen startet i en 4-5-1 formasjon. Bjarne i mål bak forsvarsfireren med Winst på høyre, Hildén på venstre og i hjertet av forsvaret spilte krumtappene Aasland og Gys. På midten fra høyre mot venstre; Oli, Kim, Anders, Salvi og Stein I. Helt fremme spilte en opplagt Eirik Ekholdt.

RONALD URBAN: Far til Sodda med plettfri dømming.
FØRSTE OMGANG
Sandnes starter bra og tar ledelsen etter 4. minutt på ett frispark hvor en SFK'er styrer inn med hodet. Bjarne utspilt.
Vaulen kommer sterkt tilbake ett minutt senere. Lavt innlegg fra Steini som Eirik snapper foran keeper og runder han elegant og scorer fra spiss vinkel. Viser seg igjen som notorisk målgjører.
Etter 7. minutt måtte Anders ut med skade. Inn kom Kleiby som gjorde comeback, Jan Tore blir delvis med fremover.
Etter kvarteret går Sandnes opp til 2-1 da en Sandnesgauk går rett igjennom hele midtforsvaret og scorer. Altså mål på de tre første sjangsene i kampen. Lite skjer resten av omgangen. Men Vaulen foretar en del utskiftninger ut og inn - Gitle kom inn etter ca. 4. minutt, mye ut og inn på han Oli og Kim.

1. Bjarne Hov
2. Øystein Winsnes
3. Erik Hildén
4. Kjetil Aasland
5. Erik Gysland
6. Kim Henriksen
7. Ole Bjørn Bredesen
8. Jan Egil Salvesen
9. Eirik Ekholdt
10. Anders Idsø
11. Stein Ivar Andersen
12. Jan Tore Kleiberg
13. Tom A. Bø Pedersen
14. Gitle Martell Aarre
15. Sandnesspiller
ANDRE OMGANG
Etter 54. minutt blir det 3-1 på ett straffe som Tom nesten redder.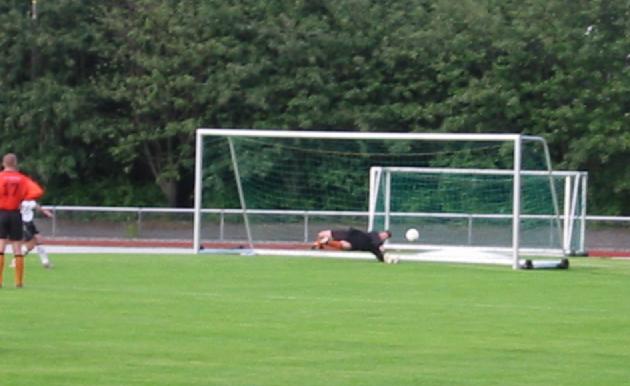 TOMMEN: Tom A får fingrene på straffesparket og redder... nesten.

Sandnes øker igjen etter 65. minutt, også da gjennom midtforsvaret. Fin SFK-kombinasjon.
5-1 blir det etter 78. minutt, Vaulen er utkjørt og spilles ut noe som også er tilfelle på 6-1 to minutt før full tid.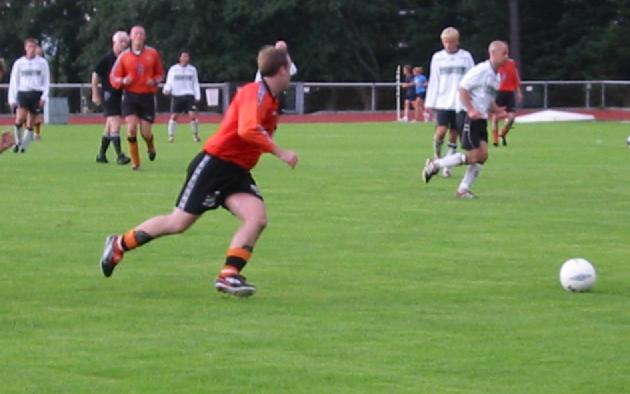 KIMSTER: Kim F. Henriksen i fint driv i begynnelsen av kampen før han og laget går tom for krefter.
SFK har trent meget godt i 10 dager, mens Vaulen har en trening og flere spillere ennå på ferie. Vaulen har 11 utespillere, Andi skadet tidlig. Gitle måtte spille pluss låne en SFK'er i slutten. Vaulen går helt tomme i den drepende varmen. SFK flinke til å bruke store Sandnes Stadion med hele tiden tenke overtallssituasjoner.
Alikevel var det positive ting å ta fra kampen - Kleiberg tilbake, blir med mer etter hvert. Erik storspilte. Fint vær.