| | |
| --- | --- |
| | 01.02.02: Vaulen's 23 year old defender Sondre Urban has got another injury setback. On Thursday he got trouble with his thigh. The same problem that put him out of action most of last season. Now is it belived that he will take a longer football break to build up his legs. Sondre think the pull in his thigh may is due to the pitch, Vaulen that of course play on an artificial turf. Vaulen Beachboys wish Sony the best and hope he do progress soon. Sondre has been in the club in five seasons since he came from Viking's Youth team in 1998. Sondre have about 70 apperances for Vaulen and have seen the team convert from a mid-table team in the 4.th division to last season being 6.th in the 3. division. |

02.02.02: The club reports that Vaulen Vårcup 2002 seems to be the most popular ever. The maximum of 266 teams is already ready. In total will 38 club anticipate in the great cup!
# Vaulen C's group in 7. division seems now to be final. Vaulen will meet this teams: Bogafjell, Finnøy 2, Hana 3, Kvitsøy, Kåsen 2, Ledaalkam, Muskel and Øyane!
# Vaulen's first team play in Nærbø's Vinterserie. Updated results from the cup can now be found at this site!

Hans Petter Hansen & The Jan Høiland's lost final

03.02.02: Vaulen's alter ego team "Hans Petter Hansen & The Jan Høiland's" came to the final in Radio 1 Løkkecup this weekend. HPH&TJH's won the last cup and was up against 99 other teams on Saturday and Sunday. The team is mainly based on Vaulen players, only player from outside the club is former Viking player Arild Sværen. The team had comed in a hard group first they met Veden, a side with star striker Richard Enge. But Jarle Eike showed class scoring a brace for our favourites. The final result was 2-0.
In the second game they beated Zico Brothers 2-0 after goals from Alexander Landsnes and Stein Ivar Andersen. Next for Hans Petter Hansen & The Jan Høiland's was Beverly 2. Again was Jarle Eike on the scoreboard in a game that ended 1-1. In the last game was the players tired and it ended with a 1-1 draw against a Staal based Intriger, after Stein Ivar putted his second for the day. For HPH & The Jan Høiland's was Øystein Winsnes doing well in defence. Winston that was the only new player since last time.
HPH & The Jan Høiland's showed a lot better play in the final stages on Sunday in Yndlingehallen. The movement was much better than in the group play. In the 1/16 final they met Pelé Amigos. The game went to extra time where Jarle Eike got the decision for the HPH's with scoring two goals. In the 1/8 final they met Armageddon. The result was 2-0 after goals from Stein Ivar Andersen on a penalty and Inge Martin Hinna. In the Quart-final Jumbo from Sandnes was on the opposite side. Anders Idsø was great in this game. The result was 3-1 after goals from Jarle, Alex and Andi. The semifinal was a repeat of last year. Against KP Hira with the Hauge brothers - Ivar and Terje. But they was found to easy against our friends that won 2-0 after goals from Steini and Jarle. Steini was very good in this match according to the reports. The final was against a young Bryne/Bjerkreim team - Bergflettene. They used a defensive tactic and went for counter attacks. This was a smart solution. 1-0 came on their first chance. But Winston wanted it diffrent and got the equalizer 30 seconds before full time. In sudden death HPH & The Jan Høiland's showed lack of routine. Instead of playing without substitutions the last three minutes the Champions from last time used hazardous changes. Players without more to give came on, and the players was soon in unfamiliar positions. This led into a goal for Bergflettene with three seconds to go - on their second chance in the game! You learn as long as you live and all that, but it was a bitter loss. Next time will not HPH's do the same mistakes. Though credit to the team that managed to get to the final for the second time in a row!

Thomas scores in trial game

04.02.02: Vaulen's Thomas Idsø played 70. minutes in a trial game for 1. division side FK Haugesund on Saturday. FKH won 6-1 against Bremnes and Thomas scored the last goal in the match. It was a great attack where Grindhaim combined well with Jone Samuelsen before he served the ball to Idsø that simply could kick the ball into the net. The whole FKH team played a good game, but was ineffective in front of the goal despite netting six times against the 3. division side. Thomas played in a central midfield role. He had a couple of shots over the goal and a bad miss being alone with the Bremnes goalie.
FK Haugesund is now likely to deside whether they want to have Thomas in their squad. According to Thomas he did his job well. "I'm quite pleased, but should had scored a couple of more goals. My chances seems bright and I enjoy myself in FKH," Thomas told Haugesunds Avis.
The parts will sit down on Monday and discuss the matter. "He is dangerous in front of the goal, he is a player that moves around quickly and that have a good understanding. We will sit down on Monday, and it will be a soon decision about we signs a contract," said Bråtveit.


| | | |
| --- | --- | --- |
| Bremnes | 1-6 | FK Haugesund |
| Åge Wikse | | Odd Helge Bygnes (2) |
| | | Trond Erik Bertelsen |
| | | Jostein Grindhaug (2) |
| | | Thomas Idsø |

Bråtveit: -Idsø is good enough, but he don't get a contract

05.02.02: Vaulen's Thomas Idsø impressed on trial with FK Haugesund as midfielder, but Haugesund boss Kjell Inge Bråtveit says the club don't need a midfielder now.
"We are going to have two more players in the first team squad. One right full back and one centre back," Bråtveit told Haugesunds Avis. The FKH boss called home to Idsø last evening to explain that his club couldn't offer him a deal. According to "Kjelli" and his assistant Helgeland there is nothing wrong with Thomas' football skills.
"Both Asbjørn Helgeland and I have liked Idsø a lot. He is a good football player," said Bråtveit that saw Thomas in action through training and a trial game against Bremnes on Saturday where Thomas Idsø scored one goal. FKH is now most likely to sign up a young defender from Eiger instead in Glenn Strømstad (19). Thomas Idsø is now most likely to sign up for FK Vidar in the second division instead.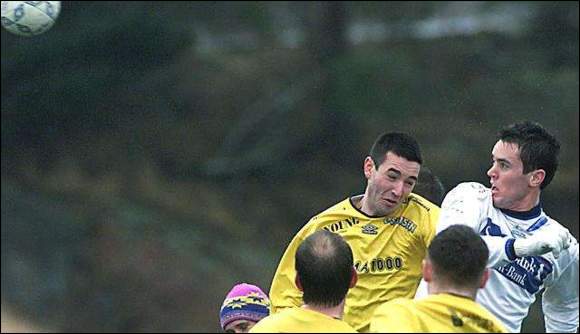 | | |
| --- | --- |
| | 06.02.02: Salvi, Jani and Pedro have signed deals with Vaulen. Jan Egil Salvesen come from Riska, the 22 year old defender has impressed on training and desided to sign after he has been in the club in over a month. Jan Erik Pedersen is another defender. The 20 year old play ice hockey for Viking, and is seemed on as one of Norway's most promising hockey 'keepers. Jani seeks new challenges after he earlier has played football for Vidar FK. Pedro Salgado has desided to make a come back in football after a break the last years. This mean that the squad in front of next season now count 20 players. |

Hans Petter Hansen & The Jan Høiland's - top of the charts again!

06.02.02: Vaulen's alter ego team Hans Petter Hansen & The Jan Høiland's consist of nine players: Eirik Sunde, Erik Gysland, Alexander Landsnes, Anders Idsø, Jarle Eike, Inge Martin Hinna, Stein-Ivar Andersen and Øystein Winsnes from Vaulen, and the former Viking player Arild Sværen. Both times they have played in Radio 1 Løkkecup have they entered the final.
On www.kameratfotball.no is the team being mentioned:
"November Champions Hans Petter Hansen & The Jan Høiland's hugely impress these days. This weekend they secured their second place in the final on two chances. That put them in the same party as Sørlands Heavy Champion's, Toast, that also scored 15 points on the Marathon table after two tournaments. If HPH & TJH's continues like this it will be nescesarry to soon compare them with the majesty of Indoor fotball; Real Ararat, from Bergen."

Rank in Radio 1 Løkkecup

| | | |
| --- | --- | --- |
| 1. | Hans Petter Hansen & The Jan Høiland's | 15p |
| 2. | KP Hira | 10p |
| 3. | Bergflettefamilien | 8p |
| 4. | Pokerlaget | 8p |

Vaulen to kick off season

07.02.02: On Friday Vaulen kick off their season when they meet Randaberg in Nærbø's Winter Leauge, SR-serien. VIL's players have prepared themselves good infront of the game and the mood is well in the squad. This will be Tore's first game in charge and it will be interesting what team and formation he choose. Randaberg will be an interesting team to meet as they play in the same division as Vaulen. Two Beachboys also have a past in Randaberg. Jarle Eike and Thomas Idsø was on loan for them while they was Viking players.
There are four players in the injury room. Sondre Urban has a thigh problem, Kjetil Aasland still struggle with his knee ligament, while Stig Molde and Tord Løberg is in doubt as they have been ill lately. Kick off away to Randaberg is on Friday 8. February, 19.00.

Impressive win in Haugvaldstad's debut!

08.02.02:Randaberg (1) 2 - 4 (2) Vaulen
This was Haugvaldstad's first game in charge and he started with a traditional 4-4-2 system. Bjarne Hov started in goal. A back four with Landsnes and Eriksen on the full backs, and Gysland and Salvesen in the heart of the defense. In the middle was Andersen, Eike, Idsø and Salgado. Up front was Hinna and Ekholdt.

| | | | | | |
| --- | --- | --- | --- | --- | --- |
| Buøy | 2 | 0 | 0 | +5 | 6 |
| Sandnes | 1 | 0 | 0 | +5 | 3 |
| Vaulen | 1 | 0 | 0 | +2 | 3 |
| Viking 2 | 1 | 0 | 1 | -1 | 3 |
| RIL | 0 | 0 | 2 | -4 | 0 |
| Orre | 0 | 0 | 2 | -7 | 0 |

FIRST HALF
Both Vaulen and Randaberg lined up two young teams. Vaulen should show themselves as the most dangerous team. Inge Martin Hinna made 0-1. Randaberg stood high with the team; something that meant Pedro Salgado, Eirik Ekholdt and Hinna got big spaces to run in.
Anders Idsø scored the 2-0 goal from close reach. Before the break could Henning Frode Holm reduce the lead to 1-2. The first half was characterized by RIL that tried to build up their play; while Vaulen used every opportunity to counter attack with their fast strikers.
SECOND HALF
Tore Haugvaldstad wanted to give as many players as possible match training and made three changes at half time. The second half started as the first. Vaulen went up to 3-1 after Randaberg have had the ball the most. Goal scorer for Beachboys was again Anders Idsø on a pass from Salgado. In the middle of the half RIL got a penalty and Tom Arne Bø Pedersen, that got his debut at half time, had to capatulized on Holm's safe penalty; 2-3. In front of the game Vaulen was aware of RIL's fast striker. But those at Randaberg Stadion didn't saw much to that as Gysland often managed to break down before the strikers. While new signing from Riska, Jan Egil Salvesen, showed class. Quick-Salvi was Man Of The Match, he runned up all of Randaberg's break throughs. The final result was 4-2 after Anders Idsø made his third for the day! Credit must go to the whole team. This was after all the first game with a lot of new players. All the debutantes did very well: Salvi is already mentioned, Salgado was always a threat.

1. Bjarne Hov45
2. Alexander Landsnes
3. Fredrik Eriksen45
4. Erik Gysland55
5. Jan Egil Salvesen
6. Stein Ivar Andersen
7. Jarle Eike
8. Anders Idsø
9. Eirik Ekholdt85
10. I-M Hinna45
11. Pedro Salgado
12. T-A Bø Pedersen45
13. Erik Hildén45
14. O-B Bredesen45
15. Gitle M. Aarre85
16. J-E A. Pedersen55
Meanwhile Oli, Tom Arne and Hildèn made fine apperances coming in as substitutes. Jan Erik Ahlstrand also did well as central defender coming in for Gysland. He was good in the air, though in the duels and safe in the pass play.

| | |
| --- | --- |
| | 09.02.02: According to unofficial reports has now Thomas Idsø signed for FK Vidar. It's been told that he signed on Friday, meaning that he was ready for the friendly against Tippeliga outfit Viking the day after. Playing in the center of the midfield he answered by sending the 2. division team up in the lead on a 35. minutes penalty! Viking should later answer with Sørli and Sigurdsson. But Vidar did exceptionally well against the giants at a wet and windy Lassa Grusbane. It therefor came like no surprise that Are Meling equalized with a 23 meter shot past Bo Andersen in the Viking goal just before the end! |
Referee was Vaulen's very own Sven Ravn Carlsen, unfortunately he had to hand Thomas Idsø a yellow card! Former Vaulen player Rolf Magne Olsen played 40. minutes as substitute for Viking in front of the crowd that was on about 100 spectators.

Injury woe for Tore before Buøy battle

13.02.02: On Thursday Vaulen Beachboys meet Buøy at home. It will be interesting to see if Vaulen can continue the good start they got last week when they won 4-2 away to Randaberg. Gaute Johanessen's Buøy is though believed to be amongst the strongest 3. division teams. They promoted last season and have managed to strengthen their team. Buøy is known as a team filled of routine and is very aggressive!
The injury list is a bit long at the moment with Stig Molde (sick), Sondre Urban (long term injury with a thigh problem) and Kjetil Aasland (knee ligament) still out. Also right winger Stein Ivar Andersen and central defender Jan Egil Salvesen was missing on training on Monday with minor knocks. Manager Tore Haugvaldstad will hope that the two vital players will be back on the training on Wednesday. Else is defender Erik Gysland believed to be missing the game due to job duty. If so Tore Haugvaldstad can be without the two central defenders he used with success against Randaberg. Jan Erik Pedersen and Gitle Martell Aarre is alternatives in the defence. While Erik Hildén and Ole Bjørn Bredesen can be choosed to replace Steini if he fails to recover in time.

| | |
| --- | --- |
| | 14.02.02: Vaulen is proud to be one of the few clubs in the area that have three senior teams. This season will the Reserves and the C-team be close connected and train together, something that hopefully will improve the level at both set of players. Seven-a-side football has been more and more popular the last seasons and the level seems to get higher for every season. This time Vaulen C is likely to play in a 12 games league that kick off already in April. The announcement of the C team's fixture list mean that all the league games for the senior teams now is set. All the games can be found at Vaulen's n3sport site! |
FIXTURE LIST: Muskel (H - 30/04 - 19.00), Storhaug 2 (A - 07/05 - 19.00), Øyane (H - 28/05 - 19.00), Finnøy 2 (A - 04/06 - 19.00), Kvitsøy (H - 11/06 - 19.00), Leedalkam (A - 16/06 - 13.00), Muskel (A - 13/08 - 19.00), Storhaug 2 (H - 20/08 - 19.00), Øyane (A - 03/09 - 19.00), Finnøy 2 (H - 10/09 - 19.00), Kvitsøy (A - 17/09 - 18.30), Ledaalkam (H - 24/09 - 19.00).

15.02.02: Vaulen (1) 1 - 1 (0) Buøy
Vaulen managed to keep an unbeaten Buøy side to a 1-1 draw at home on Thursday, this according to Nærbø's homesite! Buøy that before this game had won over Viking 2 (3-0) and Orre (1-3) with ease. Next up is Viking 2 next week, a side that will be very young as the first team is to travel to La Manga, Spain, for their preseason. The two best teams from Vaulen's group will go past to the Quart finals.

| | | | | | |
| --- | --- | --- | --- | --- | --- |
| Buøy | 2 | 1 | 0 | +5 | 7 |
| Sandnes | 1 | 1 | 0 | +4 | 4 |
| Vaulen | 1 | 1 | 0 | +2 | 4 |
| Viking 2 | 1 | 0 | 2 | -3 | 3 |
| Orre | 1 | 0 | 2 | -4 | 3 |
| RIL | 0 | 1 | 2 | -4 | 1 |
Tore had lined up his team in a 4-4-2 formation. Since last game was Salgado moved up as striker for Ekholdt that was on the bench. On the right side of the midfield was Ole Bjørn Bredesen playing instead of an injured Stein Ivar Andersen. At the left was Landsnes moved up to replace Salgado, while Hildén took the left full back position.
Vaulen started in a fresh way. Inge Martin Hinna scored Vaulen's goal early in the game on a pass from Salgado. Buøy had as expected an old team that played much on their physics and being aggresiv. Still was it Vaulen that created the biggest chances. Knut Hammer Larsen should though equal the score in the second half. The game was hard and dominated by many duels. The crowd didn't got to see much fine play, but due to the type of play Buøy serves that wasn't expected. The boys from the island was whining around the whole game on the referee, their own players, the opposite team and the crowd! So no one was shocked when former Viking player Rolf Sverre Østerbø was sent off after 80. minutes. After this Vaulen created chances that should had given them the win.

1. T-A Bø Pedersen46
2. Fredrik Eriksen65
3. Erik Hildén
4. Erik Gysland
5. Jan Egil Salvesen
6. O-B Bredesen
7. Jarle Eike
8. Anders Idsø
9. Pedro Salgado
10. I-M Hinna75
11. Alexander Landsnes
12. Bjarne Hov46
13. J-E A. Pedersen65
14. Eirik Ekholdt75
Vaulen's defence played solid at the back, but lack some on the pass quality forward. Else was Tom Arne Bø Pedersen (pictured) and Bjarne Hov playing one good half each in goal, meaning that Vaulen will get a luxury problem in that position.

20.02.02:Viking II (1) 1 - 2 (2) Vaulen
Vaulen beated Viking II 2-1 on Vestbanen on Wednesday evening with a new assistant manager on place. Svein Øksnevad will help Tore Haugvaldstad after it has been known that Stig Molde now rather wants to consentrate on only being a player. Svein that was Vaulen boss from 1999 to 2001, will know the players well.

| | | | | | |
| --- | --- | --- | --- | --- | --- |
| Buøy | 2 | 1 | 0 | +5 | 7 |
| Vaulen | 2 | 1 | 0 | +3 | 7 |
| Sandnes | 1 | 1 | 0 | +5 | 4 |
| Viking 2 | 1 | 0 | 2 | -2 | 3 |
| RIL | 0 | 1 | 2 | -4 | 1 |
| Orre | 0 | 0 | 2 | -7 | 0 |
Vaulen started with Jan Erik Ahlstrand Pedersen in the centre of defence playing next to Erik Gysland. Meanwhile was Jan Egil Salvesen moved up in an unfamiliar left midfield role replacing Bredesen. Up front was Ekholdt replacing Salgado.
Despite a largely snowfall the last days was Vestbanen usebal to play on, being the training ground for Tippeliga side Viking it was only being a bit hard.
Inge Martin Hinna scored both of the goals. The first one on a break trough pass from Anders Idsø that was snapped up by paceful Hinna, the second almost identically but now was it Jarle Eike that found Inges.
Viking 2 started with nine Junior players in addition to Tom Stian Lunde and Leif Gunnar Smerud. They played nice football, but on each minor mistake Vaulen won the ball and pushed forward. Viking managed to score one goal after 35. minutes, but Vaulen was the best team despite being ineffective in front of the Viking goal. Beachboys should at least had two more goals. Stein-Ivar Andersen is back from an injury problem, and played the last 15. minutes. Steini is likely to start next game. Man of the Match was Inge Martin Hinna with his two goals. But also central defenders Erik Gysland and Jan Erik Ahlstrand Pedersen must get credit.

1. Bjarne Hov46
2. Fredrik Eriksen80
3. Erik Hildén
4. Erik Gysland
5. J-E A. Pedersen
6. Alexander Landsnes
7. Jarle Eike
8. Anders Idsø
9. Eirik Ekholdt75
10. I-M Hinna
11. J-E Salvesen75
12. T-A Bø Pedersen46
13. O-B Bredesen75
14. S-I Andersen75
15. Gitle M. Aarre80
Else can snowfall the last days mean problems for Vaulen. Snow on the astro turf can't be moved with a tractor. But the players has anyhow been told to meet up on Hinna on Thursday as usual.

21.02.02: Attacking midfielder Stig Molde will be out for a long while to sort out an ankle problem. Stikkå joined Vaulen this winter after some seasons for Storhaug FK. He struggled whole last season with the same ankle problem, and has not been any better. He therefor choosed to take an operation. The 33 year old is perhaps Vaulen's most expirenced player with a professional career Germany for 1. FC Union and USA for Georgtown Metros. Manager Tore Haugvaldstad got Stig to the club as playing assistant boss, but after a while Stig desided that he only wanted to be a player. The board have therefor brought in Svein Øksnevad as new assistant for Tore Haugvaldstad.
Meanwhile is defender Kjetil Aasland likely to return in a couple of weeks after a knee ligament injury. Sondre Urban is still out with a thigh problem, while Stein-Ivar Andersen was back on the bench against Viking 2 and is likely to start Vaulen's next game against Orre late in next week.

22.02.02: Jan Egil Salvesen has been a success since his move to Vaulen this winter - having played all of Vaulen's preseason games so far. He has impresssed most in the centre of the defence, but has also been tested on the left winger. After several years in Riska FK young "Salvi" had lost some of his motivation for football. He had moved away from Hommersåk to Mariero, and to travel several miles to train wasn't to be. Therefor he choosed a more local club that was to be Vaulen. After Salvesen had trained some weeks with the club he desided to sign for Vaulen early in February.
# Vaulen Vårcup will kick off on Monday and the official opening game at Hetlandsbanen will be Hana 2 versus Vaulen 1 in class G, Smågutt. All the games the coming weeks will though mean that the Reserves now is set to move to Hinna for their training sessions. Get the results from Vaulen Vårcup here!
# Vaulen will this season also have a Senior team for women. In years have youngsters dropped out from the club after Junior level, but this year will Vaulen participate with a 7-a-side team.
# Next game up for the first team is away to Orre. A win here will send Vaulen a step closer to the final stages in Nærbø's Vinterserie. The two best teams from Vaulen's group will qualify for the Quart final. There is five groups in the cup. From group 1 to 3 will two teams qualify as this is groups with 2. and 3. division sides. From each of Group 4 to 5 will only one team go trough for the final stages. If Vaulen should qualify for the Q-final will they play this game in Week 12. With the Semifinal and Final to be played in Week 14. The final stages will find place at Nærbø.

| | |
| --- | --- |
| | 24.02.02: After several years without a Junior team in Vaulen IL, have the club this season managed to get together a big squad. Vaulen's team will play in the 3. division this season, and coach Rune Abrahamsen has a luxury problem with in total 27 players available tp choose from. The youngsters train twice a week - on Mondays at Hinna Kunstgress and on Thursdays they play at Hetlandsbanen. The players is born from 1983 to 1986, but most of the players is in their first year as Junior players of them has none played at this level with Vaulen previously. |
After the team came together this year have they played three preseason games. First they lost 1-0 to local rivals Jarl. Later they have lost 6-1 to Vardeneset and 5-2 to a strong Sola side.
Junior squad: Noah David, Erik Eikill, Øystein Eltervaag, Gaute Fosså, Tor Are Førland, Steffen Hegelstad, Aleksander Henriksen, Edwin Hereid, Cato Foss Iversen, Ruben Johnsen, Erik Solberg Johnsen, Bjørnar Jonassen, Stian Jåsund, Christian Lyse, Lars Henrik Mariero, Runar Moi, Naret Nordbotn, Øyvind Nygaard, Thomas Nyland, Christian Pedersen, Erik Rafoss, Buster Skjødt, Espen Smistad, Espen Sodha, Magnus Soland,
Anders Stokkebø and Christian Tollefsen.
Fixture list - 3. division: Brodd (A - 07/05 - 19.00), Hinna 2 (H - 14/05 - 19.00), Lura 2 (A - 21/05 - 19.00), KFUM (H - 29/05 - 19.00), Hundvåg 2 (A - 03/06 - 18.00), Brodd (H - 12/06 - 19.00), Hinna 2 (A - 18/06 - 19.00), Lura 2 (H - 24/06 - 19.00), KFUM (A - 14/08 - 19.00), Hundvåg 2 (H - 19/08 - 19.00), Brodd (A - 27/08 - 19.00), Hinna 2 (H - 04/09 - 19.00), Lura 2 (A - 09/09 - 19.00), KFUM (H - 18/09 - 19.00), Hundvåg 2 (A - 23/09 - 17.00).

Vaulen Vårcup: The ball is rolling

26.02.02: The 23.rd edition of Vaulen Vårcup kicked of yesterday. With media ringside. Stavanger Aftenblad printed a story called 'Vårcup on ice and snow' on their front page in the sport section. A thick layer of snow had been removed before the opening game between Vaulen and Hana 2, a game that Vaulen lost 0-3. With 38 clubs, 267 teams and 550 games to be played Vaulen's 300 volunteer's will get enough to do the next months.
"Vaulen Vårcup has in many ways get near what we can call a limit of what we can take in numbers of teams," said tournament leader Terje Holm to Stavanger Aftenblad.
"But when I've said that will we always try to find room for every team that wants to compete in future tournaments," meant Holm.
"This is Norway's biggest national tournament, remember that Norway Cup has a lot of foreign teams," said assistant tournament leader, Sissel Ordaz.
Last year the cup gave the club 150,000 kroner in income. They sold for 130,000 kroner in the shops, while they had an expense of 70,000 kroner in cup trophies!

Aasland availebal for selection again!

28.02.02: Defender Kjetil Aasland is now finally back from a knee ligament injury that he picked up in the POL tournament at the end of last season. Kjetil seemed to be in a very good shape on the training this week. Aasland is a defender, but can also be used up front being a former striker. Before the vital game against Orre on Friday is there doubt about Erik Gysland is availebal due to job. Meanwhile is it expected that Stein-Ivar Andersen will play again after an injury break. Meanwhile is Pedro Salgado back after a week in Portugal. Viking II's 4-2 win over Sandnes yesterday in SR-serien means that Vaulen's chance to advance to the next round will be big if they manage to beat Orre.
Else has Hinna's Bjørn Helge Husebø been training with the club lately. "Bønna" is a central defender.