Radclyffe's Filing Cabinet
Interviews, Reviews and Articles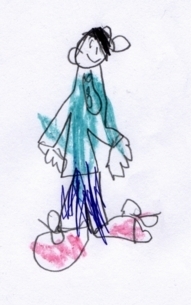 Megan, by Jessica Hall, aged 7 © 2000
Please note that all of the articles and reviews contained in this site are copyrighted to Megan Radclyffe and as such, permission is needed in writing before they are reproduced. So long as you're not going to reproduce my work for your profit, I'd be more than happy to oblige. Please click on the following link, and mark your email 'Reviews', otherwise it will probably be deleted as junk mail. Thank you.
Published in Gay Times 1994-2001

Official Website @ Gay Times

Interviews

Published in Diva 1994-99

Fiona Cooper, Diane DiMassa, The Topp Twins, Amy Lamé

Articles

to follow: Claire Rayner

Published in Time Out 1993-96

Official Website @ Time Out
Articles
Porn To Be Wild
Book Reviews here
Club Reviews here

Film reviews here
Pink Paper and Capital Gay

To follow
The Independent

To follow
'Lesbophobia'

The book they dare not publish!

If you find any broken links please let me know, thanks!