Disneyland State Fair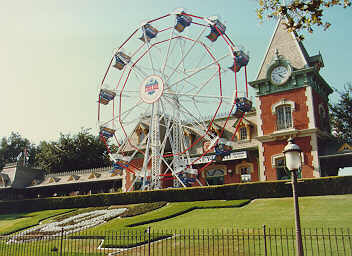 State Fair Ferris Wheel In Front of the Disneyland Train Station
---
The Disneyland State Fair came for two seasons. Carnival booths were set up at Town Square, the Hub and various places throughout the park. Toss the ring, hit the bottles or shot a basket were some of the games for the guests to win prizes. Each booth was sponsored by a Disney character. And the 1st year, the park gave away State Stickers.
As each car entered the park a cast member handed out a coupon for a state sticker. Each state had a Disney character, they were really cute. The goal began for all passholders to get as many state stickers as possible. I won't say how we were able to get more than one coupon in a day. Once we had the coupon, we would go to a store, tell the number in our party and what state we were from. Good thing they never asked for ID. The cast member would give us the number in our imaginary party. Really card trading at the park began then. Many of us would stand around and trade with others.
Disneyland did a wonderful job in our non-weight lose program. Slices or complete pies were sold, buffalo chili, BBQ turkey legs. Cotton candy, jelly beans were the order of the day.
Disneyland gave us the opportunity to call pigs daily. At the Pigmania show at Big Thunder Ranch were pig races. That's right pig races. The audience were grouped in sections, assigned a pig, rooted on their pig with their special pig call. SUUUUUUUEEEEEEY! Pig!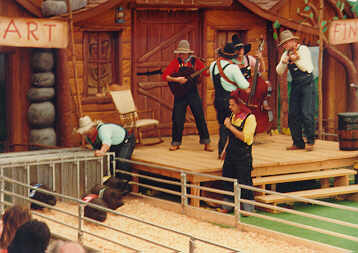 I believe "Billy Hill and The Hillbillies" began their career at the park with Pigmania. With a little help from some appropriate Disney characters. The Three Little Pigs ang The Big Bad Wolf joined in for their own race. I don't think the Wolf ever won. The pigs may have cheated.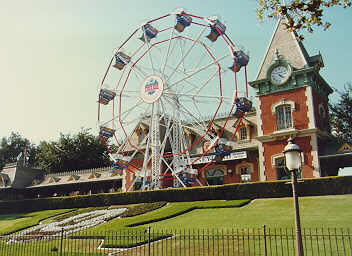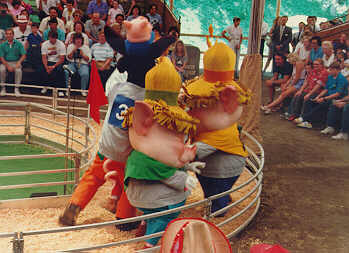 The first season of State Fair ferris wheels were placed on the railroad tracks in from of the train station and at the Hub. The second year one of the ferris wheels was in Big Thunger Ranch. The photos below show views of the park from these different ferris wheels. First two photos look down into the Petting Zoo and Caranation Plaza. The thrid and fourth look into Frontierland and the last photo looks down on the train track in front of the Train Station.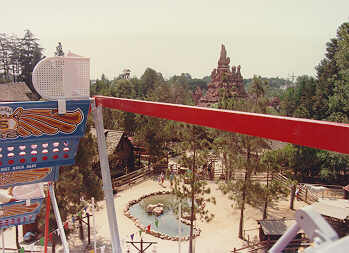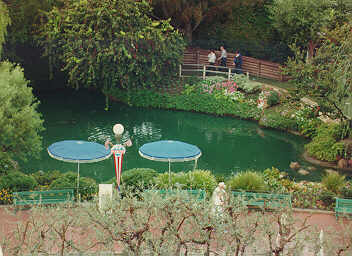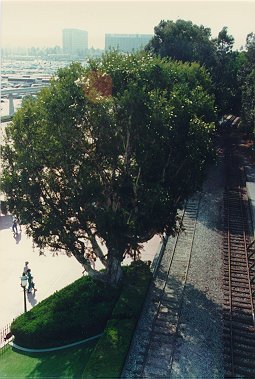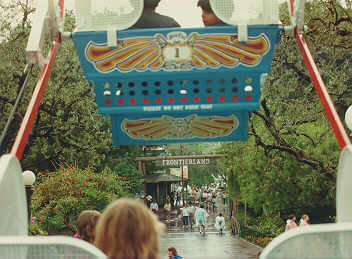 ---


---