My PBW Folding Bicycle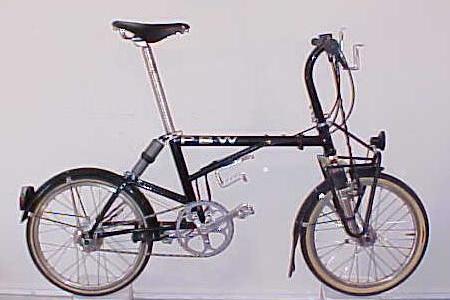 Since I got it in January of 2001, this has become my main bike for recreational riding, medium to long distance personal transportation, touring and travel. (I still have a non-folding bike for short range urban transportation and heavy hauling, and another for sport and fitness riding)
There are many folding or separable-frame bikes with 20" or smaller wheels, but only a few brands that perform as well as a conventional high quality full size bike. PBW is one; others include Moulton and Bike Friday.
In my first year with my PBW I rode it about 3,000 miles, including two 4-day self supported tours and a couple of long day rides of over 130 miles.
Click on any of the pictures below for a larger version.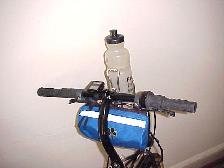 Shifting, brakes, computer, water bottle, and small handlebar bag are all within easy reach with my hands on the handlebar. I started out with a different setup using a more conventionally mounted handlebar bag and using a camelbak instead of the stem mounted bottle cage. But I eventually decided the camelbak wasn't worth it. It was a little (not much) more convenient for drinking while riding, but a bit uncomfortable on my back in hot weather, more awkward to deal with when not riding, and definitely less convenient to refill. This bag is mounted to the brake levers rather than the handlebar. To make it work I removed the original full size stiffener and the original mounting straps, sewed on new velcro straps spaced correctly for the brake levers, inserted a 5/16" dowel across the top and a thin plastic stiffener in the zipper flap.
The single Rohloff twistshifter shifts sequentially through all 14 gears. Gear range with 52x15 sprockets is about 18 to 95 gear inches, equivalent to a typical 21 or 24 speed derailleur system, but with all the gears in a single shift sequence and perfectly spaced.
Using a straight MTB style handlebar for touring is new to me with this bike. The Rohloff shifter is designed to work only with this type of handlebar, so it was a choice between improvising something like mounting the shifter on a stub or auxiliary bar, or just trying it with the straight bar. I thought at first I would at least want bar ends for more hand positions, but after a year of riding, including long rides up to 131 miles in a day, this minimal setup seems to suit me fine. It also makes the handlebar easier to stow when the bike is folded.
The cyclocomputer is a Planet Bike Protege 5.0, which I like because it displays everything I need - speed, trip distance and time of day - without having to ever push a button while riding. I used a strip of black plastic tape to make the display a little easier to read by masking off one of the functions that doesn't interest me (elapsed riding time).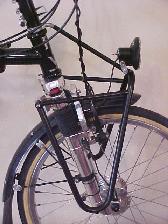 The Tubus Swing suspended front pannier rack saves wear and tear on both the luggage and the wheel, compared to unsuspended racks that mount to the axle and brake bolts. The original mounting hardware that came with it did not work well with this fork crown and steerer configuration, so I made my own adapters to attach the rack to the fork crown and the steerer. So far I've decided not to use a rear rack on this bike. Rear panniers are generally my last choice for carrying a touring load, after a saddlebag and front panniers. And a conventional rear rack would not have the benefit of the bike's suspension, as my front panniers and saddlebag do. Click here for a picture of the bike loaded with my Ortlieb front roller panniers and CCF touring saddlebag.

The S.O.N. (Schmidt's Original Nabendynamo) is simply the best bicycle generator available, and the only one made in a version specifically for small wheels. The Lumotec headlight comes with the SON. For the rear I prefer to use a Spanninga fender-mounted taillight that runs on two AAA cells.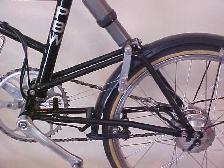 Left rear quarter view shows the frame pivot that serves for both folding and suspension, the Cane Creek rear suspension unit, the Rohloff Speedhub with its special adjustable dropout, and my modification to the shift cable routing. I added the aluminum bracket with the pair of pulleys to improve the alignment of the cables where they exit from the hub, and to eliminate rubbing of the cable connectors on the chainstay. My original hub cable had became frayed after only a few hundred miles. Rohloff now recommends using their EX (external cable attachment) models for bikes with unusual cable routings, such as folders and recumbents. I am told that others have had no problems with the PBW's original cable routing.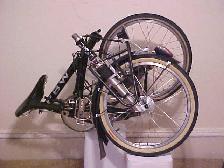 The folded bike is a bit heavy and awkward to carry around compared to some other folders, like a Brompton or Birdy, or compared to a more basic PBW without the suspension fork, Rohloff hub and front rack. The Tubus Swing rack in particular adds significantly to the width of the bike when folded. But I did not get this bike with the idea of folding and carrying it every day for commuting, or to pack in a suitcase for air travel. For me the folding is most useful for transport by car, and especially makes it easy to hitch rides in other people's cars. Even when I don't fold it, the shorter overall length due to the small wheels is often a convenience.
Removal of the rear fender is part of my folding procedure, because it would otherwise be very vulnerable to damage. Note in the picture the rear fender is inserted inside the front one. The rear fender is very quick and easy to remove, being held at the dropouts by wing nuts and quick release adapters that I made myself, and at the top by a snap-in plastic bridge.
Often when putting the bike into a car trunk I can get by with just removing the stem/handlebar, lowering the seat and folding the front end back from the top tube hinge, skipping the removal of the rear fender and the folding of the rear triangle.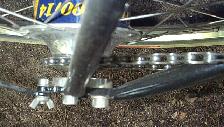 Right rear dropout seen from above. If you look closely you can see how it's tapered to prevent the wheel from slipping forward in the frame.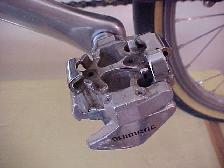 My home-made elevator attachment for the Shimano 747 SPD pedal partially compensates for my short left leg. These pedals, along with the Brooks B17 saddle, are hand-me-downs from my old touring bike.

Click here to see how I carry a pump on my PBW
Here is another PBW owner web page
---
Modified July 18, 2003