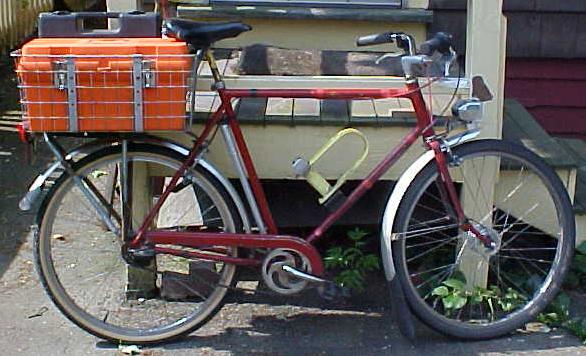 My WorkBike
Of all my bikes, this is the one I ride the most often, but on average the least distance per trip. It lives in the shed outside my house ready to go at a moment's notice.
A 1975 Schwinn, it was less than a year old when I acquired it. Schwinn's "electro-forged" frame construction is unique and extremely strong and durable.
The Wald 157GB steel wire basket which I mounted on the back is very handy for carrying lots of stuff without having to tie things down (though I do frequently have to use bungees with larger loads). Note that the 19" Homer tool box from Home Depot is a perfect fit lengthwise, with room left over beside it for my cordless drill case. The bike handles surprisingly well with heavy loads in the basket. The secret to that is having the basket very rigidly mounted. I built a special triangular support platform held up with two vertical struts and two rear triangulating struts, as well as attachments to the brake bridge and the saddle frame.
Wheels
It was many years ago that I first converted from the original Schwinn steel rims to alloy mountain bike size 26" rims. About a year ago I had to replace the alloy rims because of sidewall wear, and ended up replacing the hubs and spokes too. The new rims are Sun Rhyno Lights. I wanted the heavier Rhynos, but couldn't get them. The new rear hub is a Sachs/SRAM Pentasport 5-speed, replacing my old Sturmey Archer S5. The Pentasport has a wider range with more even spacing between the gears, is controlled by one shifter instead of two, and requires less adjustment. The front hub is a Shimano Nexus generator hub, replacing my old Sturmey Archer Dynohub, the main improvement being more power for the lights - 3 watts vs 1.8 - and the availability of more efficiennt halogen bulbs.
Cranks and Gearing
The Schwinn forged steel one piece cranks are a high quality component, generally much nicer than the Ashtabula type cranks found on cheaper bicycles.
More than 20 years ago, at a time when I was having trouble with my knees, I replaced the original 6½" (165mm) crank on this bike with the next smaller size, 5½" (140mm). I never bothered to change it back. The shorter cranks are easier on the knees because there's less knee flexion while pedaling. It can also be more comfortable when wearing heavy clothing in extremely cold weather. Another reason for not changing back is that I would have to lower the saddle and the basket would no longer fit under it.
The chainring has 40 teeth and the rear sprocket 24. I have no need to go very fast on this bike. And the short cranks effectively increase the gearing (gain ratios). When I switched from the original 46 tooth chainring to the 40 I also lowered the chainguard an equivalent distance.
Lights
When I converted to the Nexus generator hub I kept my old Sturmey Archer headlight, just started using a 2.4 watt halogen bulb in it, and added a pair of appropriate zener diodes for over-voltage protection. The taillight is a DToplight Plus which uses LEDs for high efficiency and a super capacitor which keeps it going for a while when the bike is stopped. It also has a fairly large reflector area for added safety.
Brakes
Good old Weinmann long reach sidepulls keep on working fine through the years even though they appear to flex like crazy in use. They obviously don't have the mechanical advantage of cantilevers or V-brakes, but my experience seems to be that most any caliper brake works fine if you're used to it and keep it properly maintained and adjusted. I do use Mathauser brake shoes and I think that makes a difference.
Lock
The old style Kryptonite U lock could be about as old as the bike. Still works fine.
---
June 27, 2002