Craig's Book Club
Book Recommendations

Spotlight on: Eyes Everywhere by Matthew Warner
---
To arrange to have products considered for review, send an email to

[email protected]

.
---

---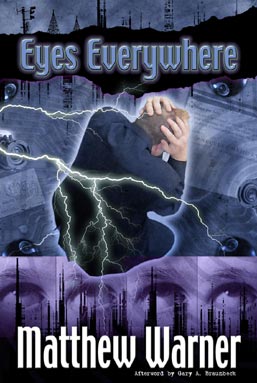 Matthew Warner, Eyes Everywhere
"I remember when I lost my mind ... Yeah, I was out of touch / But it wasn't because I didn't know enough / I just knew too much / Does that make me crazy? ... Probably."
-- Gnarls Barkley, "Crazy" (from the album St. Elsewhere)
In just his second novel, author Matthew Warner has chosen to tackle a subject that most authors would not attempt until much later in their careers: the psychological downward spiral of his protagonist. It is not an easy topic; it requires a lot of research and good amount of natural insight and empathy. Luckily, Warner has shown an affinity for both in his previous works, making him the ideal person to write it. Eyes Everywhere is easily the novel of the year, and a lot of it is due to that perfect fusion of book and author.
An offhand remark at a company meeting starts Charlie Fields, a thirty-year-old husband and father in a dead-end secretarial job, down the road that will eventually lead to his total undoing. Already in fear of being considered a candidate for "reduction in force" ("RIF. It was one letter removed from RIP."), Charlie's comment causes offense due to certain racial overtones, and at the end of the day, he notices someone is following him home -- a black man in a business suit.
Soon, Charlie comes to believe that his wife is preparing to leave him for a Mexican and eventually becomes suspicious of all darker-skinned people. Things begin to spiral out of control as Charlie sees links where there are none, perceives threats from people in high places, and attempts to translate communications given via fast-food wrappers.
Like his friend and mentor, Gary A. Braunbeck (who offers up a deft analysis of Eyes Everywhere in the Afterword), Matthew Warner does not shy away from genuine emotions -- he embraces them. His short story collection, Death Sentences: Tales of Punishment and Revenge, showcased this penchant in tales like "Middle Passage," "The Cave," and "A Second Chance." The results were uneven in those stories, but it was obvious that Warner's characters were important enough to him to make them feel real (a little too real sometimes), and that he would continue to pursue this to undoubtedly greater effect.
Psychology has been a life-long interest of mine. I even have a degree in it (as much good as that's done me). But people fascinate me and I've been a "hobbyist," so to speak, for over twenty years, always on the lookout for books or movies that delve deeply into the human psyche, specifically its abnormalities. The best of these are those that take their subjects purely at face value, letting the audience draw its own conclusions. Two perfect examples of this are classics of the cinema directed by Roman Polanski: The Tenant and Repulsion.
Matthew Warner follows this same tactic with Charlie Fields. His story is told in third person, but completely from Charlie's point of view, giving us only his perceptions, never the author's. Some authors would feel a need to intrude and make sure we know what is real and what is not, but Warner trusts his readers and their intelligence enough to let us figure it out on our own (or, in most cases, simply guess). This approach has another benefit: It leaves enough room for surprises, and in the end, makes Eyes Everywhere an interactive read, involving us more in Charlie's situation than a more distancing narrative would allow with its strict definition of reality. Neither he nor we really know what's going on (though we suspect that Charlie has mostly got it wrong), and that combination of unknown quantities ratchets the tension way up. Charlie's head, despite its imperfections, is a very exciting and suspenseful place to be.
But Eyes Everywhere will make an immediate impression before you even open the book due to the stunning cover art by Mike Bohatch. Blue, gray, and purple coexist with lightning and an obviously distressed individual to give a hint of what is between the covers without giving too much away. It's a perfect illustration, even more impressive than his cover for The Fall of Never (a book I recommend for fans of this one).
Hardcore Matthew Warner fans will want to spring the extra sawbuck for the signed limited edition (but hurry, because only 100 are to be printed), which includes a bonus forty-page novella and more illustrations from Bohatch. "Die Not in Vain" tells the story of Joe Merrill, who is preparing to move his Alzheimer's-stricken mother out of her home. On the flight there, he has a totally realistic vision of the plane's destruction, and soon these visions of his own death begin to take over his consciousness, leading him to realize he may be going crazy. "Die Not in Vain" is in this way related to Eyes Everywhere, and is thus an ideal companion piece, without being anything like a retread.
---
Click on the links above to purchase any of the books mentioned, or use the search box below to find what you like.



(Email me and let me know what you think.) <! - - BEGIN READERS RING-->

<! - - END READERS RING - - !>