Craig's Book Club
Book Reviews

Spotlight on: Death Sentences: Tales of Punishment and Revenge by Matthew Warner
---
To arrange to have products considered for review, send an email to

[email protected]

.
---

---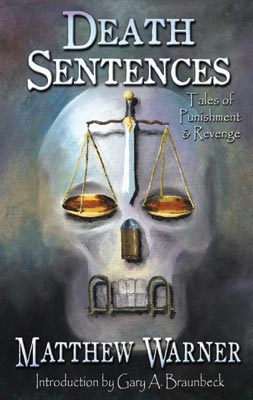 Matthew Warner, Death Sentences: Tales of Punishment and Revenge
Matthew Warner's first short story collection contains three previously published works and two written expressly for this publication. Death Sentences: Tales of Punishment and Revenge is a 116-page perfect-bound paperback with a limited run of 250 copies signed by the author and the artist. For those who may be unfamiliar, Warner's debut novel, The Organ Donor, was almost universally acclaimed as an example of how to do it right. He also writes the Author's Notes column on Horror World.
The first story, "Middle Passage," uses the tragedy of reality as its basis. It starts off the collection as a prime example of realistic horror. Set on a slave ship heading west, it chronicles the struggles of the Africans on board during the passage. Warner describes the conditions unflinchingly while he tells the story of Paro and his daughter Sametta as they fight to stay alive against a captain whose only concern is for profit. "Angel's Wing" has a similar tone, but is less effective overall. It features a young woman who is developing Carrie-like powers in a small town where her family has problems with the local townspeople. Where "Middle Passage" was intense and immediate, "Angel's Wing" seems to end before it ever really gets going, although the sense of place is remarkable. ("Middle Passage" is also available as a freely downloadable audiobook on MatthewWarner.com.)
"The Cave" and "A Second Chance" both allow Warner to exorcise his father issues (his parents divorced several years ago). It is a rare author with the ability to use his personal emotions as the basis for compelling fiction (Gary A. Braunbeck is the best example of one who succeeds phenomenally), but I think Warner will need some further distance from this event before he can truly do it justice. The two stories follow different tacks -- one is hopeful, the other hateful (with a plot a little too reminiscent of House of Leaves) -- but neither is really satisfying because the author cannot seem to decide whether to use reality or metaphors to get his point across. The blending of them is too jarring to be successful.
Providing a stunning period to these Death Sentences is the story of Parker Klein, whose wife shows that she is "The Forgiving Type" long after it would seem appropriate. Warner's slow pacing makes every scene vital. There are also a couple of genuine surprises, making this the prime choice to end the collection. So, the collection starts great and ends on a high note, bookends of quality.
Following the stories themselves are author's notes on their conception and inspiration (fascinating reading for those interested in the creative process) and the obligatory biographies of the other participants: the abovementioned Braunbeck, who contributes an "introduction of sorts" (his words, not mine), and Deena Warner (Matthew's wife), who illustrated the stunning cover (she also illustrated Braunbeck's Cedar Hill collections, among others, and is a top website designer).
Warner's facility with the language sometimes gets in the way of his storytelling ability, but he has marvelous skill for characterization and a genuine talent that will more richly develop with further practice and experience. Death Sentences: Tales of Punishment and Revenge is not perfect, but it is a harbinger of great things to come. Spend $10.00 and be a part of it all.
---
Click on the links above to purchase any of the books mentioned, or use the search box below to find what you like.



(Email me and let me know what you think.) <! - - BEGIN READERS RING-->

<! - - END READERS RING - - !>