Craig's Book Club
Book Reviews and Recommendations

Spotlight on: Gary A. Braunbeck

Books Reviewed:
Home Before Dark: The Collected Cedar Hill Stories, Volume 2 by Gary A. Braunbeck
We Now Pause for Station Identification by Gary A. Braunbeck
---
To arrange to have products considered for review, send an email to

[email protected]

.
---
---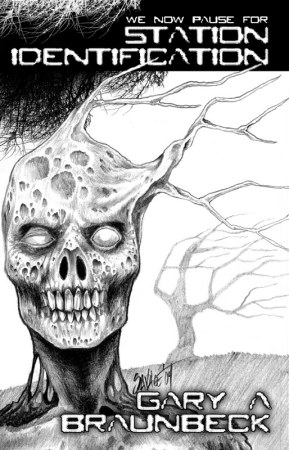 Gary A. Braunbeck, We Now Pause for Station Identification
I have to say I am not too keen on the recent trend of releasing a single short story, calling it a chapbook, and charging around $10.00 USD for it. But every once in a while, a story deserves to be seen on its own, and not lost in the shuffle of an anthology or a collection. What I'm trying to decide is if Gary Braunbeck's We Now Pause for Station Identification is one of those.
Zombies have been the big thing recently in horror fiction, and it seems that every author has tried to put his particular stamp on the subgenre. Reportedly, Braunbeck held back until he had just the right angle for him, and the result is We Now Pause for Station Identification. The story has an intriguing premise: Zombies are taking over outside world, and a talk-radio DJ is essentially trapped in his booth, rambling on about whatever it takes to retain his sanity to whomever is still listening.
His words are the text, with no descriptions or anything other than his steadily declining monologue. Braunbeck always manages to tap into the emotions of horror fiction, and We Now Pause for Station Identification is no different. The author's word choice is phenomenal, saying in just a few what would take others entire paragraphs to get across. And learning very little about what is going on outside from the limited viewpoint of the protagonist only makes the possible outcome that much more mysterious. Suspense is created in something as mundane as whether he will make it back from the restroom. (Only the cover art by Chad Savage gives any inkling of the effects of the event.)
The tightness of Braunbeck's prose in We Now Pause for Station Identification is mirrored in its claustrophobic setting. Just one man in a radio booth, wondering what is going on, no one calling him on the phone despite repeated pleas, hope disappearing minute by minute, and soon there is evidence that the event is making its way into the studio. What can a lone man do against an onslaught of the undead? If this were Mars Attacks!, he could play Slim Whitman at them, but otherwise what are his choices?
And here is where I think Braunbeck fumbles the ball: the author gives up too soon. The story is only thirteen pages long, and could have easily been expanded to fill twice as many pages. Perhaps he made the choice because he didn't want We Now Pause for Station Identification to devolve into the usual tropes of zombie horror, to keep his version just that much different from the rest. I just know I was disappointed that the story ended as soon as it did, especially after Braunbeck worked so hard to make me care about the character.
Unfortunately, that decision smudges the shine on what could have been a great story, but as it is, We Now Pause for Station Identification is still a solid piece of short fiction and a prime example of why Gary Braunbeck is one of the highlights of the horror genre. In addition, the Horror Writers of America saw fit to give it their highest honor: the Bram Stoker Award for the best piece of short fiction published in 2005.
---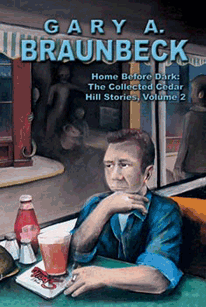 Gary A. Braunbeck, Home Before Dark: The Collected Cedar Hill Stories, Volume 2
Speaking as a writer, Gary Braunbeck makes me angry. He's simply too good at what he does. It's not fair that, when talent was handed out, Braunbeck got a double portion while some of the rest of us were stuck with what we could scrape off the bottom of the bowl. As a reader, however, I could not ask for better, and his Cedar Hill stories are the best example of his inimitable skill.
All roads, it seems, lead to Cedar Hill, Ohio. All the stories in Home Before Dark: The Collected Cedar Hill Stories, Volume 2 have been reworked from their original publication to better fit within the town's myth. (Volume one, entitled Graveyard People is also available, and five total volumes are expected in this series from Earthling Publications.)
Cedar Hill, like most towns, carries a lot of pain, and that pain is Braunbeck's focus. That he doesn't sensationalize it is all the more remarkable. The best stories can actually bring real tears from the right reader, his skill at expressing human emotion within the limitation of words is so true. "Safe," a novella of how an incidence of mass murder resonates with the family's survivors (and others), is one of these. It is a thing of beauty, the story that Braunbeck calls "the central piece in the Cedar Hill cycle." (It was also based on an event he experienced.)
A lot of the pain, as can be expected, comes from familial relationships. Family emotions play a large role in the stories in Home Before Dark. In "Safe," for obvious reasons, and also in "After the Elephant Ballet," with is a sort of Field of Dreams, except with a mother and a circus. "Duty," a Bram Stoker award-winner, houses more than its fair share of familial guilt (so much that it must be at least semi-autobiographical). There are also a couple of "holiday" stories ("Palimpsest Day" and "Dinosaur Day"), both of which feature dysfunctional families. These arrive at their conclusions by opposite means while both illustrating that Braunbeck likes to help those who can't help themselves.
"Safe" is the second entry and is a hard act to follow; few could really compare. The story with that unfortunate position, "In the Direction of Summers Coming," doesn't even come close. Another story of the streets that appears later, "That, and the Rain," succeeds much more fully, even when things take a decidedly fantastic turn. "The Box Man" doesn't feel like it belongs here at all, but in some sort of themed tribute anthology. It is so reminiscent of many other classic stories in the genre (shades of Dickens, Bradbury, and Poe), that there is little room for the author's own stamp. Also, unfortunately, the ending is no shocker, having been telescoped from almost the very beginning.
The centerpiece of Home Before Dark is the novella "Kiss of the Mudman" (published here for the first time anywhere) -- a story of music, stardom, death, and the combination of notes that brings dirty destruction to the Cedar Hill halfway house. Along the way, a visit from the "ulcerations" of Jim Morrison, Jimi Hendrix, John Entwistle and Keith Moon, Kurt Cobain, and Billie Holiday enlighten the legend of just why the greatest guitar player that ever lived was a woman. Music fans will love it, and Braunbeck's fans should not miss it. It has all the things that make his work special: the pain, the despair, and the fear, all combined but with each one allowed its own moment in the sun, each one getting its own time with your nerves before they all come crashing down, leaving you with just enough energy to turn the page.
"Rami Temporalis," about a man with "one of those faces," was, in my opinion, the best entry in From the Borderlands, an anthology with a lot of great stories. It is also included here in case you missed it, or just wanted to read it again. It's just as good the second time around.
On the surface, "Some Touch of Pity" is a Werewolf / Indian tale, but there is much more going on. In fact, it just may be too powerful for its own good; I couldn't wait to be done with it (and it does go on a little too long). The central event of the rape of a teenage boy by other teenage boys is so graphically depicted as to inject the victim's physical pain and emotional trauma into the reader. I shudder to think how I would have been affected if I identified with the situation....
"The King of Rotten Wood" discovers that someone has to be the recipient of the hidden knowledge of the dead, and why shouldn't it be the fellow who creates their memorial videos? "The Sisterhood of Plain-Faced Women" gives Amanda a opportunity to see how the other half lives (and loves, in one very effectively-written scene); she quickly discovers that "beauty gets what beauty wants." And the book closes with "The Circus of Central Motion," which is told partially in verse(!). Rhythmically, the poetry is uneven, but the content ties up the collection nicely.
Also included in Home Before Dark are excerpts from A Visitor's Guide to Cedar Hill, and a page torn directly from the local newspaper, The Cedar Hill Ally. The art of Deena Warner is represented both by a full-size illustration on the cover and by smaller, but no less evocative, accompaniments to each story's title. Some of these are particularly effective in setting the mood, and all of them are worthy of deeper perusal. The details that went into these is astonishing, especially considering that many readers will ignore them outright.
I simply can't get over how utterly true these stories feel; more so than anything I've read in a long time. Very few of the contrivances that often distract from the experience of good writing appear here. The stories in Home Before Dark are pure, as if they -- to borrow a cliche -- are being told through Braunbeck, and not simply by him. You owe it to yourself to visit Cedar Hill. Just be happy you don't live there.
---
Click on the links above to purchase any of the books mentioned, or use the search box below to find what you like.



(Email me and let me know what you think.) <! - - BEGIN READERS RING-->

<! - - END READERS RING - - !>