¡BIENVENIDOS!
This webpage will give the viewer some samples of Spanish Colonial clothing. If you are seeking ideas for your costume for the next New Mexican Hispanic Cultural Preservation League Thanksgiving Banquet or for other upcoming events including the Albuquerque 300th birthday party, here are some ideas of clothing worn by soldiers and civilians-both men and women, during the early days in New Mexico history and some sources for some of the items you may be seeking to finish your costume.

SOLDADOS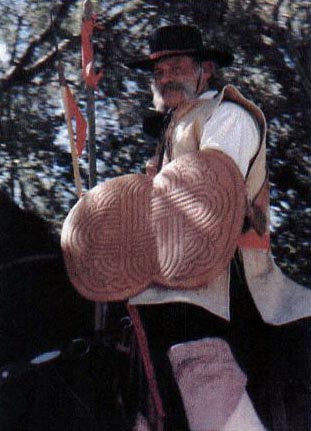 Soldiers were found in many types of uniforms in the Spanish Colonial Southwest. To the left is a soldier of the presidio with a leather shield. Below are Spanish Colonial re-enactors representing Anza and Fray Font.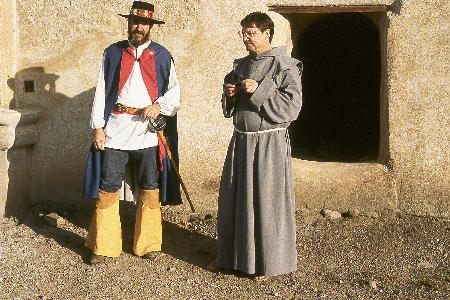 A Soldier of California, circa 1791: wearing his cuera blanca (white leather jacket)after a sketch made by José Cardero found in the Museo Naval, Madrid. Under the Royal Regulations of 1773, the uniform of the pesidio soldier was a short jacket of blue cloth with red cuffs and collar, blue breeches, blue cloth cap, a cartridge pouch, a bandolier with the name of the presidio on it and a black neckerchief as well as the leather jacket.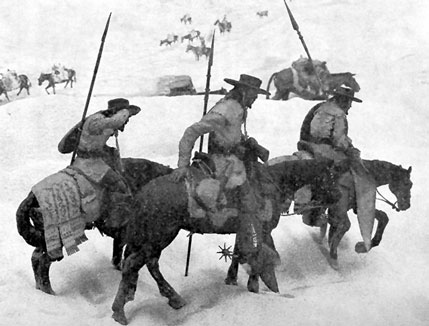 Horse Soldiers crossing one of the many Southwestern deserts. Love those spurs!
Anza on horseback surveying the California coast.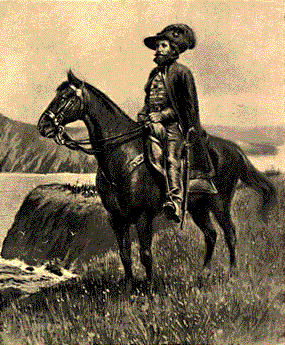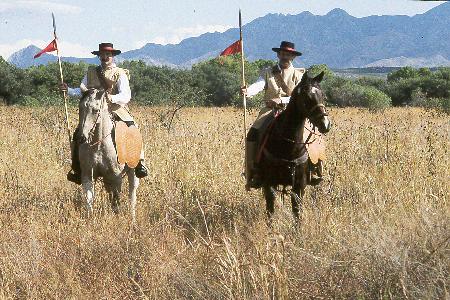 These re-enactment horse soldiers, soldados de cuero (leather-coated soldiers) are pictured in present day Arizona between Tubac and Tumacacori, experiencing conditions close to what the Anza colonizing expedition of over 200 years ago found.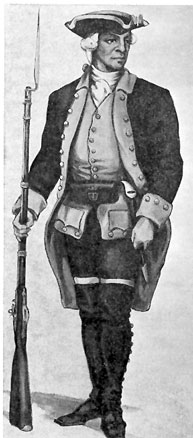 Note how similiar this Spanish Colonial uniform is to what is normally identified as an American colonial uniform.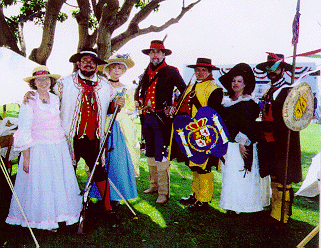 Retratos de Mas Soldados
Soldier's Clothing Requirements in 1780
Hidalgos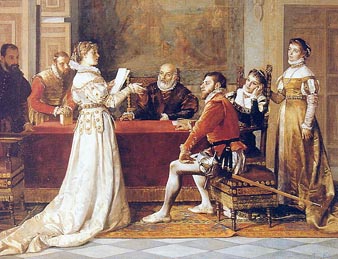 Painting on right by Francisco Jovery Cassanova representing the 1600s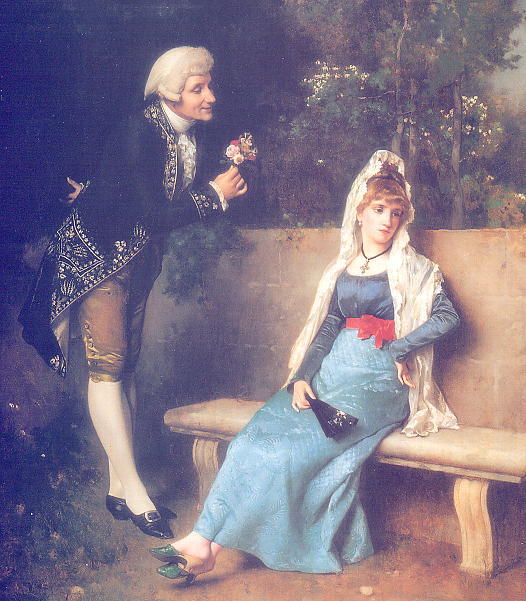 Painting above by Antonio Gisbert Perez

Ahorita, Vayamos a Las Mujeres.
More Than You Want to Know About Spanish Colonial Fashion

Buy Your Costume Online

Find A Seamstress To Custom Make Your Costume

You Can Do It! Make Your Own Costume!

For More Help~Email:Doña Pátryka Chaves de Tachick or Don Francisco Ozuna S.




Page Keeper: doña Pátryka Chaves de Tachick